These Chocolate-Cinnamon Cinnamon Rolls are made with chocolate brioche, chocolate-cinnamon filling, chocolate ganache, and candy red hots.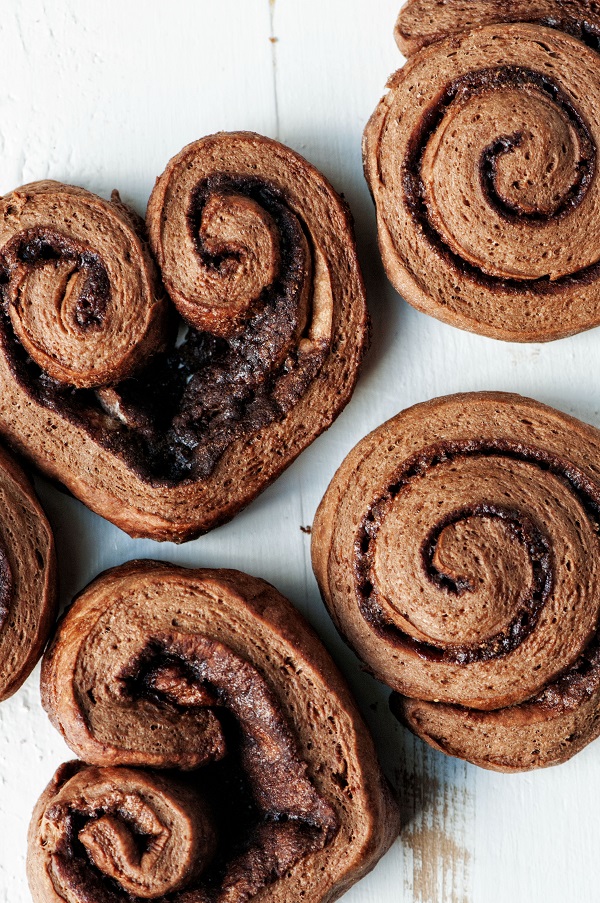 I'm sure you recall that last year I worked with Red Star Yeast (as I did several other years as well) with my hubby in teaching him to get over his fear of baking with yeast.
He enjoyed all the experiences but his favorite was making cinnamon rolls.
So he we were sitting on the couch one day and he said, so am I done baking with Red Star Yeast?
I said, I don't know.
If you want to keep doing that we have to give them some ideas.
There may have been some beers involved but we decided on Honey Buns with My Honey.
Like I said beer involved.
But it got us thinking of all the different types of rolls or buns we could make.
We wrote a long list including these Chocolate-Cinnamon Cinnamon Rolls.
Red Star Yeast liked the idea and so we are once again working with them this year.
So yes, this here is a sponsored post.
However, I think you all know that I am in absolute love with the Red Star® Platinum Superior Baking Yeast® and talk about it all the time.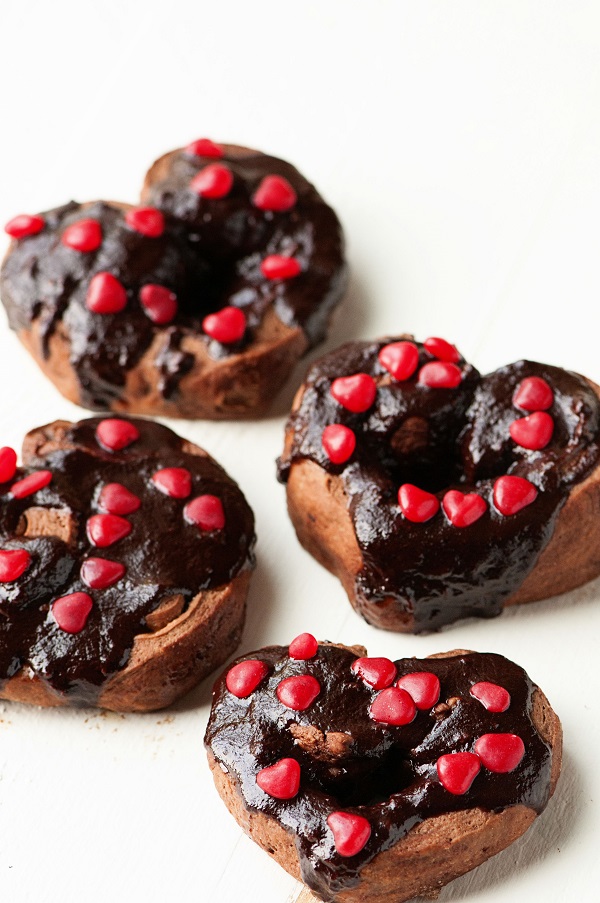 The hubs had never made chocolate dough and so we decided to do one as our base.
He loved the brioche best last time and so this is a chocolate brioche.
We immediately thought of cinnamon because of red hot candies this time of year.
And we also figured since it was around Valentine's Day we would go full on decadence and use a chocolate ganache glaze to take these over the top.
Since red hots inspired the flavor you sort of kind of have to have them too!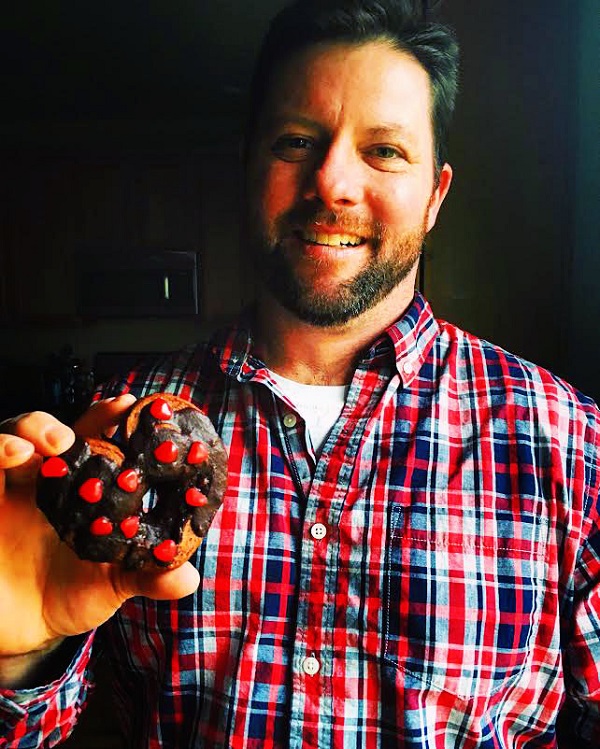 I made both heart shaped and regular cinnamon swirl shaped.
If you want the heart shaped a quick Google search will show you many different options on how to do that.
I think they are a fun shape to make for Valentine's Day.
Because nothing says I love you like chocolate and cinnamon rolls combined. 🙂
So not related to the buns but the last photo reminded me of my Art in the Elementary School Class I had in college.
I was getting an A in the class when we got to oil paintings.
And I just couldn't get into it.
So I had just a little heart split in two (we were to show contrasting colors) with a whole lot of white showing.
I had planned to do something more when time just got the best of me.
I got a D.
So I went back to the professor (knowing the reason) and said "Hey, how come I got a D?"
He said "Well, you left a ton of white canvas".
I said, "Yes, I know, on purpose.
It represents the void of love in my life, hence the broken heart".
He sat there staring at the painting and said "I see it now".
I got an A.
That's the great thing about art…or at least art class. 😀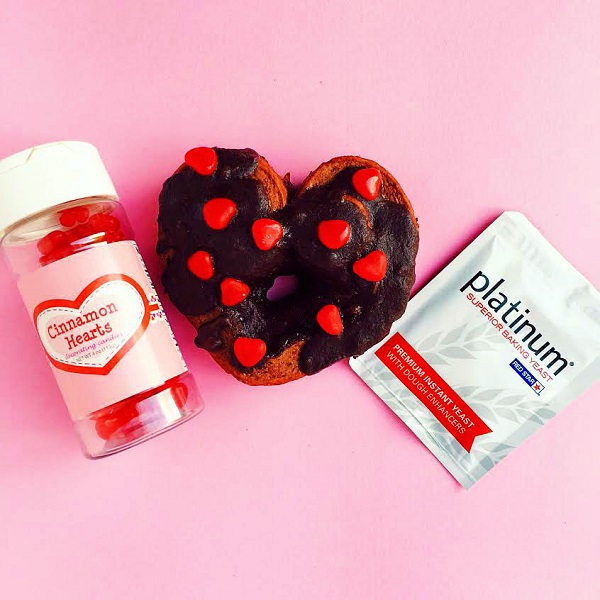 Hope you will keep following along to see the type of Honey Buns the honey and I come up with.
Thanks again to Red Star Yeast for being a supporter of this blog.
Please support them for supporting me.
Get more ideas on how to use Red Star Yeast by following them on Pinterest and Facebook or by simply visiting their website.
P.S. It's a great day to buy my cookbook Holy Sweet!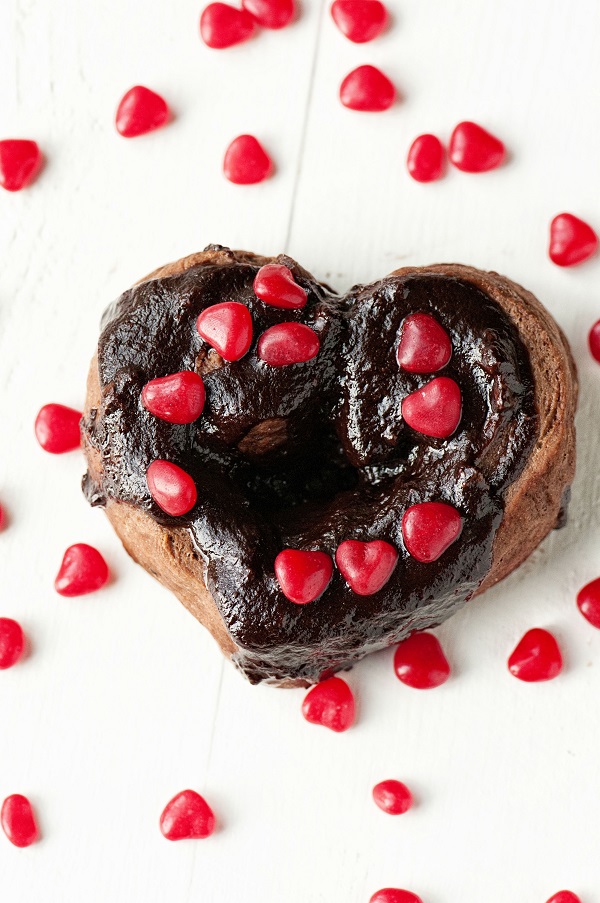 Want more bun and roll ideas? Here are a few unique ones:
Bacon Breakfast Rolls with Maple Glaze
Baklava Buns
Deep Fried Cinnamon Rolls
Oatmeal Raisin Cookie Stuffed Cinnamon Rolls with Caramel Glaze
Banana Fosters Sticky Buns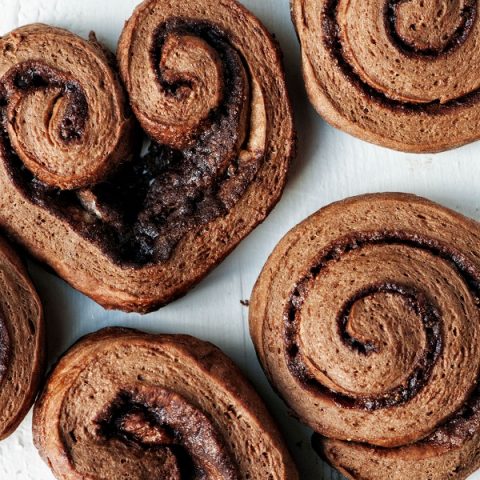 Chocolate-Cinnamon Cinnamon Rolls
Ingredients
1 batch Chocolate Brioche (recipe follows)
½ cup granulated sugar
1 TBSP cinnamon
1 TBSP unsweetened cocoa powder
2 TBSP melted butter
Chocolate Ganache Glaze (recipe follows)
Red Hots Candy for garnish (optional)
For the Chocolate Brioche:
For the Sponge:
2 ½ tsp. Red Star® Platinum Superior Baking Yeast®
¼ cup warm water (110F)
¾ cup lukewarm milk (80F)
½ cup all-purpose flour
1/3 cup granulated sugar
For the Dough:
2 ounces semisweet chocolate, melted and cooled to room temperature
¼ cup unsweetened cocoa powder
3 cups all-purpose flour
1 ¾ tsp. salt
4 egg yolks, lightly beaten
4 oz. unsalted butter, at room temperature
For the glaze:
5 TBSP butter
8 oz. semisweet chocolate
¼ cup heavy whipping cream
Instructions
For the sponge:
Combine yeast and water in the bowl of a standing mixer fitted with the paddle attachment and whisk until he yeast is dissolved.
Let stand for 5 minutes.
Add remaining ingredients, forming a thin batter.
Cover with plastic wrap and let rest at room temperature for 30 minutes until bubbles form.
Sift flour, unsweetened cocoa powder, and salt into sponge.
Add yolks and melted chocolate, and mix with paddle attachment on low speed for 2 minutes, until yolks are absorbed.Increase to medium speed; knead for 5 minutes or until smooth and satiny.
On medium low speed, add butter one TBSP at a time.
Switch to dough hook; knead until very well developed, smooth and shiny.
Cover with plastic wrap and let rise for 2 hours until double (mine took longer as my house is super cold).
Punch down and rise again until double, about 45 to 60 minutes (or refrigerator for 4 hours or overnight).For the rolls:Combine the cinnamon, sugar, and unsweetened cocoa in a small bowl.
Turn the dough out onto a lightly floured work surface.
Using a rolling pin, roll it into a rectangle approximately 12x16 inches.
Use a pastry brush to coat the entire surface of the dough with the melted butter.
Sprinkle the filling evenly over the surface of the dough, leaving a 1-inch margin at the top edge.
Starting from the long side closest to you, roll up the dough like a jellyroll.
Transfer the log to a baking sheet, cover with plastic wrap, and freeze for 10 minutes. This will make cutting the buns clean and even.
If you are wanting to make them look like hearts just follow the instructions you find when you Google them. 🙂
Using a bench scraper or chef's knife, cut the log crosswise into 12 pieces, about 1 ½ inches thick.
Place a bun in each muffin cup, cut side up or arrange them 1 inch apart in the cake pan.
Cover the dough with plastic wrap and let rise for 1 ½-2 hours, or until the buns have doubled in size.
Toward the end of the proofing, preheat the oven to 400F.
Adjust the rack to the center of the oven, with a baking sheet on the lower rack to catch drips.
Bake for 10 minutes.
Turn down the oven temperature to 350F and bake for 15-20 minutes more, or until the crust is golden (slightly hard to tell with the chocolate but mine took just the 15).
While rolls are baking make the glaze.
Over a double boiler simply add the chocolate chips, butter, and cream and whisk until smooth.
Set aside.Let rolls cool for about 10 minutes, then glaze and add red hots if using.