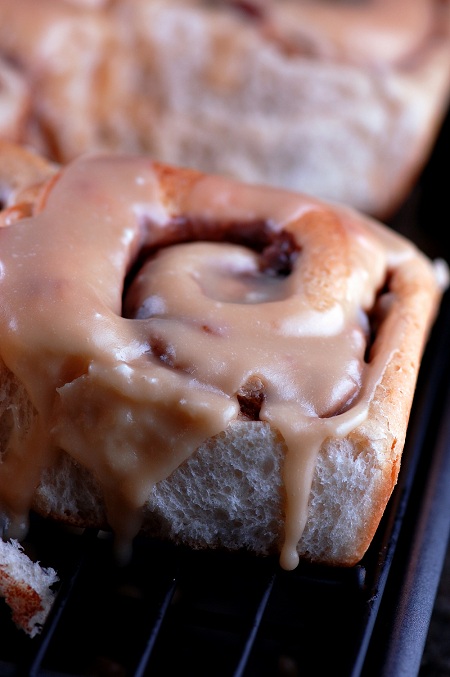 If I made every recipe I ever bookmarked, printed out , or wrote down on a sticky note I would have to live to 237 years old to get them all done.
I'm sure you can relate.
I'm sure you have seen a recipe, got all excited about it, wanted to make it and then…shiny squirrel.
The next thing you know you are distracted and the moment has passed.
Last Summer I saw Cakespy add chocolate chip cookie dough into Cinnamon Rolls.
And while I loved the idea of stuffing cookies into cinnamon rolls I was anti the chocolate chip cookie.
Seemed weird to me. I decided that I would make them but with Oatmeal Raisin cookies because to me, those go better with cinnamon. And then…shiny squirrel.
But then the other day I was over at How Sweet It Is (fun site, she loves Funfetti and bacon) and there they were again, but again with chocolate chip cookie dough. 🙁
I decided before that squirrel came back I best gather up the ingredients (which yes, I had all the ingredients…go me) and get it done.
One thing that I wasn't keen on was wondering if the cookie would actually get baked, I was wondering about the whole egg thing.
The pictures I saw make the insides look too gooey for my tastes.
So I figured to eliminate the egg all together and go the truffle route that uses condensed milk instead of eggs. It was the right thing to do in my opinion.
Shoving cookie dough truffles into food isn't anything new to me as I have been doing it awhile.
First there was the beloved Chocolate Chip Cookie Dough Cheesecake that caused quite a stir on Stumble Upon one day that it crashed my site with more than 10,000 views in just a matter of hours.
Mostly because people were shocked I could make cheesecake even worse for you…clearly these people don't know me. 😛
And then I used them in cupcakes too.
The oatmeal cookie truffles have been done before as well in a Cinnamon Ice Cream.
My point is I am no virgin….to cookie dough truffles. 😉
In some ways I was afraid to make these.
My pants were afraid for me to make these.
They had been fitting nicely as of late and so my thighs quivered.
Well, they always quiver…not in a good way. 😛
But they were quivering with both fear (of expansion) and delight (cause of expansion).
Apparently I had good reason to be fearful.
Topped with the caramel glaze there was so much right with these rolls that it had to be wrong.
Needless to say I told my BFF if he didn't get these out of my site that way more people were going to have to donate to the site for a new wardrobe.
For in the blink of an eye two of these were gone (and these are not small…at least mine weren't) and I could have eaten 4 more no problem.
Oh, who are we kidding, 8 more, no problem. 😛
So before you bookmark this and forget it….shiny squirrel.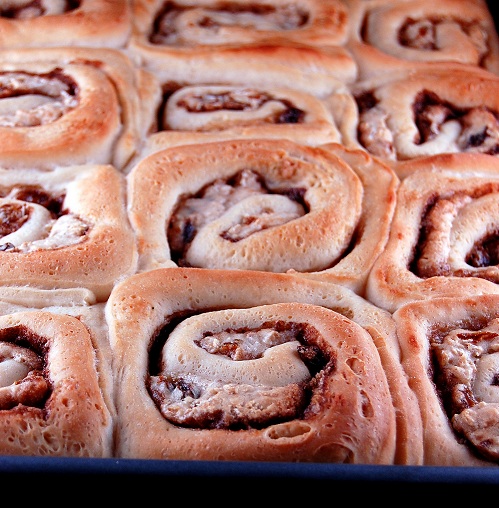 Oatmeal Raisin Cookie Stuffed Cinnamon Rolls with Caramel Glaze
2 cups plus 3 TBSP milk
6 TBSP granulated sugar
2 tsp. salt
1/4 cup unsalted butter
1 egg, slightly beaten
2 1/2 tsp. active dry yeast
6 cups all-purpose flour
For the Filling:
16-20 1-inch oatmeal cookie dough truffles (see recipe below)
½ cup cinnamon sugar (6 ½ TBSP granulated sugar plus 1 ½ tsp. ground cinnamon)
Place 2 cups of milk in a saucepan over medium heat and bring just to a boil.
Combine 6 TBSP of the sugar, the salt, and the butter in a large bowl, pour the hot milk over it, and let cool to 110-115F.
In a small bowl, mix together the egg and yeast.
Add to the cooled milk mixture, and mix well. Add the flour and mix until the dough is soft.
Transfer the dough to a well-floured board and knead until very smooth and elastic, about 5 minutes. Yes you can do this in your mixer with the dough hook, I did. If you use the hook, add about ¼ cup flour to the mix.
Place the dough in a large, well-greased bowl, cover with plastic wrap, and let rise until doubled in volume, about 1 hour.
Lightly dust a work surface area with flour. Roll out the dough with a rolling pin, lightly dusting the top with flour to keep it from sticking to the pin. Roll it into a rectangle about 2/3 inch thick and 14 inches wide by 12 inches long.
Sprinkle the cinnamon sugar over the surface of the dough. Then scatter cookie dough truffles on to the dough. Press down slightly to make them more disc shaped.
Roll the dough up into a log, creating a cinnamon-sugar spiral as you roll. You are going to want to most likely even out the roll with your hands. It will be thick because of the cookie pieces. With the seam side down, cut the dough into pieces each about 1 3/4 inches thick. Place into a well-greased baking pan (I used a 15-x-10 inch pan you can use a cookie sheet or jelly roll pan as well). Place the buns approximately 1/2 inch apart so that they aren´t touching but are close to one another.
Proof at room temperature for 75 to 90 minutes, or until the pieces have grown into one another and have nearly doubled in size.
Preheat the oven to 350F.
When the rolls have risen, bake until golden brown, about 25-30 minutes (watch them…it's so hard to tell with my crappy apartment oven!) Let cool for about 5 minutes. While rolls are cooling, prepare the icing (recipe follows). Drizzle the icing over the roll and enjoy.
Oatmeal Raisin Cookie Dough Truffles:
½ cup unsalted butter, at room temperature
¾ cup dark brown sugar, packed
14 oz. condensed milk
1 tsp. vanilla extract
1 cup flour
1 1/4 cup rolled oats
½ tsp. salt
½ tsp. cinnamon
¼ tsp. ginger
¼ tsp. nutmeg
½ cup raisins, chopped in half if super large variety
Using a stand mixer with a paddle attachment cream the butter and the sugar together until they are light and fluffy.
Add the condensed milk and vanilla and beat until full incorporated.
Add the flour, oats, salt, and spices and beat on low until combined.
Fold in the raisins. Make sure they are evenly distributed as much as you can.
Using a spoon try to make 1-inch balls with the dough, roll them between your palms to round them, and place them on a greased baking sheet or a large plate/platter. Cover with cling wrap, and freeze for at least 4 hours. You will have left over cookie dough truffle. Chopped those up and make this ice cream. 🙂
Caramel Glaze:
½ cup unsalted butter
1 cup dark brown Sugar
¼ tsp. salt
¼ cup whole milk
1 tsp. vanilla extract
2 cups powdered sugar
Place the butter and milk in a medium saucepan over low heat.
When butter has melted, add the brown sugar and salt. Cook on low for 2 minutes, stirring constantly.
Take off of heat and add the vanilla extract and powdered sugar. If you want a thicker glaze you can add more powdered sugar.
Top rolls with glaze.
Insprired by Cakespy and reminded by How Sweet It Is