These Baklava Buns with Pecans and Honey are filled with ground pecans, sugar, and cinnamon and then covered in drizzled honey.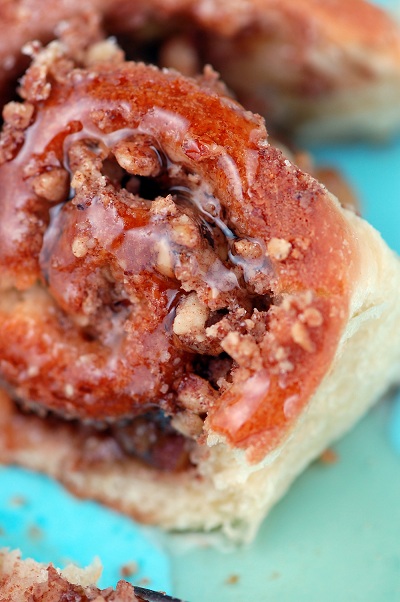 First off, thanks for the encouragement with me and MDP.
I can say that my favorite part about coming out so to speak is that I no longer have former students giving me advice such as "show some more boob Ms. G (my maiden name) that's what works for me".
Though now we have moved onto "yeaaaa, get some Ms. G" so I'll be honest in saying, not sure which one is worse.
I'll mull it over and let you know.
We got random snow this week and that always makes me want to bake with yeast.
That is thanks to my mom always doing that when we were kids.
Except it's pretty much the worst time to as everything takes twice as long to rise because of the cold.
The first batch I made at night and would have been great right up until the point where I forgot to put it in the fridge.
So I woke up to a little fermenting blob running down the sides of my bowl and dryer…laundry room is the warmest room in the apartment.
After some colorful words I cleaned it up and decided that I was going to make dough that would take less time.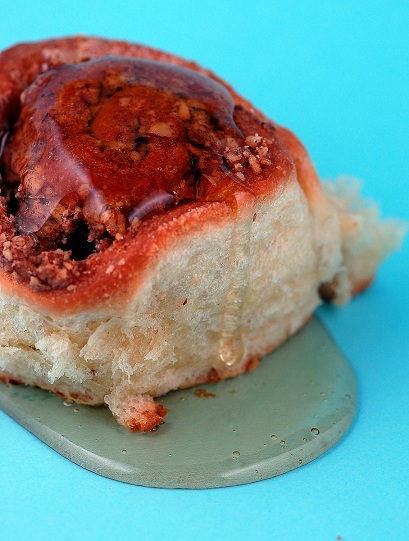 So back to the drawing board.
Found one.
It sat and sat and sat and never rose.
I still don't know what happened exactly.
To say I was cranky was putting it mildly.
So again, after some colorful words (if my dog could talk number one I would have a crap ton of money and number two her first words probably would have been the f-bomb 😛 )
Bravely, I decided to try one more time.
I was hoping for third time's a charm and that's how it turned out.
The idea for these buns came to me after watching Guy eat some Baklava on Triple D.
That made me want to make cinnamon roll like buns but instead use Baklava filling.
These Baklava Buns with Pecans and Honey is one of my better ideas in a while.
Now, I'm pretty sure these are horrific for you calorie-wise but I was a good girl and only ate one…every four hours, you know, like medication.
Of course if you are a Baklava purist these are not for you, but if you like the flavor of Baklava you will sooo enjoy these.
I thought about making more of a honey glaze but decided just to drizzle honey over it instead.
P.S. It's a great day to buy my cookbook Holy Sweet!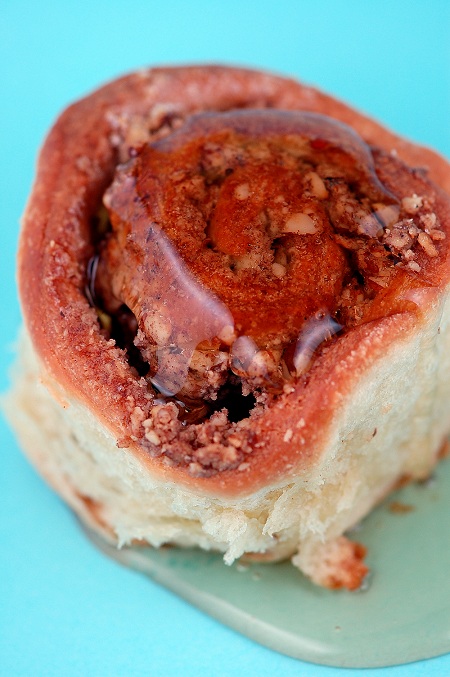 Want More Sweet Roll Recipes?
Bourbon Brown Sugar Caramel Peach Sweet Rolls
Salted Caramel Apple Sweet Rolls
Cinnamon Sugar Apple Babka Buns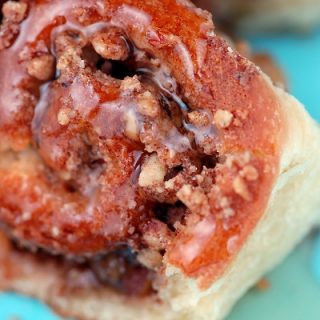 Baklava Buns with Honey and Pecans
Ingredients
For the Sponge:
½ cup whole milk, at room temperature
2 ½ tsp. (1 envelope) active dry yeast
¼ cup granulated sugar
½ cup bread flour (or all-purpose)
For the dough:
3 cups bread flour (or AP)
1 ¼ tsp. salt
4 large eggs, lightly beaten
½ pound (2 sticks) butter, softened, but still cool
For the Filling:
3 TBSP unsalted butter, at room temperature
5 TBSP granulated sugar
3 cups unsalted pecans
2 tsp. cinnamon
Topping:
1 cup honey
Instructions
For the Sponge:
Combine the yeast and milk in the bowl of standing mixer fitted with a paddle attachment and whisk until the yeast is dissolved.
Stir in the sugar and flour, forming a thick batter.
Cover with plastic film and let rest in a warm environment for 30-45 minutes.As fermentation begins, bubbles will form.
For the Dough:
Add the bread flour and salt to the sponge, then add the eggs.
Mix on low speed for 2 minutes, or until the eggs are absorbed.Increase the speed to medium and knead the dough for 5 minutes.
The dough will eventually begin to slap around and pull away from the sides of the bowl.
Then it will form a ball on the paddle.
Finally it will relax and reach back out to the sides of the bowl.
At this point, it will be a shiny, satiny dough.
While all of this is going on, don't walk away.Watch the transformation and hold on to the mixer when necessary, since it may jump around.
On medium speed, add the butter, 2 tablespoons at a time.
Stop the mixer and scrape down the sides of the bowl occasionally.
Knead until the dough is shiny and smooth, about 5 minutes.
Scrape out the dough, wash and dry the bowl, and coat it lightly with oil.
Place the dough in the oiled bowl and turn it so the top is coated with oil.
Cover with plastic film and let rise at room temperature until doubled in volume, about 2 hours.
After the dough has doubled in volume, press down to deflate, folding one half into the other.
Fold two or three times, either in the bowl or on a lightly floured surface.
Cover with plastic film and place in the refrigerator for at least 4 hours or overnight. (If you don't have that much time, you can let the dough rise for the second time at room temperature. It will take 45-60 minutes.) This is the second rise.
Spray an 9-x-13-inch baking pan with baking spray and set aside.
For the Filling:
Using a food processor add the nuts and cinnamon and pulse until you get a fine crumb, don't go too far or you will get nut butter and you don't want that. Set aside.
Roll out your dough as if you were making cinnamon rolls, so about a 12-x-18 inch rectangle.
Spread butter across the dough leaving a 1 ½ inch border on the far edge.
Sprinkle sugar evenly over butter.
Sprinkle nut mixture evenly over sugared butter.
Starting at the side of the rectangle closest to you, roll the dough tightly. Pinch the sea well to seal the flap. Roll the log back and forth a few times to seal the layers. Gently stretch the log with your hands.
Cut log into nine equal pieces and place into prepared pan cut side up, trying your best to space evenly.
Let rise for about an hour, or until they have doubled in size.
Bake at 350F for 30-35 minutes (you might need to tent yours with foil so they don't get too dark).
Top buns with honey. I like these best when warm.