These Banana Fosters Sticky Buns are a delicious banana brioche baked in a sticky banana fosters glaze and pecans.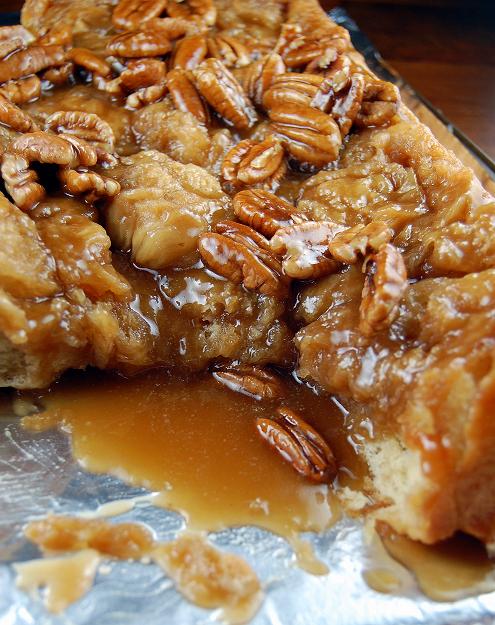 Some people get off on being a bridesmaid.
I am not one of those people.
I don't even really like going to weddings.
Mine was perfectly lovely to go to, but I understand if people wanted to skip.
I tried to make mine as least painful as possible.
One way I did that was by making our dog be the bridal party.
And that was it.
I was not dragging my friends down into the humiliation that is the bridesmaid dress.
Oh now before you go and say that there are some lovely bridesmaid dresses out there.
No there is not.
I have only liked one of mine and that was because the bride told us to go buy any dress we wanted in burgundy.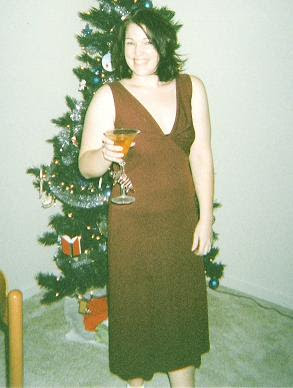 So I bought a dress I could truly use again. 
I think there are some decent ones out there but the problem is that you are trying to conform 2-22 of your closest friends to all look good in the same dress.
Soooo not going to happen.
And they cost a bunch of money. 
A bunch.
So because I have had to fork out ridiculous amounts of money I insist on using them again.
Though not how you probably think.
I don't live a glamorous life and so there aren't a lot of balls for me to be attending and quite honestly I would wear any of the dresses I have been a bridesmaid in if I did.
No, I wear mine to do housework in.
Yes,  my husband has on more than one occasion come home to me vacuuming in a full length, off the shoulder, navy velvet  bridesmaid gown.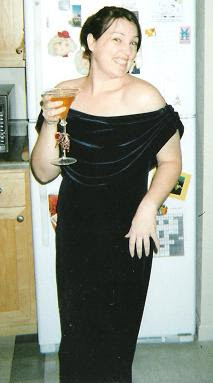 It was worn for another occasion in the picture which happened to be Sloppy Joe Night.
That way I am not ruining something I will wear again, like say a perfectly good t-shirt.
Oh sure, it's not that functional but I can assure that dress has  a lot o f miles on it now, and has more than paid for itself instead of waiting time in the back of the closet or torturing someone at Goodwill for a dollar.
Have you had some hideous bridesmaid dresses in your past?
Do you still own it?
If so, seriously, bust it out for laundry day. 😀
Or perhaps you can bake in it?
If so, consider making sticky buns with a twist.
A banana fosters twist that is.
Since sticky buns already have the lovely brown sugar glaze goodness, it makes perfect sense for them to have a little banana thrown in with them.
The dough is a little extra sticky because of the moisture of the bananas, just go with it. 🙂
And oh yeah, it's a great day to buy my cookbook.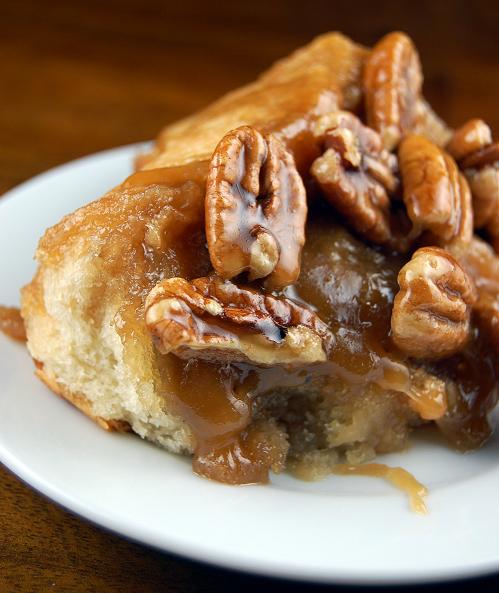 Want More Sticky Bun Recipes?
Whiskey Butterscotch Pecan Sticky Buns
Cinnamon Toast Crunch Sticky Buns
Pineapple Upside Down Sticky Buns
Sticky Toffee Pudding Sticky Buns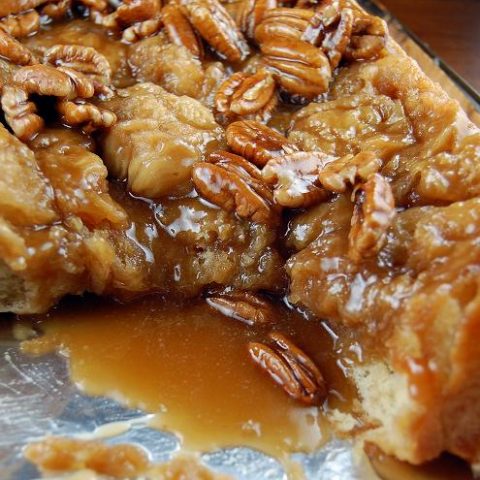 Banana Fosters Sticky Buns
Ingredients
For the Sticky Bun Glaze:
1 cup packed light brown sugar
1 stick unsalted butter, cut into 4 pieces
1/4 cup honey
3 TBSP rum
1 1/2 cup pecans
For the Banana Brioche:
1/4 cup warm water
1/2 cup plus 2 tsp. granulated sugar, divided
1 1/2 tsp. dried yeast
2 large very ripe bananas, mashed up
1 tsp. vanilla extract
2 eggs
3/4 cup whole milk
4 cups all-purpose flour
1 tsp. salt
8 TBSP unsalted butter, at room temperature, cut into dime sized pieces
For the Filling:
2/3 cup brown sugar
1/2 tsp cinnamon
4 TBSP unsalted butter, at room temperature
Instructions
Generously butter a 9 x 13-inch baking pan (a Pyrex is perfect for this).
To Make the Glaze:
In a heavy-bottomed saucepan, bring the brown sugar, butter, honey, and rum to a boil over medium-low heat, stirring frequently to dissolve the sugar.
Pour the glaze into the buttered pan, evening it out as best you can by tilting the pan or spreading the glaze with a heatproof spatula.
Sprinkle over the pecans.
Mix the cinnamon and sugar together in a small bowl. Set aside.
For the Dough:
Place warm water and 2 tsp. of the sugar in the bowl of your stand mixer.
Sprinkle yeast on top and mix with a whisk until yeast is dissolved. Let stand for 5 minutes while yeast blooms.
Add remaining sugar,eggs, vanilla extract, milk, flour, bananas, and salt.
Using the hook attachment, mix on low speed for 3 minutes to start bringing dough together.
Switch to medium speed and slowly drop pieces of butter into dough.
Mix for 10-12 minutes. Dough will be wet and sticky and will have good elasticity when stretched.
Pull dough from bowl and onto a floured surface.
Using extra flour on your hands, form dough into a ball.
Place dough in an oiled, medium bowl and cover with plastic wrap.
Proof in a warm room, 70-75F, for about 2 1/2 hours.
Dough will almost double in size. Chill for 1 hour.
To shape the Buns:
On a flour-dusted work surface, roll the chilled dough into a 16-inch square.
Using your fingers or pastry brush, spread the softened butter over the dough.
Sprinkle the dough with the cinnamon sugar, leaving a 1 inch strip bare on the side farthest from you.
Starting with the side nearest to you, roll the dough into a cylinder, keeping the roll as tight as you can.
With a chef's knife, using a gentle sawing motion, trim just a tiny bit from the ends of the rolls if they're very ragged or not well filled, then cut the log into 1-inch-thick buns.
Fit the buns into the pan cut side down, leaving some space between them.
Lightly cover the pan with a piece of wax paper and set the pan in a warm place until the buns have doubled in volume, about 1 hour and 45 minutes. The buns are properly risen when they are puffy, soft, doubled and,in all likelihood, touching each other.
Getting Ready to Bake:
When the buns have almost fully risen, center a rack in the oven and preheat the oven to 375F.
Remove the sheet of wax paper and put the pan on a baking sheet lined with parchment or a silicone mat.
Bake the sticky buns for about 30 minutes or until they are puffed and gorgeously golden: the glaze will be bubbling way merrily.
Pull the pan from the oven.
The sticky buns must be unmolded minutes after they come out of the oven.
If you do not have a rimmed platter large enough to hold them, use a baking sheet lined with a silicon mat or butter foil.
Be careful-the glaze is super-hot and super-sticky.