These Vanilla Bean Rice Krispie Treat Cupcakes are fun and tasty full of vanilla, Rice Krispies, all with a mini Rice Krispie Treat on top.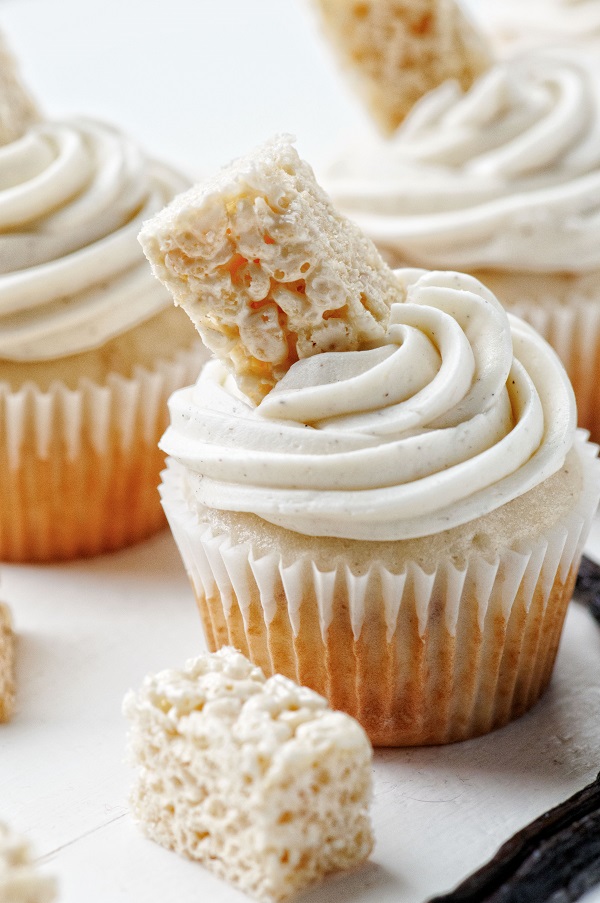 I don't particularly like the fact that people think vanilla is boring.
And yet, it's not chocolate that is the most popular flavor of ice cream year after year…it's vanilla.
I will take vanilla anything over chocolate most days.
It's my favorite scent in a candle.
Even my perfume is vanilla apricot.
So it was a no brainer years ago when Rodelle Vanilla (which I was already using) asked me if I wanted to be an ambassador.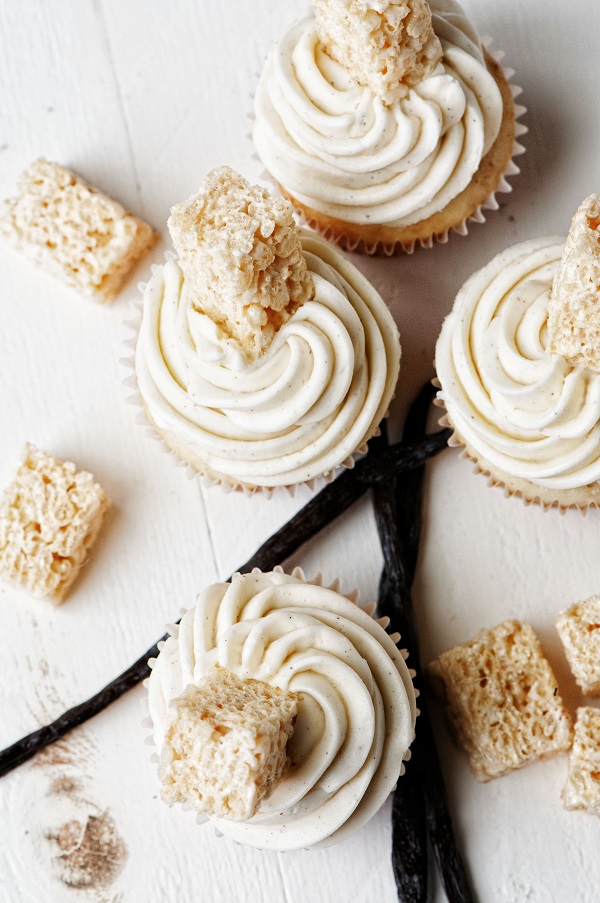 It didn't pay anything but they would send my products when I needed them and I did giveaways.
But they finally did get a little budget room and so heads up this is a sponsored post.
But of course, I have been singing the praises of all things Rodelle for how many years now?
So I'm pretty sure you guys know I love their products.
One product that I love and use all the time is their vanilla bean paste.
I love that it gives the flavor of the extract but the visual of the beans.
Last year I made for Rodelle a Toasted No Bake Marshmallow Cheesecake and it was a HUGE hit.
What made it extra unique was that the crust was a giant Rice Krispie treat.
Ever since them I have been thinking what else can I do with Rice Krispie Treats other than eat like 10 of them and wonder how I can still be hungry. πŸ˜€
Then it hit me…Vanilla Bean Rice Krispie Treat Cupcakes.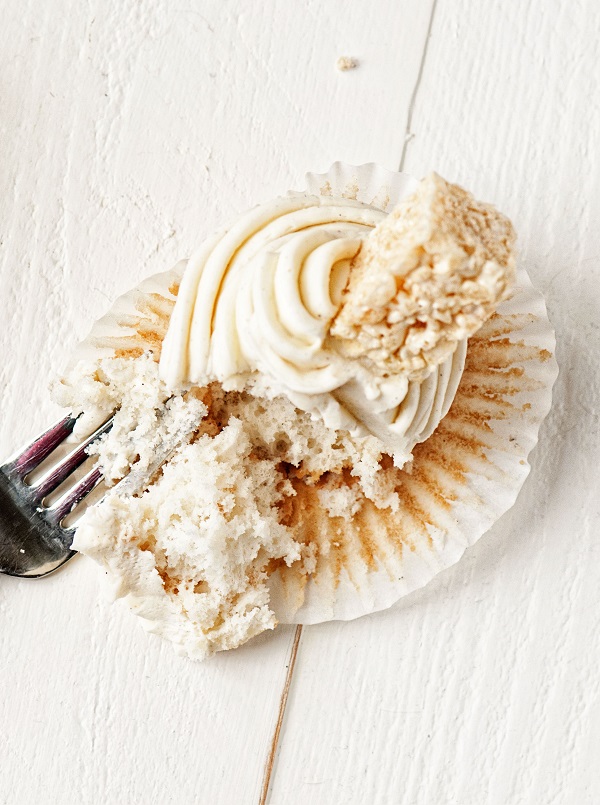 Vanilla Bean Cupcakes are my favorite kind so I started with that as my base…folding in Rice Krispie Treats into the batter.
Amazingly they stay pretty crispy in the cupcakes…at least mine did.
Granted they whole batch lasted less than a day so it's hard to tell if they go soggy or not.
They of course are chocked full of Rodelle vanilla beans and vanilla bean paste.
I thought about stuffing the center with marshmallow creme but just imagined it getting stuck on my chin or something like that when I bit in. πŸ™'
The marshmallow buttercream is lovely and I saw people dipping their Rice Krispie Treat garnish into the frosting which I thought was a good idea.
Last but not least…it's a great time to order my cookbook.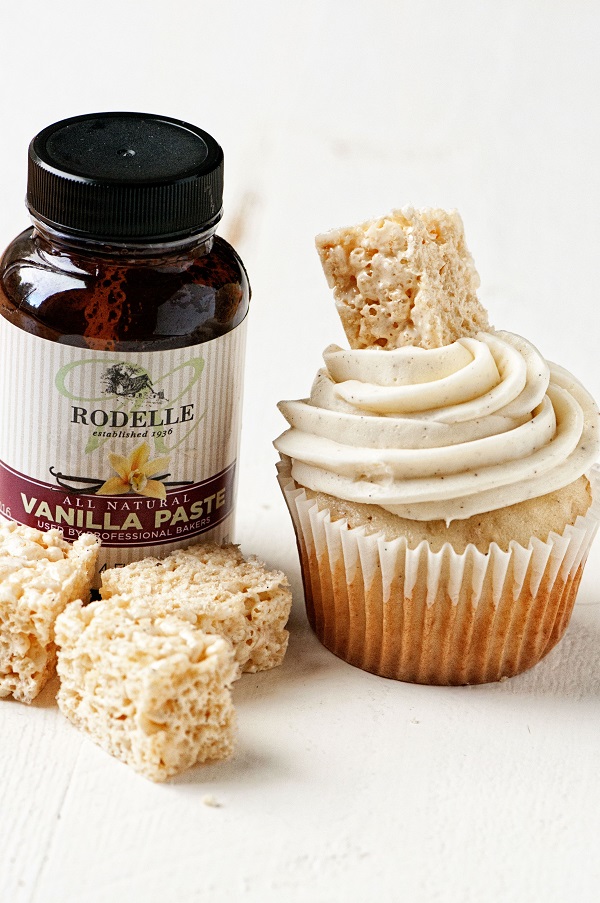 Want more Rice Krispie recipes?
Chocolate Chip Cookie Dough Rice Krispie Treat
Toasted Marshmallow No Bake Cheesecake
White Hot Chocolate Oreo Rice Krispie Treats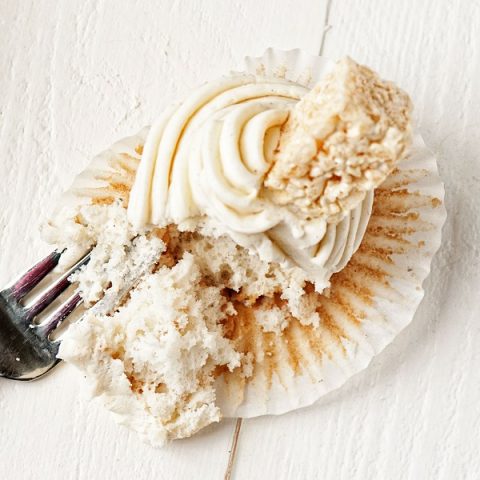 Vanilla Bean Rice Krispie Treat Cupcakes
Ingredients
For the cupcakes:
8 oz. unsalted butter, at room temperature
1 TBSP baking powder
2 1/2 cups granulated sugar
3/4 tsp. salt
2 tsp. vanilla bean paste
1 vanilla bean, seed scraped out and pod discarded
5 large egg whites
2 3/4 cup cake flour
1 cup whole milk, room temperature
1 cup Rice Krispie Cereal
For the frosting:
8 oz. unsalted butter
2 cups powdered sugar
2 tsp. vanilla bean paste
13 oz. marshmallow creme
Rice Krispie Treat pieces for garnish (I just about a box and cut them up but feel free to make your own)
Instructions
For the cupcakes:
Preheat oven to 350F.
Prepare muffins tins (makes 24).
Using a stand mixer with paddle attachment, cream together butter, baking powder, sugar, salt, vanilla bean seeds, and vanilla bean paste until light and fluffy, about 5 minutes. (be sure to stop half way and scrape down sides)
With the mixer on the lowest speed, carefully add in egg whites, one at a time, beating well after each addition. (scrape down sides as necessary)
With mixer still on low, add in 1/3 of the flour into the creamed mixture, then half the milk, another third of the flour, the remaining milk, and then the remaining flour. (scrape down sides as necessary)
Gently fold in the rice Krispie cereal.
Using a 1/4 cup ice cream scoop or a 1/4 measuring cup, fill muffin tin.
Bake for 16-22 minutes, or just until cupcakes start to brown and the center springs back when touched. You can also insert a toothpick into the center of the cupcake, and if removed mostly clean, cupcakes are done. Make sure to not brown cupcakes as they are better when slightly less done.
Remove cupcakes from oven and cool in pan for up to five minutes, then invert onto wire rack.
Cool completely before frosting.
For the frosting:
Using a stand mixer with a paddle attachment cream butter in a mixing bowl until butter is soft and fluffy.
Gradually beat in powdered sugar, about 1/2 cup at a time.
Beat in the vanilla bean paste.
Gently fold the marshmallow crème into the frosting until thoroughly incorporated.
Place into a piping bag and pipe frosting onto cooled cupcakes. Garnish with rice Krispie treat piece.