These Bacon Breakfast Rolls with Maple Glaze are a sweet and savory treat filled with a pound of bacon and covered in a sweet maple glaze.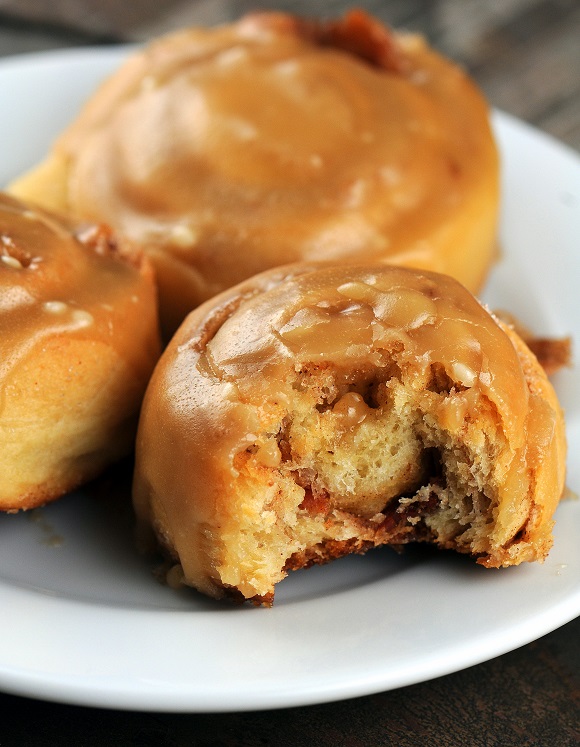 Seriously these make no sense and are in no order except for the first one the first one rules our life currently.
*This week is brought to you by the phrase: You can't bleed a turnip.
*Reminder: I am not home all day sitting on the computer waiting for you to email me with a question.
So demanding immediate response because you are in the middle of making it probably isn't going to happen.
Also, my blog will be 8 years old this year (wow) and my memory is not as good as it used to be so try not to get mad at me when you ask about a recipe from 2007 that I don't remember if it made 24 or 28 cupcakes.
*Speaking of that I rarely put serving sizes on this blog.
You know why…because that means something different for everyone.
Only on cupcakes…and even then if you tend to over fill you won't get the right amount.
Almost everything I make tends to be one serving…sometimes two. 😉
*Lesson learned: The worst time to realize that you haven't eaten all day is when you are sitting down to write a blog post about margaritas and you are drinking that margarita and half way through you realize…damn I'm drunk.
Then proceed to keep drinking it because it's too late now.
But it did feel odd when people were calling me at 1:30pm and I tell them I'm drunk so who knows what I might say.
I'd say I feel bad about that but isn't that a perk of being a food blogger?
Clearly I am justifying. 😀
*Dear Friends: I'm getting smaller so lots of things that didn't fit before are fitting now.
Don't be sad when you ask where I got something and I tell you and follow up with 7 years ago. 😛
I did not suddenly got rich I just got to pull from the plastic storage boxes that have been sitting around for years.
It's fun to shop your closet when you forgot what you owned…I think this is what being 90 will be like…all my clothing will be new to me every day. 😛
*This reader had a GREAT response to my last post.
Which again I got a crap ton of hate mail for promoting Cesar Milan which was NOT the point of my post at all…at least one person got that:
I usually don't comment much, but this post really hit home. My future mother-in-law (we're getting married in September) and I don't really get along and she has said/done some pretty hurtful things to me. You made me realize that I am part of the problem, and I need to accept her for the way she is and love her for all the good things she does in order for us to get past MY issues with her.
Thank you so much for posting this. And to the people who attacked Cesar Milan, please re-read the post and perhaps find somewhere in your life where you are being the problem and work to fix that. Peabody brought up Cesar as an example to support the larger point of her whole post, and you're focusing on a tree rather than the whole forest.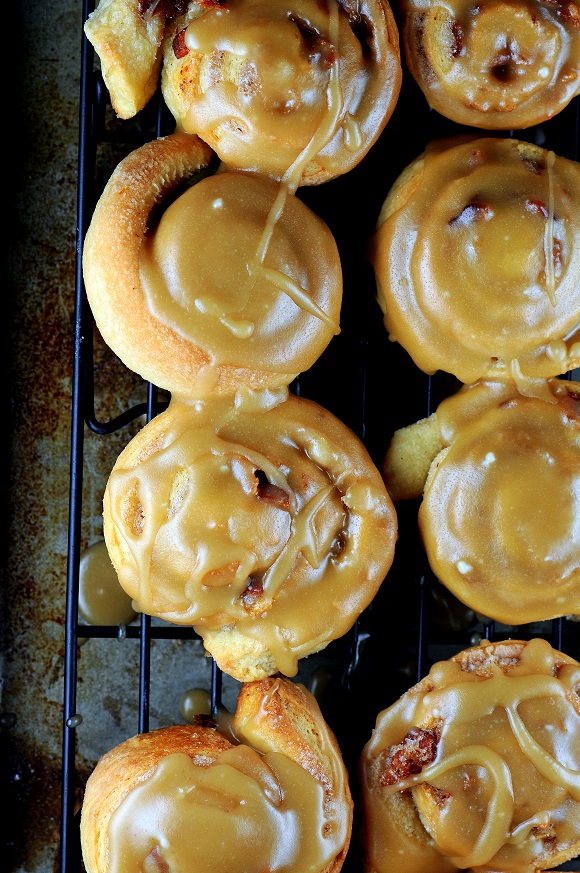 Seriously peeps it was just a post about sometimes the issue is with you and maybe stop the blaming and own up.
*Speaking of hate mail I won't reveal who won Top Chef I will just say I'm very happy about it. Ironically I forgot to tape the episode and missed it. 🙁
And now need to find it online. I had to go looking for spoilers…oh the irony.
*Made these Bacon Breakfast Rolls with Maple Glaze a while back and stupid me thought I put them on the blog.
But I did not.
I put them on Instagram and today someone emailed asking if I was ever going to put the recipe up!
Thanks for the nudge I totally spaced.
Which would be a crime because these were INSANELY good.
Like I don't care if I became 1500 pounds as long as people kept feeding me these kind of good. I don't know what it is about maple and bacon that is sooo good, but it is.
And then add sugar and dough. Hello!
Have a good rest of the weekend!
P.S. It's a great day to buy my cookbook Holy Sweet!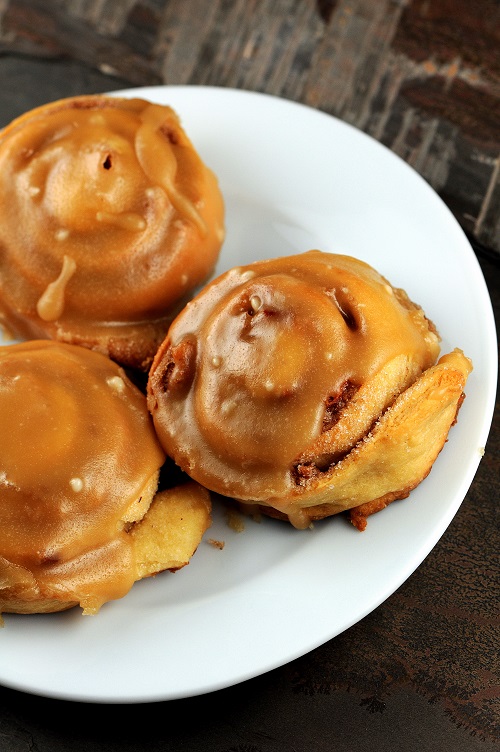 Want More Sweet Roll Recipes?
Lemon Meringue Pie Sweet Rolls
Peanut Butter and Jelly Sugared Buns
Bourbon Brown Sugar Caramel Peach Sweet Rolls
Salted Caramel Apple Sweet Rolls
Prosecco Strawberry Sugared Buns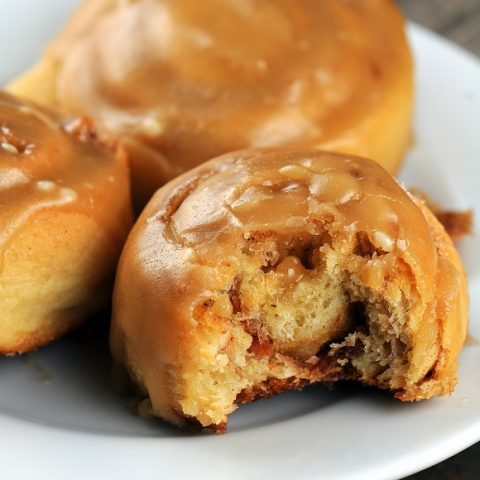 Bacon Breakfast Rolls with Maple Glaze
Ingredients
1/2 cup granulated sugar
6 TBSP brown sugar
Sweet Dough (recipe below)
8 tablespoons (1 stick) unsalted butter, warm room temperature (Around 125 grams)
1 pound (yeah that's right one pound) bacon, cooked (crispy will work best for this) and crumbled
Maple Glaze (recipe below)
Sweet Dough:
1 cup warm whole milk
2 envelopes (4 ½ tsp.) active dry yeast
1/4 tsp. plus 2/3 cup granulated sugar
3 3/4 cups all-purpose flour
1 1/4 tsp. salt
1 large egg
1 large egg yolk
1/2 cup (1 stick) unsalted butter, at room temperature
Maple Glaze:
2 TBSP unsalted butter
1/4 cup pure (seriously don't bust out the Mr. Buttersworth) maple syrup
1 ¼ cup powdered sugar
Instructions
Sweet Dough:
Stir milk, yeast, and 1/4 tsp. sugar in small bowl.
Let stand until mixture bubbles, about 6 minutes. Stir again.
Using a stand mixer fitted with paddle attachment add the flour and salt and mix on low speed just to combine.
Add yeast mixture to the flour and mix on medium-low speed until dry shaggy mass forms, scraping down bowl occasionally, about 2 minutes. This will look weird do not panic. Well you can panic but not about this save it for Global Warming or something like that.
Add egg and egg yolk and beat on medium speed until well blended. Then add the sugar and beat until moist soft dough that resembles thick batter forms, about 3 minutes.
Add butter by 1 TBSP at a time and beat on medium-low speed until almost incorporated before adding more, about 2 minutes (dough will be sticky). Beat dough on medium-high 2 minutes longer.
Scrape dough out onto work surface; gather together. Place in large bowl that is oiled or buttered. Cover with plastic wrap; let rise at room temperature until almost doubled, about 2 hours. Punch dough down; cover with plastic wrap and chill overnight.
Recipe slightly adapted from Dorie Greenspan the almighty!
To make the rolls:
Whisk both sugars together.
Turn cold Sweet Dough out onto floured surface; sprinkle with flour.
Divide dough in half. Roll out dough to two 38 x 30 -cm rectangles (I rolled it out super, super thin because I wanted mini ones so that I could justify eating more of them. But at some point you have to say eating 10 rolls, mini or not, is just not justifiable…not that I would know ).
Using fingers spread the butter evenly over each rectangle. Sprinkle ½ sugar mixture and half of the bacon over each. Starting at 1 long side of each dough rectangle, tightly roll up dough jelly-roll style, enclosing filling. Using a piece of butcher's twine, cut each roll crosswise into fifteen 1-inch-thick slices. (See image below, otherwise, use a sharp knife). Arrange 15 dough slices (I had many more as I made tiny ones but honestly I think bigger would be better with these) in the baking dish, spacing evenly apart.
Cover with plastic wrap; let rise in warm draft-free area until buns are puffy and doubled, about 1 hour 45 minutes.
Bake buns at 375F until deep golden brown, about 25 minutes (mini ones took about 15). Let buns stand 2 minutes. The cover with glaze and say goodbye to your skinny jeans!
Maple Glaze:
In a small saucepan, melt butter and syrup together over medium heat. Whisk powdered sugar into hot mixture until smooth. Let cool slightly…if too thick add a little more maple syrup. Pour over rolls.