All the flavors of the south in this to die for Bourbon Peach Bread Pudding with Bourbon Toffee Pecan Sauce.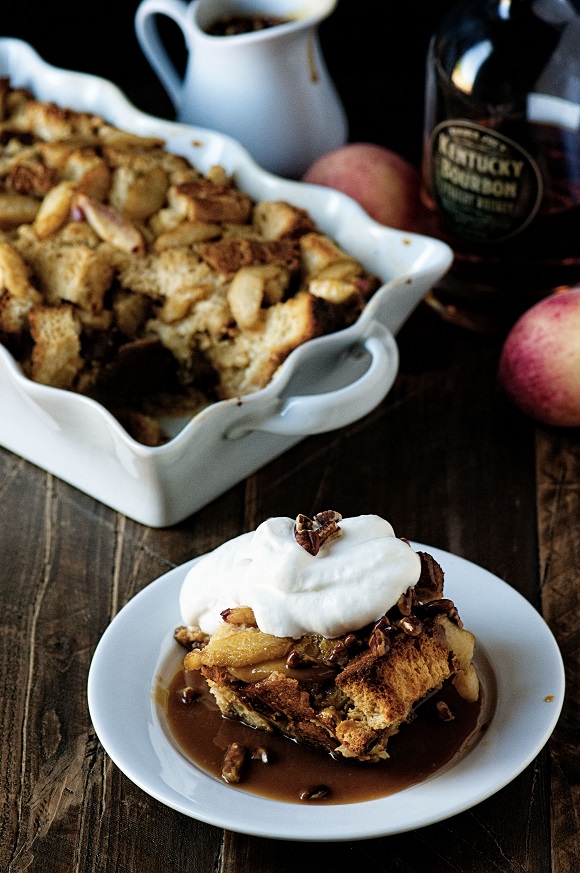 You may have heard of people having spirit animals (I'm pretty sure mine is the Gummy Bear) but I also believe in spirit regions.
I'm laid back like most of the West Coast is but friendly like the majority of the mid-West.
But my food spirit region?
That's the south.
Was over the moon excited when my now ex-husband (he is from the South) and I started to live together.
I envisioned making all these southern dishes for him each night and slowly developing a southern drawl.
So off I went and I bought cookbooks and magazines from all over the south.
One minor problem with that plan.
My ex-husband didn't actually like southern cuisine.
Umm, what?
Yep, other than fried chicken and red velvet cake he was not a fan.
Of course since his name on this blog was Picky Eater we all know he wasn't a fan of much in the way of food.
So I had to suppress my desire to make southern cuisine.
Luckily for me, my now husband will eat anything.
He also feels that the South may be his cuisine spirit animal.
Our trip to Nashville, last year was downright food heaven.
Biscuits, moonshine, pimento cheese, grits, pulled pork, waffles and fried chicken, bread pudding, banana pudding, red velvet, greens with ham, fried catfish, I could go on and on.
A few weeks ago Ovation TV (if you are unaware of them they are an independent cable channel that supports the arts) contacted me about their two new shows coming out this month.
The first one premiered last night (6/7 at 8pm EST) called The Da Vinci List: Chefs has the Lee Brothers sit down with culinary masters and their staff to explore the journey they took to become game-changing chefs.
Pretty sure if you love to cook it's something you want to be watching.
The second show called Southern Uncovered with the Lee Bros premieres Sunday June 14th, at 8pm (EST). Ovation TV asked me to make a Southern Dish in honor of the show coming out.
Okay, twist my arm.
Oh, but what to make.
So many, many southern dishes I love.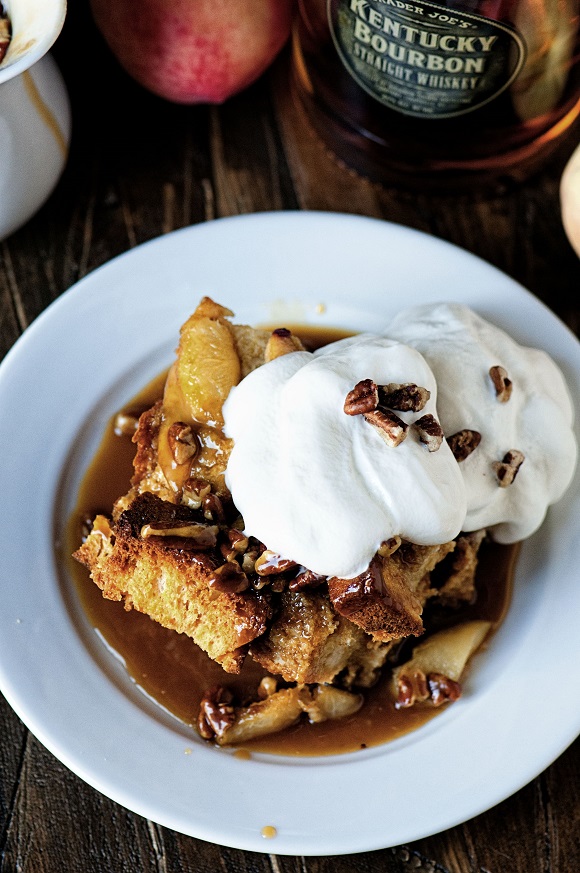 Then it hit me: bread pudding.
Duh.
It's my favorite! I wanted to get it as southern as I could.
Enter bourbon, peaches, and pecans….we are in business!
I'm pretty sure you can tell by the photos, but this bread pudding is amazing.
You cook the peaches in a little bourbon and brown sugar.
Then add those to the bread pudding…in which the custard base just happens to have bourbon in it as well, and peach juice.
Then all topped off with a bourbon toffee pecan sauce.
Yeah.
Spectacular and totally reminds me of the south.
So enjoy the Bourbon Peach Bread Pudding while watching Southern Uncovered with the Lee Bros!
*Yes this post was sponsored by Ovation TV in effort to make you aware of their two upcoming shows The Da Vinci List: Chefs and Southern Uncovered with the Lee Bros but as always I only choose sponsors that interest me and make sense for this blog.
I appreciate you supporting those that support this blog through sponsorship.
And as always the opinions, words, and bad grammar are all mine.
Be sure to order my cookbook.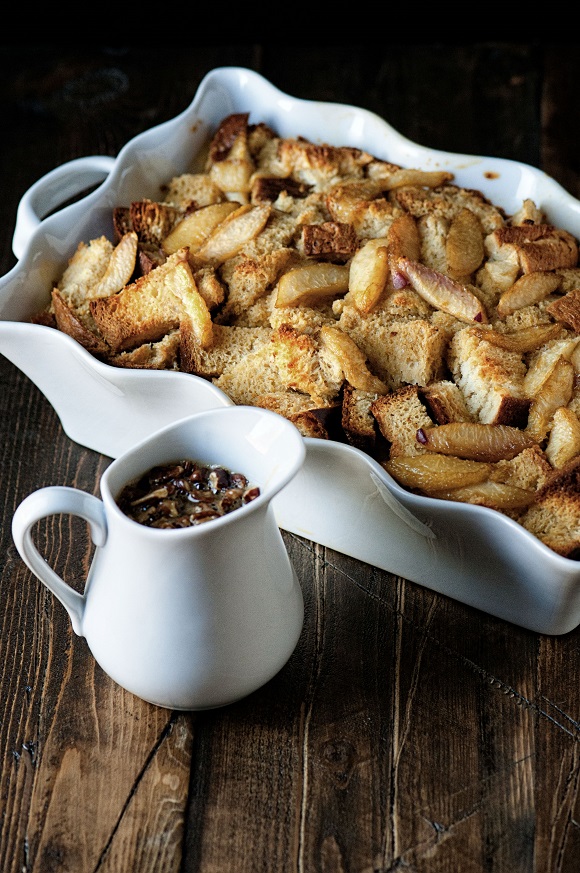 Want More Bread Pudding Recipes?
Bailey's Irish Nut Bread Pudding
Oatmeal Raisin Cookie Bread Pudding
Sticky Toffee Pudding Bread Pudding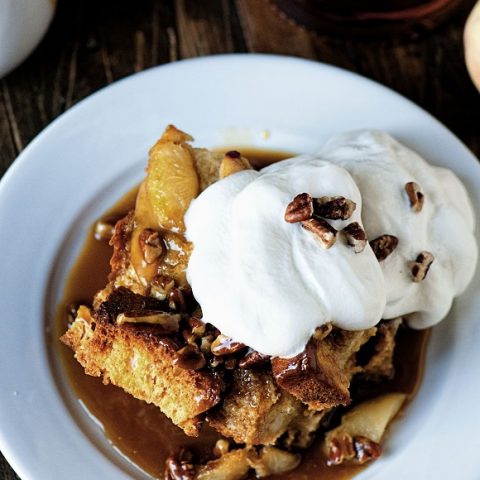 Bourbon Peach Bread Pudding
Ingredients
For the peaches:
5 peaches, peeled and sliced
3 TBSP bourbon (if not wanting booze use peach juice)
3 TBSP dark brown sugar
For the pudding:
4 large eggs
1 ½ cup heavy whipping cream
¼ cup peach juice
¼ cup bourbon (if not wanting to use booze just more peach juice)
½ tsp. vanilla extract
½ cup dark brown sugar, firmly packed
5 cups brioche bread cubes
¼ tsp. salt
Bourbon Toffee Pecan Sauce:
3/4 cup brown sugar, tightly packed
1/3 cup unsalted butter
1/3 cup heavy whipping cream
2 TBSP bourbon
1/2 cup chopped pecans, toasted
Instructions
To prepare the peaches:
Over medium-low heat, add the peaches, bourbon, and brown sugar to a sauté pan.
Let simmer for a 2-3 minutes. You don't want the peaches to get too soft as they will continue to cook in the pudding.
Remove from heat and let come to room temperature while you prepare the custard.
For the bread pudding:
Preheat oven to 350F.
Butter a medium sized casserole dish.
Using a large mixing bowl, whisk together the eggs, heavy cream, peach juice, and bourbon until fully combined.
Add the brown sugar, vanilla extract, and salt and whisk until fully combined.
Toss in the bread cubes and let get fully coated in the custard mixture. Let sit for about 10 minutes.
Pour half the custard soaked bread cubes into the prepared pan.
Press down on the mixture with your hands to make sure the custard really gets into the bread.
Sprinkle half the peaches evenly (as best you can) over this layer.
Add the remaining custard soaked bread cubes over the peaches.
If there is any custard remaining in the bowl, pour over the top of the bread cubes in the casserole dish and press down with your hands to get the custard into the bread cubes.
Top with the remaining peaches, again trying to distribute them as evenly as possible.
Place in preheated oven and bake for 45 minutes to an hour or until set in the center.
If the bread is getting too brown, but the custard is not set yet, feel free to put foil over it for the last minutes.
Serve with Bourbon Toffee Pecan Sauce.
For the Sauce:
Stir brown sugar and butter in heavy medium saucepan over medium heat until melted and smooth, about 2 minutes.
Add cream and bourbon and bring to a simmer.
Simmer for about 5 minutes and then add pecans.
Serve on top of bread pudding.