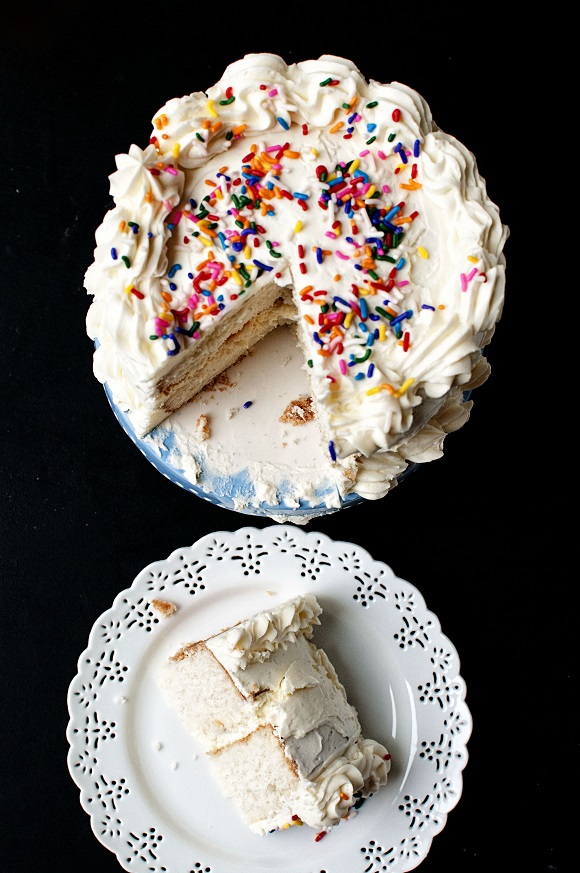 I made this cake WAY back in February…like the first of February to be exact for MDP's birthday. So why is it only making it on now? Well at first it was because at the time I had a lot of recipes to go up all at once. With CCS's declining health, my stress dealing mode was to bake, bake, bake. So I had a backlog of recipes. Then I sort of forgot about it. Then when I remembered I realized that there were a ton of photos of CCS on there and could not bring myself to look at them. So then I forgot about it again. Until luckily a reader asked are you ever going to put up the recipe for the key lime cake you put on Instagram and I was like oh, yeah, I'll get on that thanks.
Emails like that are helpful. Emails and comments about grammar are not helpful. I bring this up because the very first post on my blog now 9 years and 10 months ago I stated that the grammar would suck. I do not strive to make it better. Why not? I write how I talk. If you were to have a conversation with someone and they said "I really wanted to see THERE new house*" no one would stop them, freak out, and correct them. No one. Yet when in writing people cringe, think to themselves what an idiot and suddenly feel superior to that person. And then for some reason feel the need to correct that person in a very public way. You are not enriching that person's life I can assure you, they aren't thinking gee I'm so glad they corrected me thank goodness. No, they are thinking gee get a life. They are thinking thanks for embarrassing me in public. Ask yourself what you get out of correcting someone's grammar? Do you really think you are doing this person an amazing favor?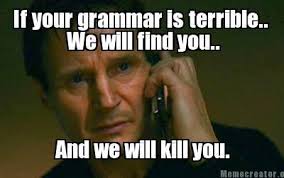 I had to take the SAT's and ACT's to go to college. I had to pass a test an extensive test to get my teacher's certificate. All of which I got 100% on the grammar portions. I can actually do it. But when I'm writing, I write freely. I go back and check but often I miss because it's not a priority for me. If it is a priority to you, then you are reading the wrong blog. I have many advanced mathematics-based science degrees. When I see someone pull out a calculator to do tip for their bill I don't cringe and feel superior. I don't feel the need to point out to them how simple it is to figure that out.
So what kind of emails are helpful? Letting me know links don't work. Letting me know an ingredient is missing or instructions are missing. Telling me you loved a recipe. Telling me a recipe didn't work out and we figure out what went wrong (hopefully we can). Telling me you were touched by a post I wrote. Send me a recipe you think is awesome and that I would love to try. Letting me know I need a print button (I kid…seriously don't). Pretty much every other kind of email but the kind where you correct my grammar is helpful. 🙂
Off of soapbox and on to the cake. This cake is all that MDP could want in a cake. He loves key lime. He prefers white cake to chocolate cake. He loves Swiss Meringue Buttercream (it truly is the best frosting). And don't even get me started on mascarpone mousse. If you are reading through the mousse recipe and panicking about raw eggs, don't. I'm immune deficient and have made versions of this mousse a hundred times and have not gotten sick. Use pasteurized eggs if you are truly worried. Put all three ingredients together: the cake, the frosting, and the mousse and you have one killer cake…with sprinkles of course.
*Please note I do know that should be their house. 😛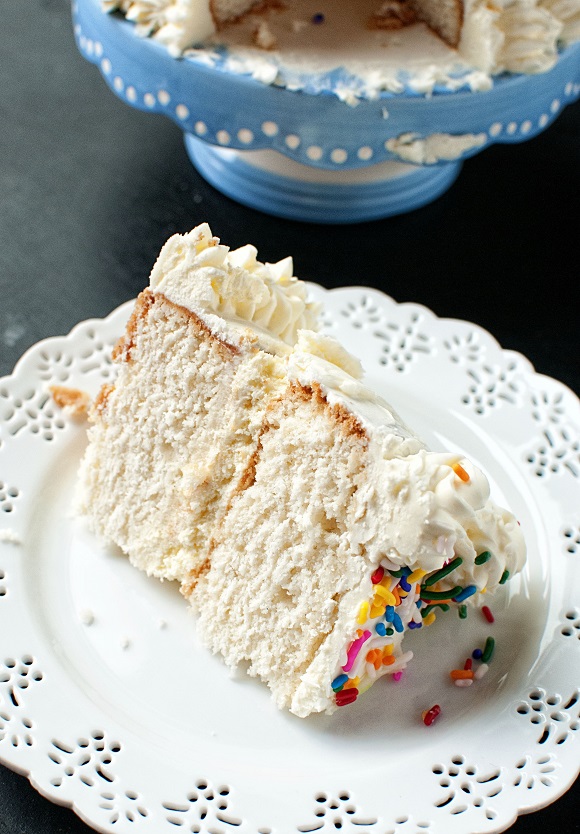 Key Lime Mascarpone Mousse Birthday Cake
White Cake
2 1/4 cups cake flour
1 cup milk at room temperature
6 large egg whites at room temperature
1 tsp. vanilla extract
3 TBSP key lime juice
1 3/4 cups granulated sugar
4 tsp. baking powder
1 tsp. table salt
12 oz. unsalted butter, softened but still cool
Heat oven to 350 degrees. Prepare two 8-inch cake pans.
Make sure milk and eggs are room temperature.
Pour milk, egg whites, juice, and extract into medium bowl and mix with fork until blended.
Mix cake flour, sugar, baking powder, and salt in bowl of a stand mixer at slow speed. Add butter, cut into cubes and continue beating on low for about 1-2 minutes.
Add all but 1/2 cup of milk mixture to flour mixture and beat at medium speed for 1 1/2 minutes. Add remaining 1/2 cup of milk mixture and beat for about 1 minute.
Pour batter evenly between two prepared cake pans.
Bake until toothpick inserted in the center comes out clean, 27 to 30 minutes.
Allow cake to cool to room temperature.
Slightly adapted from I am Baker
Key Lime Mascarpone Mousse
2 eggs, separated
4 TBSP granulated sugar
4 oz. mascarpone cheese, at room temperature
5 oz. heavy whipping cream
2 tsp. powdered gelatin + 2 TBSP water
6 TBSP key lime juice
Sprinkle the gelatin over the water, stir and let sit to bloom.
In a large mixing bowl, whisk the mascarpone with the sugar, add egg yolks and whisk until well incorporated.
Heat the gelatin for about 10 seconds in the microwave and quickly whisk it in the mascarpone batter. Add the lime juice.
Whip the egg white until stiff, fold into the mascarpone mixture.
Whip the heavy cream to medium stiff peaks, and fold into the mascarpone.
Place mousse on the bottom cake layer. Leaving about an inch around the edges so that when you place the second layer on top it doesn't all spill out.
Place mousse topped layer in fridge and allow to set up for two hours.
When 2 hours are up place top layer of cake onto the mousse layer and put back in fridge while you make the frosting.
Adapted from Tartelette.com
Swiss Meringue Buttercream
10 large, fresh egg whites
2-1/2 cups granulated sugar
3 cups unsalted butter, cut into cubes and cool, but not cold
3 TBSP key lime juice
pinch of salt
Place egg whites and sugar in a bowl that just fits into a saucepan to form a double boiler, and simmer over a pot of water (not boiling), whisking constantly but gently, until temperature reaches 140°F, or if you don't have a candy thermometer, until the sugar has completely dissolved and the egg whites are hot.
With whisk attachment on stand mixer, begin to whip until the meringue is thick, glossy, and the bottom of the bowl feels neutral to the touch (this can take up to 10 minutes or so). *Don't begin adding butter until the bottom of the bowl feels neutral, and not warm.
Switch over to paddle attachment and, with mixer on low speed, add butter cubes, one at a time, until incorporated, and mix until it has reached a silky smooth texture (if curdles, keep mixing and it will come back to smooth). *If mixture is too runny, refrigerate for about 15 minutes and continue mixing with paddle attachment until it comes together.
Add lime juice and salt, continuing to beat on low speed until well combined.
Slightly adapted from Sweetapolita
Remove the cake from the fridge and frost cake. Using a piping bag for decoration if you like as well as sprinkles.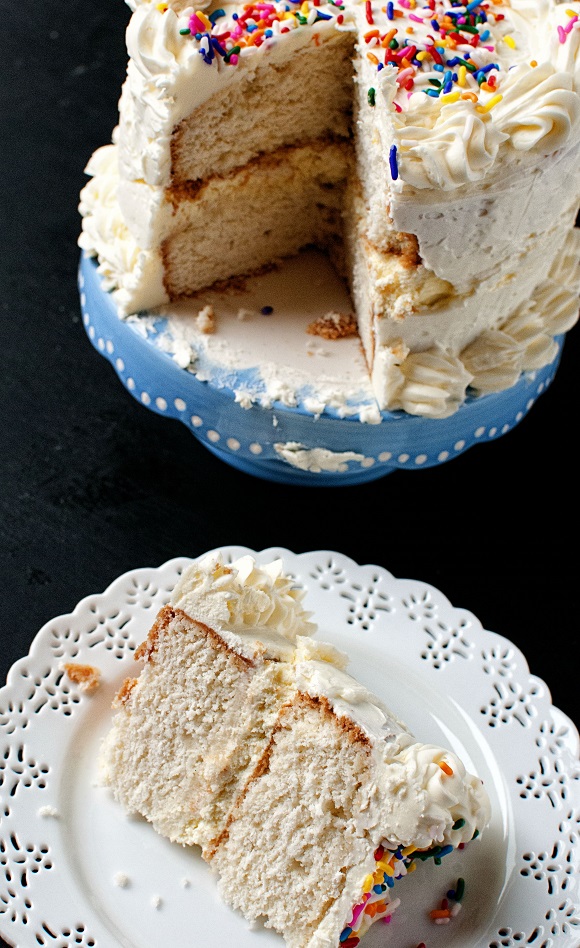 And because I cannot resist…