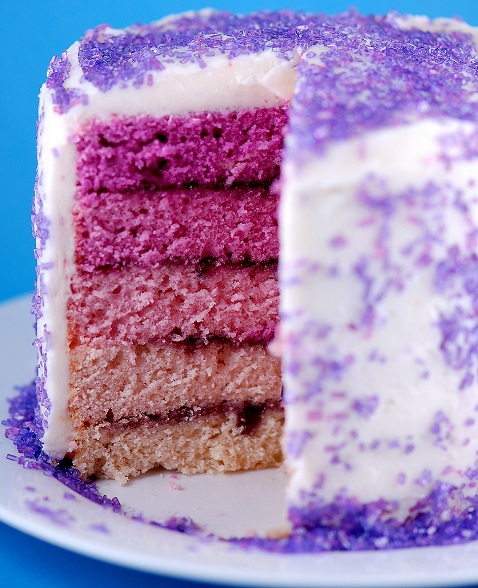 Most days I like things simple. Mostly because I don't have time for much else. But I have had some wicked insomnia as of late and a little bit of motivation to actually do more involved projects. Hence this cake. One thing people think is that if you are a girl who play sports with guys you must not like girlie things. So not true.
Pink is my favorite color (if you are wondering why I didn't do a pink cake…no pink sprinkles in the apartment that day). I love things with bows and ruffles. I have a handbag problem. I love stuffed animals…still. I like sparkly things especially in little blue boxes. I like high heels. And I have quite the love for Hello Kitty.
This cake screams make someone happy, it would make a great birthday or celebration cake. You really can't look at this cake and not smile.
Normally I hate layer cakes. The frosting will tend to slide so I love the idea of jam/jelly in between. I heated my jelly to make it brush on, almost like simple syrup. Feel free to use whatever jam/jelly you would like but I figured if I was going purple I should commit the whole way. 🙂
If you have the time to make this cake and brighten up some ones inner girlie desire…or boy, who am I to judge. 😀

Grape Jelly Purple Layer Happy Sprinkles Cake
For the cake:
3 ¼ cups all-purpose flour
1 TBSP. baking powder
½ tsp. salt
1 cup whole milk
2 tsp. vanilla extract
1 cup granulated sugar
1 cup unsalted butter, at room temperature
4 medium eggs
Purple food coloring
Jam/Jelly to spread between layers, I used grape jelly
Vanilla buttercream (see follows)
Sprinkles to decorate if desired
Preheat oven to 350°F and grease whatever 8-inch round cake tins you have (most people only have one or two pans so you have to bake each cake one after the other). Which is why I made mini ones using 4 ½-inch diameter spring form pans.
Line the base of tins with parchment paper and grease paper and dust tins with flour.
Combine flour, baking powder and salt in a medium bowl and set aside. Mix milk and vanilla together in a measuring cup.
Using an electric mixer on low speed, cream sugar and butter in a large bowl until blended. Increase speed to high and beat for 2 mins or until pale and creamy.
Reduce speed to medium low; add eggs 1 at a time, beating well after each addition. Alternately add flour mix and milk mixture, beginning and ending with flour mixture (I did it by adding 1/4 of of the dry mixture followed by 1/3 of the wet mixture at a time). Beat until smooth, occasionally scraping bowl with a spatula.
Divide mixture evenly into 5 medium bowls. Leave one bowl of batter white, then very gradually add coloring to each bowl and gently fold it into the mixture, adding slightly more coloring as you do each bowl so that the 5 bowls give you an even gradient of color.
Pour batter into prepared tins and bake each layer for about 15-20 minutes (the mini ones take less time, about 12 minutes) or until a skewer into the center comes out clean and the outside is golden.
Cool in tin for 5 mins and then turn out onto wire racks to cool completely.
Make frosting.
Prepare cake for icing, you may need to trim the tops a bit to make sure they are level. Layer cakes with jam (or more icing). Crumb coat the cake with some of the prepared icing and chill for 15 mins.
Cover the cake with more icing, smoothing out with a spatula (I use an offset spatula that I keep clean and warm by running under hot water to get it smoother). If decorating with sprinkles, it can get pretty messy so place your cake in a large container that will catch any of the sprinkles that will run off the cake as you try to stick them on the sides of the cake. Serve cake at room temperature, store cake in the fridge in an airtight container.
Adapted from Raspberri Cupcakes.com
Vanilla Buttercream
1 cup (2 sticks) unsalted butter, softened
6 to 8 cups powdered sugar
1/2 cup milk
2 tsp. vanilla extract
Place the butter in a large mixing bowl.
Add 4 cups of the sugar and then the milk and vanilla.
On the medium speed of an electric mixer, beat until smooth and creamy, about 3-5 minutes. Gradually add the remaining sugar, 1 cup at a time, beating well after each addition (about 2 minutes), until the icing is thick enough to be of good spreading consistency.
You may not need to add all of the sugar.
Source: More from Magnolia by Allysa Torey