Sweet Corn and Raspberry Layer Cake: The flavors of summer come alive in this  layer cake. Flavors of sweet corn are found throughout this delightful cake studded with fresh raspberries.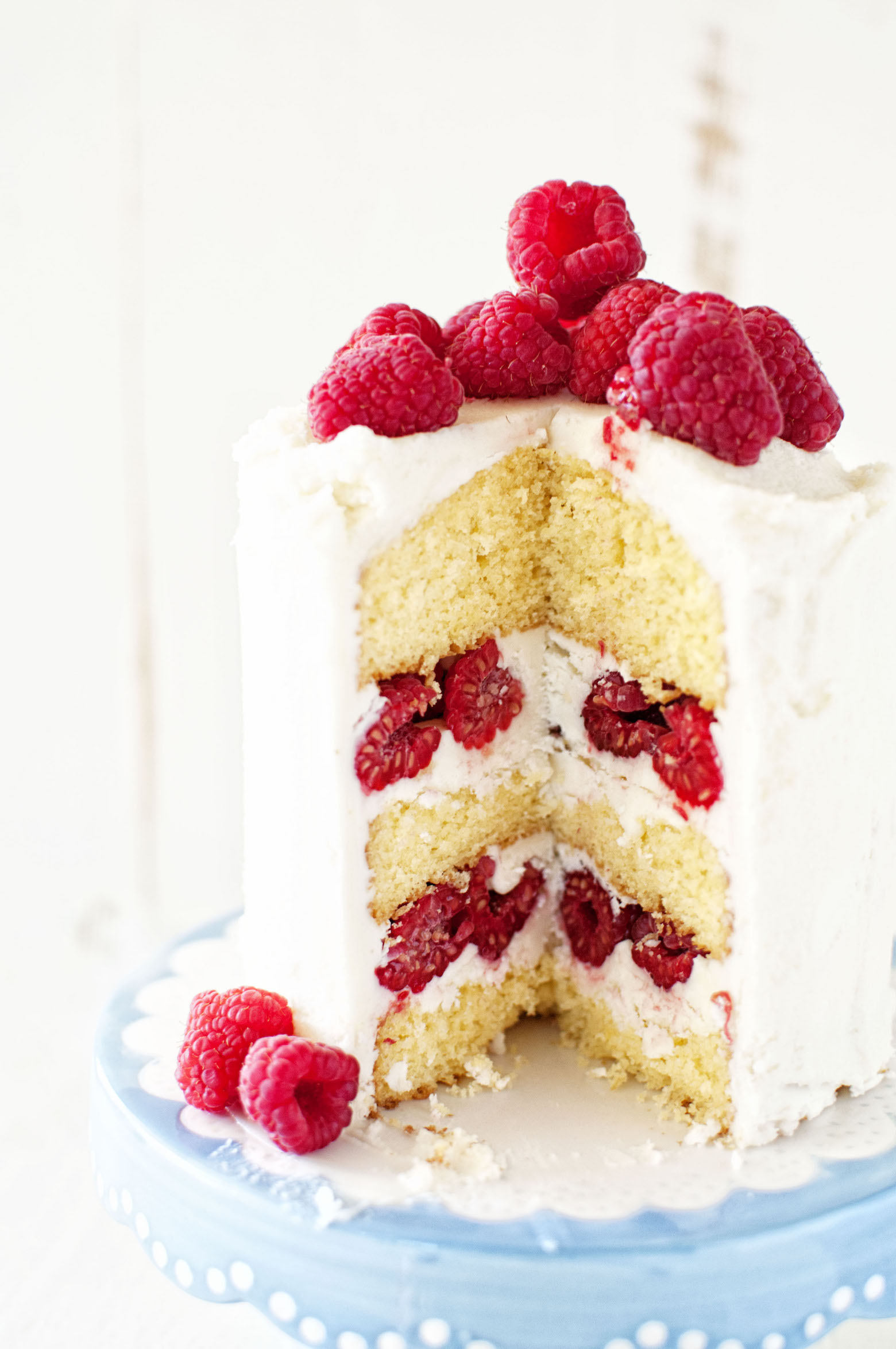 This post and recipe was created for #SummerDessertWeek! I was sent samples by some of the sponsor companies but as always opinions, bad grammar, and overuse of emojis are 100% mine. 
In this post I used Dixie Crystals Sugar in both granulated and powdered sugar. I got great results with the product that they sent me.
"Oh, I love my summers. Fresh corn…mmm."- Lynn Davies from Bad Teacher
There is a lot I dislike about summer but I love, love fresh corn. I'll take it in any form.
So when I was at a corn festival out in California many, many years ago and saw they had sweet corn ice cream I gave it a try. It was love at first bite.
Since then if I see sweet corn on a dessert menu I usually order it.
One of my all time favorite ice creams involves sweet corn.
I love cornbread and always had made mine sweet…and then cover it in butter and honey so making a cake using sweet corn pretty much seemed like a no brainer.
This cake really has more of a hint of sweet corn. The milk is steeped in the corn to help flavor the cake and frosting. But it's not an in your face corn flavor.
My favorite with corn desserts is raspberries and so I decided to use those as well.
This cake pretty much sums up what I love about summer best.
*If you want to make the mini versions like I did, THESE are the pans I use.
Welcome to the first #SummerDessertWeek event hosted by Angie from Big Bear's Wife. We're so glad that you've joined us for this week long event of desserts and giveaways. You're going to love what we have in store for you.
There are 25 amazing bloggers participating in this year's event! Throughout the week we'll be share tons of fantastic summer dessert recipes with you. With over 70 recipes being shared this week we just know that you're going to find a new summer favorite! Plus, don't forget that we have 6 (six) great giveaways for you this week thanks to our amazing sponsors!
Scroll down to take a look!
Prize #1
Prize #1 — Dixie Crystals is giving one winner a $100 Willimas Sonoma Gift Card OR a $100 Sur la Table! Winner of prize #1 gets to pick which gift card they would like!
Prize #2
Prize #2 — Rainier Fruit is giving one winner a Pie dish, Cherry Pitter, Serving Spatula, Pinch Bowls, Pie Carrier! Everything you need to make the perfect cherry or blueberry pie!
Prize #3
Prize #3– OXO is giving one winner an 8 Piece Glass Bake, Serve & Store Set.
OXO Glass Bakeware is made of thermal shock resistant borosilicate glass, which means it can go from freezer to oven without the need to thaw. The OXO 8 Piece Glass Bake, Serve & Store Set is the perfect partner for all of your baking adventures. The Set includes a Glass 3 Qt Baking Dish, Glass 2 Qt Baking Dish, Glass Loaf Pan, Glass Pie Plate, 1 Cup Round SNAP Container, and 2 Cup Round SNAP Container.
Prize #4
Prize #4 — Adam's Extract is giving one winner a Pyrex with baking utensils and 4oz Adams Best, 1.5 oz Pure Lemon, Almond, Peppermint and Vanilla.
Prize #5
Prize #5 — General Mills Cereal is giving one winner 4 boxes of cereal, 2 Big G Cereal character bowls, 2 Big G Cereal character , 2 "Good Morning" spoons, 2 Cheerios tumblers with straws 1 long-sleeve Cereal Character hooded t-shirt, 1 short-sleeve Cereal Character t-shirt.
Prize #6
Prize #6 — Land O'Lakes is giving one winner a branded insulated tote with a stainless steel water bottle, two mugs with cocoa mix, a dish towel and coasters.
Check out the amazing #SummerDessertWeek recipes from our bloggers today!
Ice Cream Recipes:
Pies of Summer:
No Bake Treats:
Baked Desserts: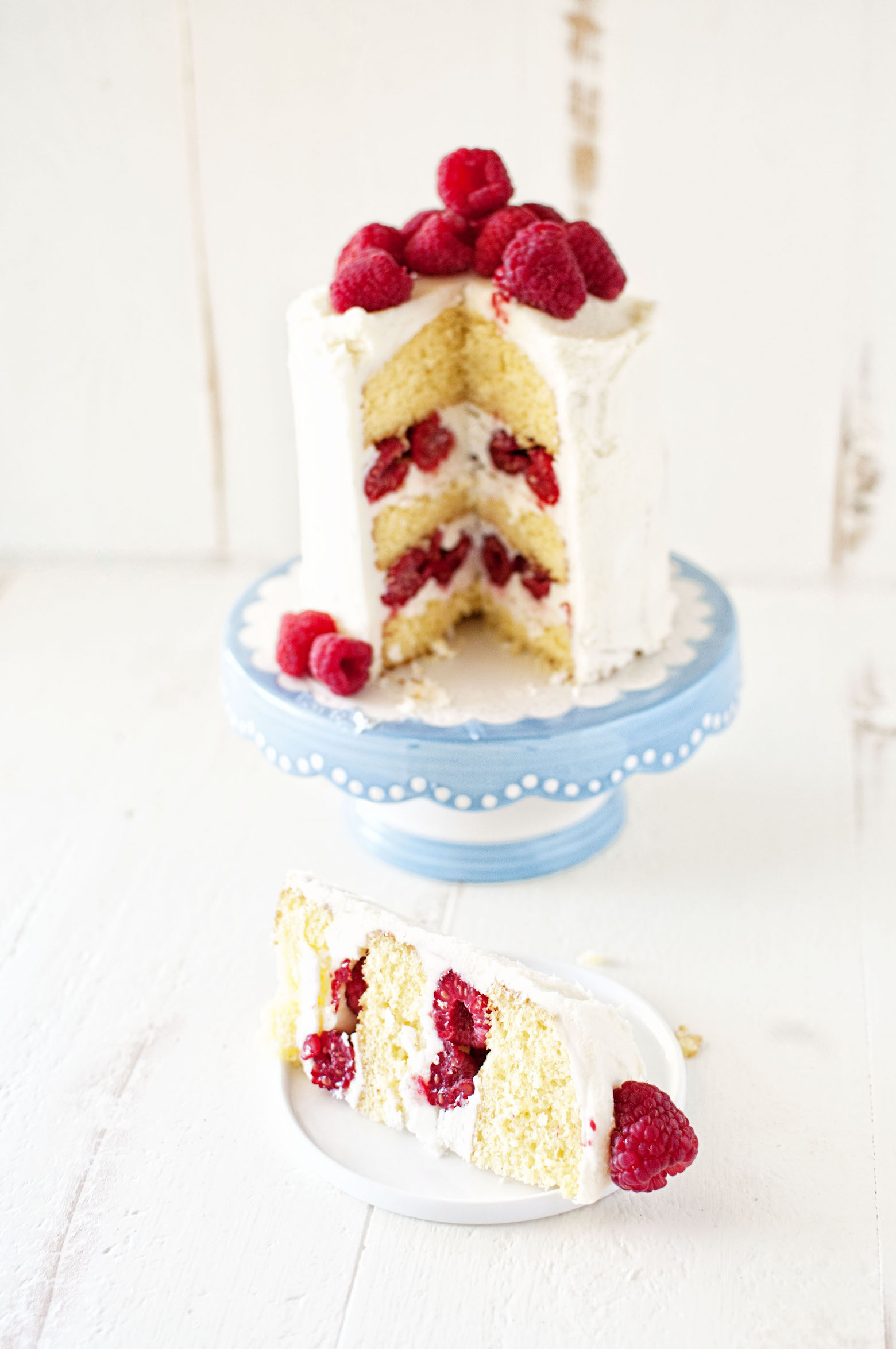 Sweet Corn and Raspberry Layer Cake
Author:
Ingredients
1 recipe corn cake
2 pints raspberries
buttercream frosting
For the cake:
1 3/4 cups whole milk (you will only use 1 1/4 cup)
two ears of sweet corn, shucked and cut
1/2 cup unsalted butter, at room temperature
1 1/2 cups granulated sugar
3 large eggs
2 1/4 cups all-purpose flour
1 tsp. salt
3 1/2 tsp. baking powder
1 tsp. vanilla
Frosting:
1 1/2 cups unsalted butter, at room temperature
6 cups powdered sugar
1 tsp. vanilla extract
2-3 TBSP corn milk (leftover from cake)
Instructions
For the cake:
Using a medium saucepan add the milk and the cut corn and bring to a simmer. Simmer for 20 minutes.
Strain out the corn and let cool to room temperature.
Preheat the oven to 350°F.
Prepare a two 9-inch round pans or six 4 1/2-inch spring form by greasing them thoroughly with butter or baking spray.
Use a stand mixer to beat the butter and sugar together until fluffy and light, then add the eggs and beat until fully incorporated and the mixture looks creamy and very pale yellow.
Beat in the flour, salt, and baking powder at low speed, followed by 1 1/4 cups corn milk and vanilla.
Beat everything together on low for 30 seconds, and then on high for 3 minutes.
Scrape down the sides of the bowl as needed.
Immediately divide the batter between the prepared pans and bake for 25 to 30 minutes, or until the tops spring back slightly when pressed and the cake pulls away from the sides of the pan.
Let cool on wire racks for at least 15 minutes, then flip each pan over onto the rack and tap gently all over.
Frosting:
In the bowl of a stand mixer fitted with the paddle attachment, or in a large mixing bowl using an electric mixer, beat the butter on medium speed until smooth.
Add in the powdered sugar and mix on low speed at first, then increase to medium speed and continue mixing for another 1-2 minutes until the mixture starts to come together.
Add in the corn milk (start with 2 tablespoons and add a little more if needed) and vanilla extract, and continue mixing on medium-high speed for another minute or until everything is well combined, scraping down the sides of the bowl as needed.
To assemble the cake:
Level the cake layers using a serrated knife. I made two mini cakes using the smaller cake pans.
Using a cake circle or cake stand add a blob of frosting and add the first layer of your cake…the frosting will help the cake stick and make it easier to frost.
Frost between the cake layers adding the fresh raspberries. If using just the two 9-inch cake pans you will only have one layer. If using the smaller cake pans you will get two 3 layer mini cakes.
Create a crumb coat after all the layers have been added.
Set cake in fridge for 30 minutes to firm up.
Frost the cake.
Top with raspberries as a garnish.