These Chocolate Nougat Sprinkle Brownies topped with chocolate nougat similar to the filling of a 3 Musketeer bar and covered with sprinkles.

So if you ever thought to yourself I wonder what 3 Musketeers Bars would taste like as a brownie?
I now have your answer.
That answer of course is: have mercy pass me another one.
I threw some sprinkles since I have to and some caramel filled chocolate chips (because I throw those on like everything now) just for good measure.
We will get back to the brownies in a bit.
I was sitting on the couch with a spaniel on me (which he is always on me…case in point) and clicked on some fluff article about 5 things I've Kept Secret for 35 years.
It started me thinking what secrets do I have that I haven't told anyone?
So of course I want to tell you. 😀
1. When I was like 8 years old I was in a Hallmark store in the mall.
There was a little glass heart that cost $.10.
And I asked my dad (who I was with at the time) to buy it for me and he said no (um, aren't dad's supposed to spoil you rotten?).
I remember putting the heart in my jean pocket.
We walked around the store and I had what could have only been small panic attack the whole time.
My love of this glass heart vs all that I was taught about morals raged inside of me.
Finally my morals won out and I went to put the glass heart back…but it was gone.
Now that I'm older I know that it most likely just fell somewhere in the store and therefore I did not steal it but I still feel a pang of guilt over it to this day.
Yes I am a super goody two shoes I know this.
I'm okay with it.
2. Most of my childhood I knew all of my Christmas gifts ahead of time.
I have a knack for unwrapping gifts without it being detected.
Somehow my morals don't get in the way of this. 🙂
Of course now that I'm an adult I realize I took all the fun out of Christmas and long for the days when things were a surprise.
Which is why I think things like Barkbox, Birchbox, Ipsy, etc are so popular…it's like Christmas every month.
3. I am sad (more liked worried) for my friends when they lose weight, and it's not a jealousy thing.
It's a because I know what they are going to go through kind of thing.
First they are in their happy zone (which is good of course).
You start going out more so people can see you and tell you how great you are looking (though until they do you get upset that you have lost 10 pounds and no one has noticed!).
Then they get into the diet takes over my life I'm a horrible person for drinking that beer or eat a cupcake stage.
Then you get into verbalizing that you were either "good" or "bad" that day based on what you ate.
Newsflash: if you didn't kill, rape, wound, rob (etc) someone today you had a good day.
And while the people may joke about it or brush it off in their mind they really do feel that they were bad or good.
Then the; I will never gain weight back this is my new lifestyle (I cringe the most at this part) phase starts.
Then comes maintenance.
Maintenance in my opinion is the hardest.
For me losing the weight wasn't really the hard part.
In maintenance you don't get the people constantly building you up by telling you how great you look and how they are inspired.
Sure you will see someone that hasn't seen you in a while and they will gush and you will feel great.
You look how you want to look and so now that evil cupcake gets eaten and you remember that they taste way better than the fat free sugar free pudding cup that you were passing as dessert for so long.
You don't go to the gym as hard as you used to because you made it to your goal.
Then it slowly happens, the weight creeps up.
At first you don't really care, it's just a few pounds…and then up and up it goes.
And you are crushed not even by the fact that you gained weight but that because you feel you let people down.
I can assure you, that you did not let people down.
People are so absorbed in their own lives that if you gained weight their life goes on and so will yours.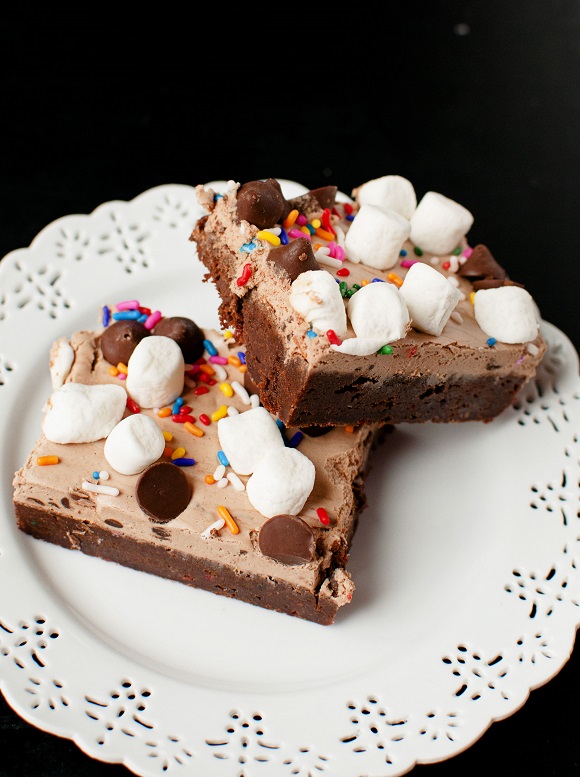 Yes I sound pessimistic.
When it comes to the weight loss industry I am.
I've been in it to lose weight.
I've worked for Weight Watchers (both as receptionist and leader).
I have friends who have all been through it.
I'm sad to report that every.single.person has gained some of the weight back.
Google how many of the Biggest Loser contestants gained weight plus more (which they have a gag order to not tell).
I gained some of my weight back.
Now granted I lost weight to save my marriage, that didn't happen, and I stress ate. 😀
But I've watched injuries sidetrack people, life circumstances (including not having money to belong to gyms and buy organic kale), people just sick of tracking everything they ate, you name it.
I've had friends that kept off weight for several years only to have it come back.
Recently I reached out to a blogger I hadn't heard from in a while only to find she stopped blogging because she gained the weight back and was ashamed.
Gaining weight should not be something to be ashamed about!
And so this is why I am so about loving who you are as you are.
Wow, sorry that was longer than I thought.
4. I miss the days when you could meet someone at the airport at the gate.
As teenagers this was one of the things we would do.
We were lame, I know.
But we would make signs with generic names and just go and see if we could meet new people.
I still talk to one of the people we met when I was 17 years old. 🙂
5. I was scared for years that watermelon seeds if swallowed would indeed grow a watermelon in my stomach. 🙂
And now these Chocolate Nougat Sprinkle Brownies.
Yes they are over the top.
Everything on this blog usually is.
I urge you to make sure to use bittersweet and semisweet chocolate or these will be too sweet.
But if you love a 3 Musketeer Bar then these are the brownies for you.
You don't have to have the toppings but I think they make them more festive…and well I have a lot of sprinkles to use up!
Last but not least…it's a great time to order my cookbook.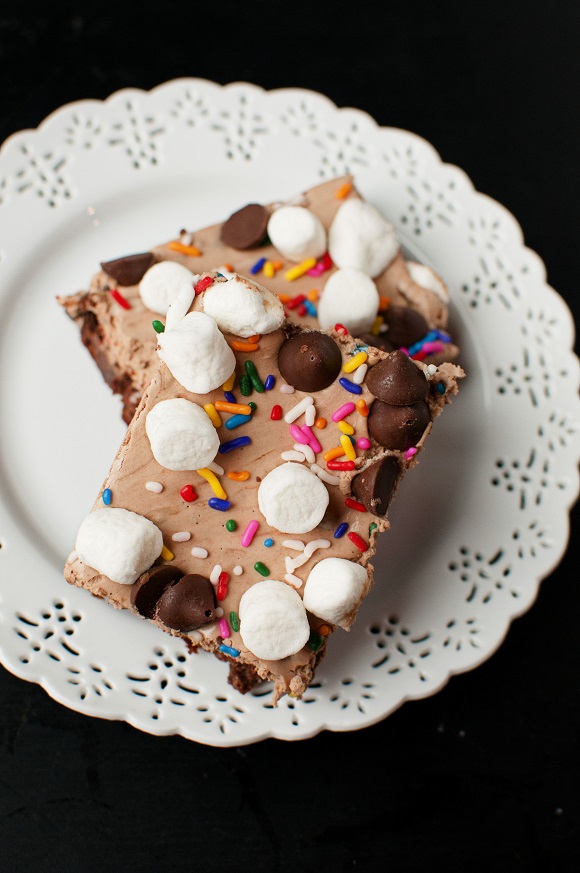 Want more recipes? Try these:
Hot Chocolate Marshmallow Brownie Bars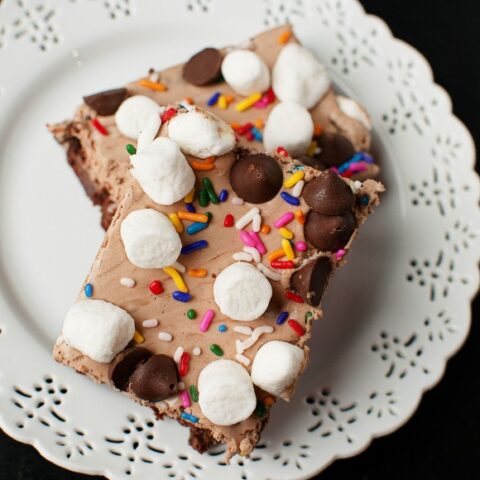 Chocolate Nougat Sprinkle Brownies
Ingredients
For the Brownie batter:
8 oz. unsalted butter, cut into pieces
3 oz. unsweetened baking chocolate, finely chopped
1 cup bittersweet chocolate chips
4 large eggs, at room temperature
1 cup granulated sugar
1 cup brown sugar, packed
¾ tsp. salt
1 ½ tsp. vanilla extract
1 cup all-purpose flour
½ tsp. baking powder
1/3 cup sprinkles
For the Chocolate nougat:
4 TBSP unsalted butter
1 cup granulated sugar
¼ cup evaporated milk
7 oz. marshmallow fluff
½ cup semisweet chocolate chips
1 tsp. vanilla extract
1 cup caramel filled chocolate chips
1 cup mini marshmallows
1/3 cup sprinkles
Instructions
For the Brownie:
Prepare a 9-x-13-inch pan with baking spray.
Preheat oven to 350F.
In a small saucepan melt the butter over low heat.
Add the unsweetened chocolate and the bittersweet chocolate chips and whisk until the chocolate is melted and smooth.
Move from burner and set aside.
Using a stand mixer with a whisk attachment, beat together the eggs, sugars, and salt until incorporated.
Add the chocolate and whisk until combined.
Add the vanilla and beat until fully combined.
Remove from mixer and fold in the flour and baking powder until just combined.
Fold in the sprinkles.
Pour mixture into prepared pan and spread the batter out evenly with a spatula.
Bake 28-30 minutes or until a knife inserted in the center comes out clean.
Transfer to a cooling rack and let cool to room temperature. Then place in freezer while you prepare the chocolate nougat.
For the Chocolate nougat:
Place butter, sugar and evaporated milk in a medium saucepan.
Cook over medium-low heat until the butter has melted and the sugar is dissolved.
Increase heat to medium-high to bring the mixture to a boil.
Then lower heat to low and let it gently slowly boil without mixing for 5 minutes.
Remove from heat and add the marshmallow fluff, chocolate, salt, and extract and whisk vigorously until the mixture if fully blended.
Pour the nougat over the chilled brownies and spread evenly with a offset spatula
Sprinkle the toppings evenly on top of the nougat
Put in fridge for 7-8 hours or overnight.
Cut into 24 squares and serve.