This Strawberry Shortcake Layer Cake is a yellow cake with Strawberry Biscuit Buttercream and fresh strawberries. All the great flavors of strawberry shortcake.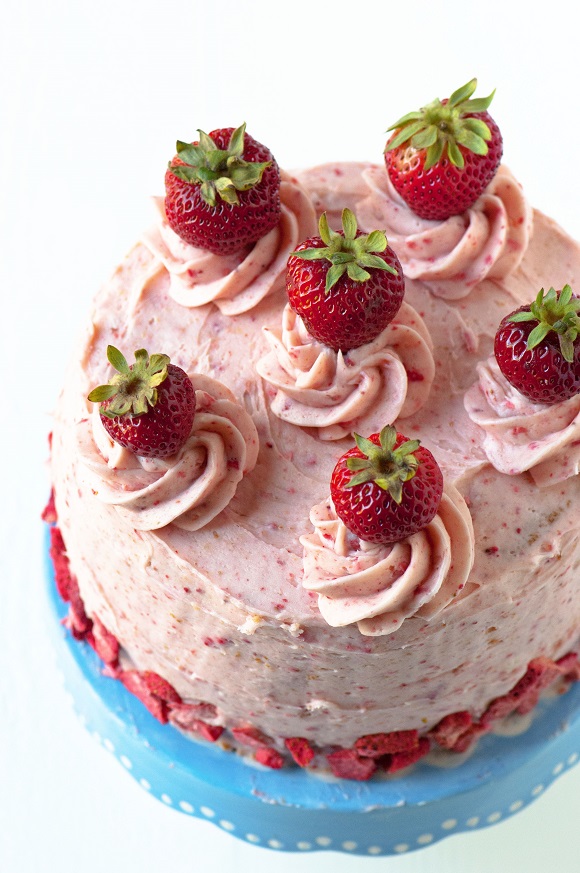 As my shipment of Plugra butter showed up at my door I thought to myself what will I make this time?
Spring is morphing into summer as my portable a/c can tell you (the dog and I are wimps) and that says Strawberry Shortcake to me.
Growing up we were a house divided in the land of Strawberry Shortcake.
My dad and I were on Team Sponge cake.
You know the little store bought ones with the little well in the middle to put the strawberries.
My mom grew up eating hers with buttered homemade biscuits and, therefore, was on Team Biscuit.
Try as she might she never converted me ( I was a pain and refused to try)…well not for a while anyway.
Then one time when visiting my grandmother I didn't have the option of the sponge cake.
It was biscuits or nothing.
This dessert loving girl wasn't passing up dessert so I sucked it up.
I then of course made the face of where has this been all my life.
Oh, the smirk on my mother's face as once again she was right.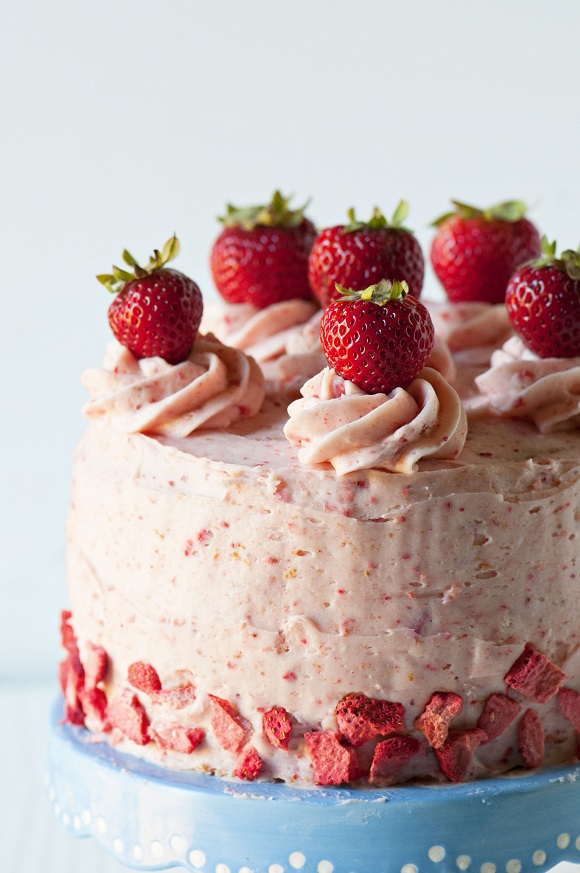 So I thought why not make a cake that incorporates my families two ways of eating strawberry shortcake?
A Strawberry Shortcake Layer Cake.
I did not make a sponge cake as I really wanted a yellow butter cake the flavor is kind of reminiscent of the sponge cake…only way better.
Figuring out how to put a biscuit into the cake was interesting and ultimately ended with me pulverizing it and putting it in the frosting.
Makes it not exactly a smooth cake but strawberry shortcake is homely dessert.
Since this frosting has only a few ingredients I highly suggest using European butter, it just makes for the best frosting.
I suggest it for the cake as well, but the frosting is a must!
Be careful when purchasing the freeze dried strawberries that you don't get dehydrated strawberries as that will not work at all.
They are very important to the recipe and make the cake taste really, really strawberry.
This is my new favorite way to make Strawberry Shortcake, especially since you don't have to choose teams. 🙂
P.S. It's a great day to buy my cookbook Holy Sweet!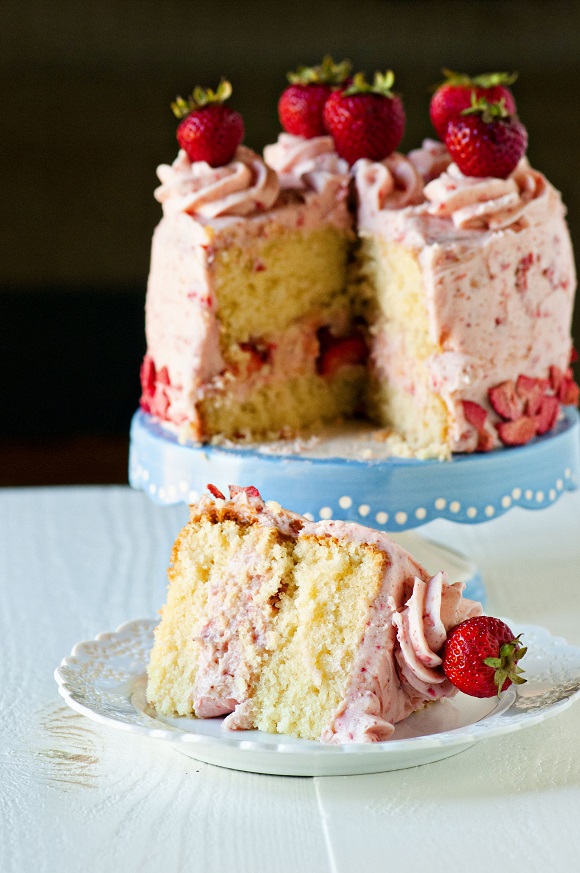 Want more Layer Cake Recipes?
Strawberry Lemonade Layer Cake
Circus Animal Cookie Layer Cake
Strawberry Mascarpone Buttermilk Layer Cake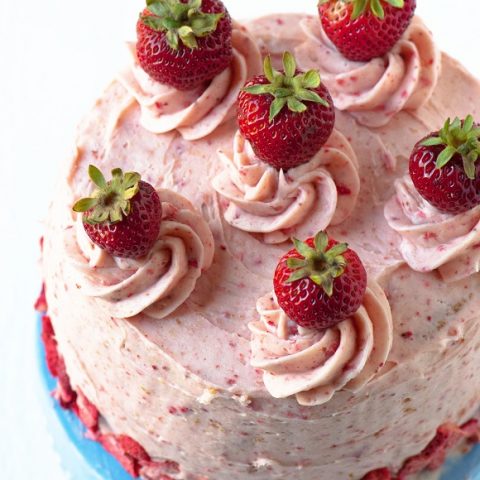 Strawberry Shortcake Layer Cake
Ingredients
Yellow cake recipe (follows)
Strawberry buttercream recipe (follows)
15 strawberries (more for garnish), cleaned and sliced
Freeze dried strawberries (for garnish)
Yellow Butter Cake:
2 1/4 cups all-purpose flour
1 1/2 cups granulated sugar
3 ½ tsp. baking powder
1 tsp. salt
1 1/4 cups whole milk
1/8 cup vegetable oil
4 oz. unsalted butter, at room temperature (I used Plugra)
1 TBSP vanilla extract
3 large eggs
Strawberry Buttercream:
12 oz. unsalted butter, at room temperature (I used Plugra)
8 oz. freeze dried strawberries (you can find these at Trader Joe's and health stores)
2 ½ cups powdered sugar
1 tsp. vanilla extract
4 TBSP heavy cream
1 buttermilk biscuit (fully cooked)
Instructions
For the Cake:
Prepare pans with either baking spray or butter and flour.
Use a parchment cake circle (or make one) to prevent the bottom of the cake from sticking.
Using a stand mixer fitted with the paddle attachment cream butter on medium for 1-2 minutes.
Place dry ingredients into the stand mixer and combine with butter for 30 seconds.
Add milk, oil, vanilla and eggs and mix on medium-high for one minute.
Pour batter into prepared pans.
Bake at 350.
For 9-inch pans its 20-25 minutes. For 6-inch pans 45-50 minutes.
Let cool to room temperature then wrap in plastic wrap and move to fridge to firm up a little to help with assembly.
For the Buttercream:
Using a stand mixer fitted with the paddle attachment beat butter at medium speed until creamy, smooth, and lightened in color, about 2 minutes.
Add sugar, cream, vanilla, and salt and mix at low speed until somewhat incorporated.Increase the speed to high and mix until buttercream is smooth and fluffy, 3-5 minutes. (If the buttercream is too thick, add a little more cream, if it's too thin, add more powdered sugar.)
Add the freeze dried strawberries and beat until fully combined. It will make the frosting pink.
Take the biscuit and put it into the food processor and pulse until you have very small crumb.
With the mixer on low add the biscuit crumbs and mix until fully combined.
To assemble the cake:
Trim cake tops so that they are even.
Take the bottom cake layer and spread about a ½ cup of frosting onto the cake layer.
Your frosting is going to not go on smoothly as it has biscuit crumbs in it…that's okay.
Place strawberry slices on top of the frosting.
Now this part is unusual, you are going to frost the bottom of the top layer so that when you flip it over the frosting will adhere to the strawberries. It's easier to do it this way as frosting over fresh strawberries is not an easy task in my early days I was dumb and tried that.
Once the top layer has been placed on top, push down slightly to have the layers in place. Frost a crumb coat. Don't freak if it looks dreadful at this stage, mine did.
Place in fridge for 20 minutes to help the frosting firm up so that it will be easier to frost.
Remove from fridge and frost with remaining frosting.
Pipe frosting on top if desired.
Add extra freeze dried strawberries and fresh strawberries if desired.