These Banana Cupcakes has over the top amazingly good Cadbury Caramel Egg Frosting which literally has melted Cadbury Caramel Eggs in it.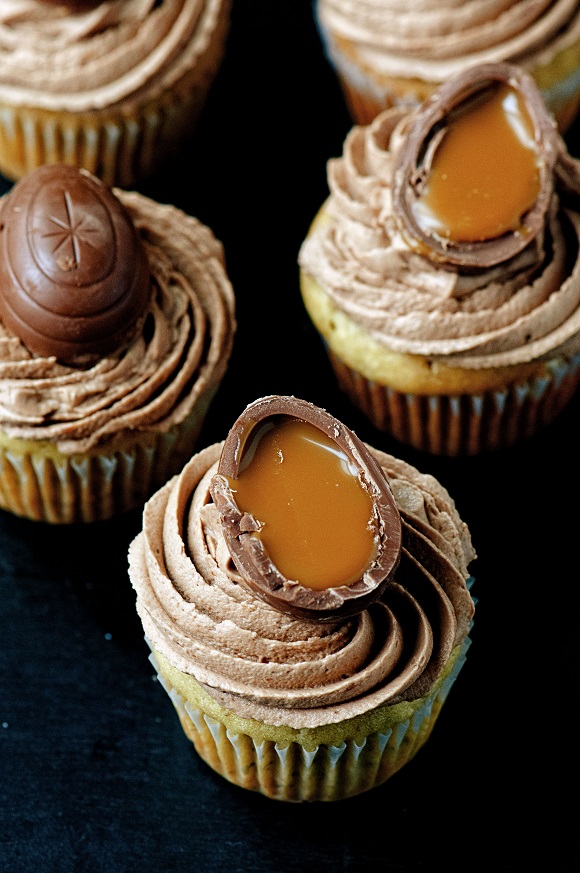 Normally after a holiday that involves making a large meal people are always looking for what to do with the leftover main protein.
Easter is no exception.
Ham.
Lots of ham.
Lucky for me I have a 17 year old stepson over here all this week on Spring Break so that dilemma is taken care of. 🙂
Seriously, I don't know where teen boys put all that food they eat.
Though I will be making some quiche with some of the leftovers as well as soup with the bone.
What I do have leftover, well more like I went bought a ton of the leftovers at 75% off is Cadbury Caramel Eggs.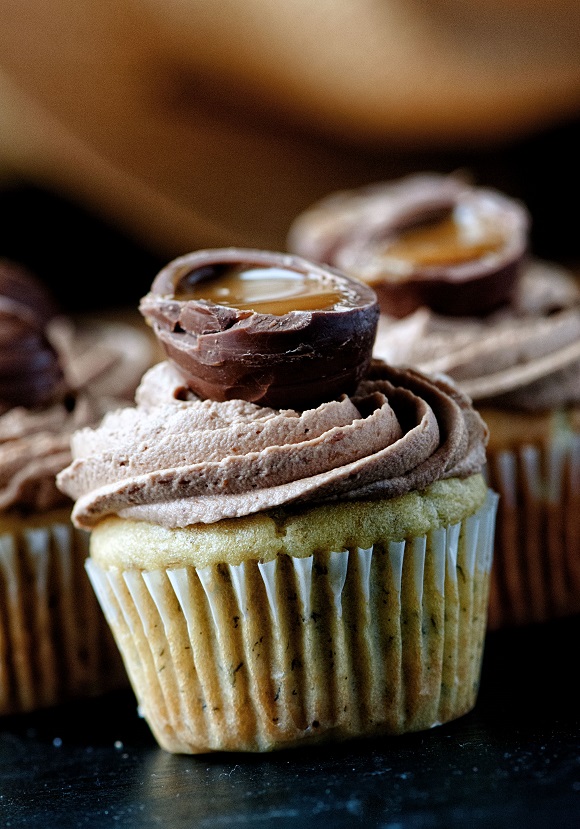 The lesser known of the Cadbury Eggs yet I have no idea why.
I mean it's a large chocolate egg filled with delicious caramel.
I've dipped them in batter and deep fried them before.
And that was mighty tasty but something was screaming to me to melt them down and make them in to frosting.
So I made Cadbury Caramel Egg Banana Cupcakes.
I really like that screaming voice in my head (well for now…perhaps if it starts telling me to kill people that may change :P).
We are on Spring Break this week so hoping to get a little baking done!
And last but not least it's a great day to buy my cookbook.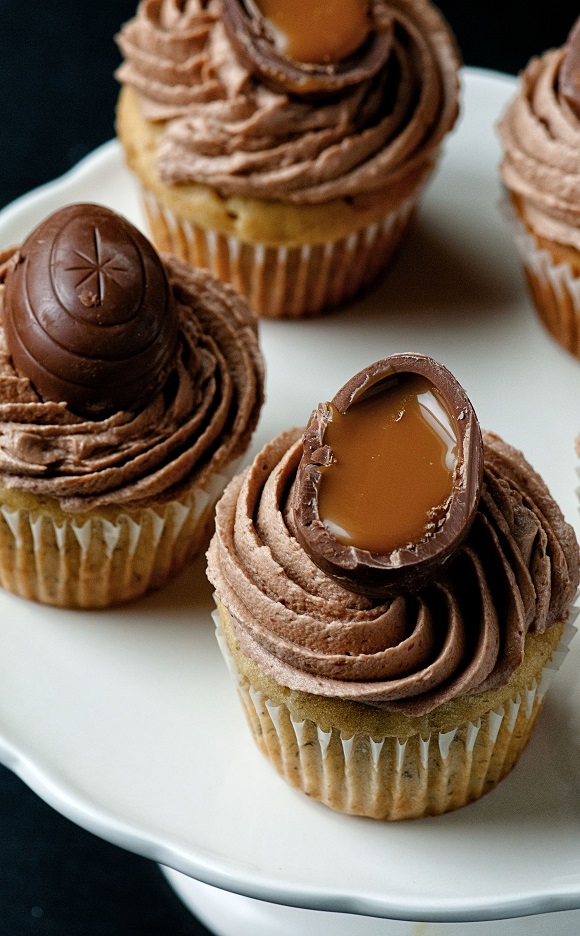 Want More Cadbury Egg Recipes?
Yummy Cadbury Caramel Egg Marshmallow Pie
Rich Cadbury Caramel Egg Creme Brulee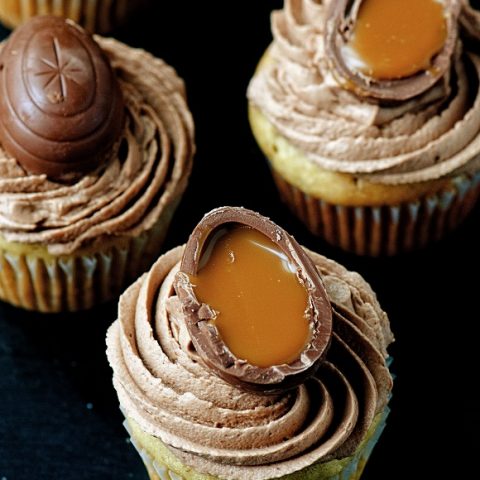 Cadbury Caramel Egg Banana Cupcakes
Ingredients
For the cake:
1 1/2 cups bananas, mashed, ripe
3 cups all-purpose flour
1 1/2 tsp. baking soda
1/4 tsp. salt
3/4 cup unsalted butter, at room temperature
2 ¼ cups granulated sugar
3 large eggs
1 TBSP vanilla bean paste (or extract)
1 1/2 cups buttermilk
Cadbury Caramel Egg Frosting:
1 cup unsalted butter, at room temperature
6oz Cadbury Caramel Eggs (5 full size eggs), melted, slightly cool
2 cups powdered sugar
1 TBSP unsweetened cocoa powder
Instructions
For the Cupcakes:
Preheat oven to 375°F.
Spray 2 standard muffin pans (12 muffins each pan) with baking spray or with cupcake liners.
In a medium bowl, mix flour, baking soda and salt; set aside.
In a large bowl, cream butter and sugar until light and fluffy, about 3 minutes. Add the bananas and beat for another 30 seconds.
Add in eggs, one at a time, scraping down the bowl after each addition. Add the vanilla bean paste and beat for another 30 seconds.
Start with the flour mixture alternate with the buttermilk adding to the bowl. Do this until all the ingredients are fully combined.
Pour batter into prepared muffin pans and bake in preheated oven for 24-28 or until toothpick inserted in center comes out clean.
For the Frosting:
Using a stand mixer with the paddle attachment, cream butter and 1 cup sugar until fully combined.
Add melted Cadbury Caramel Eggs and cocoa powder, and beat on low speed until fully incorporated.
Add the remaining cup of sugar. You might need to thin it out, I never had.
Frost cupcakes with either knife or piping bag and top with ½ Cadbury Caramel Egg for garnish if desired.