Total comfort in a meal. This French Onion Salisbury Steak is easy and quick to make. Great for date night in or for a family meal as well.

Everyone has their own interpretation of romance.
I personally have never been one for the more "traditional" expressions of romance.
I once dated a guy who was in a band and therefore would love to serenade me all the time.
And I hated it.
Not because he sucked at singing or anything but because I never knew what the heck to be doing with my hands, eye contact, you name it.
So I would just sit there awkwardly and just wait until the song was over.
I don't want poetry read to me.
And if I want flowers frankly I can just go buy them myself.
For me it's the little things.
My husband has been doing a lot of little things lately that most people would not consider romantic but I do.
While I know my dog means a lot to him he knows what she means to me and so every night he baths her (I am not allowed to touch her due to my immune system).
He puts up with me singing to the dog.
As we have discovered that to get her to sit there for 15 minutes with the medicated shampoo on her that she likes music, mostly female voices, and it seems to calm her more if I sing along.
I do not have a good singing voice (my husband is nice and does not point this out).
The man who used to be able to sleep through probably blood curdling screams now hears the dog every time she gets up.
Which means half the time he is getting up even though he gets up at 4am for work.
All of these things are a giant love letter to me (and the dog too).
Sacrifice is sexy.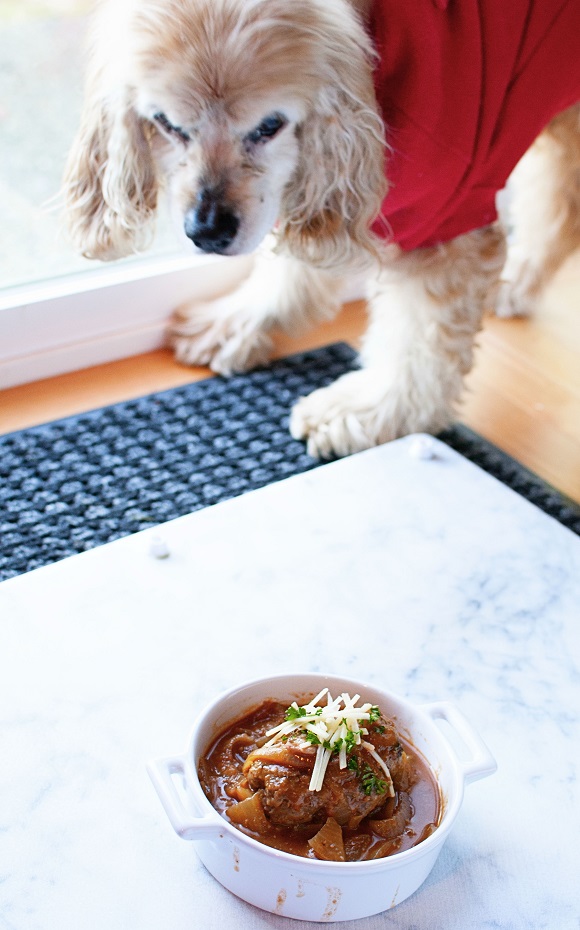 This Date Night In dinner happened way back in January but was a big hit.
My husband and I could not believe how much we liked this French Onion Salisbury Steak and how easy it was to make.
Since it has wine in the recipe I decided to ask my buddy Jameson to chime in on what to drink with the dish, here's what he said:
"Well you know I got excited when I saw a recipe including wine. One thing about what wine to use for cooking: You don't need to break the bank, but get something that tastes good on its own. In other words, that you would enjoy drinking. (No "cooking wine", which is a salty abomination.) I'm fond of a couple wines from South America that will make your Salisbury steak–and your partner–happy.
Viu Manent Gran Reserva Cabernet Sauvignon: This Chilean Cabernet is in my Wine Hall of Fame when it comes to price and quality. Rich, warming, and quite sophisticated. I also like the "Casa" Cabernet Sauvignon from Casa Lapostolle (also Chilean). If you want to try something a little different, Chile's signature red wine grape is Carmenere. It has an earthy, peppery quality to it that I enjoy when done right. Both of these wineries make one priced the same as their Cabernet.
Another South American option comes from Argentina: Malbec. It's one of the most steak-friendly wines in the world–including the Salisbury kind. There's an ocean of choices in the sub-$10 range and $10-15 as well. Alamos is a widely available brand, but check in with your local wine nerd (if you have a bottle shop in your area) and see what s/he is geeking out on."
So thanks to Jameson for the recommendations and thanks to my husband for constantly showing me he loves me.
P.S. It's a great day to buy my cookbook.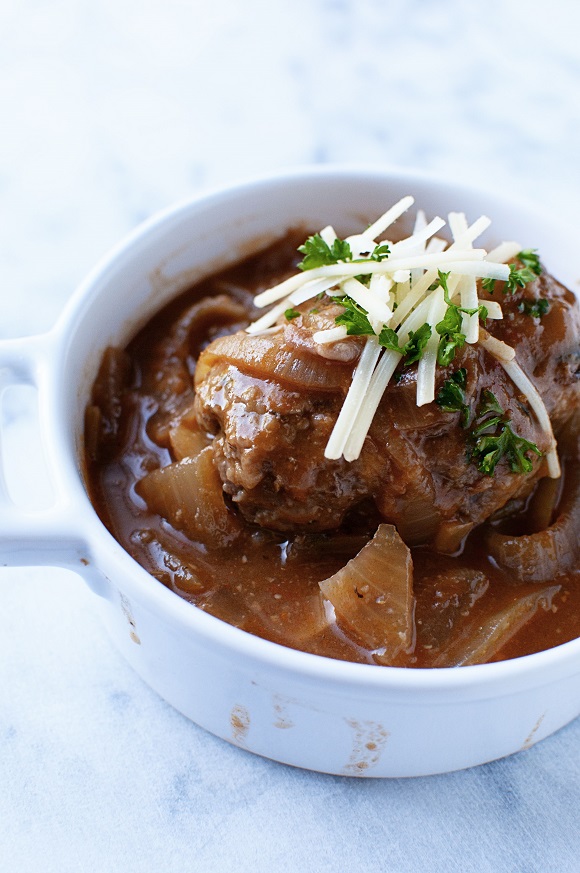 Want More French Onion Recipes?
Unique French Onion Dip Deviled Eggs
French Onion Soup Baked Potato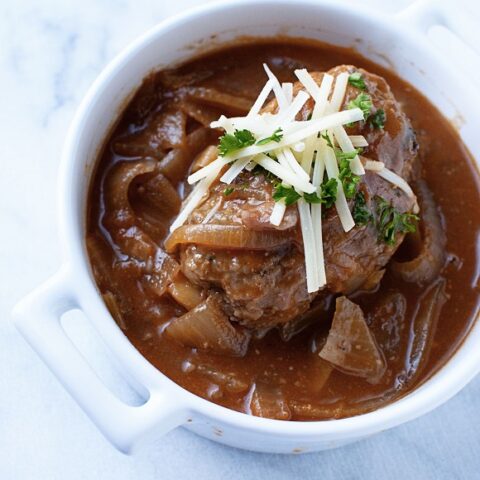 French Onion Salisbury Steak
Ingredients
1 1/4 lbs. ground beef (chuck works best)
1/4 cup minced fresh parsley
2 TBSP scallions, minced
1 tsp. kosher salt
1/2 tsp. black pepper
2 TBSP all-purpose flour
1 TBSP bacon fat (or olive oil)
2 cups onions, sliced
1 TBSP sugar
1 TBSP garlic, minced
2 TBSP tomato paste
2 ½ cups beef broth
1/4 cup dry red wine
3/4 tsp. kosher salt
1/2 tsp. dried thyme leaves
2 TBSP all-purpose flour
Cheese Toast:
4 large pieces of French bread or 8 baguette slices
2 TBSP unsalted butter, at room temperature
½ tsp. garlic
¼ cup Swiss cheese, shredded
1/4 cup Parmesan cheese, shredded
Garnish:
4 tsp. minced fresh parsley
4 tsp. parmesan cheese, shredded
Instructions
Combine beef, parsley, scallion, salt, and pepper, using your hands is fine.
Divide evenly into 4 portions and shape into oval patties.
Place 2 TBSP of flour in a shallow dish; dredge each patty in flour.
Reserve the leftover flour.
Heat 1 TBSP bacon grease in a sauté pan over medium-high heat.
Add patties and sauté 3 minutes on each side, or until browned.Remove from pan.
Add onions and sauté 10 minutes.
Add sugar to pan and sauté another 5 minutes.
Stir in garlic and tomato paste and sauté 1 minute, or until paste begins to brown.
Sprinkle onion mixture with reserved flour and cook 1 minute.
Stir in broth and wine.
Add the salt and thyme.
Return meat to pan and bring soup to a boil.
Reduce heat to medium-low, cover and simmer 10 minutes, check with a meat thermometer to make sure your steak is done.
Serve steaks on Cheese Toasts with onion soup ladled over.Garnish with parsley and Parmesan.Cheese Toast:
Preheat oven to 400F.
Combine the butter and garlic in a small bowl.
Spread on one side of the French bread slice.Combine the cheeses and sprinkle over the buttered side.
Place bread onto a baking sheet and bake until crisp and cheese is bubbly, about 10 minutes.