This show stopping Red Velvet Marble Oreo Cake is filled with a Red Velvet Oreo Cream Cheese Bavarian Filling and covered in ganache.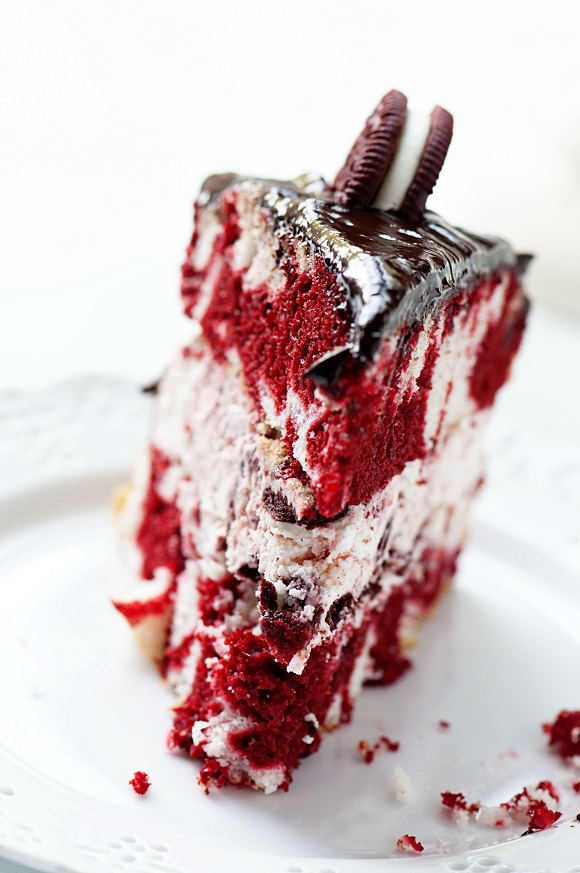 As most of you know I do get overly excited over the new Oreo flavors that come out.
Some more than others, obviously (cough, cough watermelon).
So when I saw that Red Velvet Oreos were coming out my mind went racing with what to make.
Granted if I had to find them first.
Which luckily I easily did this time around.
I thought seriously about making this cheesecake into red velvet cheesecake cupcakes.
But decided I wanted something far more epic.
Red Velvet Marble Cake with Red Velvet Oreo Cream Cheese Bavarian Filling.
A mouthful to say but EPIC all the same.
A lot of people have asked me what the Red Velvet Oreos taste like?
They taste pretty much like regular Oreos to be honest, though the filling does have more of a cream cheese tang to it (and I really liked that).
So if you can't find the Red Velvet Oreos feel free to use regular (and by regular I mean double stuff) Oreo's.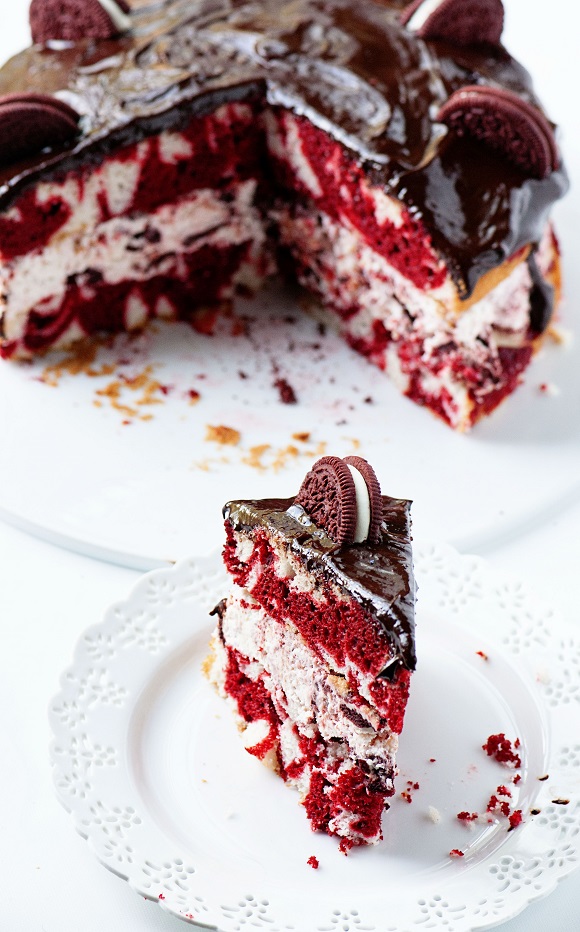 I went round on round trying to make this recipe work with scratch cake batter…it did not.
Different thickness, temperature, cake times, you name it.
I've actually made the cake portion more times than I care to admit.
I finally decided to find a white cake mix and a red velvet cake mix that had the same temperature and baking times.
And if you are thinking boxed cake mix, the horror!
Keep in mind we are basing the cake around store bought cookies, so I think boxed cake is just fine. 😀
I used Fat Daddio's 9-x-3-inch pans.
You can choose to marble the cake however you would like but I personally put them into squeeze bottles and went to town.
It was kind of like picnic art as I felt like I was squeezing cake batter onto large round burger patties.
Very therapeutic.
If you don't have squeeze bottles putting half the white batter and then the red and taking a knife or wooden skewer and swirling will work just fine as well.
I also chose to make a Bavarian using cream cheese instead of the more traditional cream cheese frosting…and then slathered it all in ganache.
Like I said this isn't your grandma's red velvet…and that's okay.
The red velvet Oreos have been discontinued but you can find them at Hmart as they are still available there.
This cake is just as good with regular Oreos.
And oh yeah, it's a great day to buy my cookbook.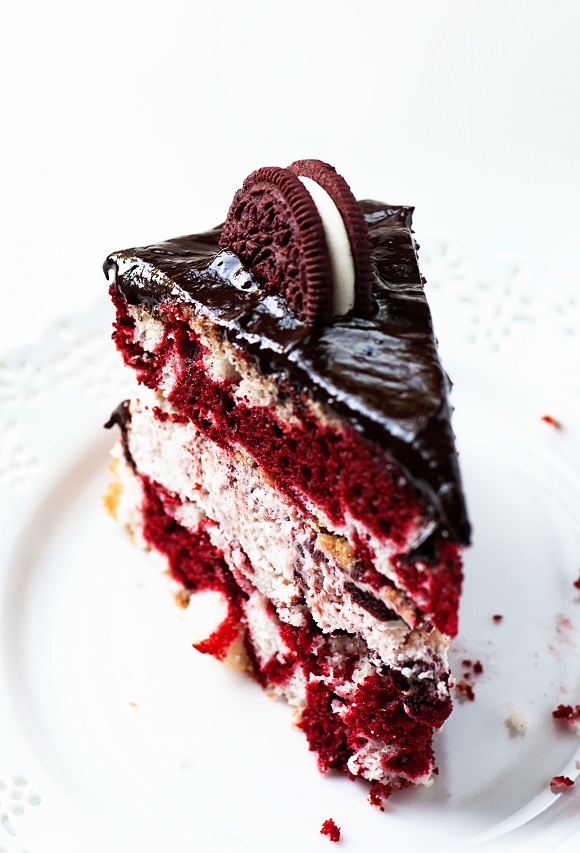 Want More Red Velvet Recipes?
Kalimotxo Chocolate Red Velvet Cupcakes
Red Velvet Cupcakes with White Russian Cream Cheese Frosting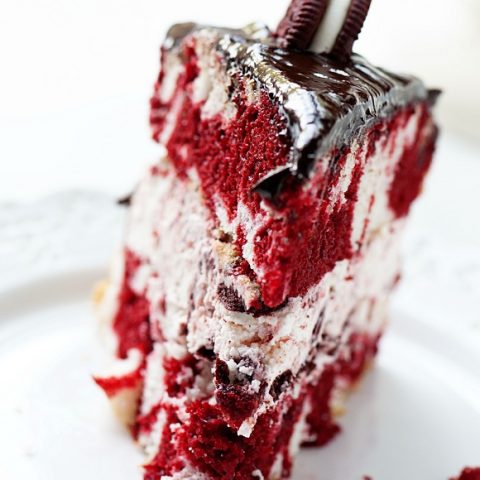 Red Velvet Marble Cake with Red Velvet Oreo Cream Cheese Bavarian Filling
Ingredients
1 box Red Velvet Cake mix, prepare batter according to box (pick cakes that have the same temperature)
1 box White Cake mix, prepare batter according to box
For the Bavarian:
1 ½ cups cream cheese
1/2 cup granulated sugar
Pinch of salt
1 vanilla bean, seeds removed, pod discarded (I used Rodelle)
1 pkg. gelatin
1/4 cup water, cool
1 ½ cups heavy cream
1 package Red Velvet Oreo's, roughly chopped
For the Ganache:
4 oz. semisweet chocolate
½ cup heavy cream
1 TBSP corn syrup
Instructions
For the Cake:
Preheat oven to 350F (or what the box recommends).
Prepare two 8 or 9-inch baking pans
You should have two prepared cake batters; one red velvet and one white. I placed my batter into two separate squeeze bottles. If you don't have bottles you can just divide the white cake batter evenly among the two pans.
If you do have squeeze bottles do you best to evenly divide out the batter between the two pans in any pattern you want.
Bake according to the time
For the Bavarian:
Using a paddle attachment, blend the cream cheese, sugar, salt, and vanilla bean until smooth.
Soften gelatin in cold water.
Heat water once gelatin is soft until dissolved.
Whip heavy cream to soft peaks.
Fold gelatin mix into cheese mix.
Fold whipped cream into mix.
Fold Red Velvet Oreo's into the mixture.
For the Ganache:
Place chocolate and corn syrup in a medium sized bowl.
Heat cream just until it starts to boil.
Remove from heat and pour over chocolate and corn syrup and let sit for a minute.
Whisk until smooth.
To assemble the cake:
Place one of the cake layers on a cake plate or cake circle.
Top with as much of the Bavarian as you like, I used about ¾ of it in the cake (and may or may not have just eaten the rest of it with a spoon).
Place the second cake layer on top of the Bavarian cream and smoosh down a little to get the cream to come to the sides. Smooth with a spatula.
Pour ganache on top and make sure to cover the top of the cake, some will go down the sides, that is fine.
Add more Oreo's for décor if desired.