A fun Valentine's Day treat these Conversation Heart Marshmallows are adorable and a great way to get use up Conversation Hearts.
What you will get from this blog post:
The secret to a fluffy marshmallow.

How to minimize the sticky mess when piping marshmallows.

A fun Valentine treat that your kids will love
My interpretation of Conversation Hearts found in my bag.
Back in January I got approached by a site called Made From Pinterest to create a recipe from one of my Pin boards (Heart Day) and try and do it at home.
Then you show the results at in a post on their site.
Normally I don't do this kind of thing but thought what the heck.
I got my idea from the AMAZING blog Passion for Baking.
It's not a US based one which bums me out since she has cookbooks and I would love to be able to get them and I can't here in the US.
I didn't use her recipe I just used the idea.
Hers turned out way better but she does decorate cakes and what not for a living, I think I did a pretty good job.
I made them, they turned out cute.
Then I photographed them and they turned out dreadful.
I contacted them and said sorry horrible photos so I won't be participating.
But in our podcast with Christina she mentioned that she will remake and reshoot something if she really like it but it didn't photograph well…and that stuck with me.
I'm always trying to work on making the blog better since to quote Bryan Adams… "everything I do, I do it for you".
Cheesy yes, but true…and hey it's Valentine's week. 😀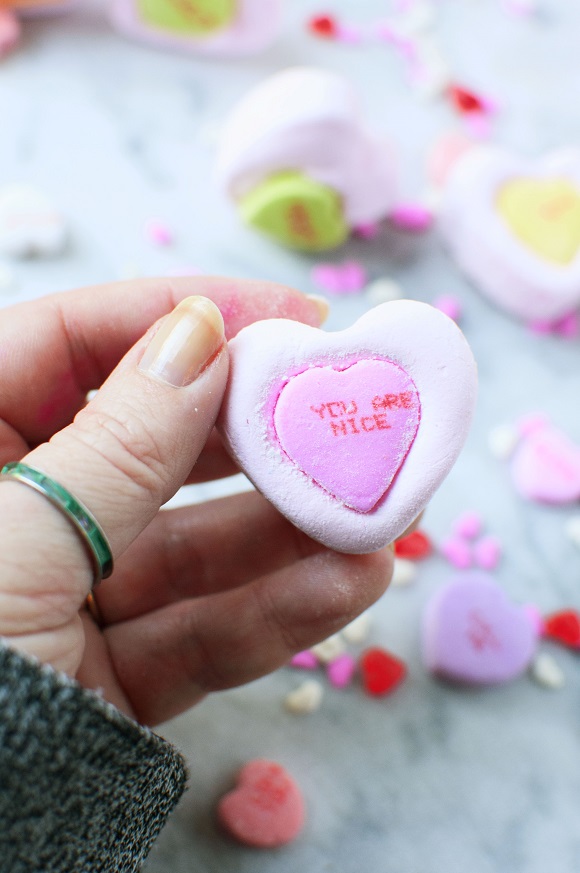 So I made the Conversation Heart Marshmallows again and I photographed them again.
This time for my own blog since it was passed the deadline for the other.
I'm so glad I did.
They were a big hit and a great for cocoa and are too cute.
Plus you can have your kids help with them…well the placing of the conversation hearts on the marshmallows, as well as helping chose which heart sayings get picked.
I actually wished I had paid more attention to which conversation hearts I picked out…as boy things have changed over the years.
Let's look at a few shall we:
Dewy Eyes: Ummm. This makes me either think of pink eye or glossed over drunk eyes. Not sure how that's romantic but okay.
Be My Friend: The friend zone is real. It sucks. Don't remind us on candy.
My Pet: I hope they are talking about your dog or cat because calling someone your pet seems odd, but that's just me.
Come Closer: Sounds like something someone hiding in a van waiting to kidnap you would say.
Marry Me Today: This is the conversation heart for the person you know who finds the love of their life about once or twice a year. That gets engaged or moves in with the person within days/weeks of knowing them (and is shocked when it doesn't work out). These are the people that want to get married TODAY. Good luck finding a venue on short notice. 😛
U-Go Girl: Go where? And is the word YOU so long we can't add that to this? Why do we have to use U?
Cupcake: Now we are talking.
Cute: Why yes I am, thanks for noticing.
Your Guy: What about him? Is this a I want to take Your Guy from you situation? If it is don't make me cut you…back off he is mine.
Be Good: Define good? 😀
U-R Sure: I'm sure there was room to write YOU ARE. And again what are we sure of? Our love? I hope it's our love.
Yes Dear: The conversation heart for married men. Often the endearment said after they are asked to take out the trash.
Those were just the ones I could read since as you know with conversation hearts half of them are illegible.
If you are reading through the recipe on these marshmallows and saying to yourself egg whites that you don't cook?
Are you crazy? Well I probably am crazy, but not about that.
They help make for a fluffy marshmallow and while you can skip it I suggest you don't.
If you are concerned about safety I have an autoimmune disorder and still brave it.
I suggest getting pasteurized eggs if you are worried.
So make these a literally share the love with others.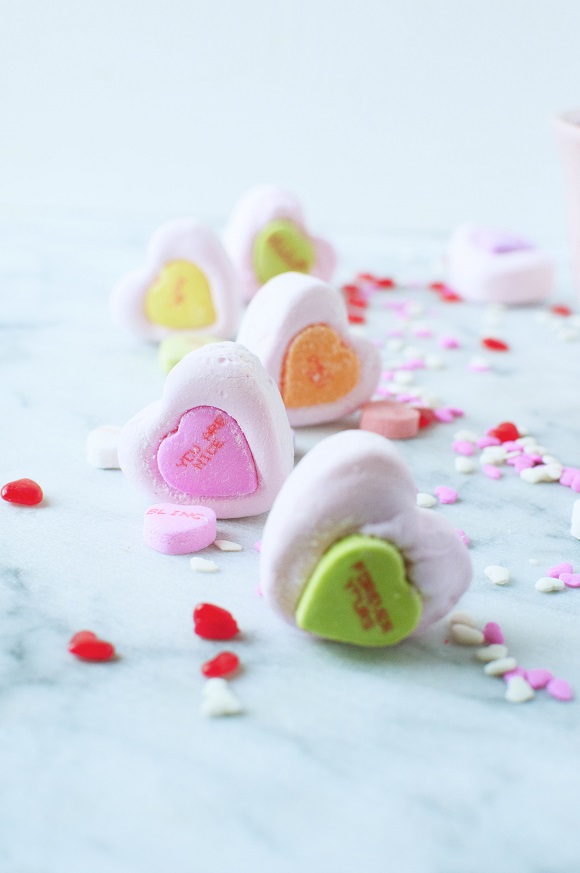 Want More Marshmallow Recipes?
Apple Cider Spice Marshmallows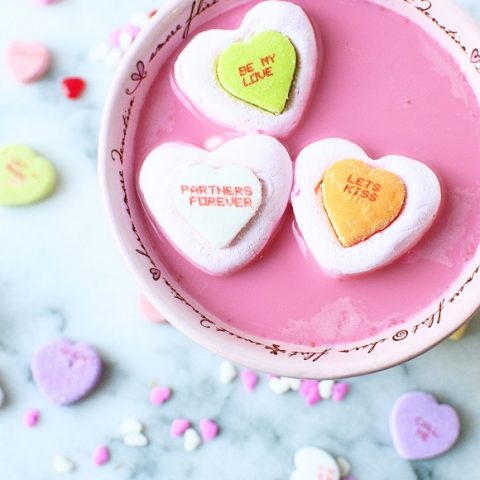 Conversation Heart Marshmallows
Ingredients
3 TBSP unflavored gelatin
1/3 cup water
2 cups granulated sugar
½ cup corn syrup
½ cup hot water
2 egg whites (optional)
½ tsp salt
1 tsp. vanilla extract or vanilla bean paste (I used Rodelle)
A couple drops of pink food coloring (optional)
24 large conversation hearts
1/3 cup cornstarch
1/3 cup powdered sugar
Instructions
Spray a silicon mold that has small hearts (24) and coat (dust) with a mixture that is half cornstarch and half powdered sugar (mix them in a bowl).
You also need to do this to an 8-x-8-inch pan as this recipe is large. If you have two sets of molds then you don't need to use the 8-x-8-inch pan just do 48 hearts.
I only had one mold so I made 24 hearts and one 8×8 pan. If you aren't going to make the hearts at all you can spray a 9-x-13-inch pan and coat with the cornstarch mixture. Wilton 2105-4909 Easy Flex Heart 24-Cavity Silicone Mold were the molds I used for the marshmallows.
Take a large disposable piping bag and place a 2A tip in there. Technically you don't need a tip you can just cut the bottom so it has about a dime size hole if you don't have a piping tip.
Spray the inside of the piping bag lightly with baking spray…helps keep the mess down.
Using a stand mixer bowl fitted with the whisk attachment, add the gelatin and pour the 1/3 cup water over it. Make sure that all of the gelatin gets covered in the water. I like to add half the water then sprinkle the gelatin and then top with more water. Seems to work best for me.
Let it rest until you are ready to add the sugar syrup.
To make the sugar syrup place sugar, corn syrup, and hot water in a medium sauce pot.
Heat the mixture until the sugar dissolves and then turn up the heat to medium-high to bring to a boil, then back down to about a rolling simmer.
Once boiling, get the temperature up to 250F, using a damp pastry brush to get any of the sugar crystals forming on the side of the pot.
While the sugar syrup is being made, beat the egg whites to a stiff peak in a separate bowl from the gelatin. Set aside.
Bring hot sugar syrup to the mixer and with the mixer on medium-low SLOWLY add the hot sugar syrup, pouring it carefully in and even stream down the side of the mixer bowl to avoid splashing (aka burning yourself) and shocking the gelatin.
Slowly increase the mixer speed up to high and beat until the mixture has started to stiffen and has doubled in volume, about 5-7 minutes.
Add the egg whites (if using), food coloring (if using), salt, and the vanilla.
Mix until light, white (or pinkish if coloring) and fluffy, about another 3-5 minutes to have tripled in size from the original amount.
To get the marshmallow into the piping bag place the bag into a tall glass, this will keep the bag from collapsing.
Using a spatula, add about half the mixture to the piping bag. The molds (at least the one I used) only has 24 hearts and this makes a large batch so the other half will need to go in to a 8-x-inch pan.
Pipe the mixture into the prepared molds. The marshmallow will try and lift up due to the cornstarch. Just touch it with your hands (dip your fingertips in water) to help.
Place a large conversation heart in the middle of each marshmallow. Sprinkle (dust) with more cornstarch/powdered sugar mixture.
For the marshmallows in a pan just spread the marshmallow into the prepared pan and spread evenly with a spatula. Sprinkle (dust) with more cornstarch/powdered sugar mixture. Add sprinkles and conversation hearts to the top to be festive.
Let marshmallow dry for at least 4 hours (I usually do overnight). Store in an airtight container for up to 2 weeks. If you did not use the egg whites they can last months.