These Giant Peppermint Swirl Marshmallows are big and fluffy and are made extra large to fit snugly into your hot chocolate mug.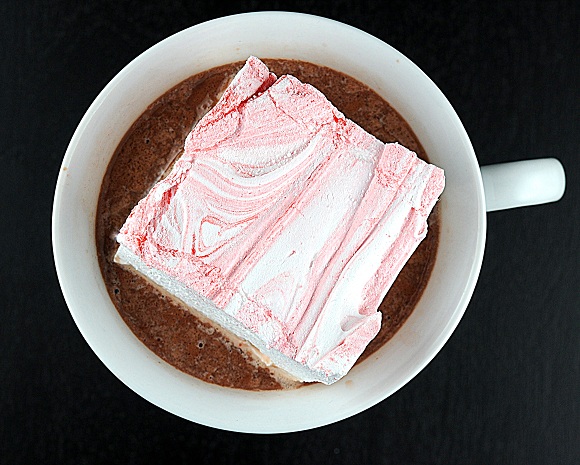 It has been a chilly one as of late.
Which normally I love.
Though watching my fiance's former stepson out playing goalie on grass that was still covered in frost was kind of sad.
And he has an even earlier game next week.
Yikes.
Those kids all looked so cold.
And while they get fruit snacks and cookies after the game we should probably be pumping hot chocolate into them.
Growing up (and well as an adult now) I was one of those that loved the marshmallows and the whipped cream far more than the actual hot chocolate itself.
I always keep refilling my marshmallows or whipped cream as the cocoa cup would dwindle.
That's the best part.
Why not just eat a handful of marshmallows?
Because it's not the same and you know it. 🙂
Since I am pro marshmallow I figured for my first batch of marshmallows for the season (I make them all winter long) I would go BIG,
And do peppermint since I really kind of want it to be Christmas already (don't shoot me). So I made these Giant Peppermint Swirl Marshmallows.
Marshmallows at home scare people.
If you own a candy thermometer and a stand mixer they are easy peasy.
If you don't you really should consider getting both!
Put them on your Holiday wish list!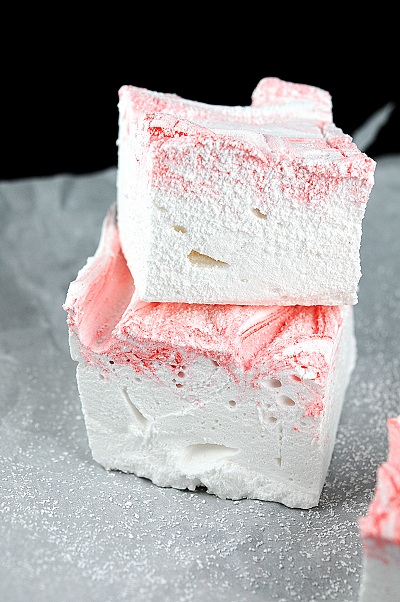 But it's not Christmas yet and so I will continue to round out my list of blogs I am thankful for:
Blog #9: The Daybook (this blog no longer exists). It's not a food blog but a life/fashion blog.
The girl is the size of my thigh and cute as a button and yet I still like her. 🙂
Blog #10: Noble Pig.
I was fortunate enough to finally meet Cathy this year at IFBC! Her blog is super funny and she makes yummy looking food.
Oh and she happens to be a wine maker…which is always a plus.
Blog #11: Use Real Butter.
One of the better content blogs out there. Jen makes some great food and is a super down to Earth person with an adorable dog and a love for snow (skiing).
Blog #12: The Spiffy Cookie.
I must admit that I started first reading Erin's blog because she was always reading mine.
And commenting on mine and Pinning and Tweeting.
But she has fun with food (funfetti too) and runs a delightful site…so I'm glad she kept leaving comments on mine!
P.S. It's a great day to buy my cookbook Holy Sweet!
Want More Marshmallow Recipes?
Circus Animal Cookie Marshmallows
Apple Cider Spice Marshmallows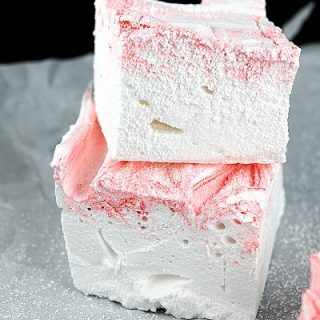 Giant Peppermint Swirl Marshmallows
Yield:
9 Giant Marshmallows
Ingredients
1/3 cup powdered sugar
2 ½ TBSP (yes TBSP) unflavored gelatin
½ cup cold water
1 ½ cups granulated sugar
1 cup corn syrup
¼ tsp. salt
½ cup water
1 tsp. pure peppermint extract
8 to10 drops red food color
Instructions
Generously grease bottom and sides 8-x-8 inch baking dish with baking spray; dust with 1 tablespoon of the powdered sugar. In bowl of stand mixer, sprinkle gelatin over 1/2 cup cold water to soften; set aside.
In 2-quart saucepan, heat granulated sugar, corn syrup, salt and 1/2 cup water over low heat, stirring constantly, until sugar is dissolved.
Heat to boiling; cook without stirring about 30 minutes to 240°F on candy thermometer or until small amount of mixture dropped into cup of very cold water forms a ball that holds its shape but is pliable; remove from heat.
Slowly pour syrup into softened gelatin while beating on low speed. Increase speed to high; beat 8 to 10 minutes or until mixture is white and has almost tripled in volume.
Add peppermint extract; beat on high speed 1 minute.
Pour into baking dish, patting lightly with wet hands.
Drop food color randomly onto top of marshmallow mixture.
Pull table knife through food color to create swirl pattern over top.
Let stand uncovered at least 8 hours or overnight.
Dust cutting board with about 1 tablespoon powdered sugar.
Place remaining powdered sugar in small bowl.
To remove marshmallow mixture, loosen sides from dish and gently lift in one piece onto cutting board.
Using sharp knife greased with butter, cut into 9 squares.
Dust bottom and sides of each marshmallow by dipping into bowl of powdered sugar.
Store in airtight container at room temperature up to 3 weeks.