Apple Cider Spice Marshmallows: The flavors of spiced apple cider come to you in marshmallow form. Great for making Rice Krispie Treats or in Apple Cider Hot Chocolate.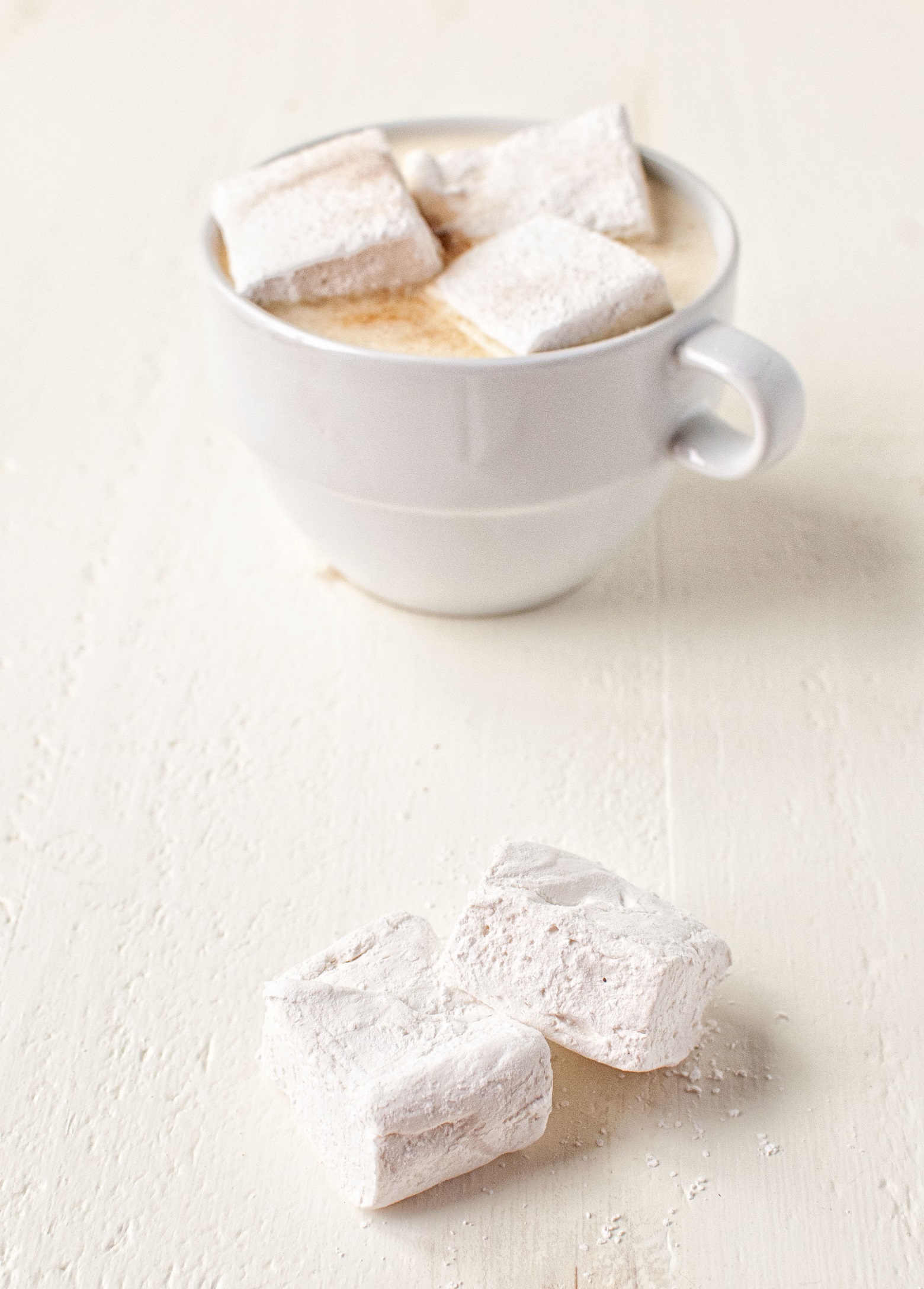 It's been a parade of comfort food at our house. I made Bacon Jam Mac and Cheese, Pot Roast, Bread Pudding, I don't even know how much hot cocoa, fudge…and I may have eaten my weight in Halloween candy (it's fine, no one comes to our house anyway).
One thing I find comforting is apple cider. I'm not sure if it stems from my childhood when I would drink gallons of apple juice, but there is a comfort to it. To this day, it's what I order on a flight. Again, no idea why, just do.
We have no shortage of great apple cider here in Washington State. There are large varieties of it in our local stores from the various orchards around here, Honeycrisp being my favorite.
I had taken to adding a little cream to my cider and at some point white chocolate, making it into a hot chocolate (recipe next post). But something was always missing…marshmallows.
The main recipe I usually use for marshmallows uses a cup of liquid and so I thought why the heck not? I'll just make apple cider marshmallows. As always I googled to see if someone else had made them, they had. Just not like what I had in mind so I made my own.
I do think the boiled cider in these really adds to the flavor of these and I highly recommend getting some. I buy mine through King Arthur Flour. You could make your own by boiling down cider but I am lazy and just buy it.
These turned out really good. I'm still trying to figure out what I can make with them besides just using them in apple cider cocoa. Maybe just as simple as rice Krispie Treats. My brain is still turning on that.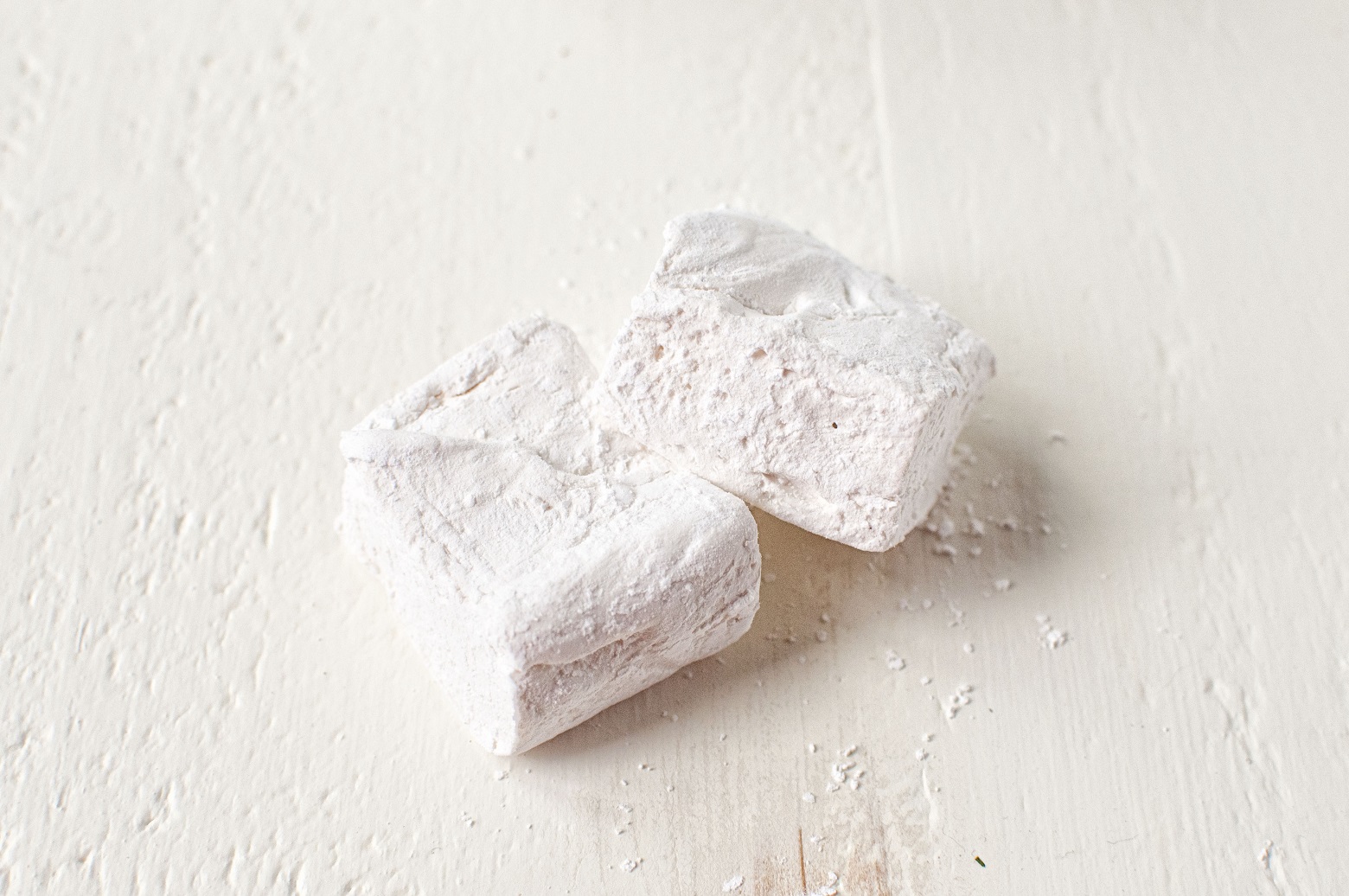 Apple Cider Spice Marshmallows
Author:
Ingredients
3 packages unflavored gelatin
1 cup cold apple cider, divided
12 oz. granulated sugar
1 cup light corn syrup
1/4 tsp. salt
½ tsp. Vanilla extract
1 TBSP boiled cider
1 tsp. apple pie spice
1/4 cup powdered sugar
1/4 cup cornstarch
Nonstick spray
Instructions
Place the gelatin into the bowl of a stand mixer (with the whisk attachment on) along with 1/2 cup of the apple cider.
In a small saucepan combine the remaining 1/2 cup apple cider, granulated sugar, boiled cider, corn syrup and salt.
Place over medium high heat, cover and allow to cook for 3 to 4 minutes.
Uncover, clip a candy thermometer onto the side of the pan and continue to cook until the mixture reaches 240 degrees F, approximately 7 to 8 minutes.
Once the mixture reaches this temperature, immediately remove from the heat.
Turn the mixer on low speed and, while running, slowly pour the sugar syrup down the side of the bowl into the gelatin mixture.
Once you have added all of the syrup, increase the speed to high.
Continue to whip until the mixture becomes very thick and is lukewarm, approximately 12 to 15 minutes.
Add the vanilla and spice during the last minute of whipping.
While the mixture is whipping prepare the pans as follows.
Combine the powdered sugar and cornstarch in a small bowl.
Lightly spray a 13 by 9-inch metal baking pan with nonstick cooking spray.
Add the sugar and cornstarch mixture and move around to completely coat the bottom and sides of the pan.
Return the remaining mixture to the bowl for later use.
When ready, pour the mixture into the prepared pan, using a lightly oiled spatula for spreading evenly into the pan.
Dust the top with enough of the remaining sugar and cornstarch mixture to lightly cover.
Reserve the rest for later. Allow the marshmallows to sit uncovered for at least 4 hours and up to overnight.
Turn the marshmallows out onto a cutting board and cut into 1-inch squares using a pizza wheel dusted with the confectioners' sugar mixture.
Once cut, lightly dust all sides of each marshmallow with the remaining mixture, using additional if necessary.
Store in an airtight container for up to 3 weeks.
Recipe adapted from Alton Brown