Creamsicle Marshmallows: Light and fluffy homemade marshmallows made with orange juice, orange zest, and vanilla beans to give the marshmallows a creamsicle like flavor.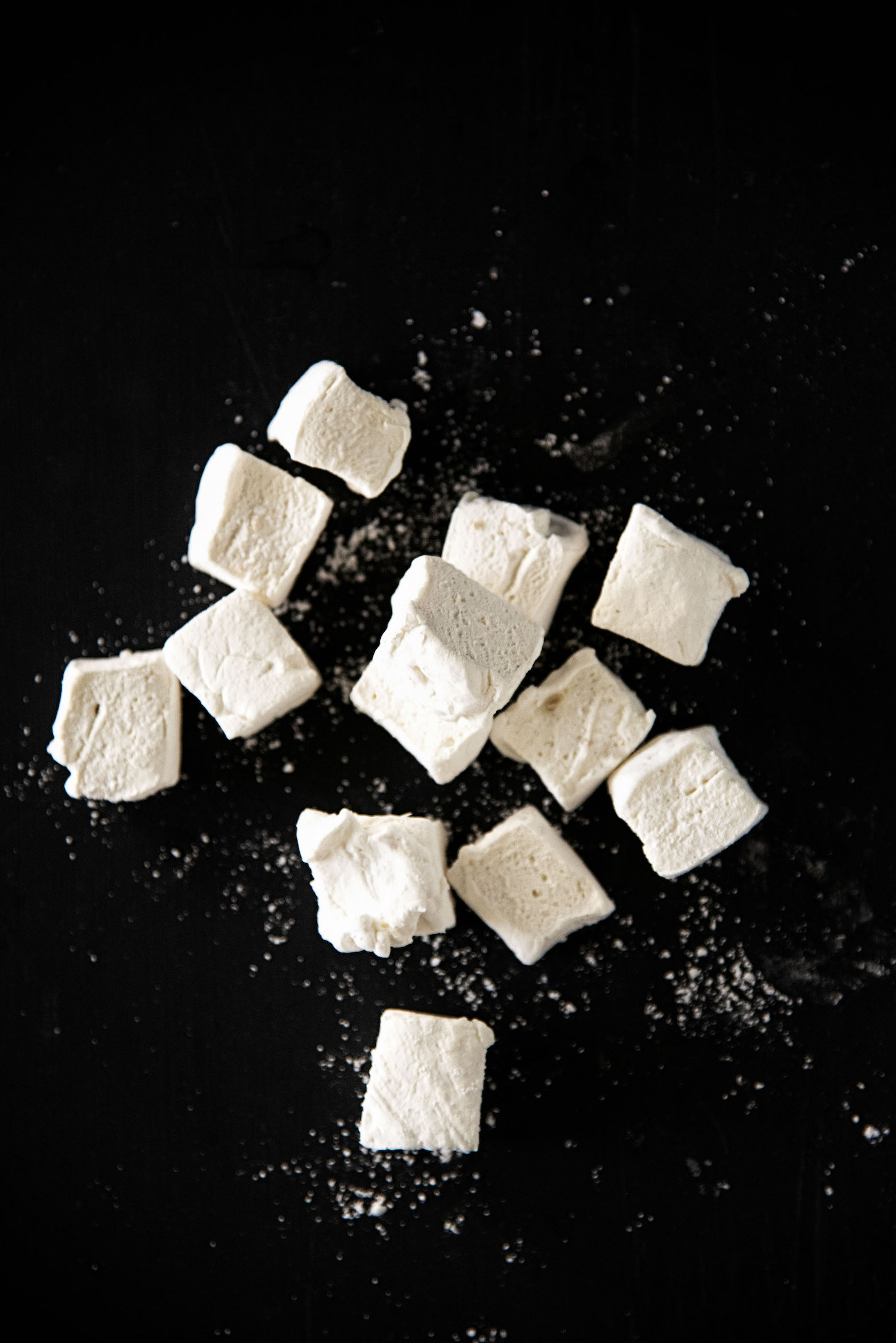 Maybe it's the cold weather coming but I've been craving hot chocolate.
I'm a combo girl when it comes to my hot chocolate.
In that I like BOTH whipped cream and marshmallows in my cocoa.
While I have marshmallows sitting in the pantry I decided to break out the mixer and make some of my own.
Marshmallows can be a little tricky.
The key is to SLOWLY add the hot mixture.
SLOWLY.
If you do it too fast is will splatter to the side and harden right up…therefore not getting into the marshmallow mixture.
And then, of course, when you take it out of the the mixing bowl it's crazy sticky.
Which leads to a little bit of a battle…or at least it does for me.
A little swearing may happen. 🙂
This recipe calls for whipped egg whites which a lot of people don't add.
But they really do make the marshmallows more fluffy.
And I want my marshmallows fluffy.
I had planned on making them swirled with orange food coloring.
Only to discover when they were basically already made that I didn't have an orange food coloring…or red to add to yellow.
So white they were. 🙂
These have more of a subtle hint of creamsicle than overpowering.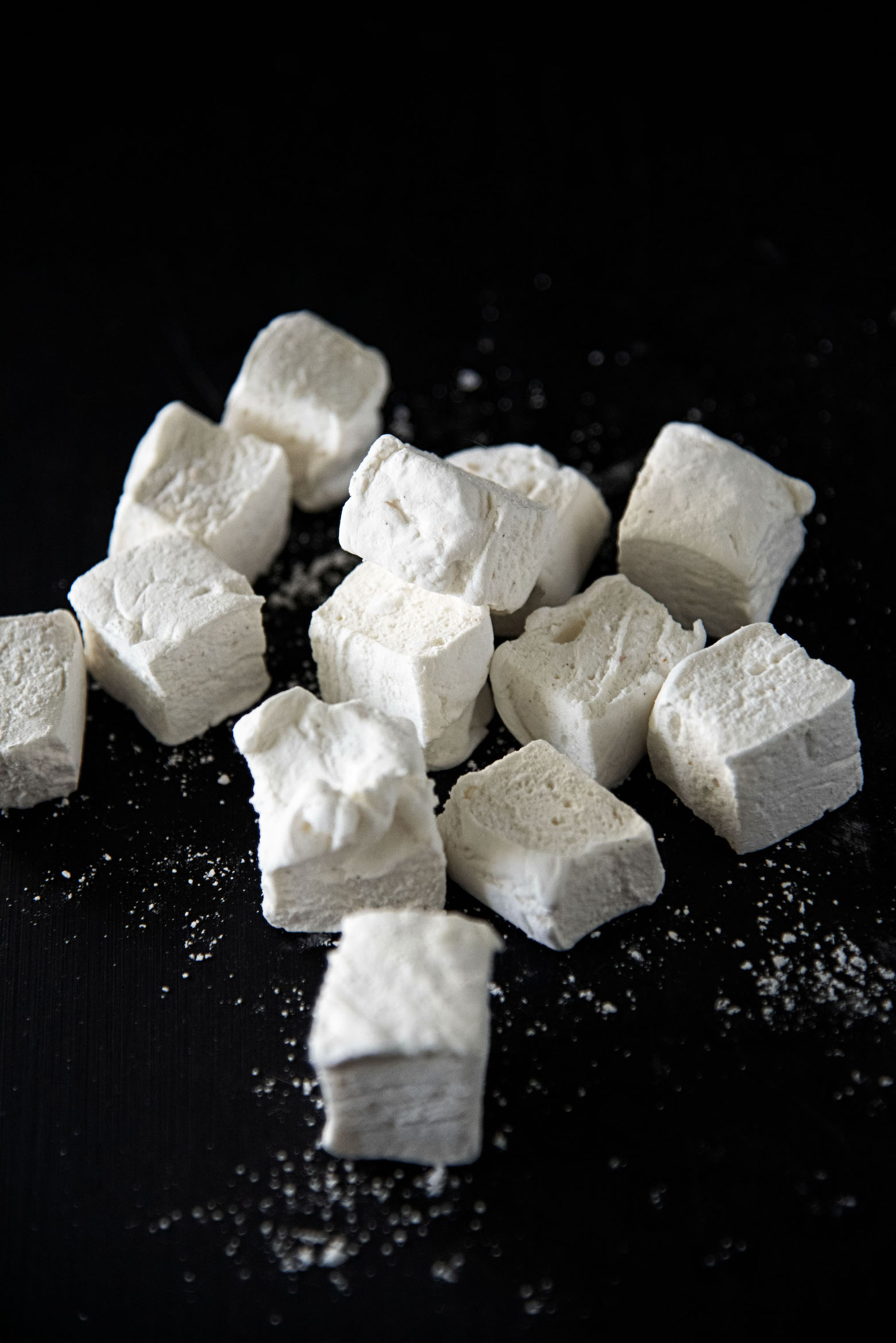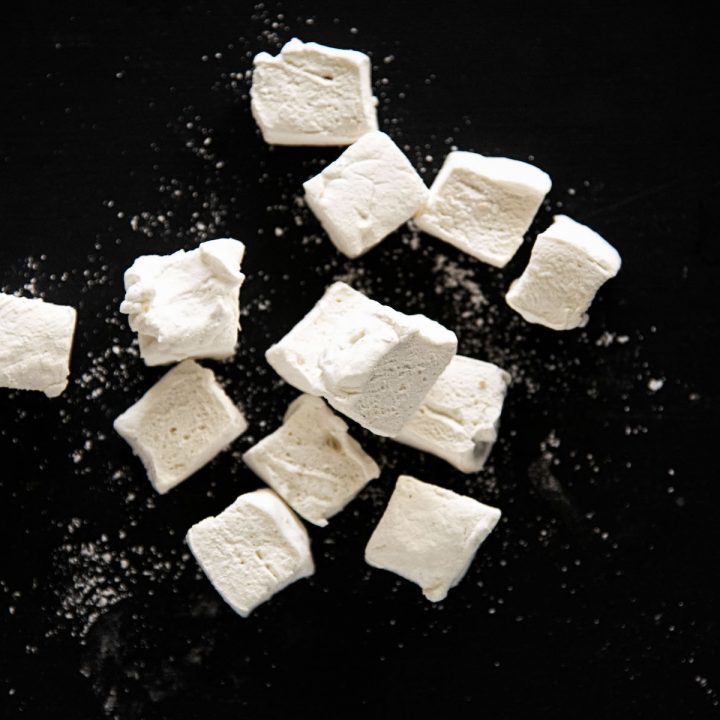 Creamsicle Marshmallows
Ingredients
3 TBSP unflavored gelatin
1/3 cup orange juice
2 cups granulated sugar
zest of one orange
½ cup corn syrup
½ cup hot water
2 egg whites (optional but they really help with the texture)
½ tsp salt
1 tsp. vanilla extract
1 vanilla bean, seeds removed, pod discarded
A couple drops of orange food coloring (optional, I didn't use because I was out)
1/3 cup cornstarch
1/3 cup powdered sugar
Instructions
In a medium bowl mix the orange zest and sugar.
Rub the orange zest into the sugar with hands.
You can sift out orange zest if desired or keep but I prefer it to be out.
Spray an 8-x-8-inch pan (if you don't want as large as mine go with a 9-x-13 inch pan) with baking spray and coat with the cornstarch mixture.
Using a stand mixer bowl fitted with the whisk attachment, add the gelatin and pour the 1/3 cup orange juice over it.
Make sure that all of the gelatin gets covered in the juice. I like to add half the juice then sprinkle the gelatin and then top with more juice. Seems to work best for me.
Let it rest until you are ready to add the sugar syrup.
To make the sugar syrup place sugar, corn syrup, and hot water in a medium sauce pot.
Heat the mixture until the sugar dissolves and then turn up the heat to medium-high to bring to a boil, then back down to about a rolling simmer.
Once boiling, get the temperature up to 250F, using a damp pastry brush to get any of the sugar crystals forming on the side of the pot.
While the sugar syrup is being made, beat the egg whites to a stiff peak in a separate bowl from the gelatin. Set aside.
Bring hot sugar syrup to the mixer and with the mixer on medium-low SLOWLY add the hot sugar syrup, pouring it carefully in and even stream down the side of the mixer bowl to avoid splashing (aka burning yourself) and shocking the gelatin.
Slowly increase the mixer speed up to high and beat until the mixture has started to stiffen and has doubled in volume, about 5-7 minutes.
Add the egg whites (if using), food coloring (if using), salt, vanilla beans, and the vanilla extract.
Mix until light, white (or orange-ish if coloring) and fluffy, about another 3-5 minutes to have tripled in size from the original amount.
Spread the marshmallow into the prepared pan and spread evenly with a spatula. Sprinkle (dust) with more cornstarch/powdered sugar mixture.
Let marshmallow dry for at least 4 hours (I usually do overnight).
Store in an airtight container for up to 2 weeks. If you did not use the egg whites they can last months.