These Sprinkle Sugar Cookie Cheesecake Bars are sugar cookie meets cheesecake…in bar form! Add sprinkles and make it more awesome.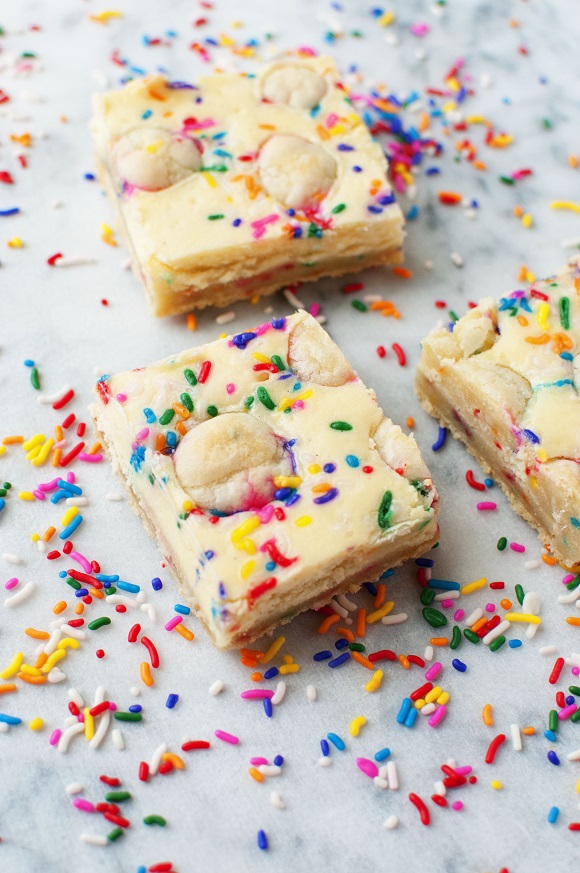 This has been a soul searching year so far, in part because I am rolling into 10 years of blogging.
Blogging has changed so much in the last 10 years, especially food blogging.
I'll admit I was rolling in to year 10 thinking okay really, am I going to keep doing this?
The universe responded with a big giant yes.
How did the universe respond?
In several ways: first and foremost the podcast, Season with Sass.
Kita and I have been talking about it for quite some time and just decided to go for it.
I love it.
In a way it reminds me of the old days of blogging when we were more of a community and seemed to talk more with one another.
It's so fun to sit and chat with them.
They inspire me.
And they make me laugh.
They make me think (boy that Jaden got me thinking).
I also am very touched that 99% of the people I have asked have responded right away with absolutely, usually following up with anything for you (which makes me feel all warm and fuzzy inside).
We literally just started to podcast to help other bloggers, though if you are not a blogger I think you will enjoy listening all the same, especially the last 5 questions of each interview.
I will fully admit that the ratio is Kita does 93.6% of everything and I do 6.7%, with her knowing how to do all the technical stuff and running the webpage as well.
But I do want to give her a big thank you and shout out for talking me into doing it! If you do listen to the podcast (and I hope you do) we would super duper appreciate you leaving a comment and ranking it on iTunes!
The other way it responded?
Date Night In.
I know some have complained that I've strayed from the sweets too much this month.
I'm actually thinking of featuring the main meal as part of the Newlywed Series and putting the rest of the recipes as a bonus to those who subscribe to my newsletter.
So if you don't subscribe you might want to (scroll down on the right hand column and the form is there).
The newsletter comes out late Wednesday, usually more into the evening.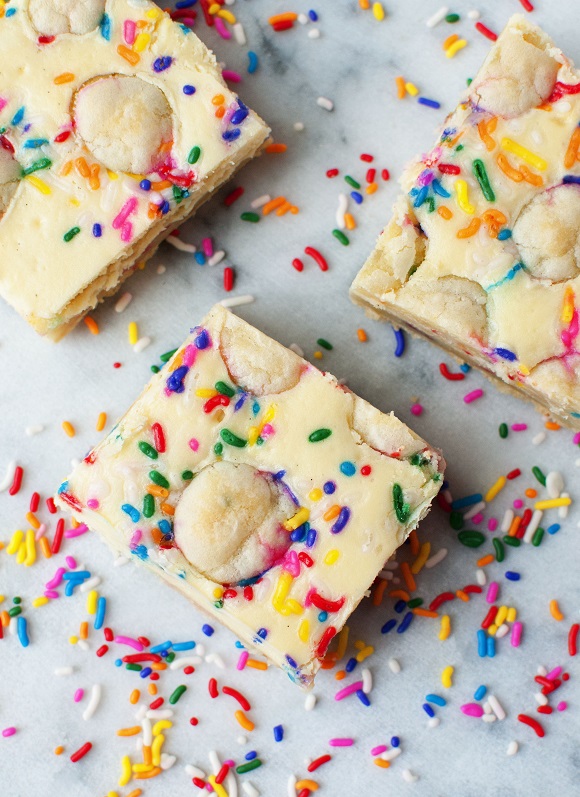 Date Night In has become a great inspiration to me.
Ashley wrote a wonderful book that if you haven't bought Date Night In: More than 120 Recipes to Nourish Your Relationship yet I HIGHLY, HIGHLY encourage you to do so, it's my new go to gift for anyone of my married or in a relationship friends.
While my husband and I do have time to spend together since his kids are more than old enough (heck they are 17 in about 6 weeks!) to be left without a sitter, these meals have almost become like love letters to him.
We both enjoy food so much and it's been fun trying to figure out meals that he/we will really enjoy.
I've really gotten behind doing themes, especially ones from trips or experiences we had that we can relive and reminisce through the date nights.
My point is that I feel refreshed and invigorated to blog again.
Oh sure I have days where I don't want to blog but more often than not my creative desire to blog is in full force!
So thank you universe and thank you readers…you guys really are the best!
And now for these bars that may or may not have helped the Seahawks go to the Superbowl and of course help me use up some of my sprinkles.
How did these help?
Well we were invited to watch the game at the taproom where we got married and we were told it's potluck and please bring cheesecake since we were playing Green Bay.
We had errands that day and didn't show up until half time.
The Seahawks had no points at that time.
When I put the Sprinkle Sugar Cookie Cheesecake Bars on the table the Seahawks scored…just saying. 🙂
These are a sugar cookie base with of course sprinkles!
I used Mascarpone cheese but you can use all cream cheese if you would like.
This recipe can easily be halved.
If you do use a 8-x-8 inch pan and reduce baking time to about 30 minutes.
It's a great day to buy my cookbook.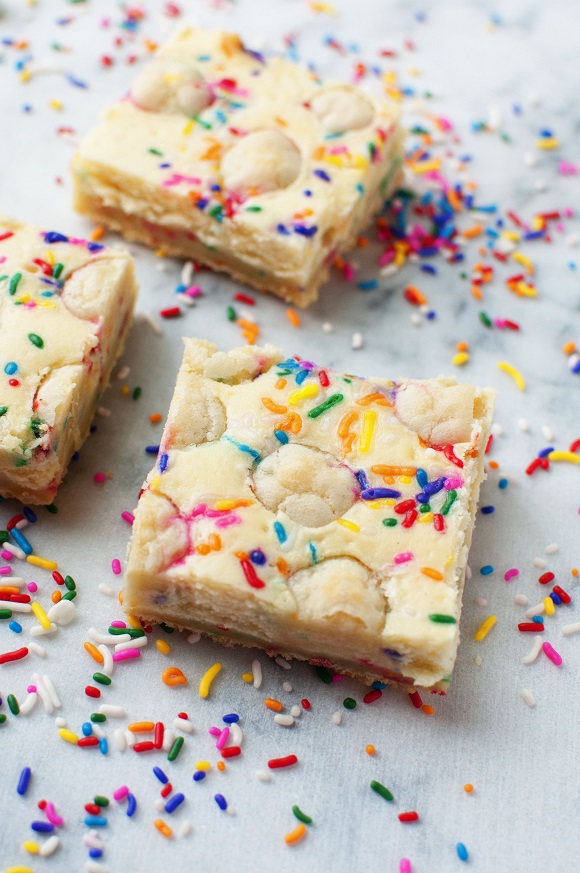 Want more Bar recipes?
Strawberry Lemonade Lemon Bars
Chocolate Chunk Churro Cookie Bars
Butterscotch Walnut Meringue Bars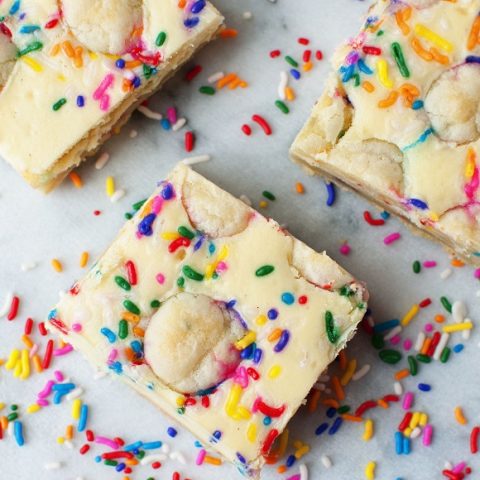 Sprinkle Sugar Cookie Cheesecake Bars
Ingredients
For the cookie base:
1 cup unsalted butter, at room temperature
1 1/2 cups granulated sugar
2 large eggs
2 2/3 cups all-purpose flour
1 tsp. baking soda
¾ cup sprinkles
Pinch of salt
For the cheesecake layer:
8 ounces cream cheese, at room temperature
8 ounces Mascarpone cheese, at room temperature
1 cup granulated sugar
2 large eggs
1 tsp. vanilla extract
3 tsp. all-purpose flour
½ cup sprinkles
Instructions
Preheat oven to 350F.
Butter a 9-x-13-inch baking pan.
Using a stand mixer with a paddle attachment, cream the butter and sugar until light and fluffy, about 3 minutes.
Add eggs and beat until fully incorporated. Scrape down bowl and beat for another 30 seconds.
Add dry ingredients and mix until fully incorporated.
Add sprinkles and mix until incorporated.
Divide cookie dough so that ¾ of the dough goes into the bottom of the pan, the remaining ¼ will go on top. Place the remaining ¼ dough into another bowl and clean out the mixing bowl to use for cheesecake. Press the cookie dough into the pan to make an even bottom layer.
Using the stand mixer, beat cream cheese, Mascarpone cheese, and sugar on medium-high speed until light and fluffy, about 3 minutes.
Add the eggs and vanilla, and beat until fully incorporated and smooth.
Add flour and beat until fully incorporated and smooth.
Pour cheesecake batter on top of cookie dough in prepared pan.
Take the remaining cookie dough and roll into small balls. Place them randomly on top of the cheesecake batter but make sure they are not touching.
Sprinkle the sprinkles on top of the cheesecake portion.
Bake for 40-55 minutes (depending on oven). Remove from oven and let cool on a wire rack to room temperature. Then put in fridge for 1 hour.
Cut into squares (about 12 large or 24 small) while cold but actually let come to room temperature to serve.