Giant Cinnamon Roll with Cake Batter Frosting makes two rolls and that are topped with cake batter cream cheese frosting and sprinkles.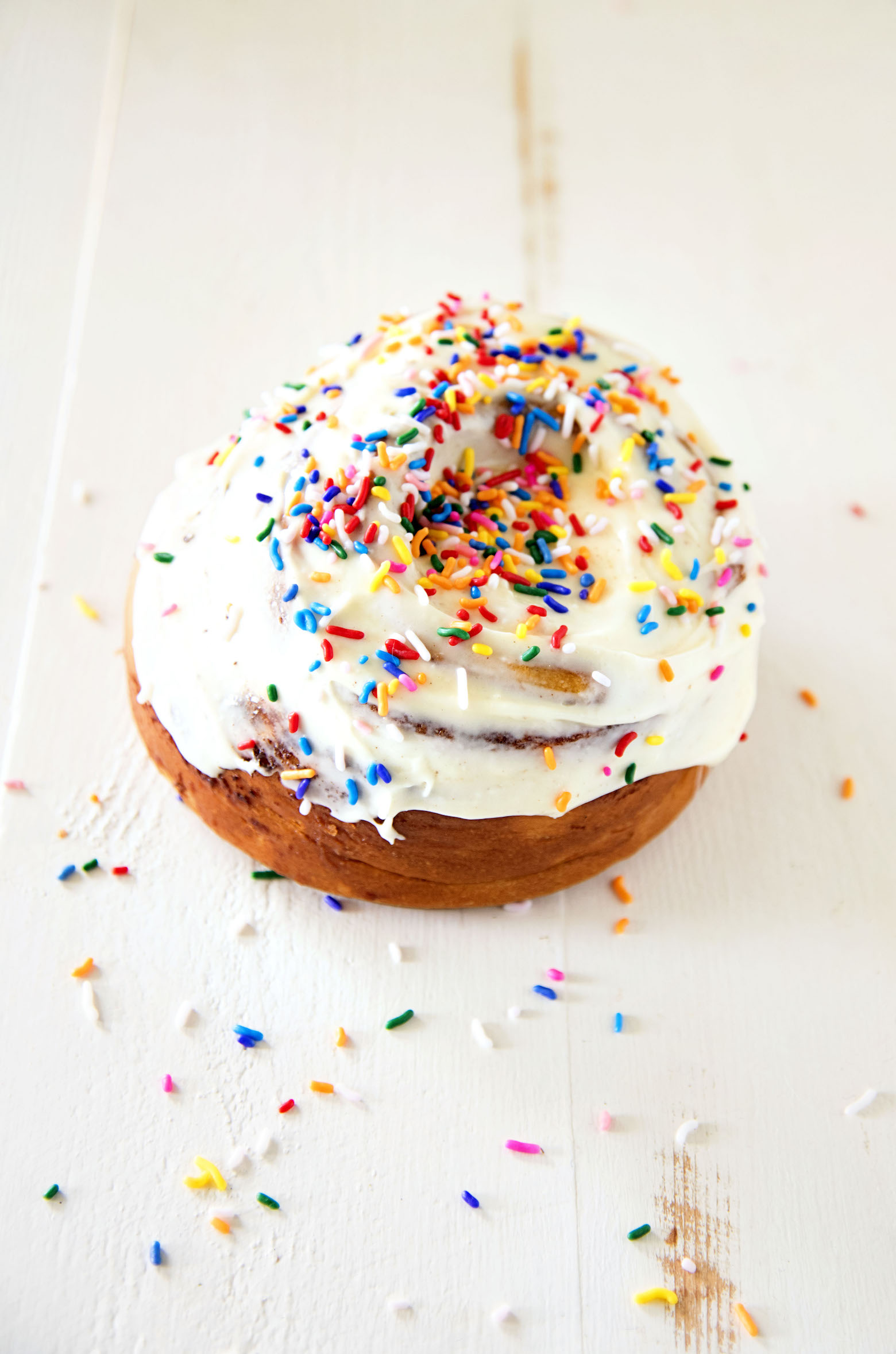 You may be saying to yourself that doesn't look that giant of a cinnamon roll.
But it is.
Trust me.
The batch of Giant Cinnamon Roll with Cake Batter Frosting makes two rolls.
And in reality you could have gotten 12 easily.
They are also bigger than my hand…about twice the size of my hand to be exact.
Last week Kita posted a photo on Instagram of a giant cinnamon roll and I became obsessed.
Speak of Kita, it's still burger month and you could still be winning prizes…go enter.
Anyway, I decided I needed a giant cinnamon roll.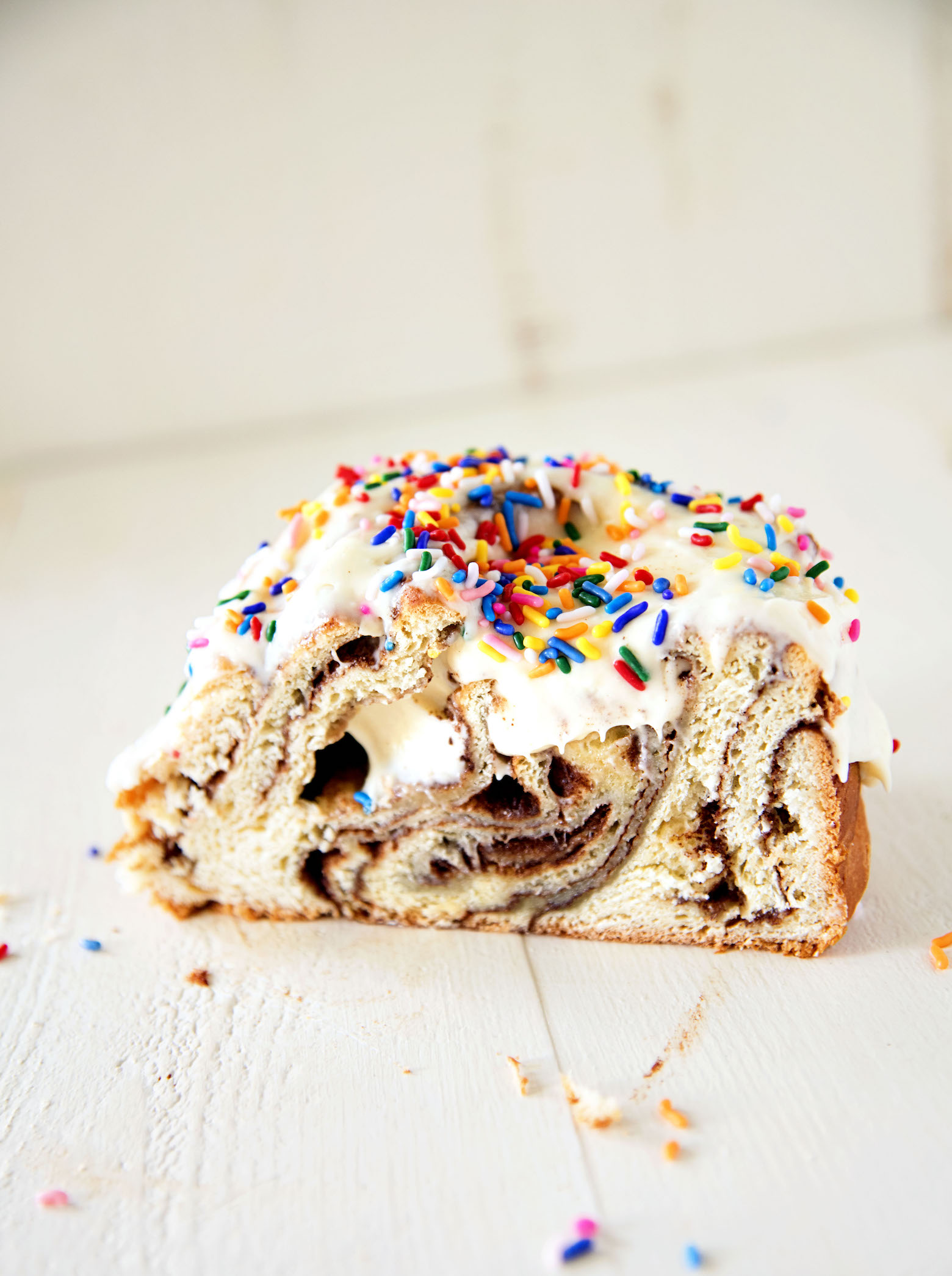 Mine is nowhere the size of that roll because I did not need to feed my family and the country of Honduras. 😛
Also last minute I had leftover cake batter mix and decided that needed to go in the frosting.
I mean there is nothing wrong with good ol' cream cheese frosting…but cake batter seems to make it that much better.
As do the sprinkles.
You can make these on a baking sheet.
I did buy these super tall spring form pans to contain my cinnamon rolls in and also an excuse to buy those pans. 🙂
No matter how you make them I suggest you do.
There is something beyond awesome about a giant cinnamon roll covered in frosting and sprinkles.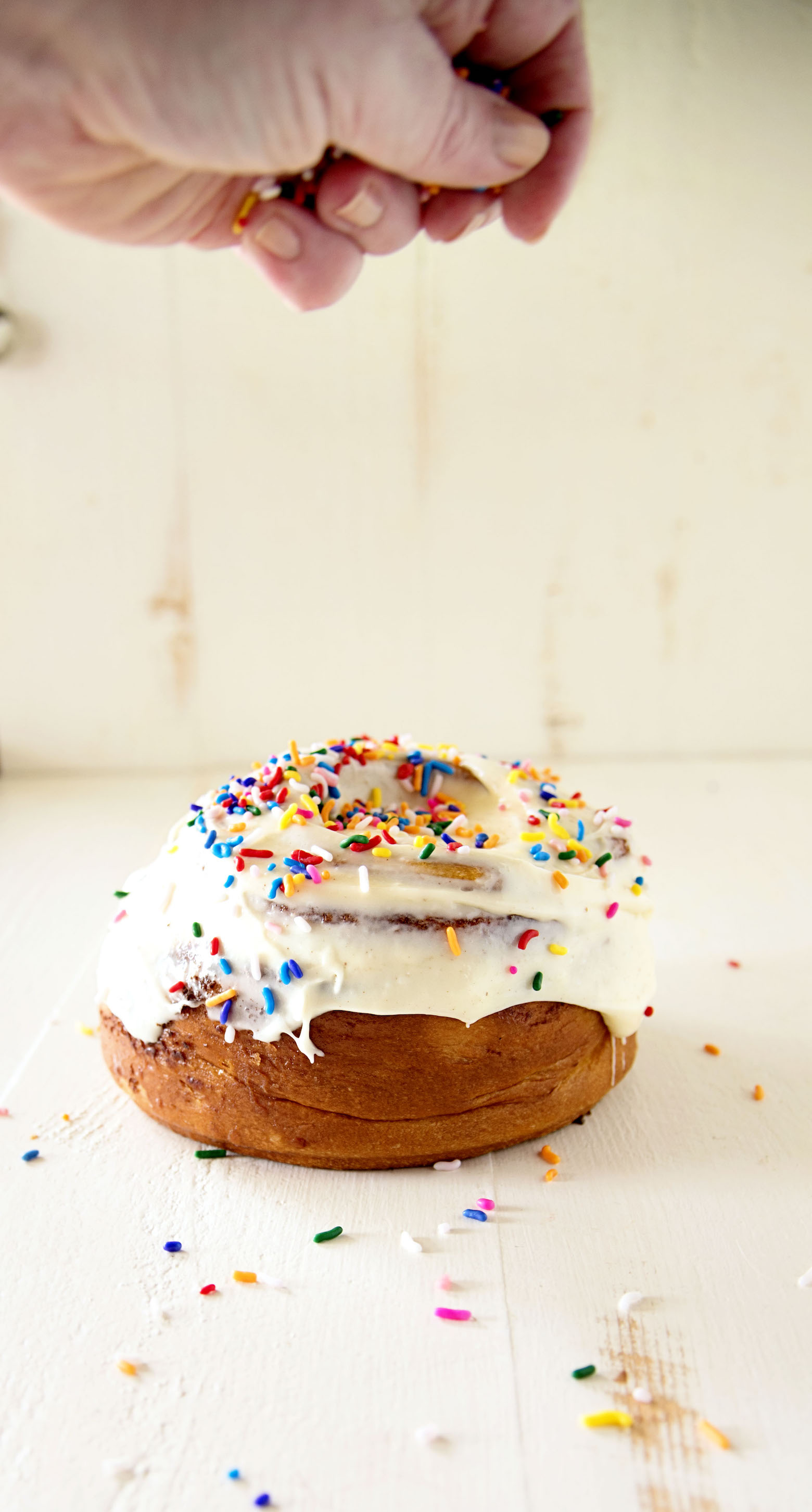 Want More Roll Recipes?
Pineapple Upside Down Sticky Buns
Bourbon Butterscotch Sweet Rolls
Chocolate Clementine Sweet Rolls
Bourbon Brown Sugar Caramel Peach Sweet Rolls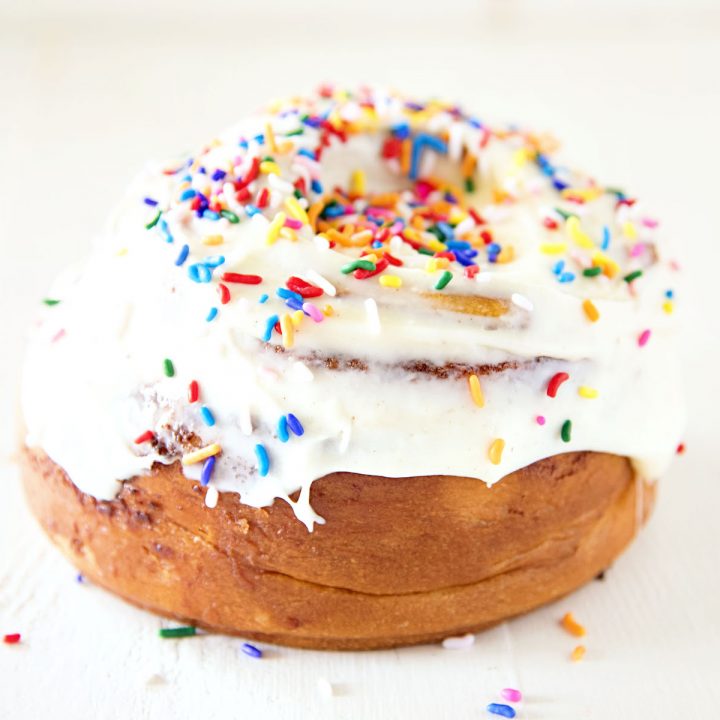 Giant Cinnamon Roll with Cake Batter Frosting
Ingredients
For the Dough:
1/2 cup Unsalted Butter
1/2 cup buttermilk
1/2 cup warm whole milk, (read your yeast packet for temperature suggestions)
2 1/4 tsp. Active Dry Yeast (I used Red Star Yeast)
1/4 cup Granulated Sugar
1 Egg
2 Egg Yolks
1 1/2 teaspoons Salt
4 cups All-Purpose Flour
For the Filling:
6 TBSP unsalted butter, at room temperature
1 cup Brown Sugar, loosely packed
2 TBSP Ground Cinnamon
For the Cake Batter Frosting:
8 ounces Cream Cheese, at room temperature
2 TBSP unsalted butter, at room temperature
2 tablespoons Milk, or Cream
11/2 cups Powdered Sugar
1 teaspoon Pure Vanilla Extract, For the Frosting
1 cup dry yellow cake mix (heat treated)
Sprinkles for decor
Instructions
For the dough:
Melt the butter in a medium saucepan and stir in the buttermilk.In the bowl of a stand mixer using the whisk attachment, whisk together the warm whole milk, yeast, and sugar.
Then whisk in the egg plus egg yolks.
Add the salt, 2 cups of the flour, and the butter/milk mixture. Mix until combined.
Add the last 2 cups of flour and switch to a dough hook.
Knead dough for about 6-8 minutes, adding more flour if the dough seems too sticky or wet. Dough should be soft, pliable, and shiny.
Shape the dough into a ball and place it into a large oiled bowl.
Cover it with plastic wrap and let it rise in a warm place for 1 1/2 hours or until it doubles in size.Line a 9 X 13 baking pan with parchment paper.
Form the Rolls:
When the dough has doubled in size lay it on the prepared work surface and roll it out to about 16 X 12, with the SHORTEST side closest to you.
Make the filling by mixing together the butter, brown sugar, cinnamon, and salt. It will be clumpy.
Sprinkle the filling all over the dough, going all the way to the outside edges.
Cutting lengthwise (16 inch) cut down the middle making it into two equal parts.
Roll the 6-inch side (it will be 6-x-8 now) up rolling the dough away from you.
Then place the seam of the rolled up cinnamon roll onto the start of the remaining dough and roll that up the same way you did the first. So you are making it into one giant roll.
Cut in two pieces.
Trim and excess dough that might be sticking out weird.
Lay the pieces in the prepared baking pan, cover with plastic wrap, and let them rise for another 11/2 hours.
Preheat the oven to 350°F.Bake the risen rolls for 30-35 minutes. They will be golden.While the buns bake, make the frosting.
For the Frosting:
Beat together the cream cheese, butter, and powdered sugar.
Add in the milk or cream, vanilla extract, and the cake mix.
Beat on high until smooth.
Spread the frosting generously over the hot cinnamon buns.
Add sprinkles if desired…but why wouldn't you desire sprinkles?