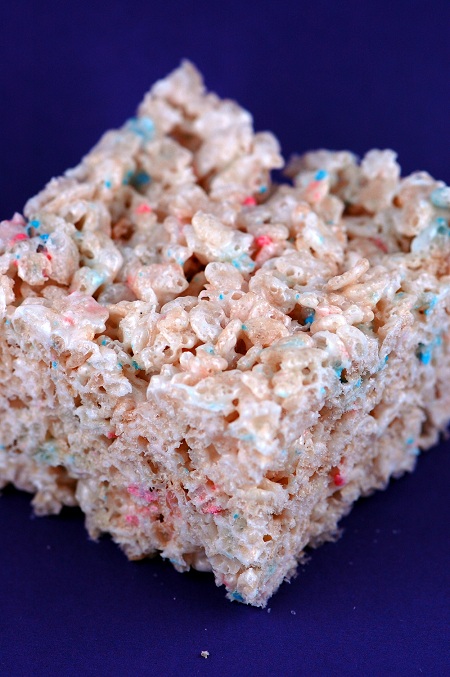 So I was supposed to have a little medical thing done this week and the idea of cooking after that sounded no fun at all. So as usual, what is more fun than Funfetti? I had seen cake batter Krispie Treats over on my blog crush and figured if any time ever I deserved then was now. 🙂
I had been putting make them off for a very good reason, like Lay's potato chips, I can't eat just one. Or four for that matter. Krispie Treats are my kryptonite for sure. It's because they are a negative food. You know how nutritionist tell you some foods have a negative calorie effect, that by the time your body process them that you burned more calories than you ate? For the record I think that is a load of crap and just an evil way to try and make you eat certain foods. 😛 I think Rice Krispie Treats are like that for me. Except the negative effect that they have on me is that after eating 8 of them, it's feels like I ate none of them. And so I want to eat more. They are like eating air.
Now when I started adding cookies and what not to mine, they did become less air like. But this recipe didn't have any cookies in it. It would just be the negative effect Krispie Treats…and to make matters worse, flavored by one of my all-time favorite flavors…chemical enhanced cake mix. Mmmm. Although for the record I was seduced by the picture of the flowers and butterflies in the sprinkles only to realize later that those came with the frosting and not the cake. What a letdown I tell you.
Well my procedure got bumped till next week and so it was just there, me and a pan of Krispie Treats. Not good I tell ya. Not good at all. I made them after all to lay on the couch in my penguin pj bottoms and curl up with the dog while using my one hand to fight her back from stealing my treat. Not that I can't do that now. 🙂 But it was better when I had a real excuse to do it. I mean now, I'm just sitting around eating sprinkled covered air. And what's worse is I have to make them all over again next week as well. Darn. 😛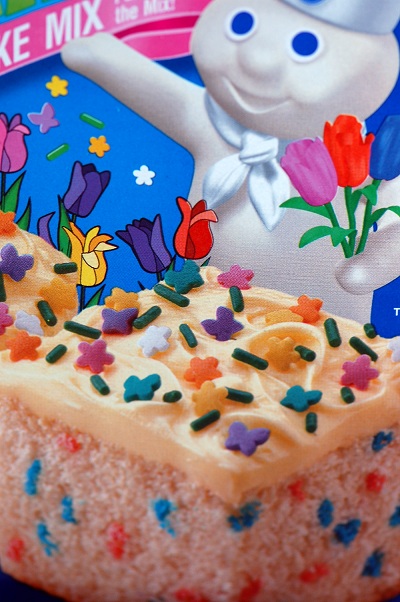 Funfetti Krispie Treat
6 TBSP unsalted butter
1 16-ounce bag of mini marshmallows
1/4 cup Funfetti cake mix (next time I will use more)
½ cup sprinkles (more if you like, I used the ones that came with it)
12 ounces Rice Krispies Cereal
Melt butter in a large saucepan over low heat and add marshmallows.
Stir until they begin to melt, adding in cake mix one spoonful at a time so its combined.
Stir in cereal so it is completely coated with marshmallow mixture.
Sprinkle in sprinkles and mix.
Press into a baking dish (9 by 13…but you need tall sides).
Let sit for about 30 minutes before cutting. I find spraying a knife with nonstick spray helps to cut them.
Adapted from How Sweet It Is