Add some fun to your day with these sprinkle filled Crumb Topped Cake Batter Blondies. Like homemade Funfetti but in blondie form.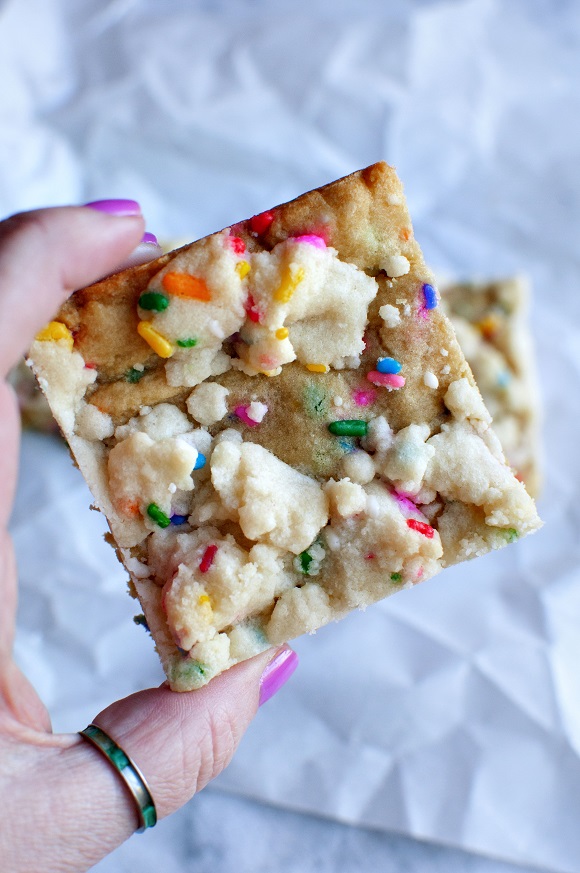 So the New Year has only been around 7 days but hey…I'm already digging some stuff.
So here's what I'm digging right now.
1. I am addicted to lip balm.
Sadly, I probably own about 30, not even kidding.
I have some abnormal fear of being caught without lip balm.
Ask my poor husband who if by chance I don't have lip balm has to find a gas station or 7-11 immediately so that I have lip balm.
My newest addiction in the lip balm world is this Rosemary Pear Lip Balm.
Apparently I'm not the only one in love with it as it's currently on backorder.
But if you are addicted to lip balm like I am, I would get on the waiting list if I were you!
2. Speaking of Etsy I fell in love with the candles that Plain J Body and Home made.
I had the holiday collection and loved each fragrance.
The Ginger Peach and Hazelnut Coffee are awesome.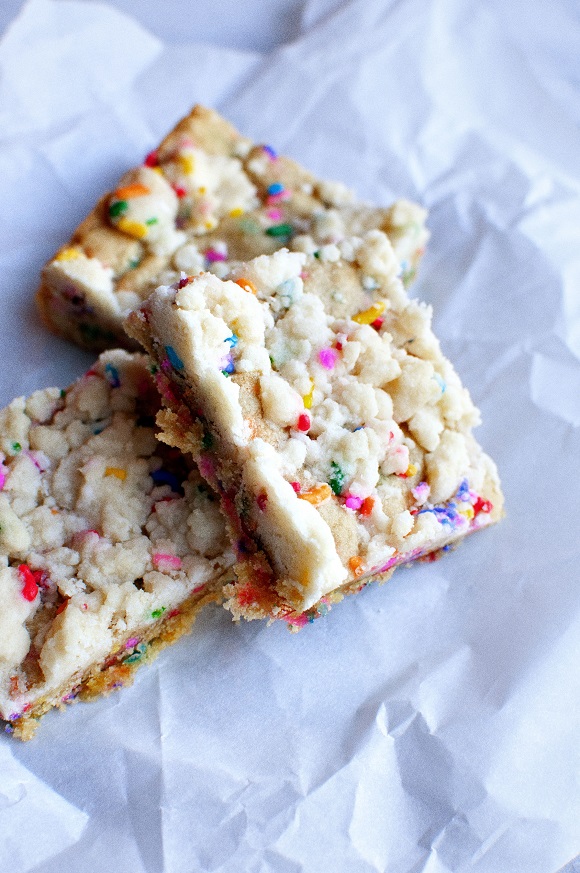 3. The gym is packed this time of year and so I don't like going the first couple of weeks, but I still want to work out.
When I started Live More Weigh Less a couple years ago there was a program called the Shrink Sessions which I didn't check out.
Turns out that was a mistake.
It's not just work outs but mantras and what not if that's your thing.
I felt silly at first but then got into it.
You used to only be able to get it via computer which is why I wasn't super keen on it…but now they have the workouts on DVD and that makes me happy.
Some of them are easy.
And some are hard.
If you can't make it through a workout don't worry, you tried, and if you keep trying I promise eventually you will get through them.
5. My goal is to lose 25 pounds this year.
25 pounds of sprinkles that is!
I was given a 25 pound bag of Sprinkles last year for the wedding.
It never got cracked into.
So it's my mission to go sprinkle happy this year.
Starting with these Crumb Topped Cake Batter Blondies.
Which is another find. I started seeing all these recipes calling for Lorann Oils Bakery Emulsions Natural and Artificial Flavor, 4-Ounce, Buttery Sweet Dough …and was told this is what helps give baked goods the cake batter flavor that Funfetti has.
So I went looking for it on Amazon.
Bought it.
You should probably too as I see many a recipe in the future involving it.
P.S. It's a great day to buy my cookbook Holy Sweet!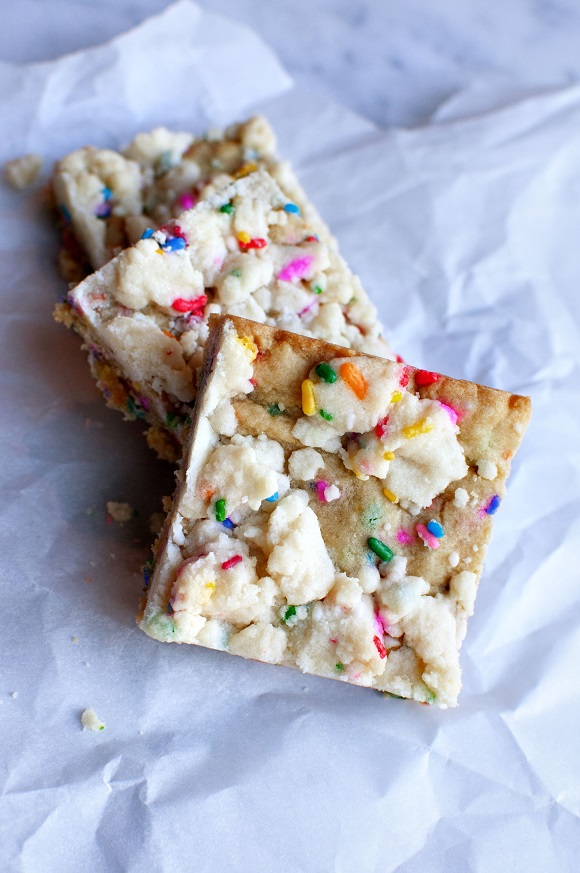 Want More Bar Recipes?
Chocolate Chunk Churro Cookie Bars
Butterscotch Walnut Meringue Bars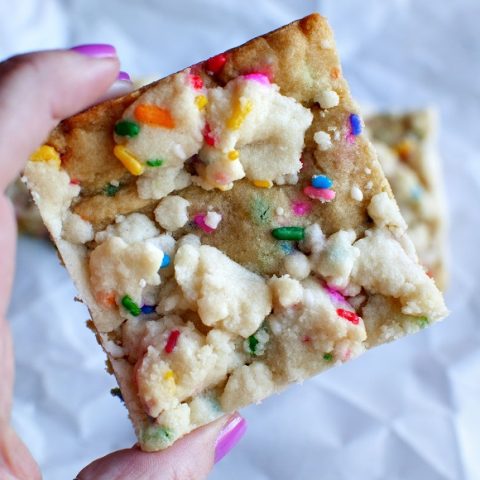 Crumb Topped Cake Batter Blondies
Ingredients
For the crumb topping:
¼ cup unsalted butter, melted
½ package Funfetti cake mix
¼ cup sprinkles
For the blondies:
2 cups all-purpose flour
1 tsp. baking powder
½ tsp. salt
1 cup granulated sugar
½ cup light brown sugar, tightly packed
4 oz. unsalted butter, at room temperature
2 eggs
1 tsp. vanilla extract (I used Rodelle)
1 tsp. butter bakery emulsion
½ cup sprinkles
Instructions
For the topping:
In a medium bowl mix together the melted butter, sprinkles, and cake mix.
Let it dry a little and break into crumbs.
Set aside.
For the blondies:
Preheat oven to 350F.
Using a stand mixer with a paddle attachment cream together the butter and the sugars until light and fluffy about 3 minutes.
Add the eggs one at a time, scraping down the sides and bottom after each addition.
Add the vanilla and butter emulsion and beat for 30 seconds.
Add the flour, baking powder, and salt and mix on slow until ingredients just come together.
Add the sprinkles and mix until dough is completely combined.
Press dough into a 9-x-13-inch pan that has been sprayed with baking spray.
Sprinkle the crumb topping on to the batter.
Bake for 22-24 minutes, they should be golden brown around the edges and a wooden skewer or knife should come out clean when inserted into the bars.
Remove from oven and let cool on a wire rack.
Cut into bars and enjoy.