After waiting for years for Oreo to make an Eggnog flavor I decided just to make my own Eggnog Faux-Reo's with an eggnog flavored filling.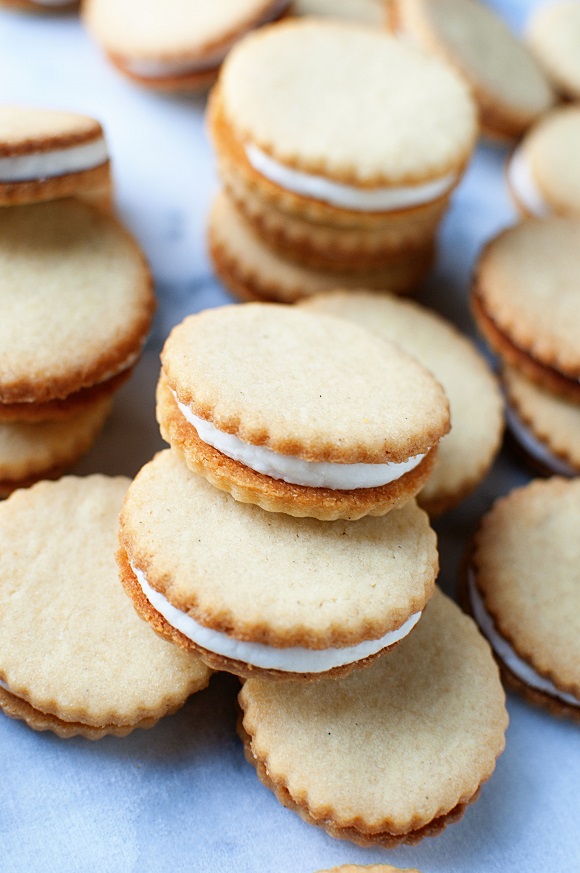 I have been compensated for this post by Plugra but the opinions, bad grammar, and bad puns are all mine.
My friend L has a saying "I love you more than butter" which to us is the highest compliment.
Because butter is pretty awesome and European style butter is even more awesome.
So last year when Plugra asked me if I wanted to be part of their Butter Brigade I couldn't reply YES fast enough.
It was a year filled with glorious butter and glorious recipes as a result of that butter.
So when they asked if I wanted to come back for another year, again I could not hit YES fast enough.
I have been using Plugra unsalted butter for years.
Plugrá butter contains less water than average table butter.
Lower moisture helps you create cakes that rise higher, cookies that crisp more evenly, and flakier pastries.
I always use unsalted because it allows you to control the salt content.
Salted butter (which we use for table butter) has no regulation on how much salt goes in so each batch is different.
So when you see that I write unsalted butter on pretty much EVERY recipe on this site…that's why.
I get their butter sent to me, but before that when I had to front the money myself I hoarded it for special recipes.
What kind of special recipes?
Well anything where butter was a key element…like pie crust, buttercream frosting, sugar cookies, etc.
So to start off the new butter year with them I made a cookie that would be perfect for Cookie Exchange but is also one I have been waiting for Oreo to make.
Ever since they started doing limited edition flavors I have been waiting for them to come out with an Eggnog version.
With no luck.
So I thought okay I'll do it myself.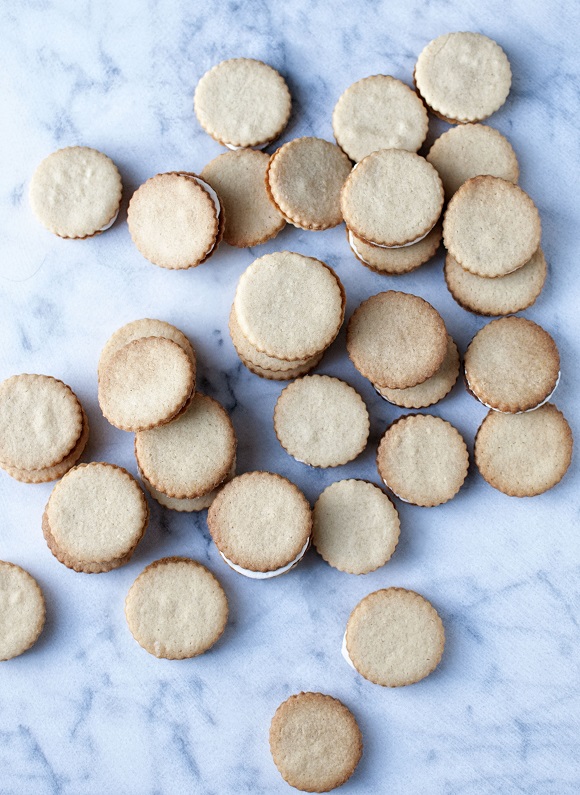 I made Eggnog Faux-Reo's .
Now, I have no idea if they taste like the real thing since the real thing doesn't exist. 🙂
I chose to make the golden version (with nutmeg thrown in) with an eggnog filling.
For this recipe I did have to buy a little bottle of LorAnn Oils Super Strength Eggnog Flavoring which I got off Amazon.
Not sure if you can find that in a grocery store.
It was worth the investment to me.
If you like eggnog you will be a big fan of these. If you are a booze fan I would sub the TBSP of water for 1 TBSP of bourbon…because why not
And if you do make these be sure and use Plugra, it does make a difference.
P.S. It's a great day to buy my cookbook Holy Sweet!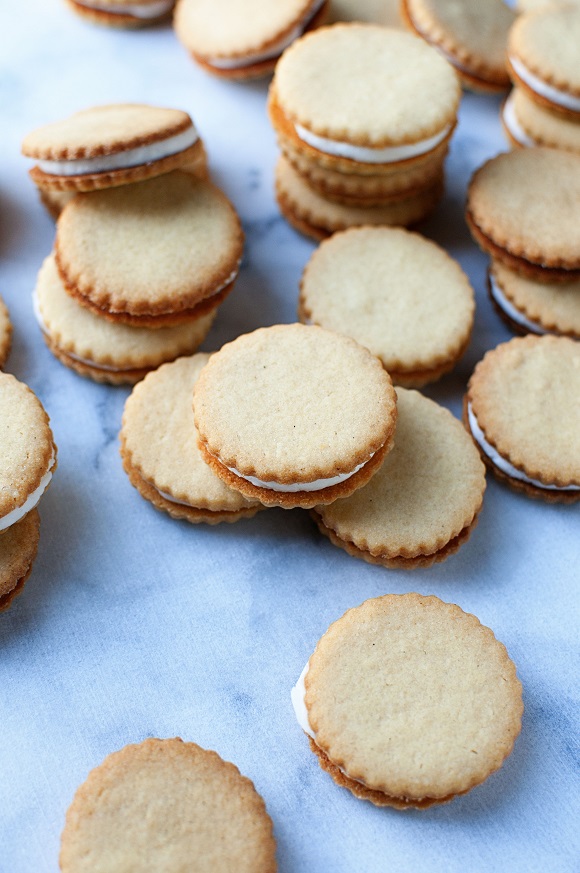 Want More Eggnog Recipes?
Chocolate Bourbon Eggnog Cupcakes
Eggnog Chocolate Fudge Bundt Cake
Gingerbread Oatmeal Eggnog Cream Pies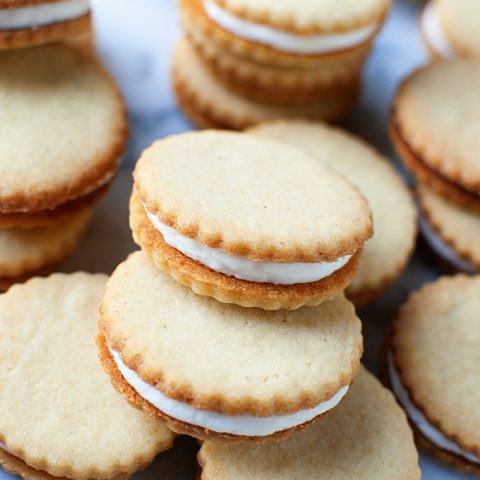 Eggnog Faux-Reo's
Ingredients
Cookies:
1 cup granulated sugar
3/4 cup unsalted butter (I used Plugra)
1/2 tsp. of salt
1 large egg
1 TBSP of water
1 tsp. vanilla extract
½ tsp. freshly ground nutmeg
1 1/2 cups unbleached all-purpose flour
½ cup powdered milk (not malted milk)
Filling:
1/2 cup shortening
1 tsp. eggnog flavoring (more if you really like the flavor of eggnog)
2 1/2 cups powdered sugar
Milk to thin
Instructions
Cookies:
Using a stand mixer with the paddle attachment, cream together the sugar and butter.
Add the salt, egg, water, nutmeg, and vanilla and beat until smooth.
Beat in the flour and powdered until well combined.
Form dough into a ball and place in refrigerator for 1 hour.
Remove from fridge and roll out dough to 1/8 inch thick… do the best you can.
Place the baking sheets in the refrigerator to chill the dough for 30 minutes.
Preheat the oven to 325F.
Bake the cookies for 12-14 minutes, you are going to want them on the crispy side.
Watch them closely so they don't burn.
Remove the cookies from the baking pans and cool them completely on a wire rack.
Filling:
Using a stand mixer with the paddle attachment, cream the shortening, then beat in the eggnog flavoring and the powdered sugar, a ½ cup at a time, beating until the mixture is light and creamy.
Thin with milk as needed. You want a consistency that you can pipe. You can fill them using a teaspoon but I find piping the filling the easiest.
Sandwich the cookies, using about 1 1/2 teaspoons for a regular faux-reo or more for double stuffed.
Makes about 30 sandwich cookies.