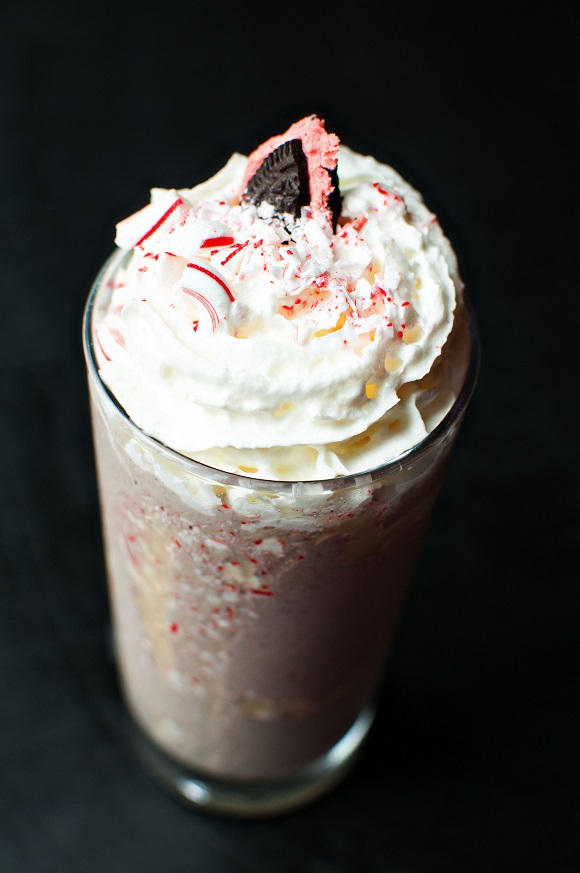 A couple years ago when I went to IFBC (in Portland that year) Ninja Kitchen was there and they hosted a lunch and they gave everyone their new (at the time) Ninja 3-in-1 Cooking System (MC701)
. Which was smart by them as I thought oh gee just another crock pot how good can it be. Good enough that it's the only one I recommend and have been known to hug it from time to time. So when I saw that Ninja was coming back to IFBC again and hosting anther lunch I was kind of excited. Except this time they didn't give everyone something. They were featuring their new blender and while that was nice and all I already have a very good blender a Vitamix 5200 Series Blender, Black
so I won't be going out and getting one I thought to myself.
However a few weeks after the conference the contacted me and asked me if I wanted the Nutri Ninja Blender Duo with Auto-iQ (BL641)
. I said sure thinking I would get it, try it out, and then give it to someone since I already have a blender. Well let's just say I have two blenders now…I'm not giving my Ninja to anyone. :P So if I already have a Vitamix why have two blenders? Ummm how about margaritas and pina coladas at the same time. :P I kid, sort of.
First off I own three KitchenAid mixers so I might already have an appliance problem ( 😀 ) but second because they are different. The first thing that was different was the blades. The thing I dislike most about my Vitamix or blenders in general is trying to get things out from under the blades…especially when cleaning. The blade is removable and goes all the way up (not just a blade at the bottom).
I first used it to make smoothies as I make a "green monster" every morning. I was interested in seeing if there would be a difference. There was. A little too much. The Ninja has presets and so I pushed smoothie and walked away. I came back to a smoothie that was so whipped and thick I had to eat it with a spoon, I kid you not. Same thing the second time. So I added more liquid and get an amazingly smooth smoothie that is much easier to clean up. I also don't have to use the tapper (if you own a Vitamix you know what that is) to help the fruit push down when I make the smoothies which is nice. I literally just put everything in and walk away.

MDP and I figured if it could do that to smoothies imagine the milkshakes and mixed drinks you can whip up…oh how you can! Enter this milkshake: Boozy White Chocolate Peppermint Oreo Milkshake. Festive and serves a purpose of helping you survive the holidays. If you can't find peppermint ice cream then use vanilla and add a few drops of peppermint extract. If you can't find the peppermint Oreo's (try Walmart or Target) then if you have a Trader Joes nearby they carry Candy Cane Jo-Joe's that are awesome.
This isn't really a review of sorts as I don't really do those and no one was paying me to do so ( I was however given a free one to try). It's just it's the holidays and you may be wanting a blender. I will say I love both blenders for different reasons. The Vitamix I have has a separate dry grain container where you can make your own flour…and I do.  The Ninja is now my daily go to for smoothies though which is quite an accomplishment actually. I would say if you are mainly going to be making smoothies and mixed drinks than go with the Ninja it does them really well and of course is $200 cheaper than the Vitamix. The one thing I am not sure about the Ninja is the longevity (I've had my Vitamix a lot of years…a lot). However I have had my Ninja Cooking System (aka crockpot) now for over two year and it gets used ALL THE TIME and has held up great.
So go get blending…and make this milkshake.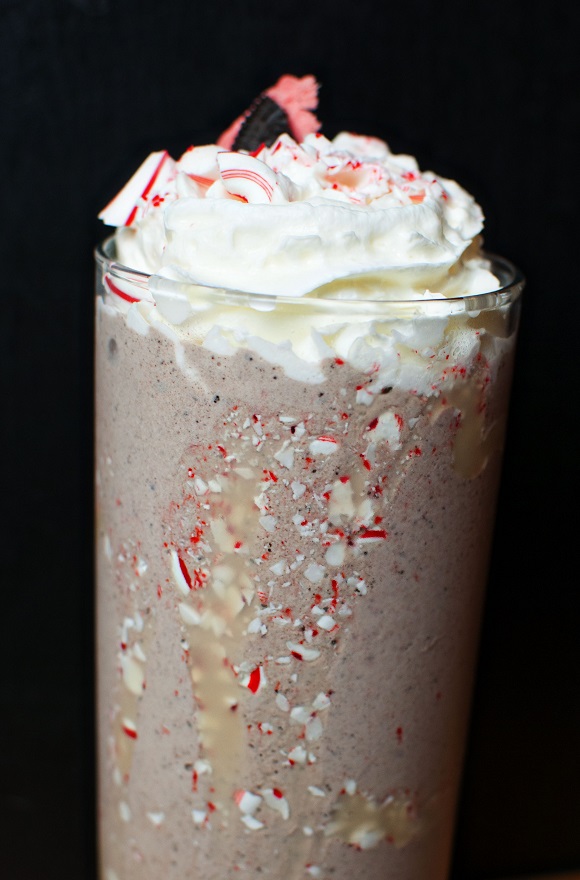 Boozy White Chocolate Peppermint Oreo Milkshake
2 cups peppermint ice cream
¼ cup White Chocolate Liqueur (like Godiva)
2 TBSP Peppermint Schnapps
¼ cup heavy whipping cream (you can use milk but cream makes thicker shake)
5 Peppermint Oreo's
Whipped Cream (for garnish)
White chocolate sauce (for garnish)
Candy cane pieces (for garnish)
Take you glass and drizzle white chocolate sauce up and down it. Then add the crushed candy canes. Roll the candy canes around the glass so that they stick to the white chocolate sauce.
Place all the remaining ingredients into a blender.
Blend until smooth and creamy.
If too thick, thin with more cream or booze. If too thin add a little more ice cream.
Garnish with whipped cream and candy canes…as well as Oreo pieces if you want.