This Pear Cranberry Upside-Down Cake is easy to make and is a perfect cake to have for your fall and winter celebrations.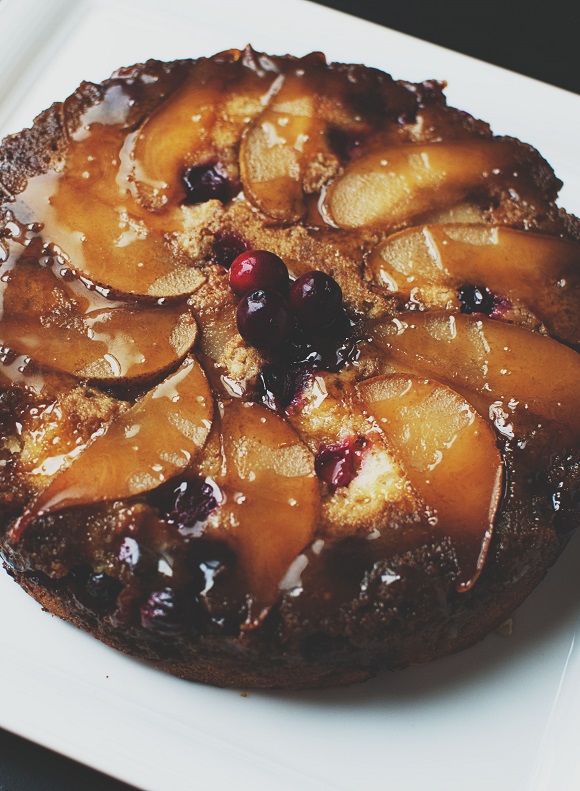 This Pear Cranberry Upside-Down Cake is THE CAKE you are going to want to make this holiday season.
Because it's pretty, it's yummy, and it's easy to make!
It's Monday so I will keep it short and to the point.
This cake is made using Harry and David Royal Riviera Pears.
Do you have to use their pears to make this cake?
No, but they are one heck of a tasty pear and go really well with this recipe.
Like all upside down cakes, the cake consists of two parts.
The fruit that goes on the top and the cake batter.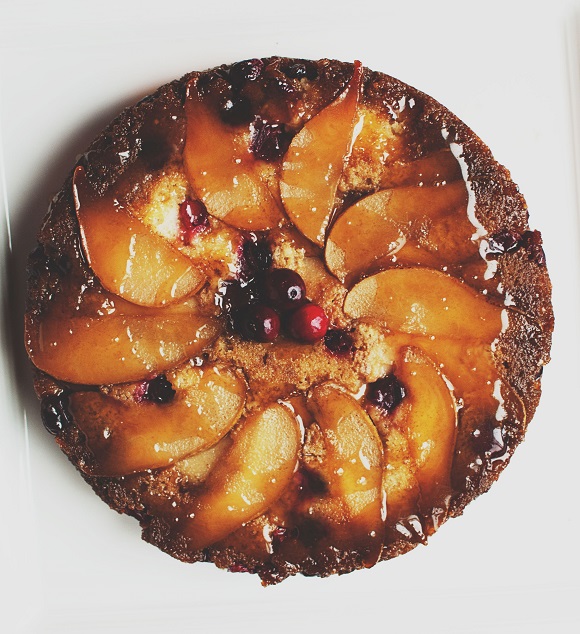 Tips for making the perfect Pear Cranberry Upside Down Cake:
Line the bottom of your pan with parchment paper and thoroughly grease the sides: Lining the bottom of your pan with parchment paper will ensure your cake releases easily when you invert it. It's an absolute must with upside down cakes. Also be sure to really butter up the sides of your pan so the sides of your cake do not stick to your pan either! 
Don't over bake your cake: An overbaked cake is not only dry , but also more likely to stick to the pan. Take your cake out when it's golden brown all over and springs back to the touch!
P.S. It's a great day to buy my cookbook Holy Sweet!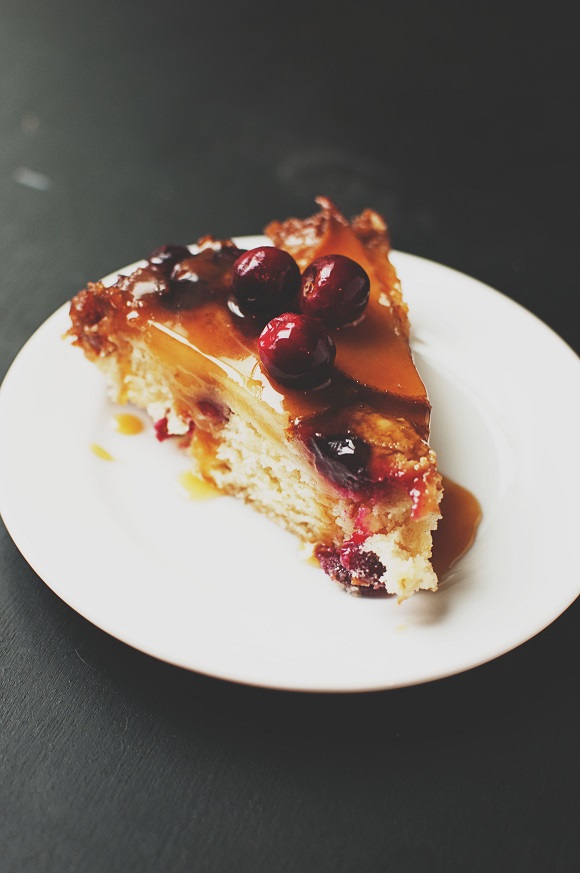 Want More Pear Recipes?
Gorgonzola Walnut and Pear Flatbread
Honey Pear Ginger Bread Pudding
Honey Pear Jam Walnut Swirl Bread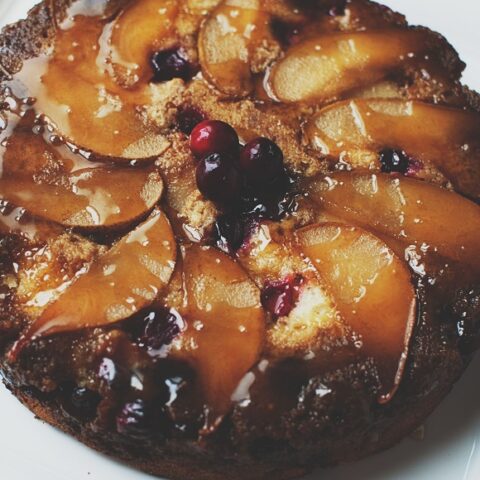 Pear Cranberry Upside-Down Cake
Ingredients
For the Cake Top:
½ cup unsalted butter
½ cup firmly packed brown sugar
2 ripe pears, I used Harry and David Royal Riviera
¾ cup fresh cranberries
For the Cake Batter:
½ cup unsalted butter, room temperature
1 cup granulated sugar
2 large eggs
1 1/3 cups all-purpose flour
1 ½ tsp. baking powder
¼ tsp. salt
½ cup whole milk
1 ½ tsp. vanilla extract
Instructions
To make the topping:

Slice pears thinly, leaving the skins on; set aside.

In a medium saucepan combine butter and sugar and bring to a boil.

Take off of heat and whisk just to combine and pour into prepared pan.(This recipe calls for a 9 or 10-inch cake pan with sides that are at least 2 inches tall).

Layer ½ the pear slices is a circular pattern.

Sprinkle half the cranberries on top.

Repeat with the remaining pears and cranberries.

For the Cake:

Preheat oven to 350F.

Using a stand mixer fitted with the paddle attachment, cream the butter and sugar together on medium-high speed until light and fluffy, about 3 minutes.

Add the eggs and beat for another 30 seconds.

Scrape down the bowl after each addition.

Stir together the flour, baking powder, and salt in a separate bowl.

To the butter mixture, add the flour mixture in 3 increments, the milk in two, starting and ending with the flour, beating on low speed between each addition.

Stir in the vanilla.

Pour the batter evenly over the pears and cranberries (do the best you can).

Bake for about 45 minutes if using a 10-inch pan and about 55 minutes for a 9-incher.

The cake is done when a toothpick inserted in the center comes out clean.

Remove from the oven and immediately invert onto a large cake plate.

Let cool for about 15 minutes.
Did you make this recipe? Snap a photo and leave a comment!
Be sure to follow bakerpeabody on instagram and tag #bakerpeabody with your photo! You can also post a photo of your recipe to the Sweet ReciPEAs Facebook page. I'd love to see what you make!