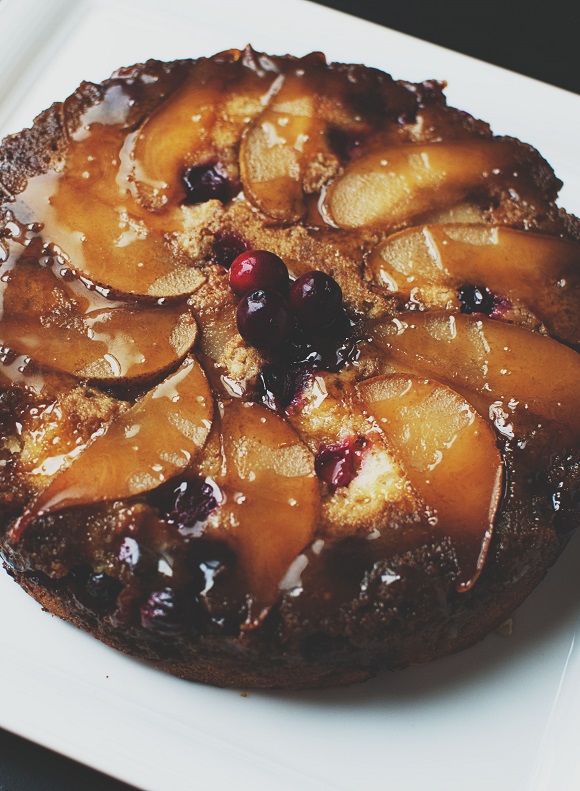 This is THE cake you are going to want to make this holiday season because it's pretty, it's yummy, and it's easy to make!
It's Monday so I will keep it short and to the point. This cake is made using Harry and David Royal Riviera Pears. Do you have to use their pears to make this cake? No, but they are one heck of a tasty pear and go really well with this recipe. And I'm giving you the chance to win your own box of Harry and David Royal Riviera Pears.
What do you need to do? Just leave a comment telling me how you will be using the pears?
By leaving a comment below to enter, you agree to the Official Rules:
There is no purchase necessary, this is void where prohibited and you must be over the age of 18
This contest is open to U.S. residents only – sorry international readers
The contest starts today and ends Sunday, December 7gh , 2014 at 8:00pm PST
The retail value of the pears is $29.95
The winner will be chosen by random number generator.
The prize is being shipped from Harry and David. If you haven't received the prize within three weeks of winning, please let me know.
Thank you to Harry and David for sponsoring this giveaway!
GIVEAWAY NOW CLOSED!!!!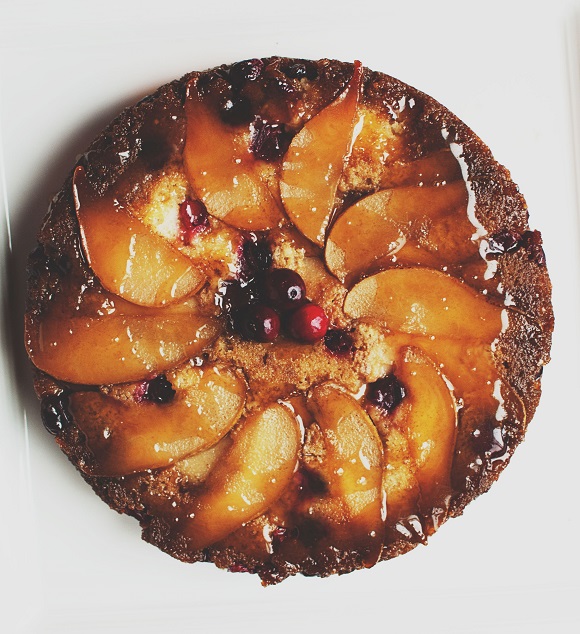 Pear Cranberry Upside-Down Cake
Top:
½ cup unsalted butter
½ cup firmly packed brown sugar
2 ripe pears, I used Harry and David Royal Riviera
¾ cup fresh cranberries
To make the topping:
Slice pears thinly, leaving the skins on; set aside.
In a medium saucepan combine butter and sugar and bring to a boil.
Take off of heat and whisk just to combine and pour into prepared pan.(This recipe calls for a 9 or 10-inch cake pan with sides that are at least 2 inches tall).
Layer ½ the pear slices is a circular pattern. Sprinkle half the cranberries on top. Repeat with the remaining pears and cranberries.
Batter:
½ cup unsalted butter, room temperature
1 cup granulated sugar
2 large eggs
1 1/3 cups all-purpose flour
1 ½ tsp. baking powder
¼ tsp. salt
½ cup whole milk
1 ½ tsp. vanilla extract
Preheat oven to 350F.
Using a stand mixer fitted with the paddle attachment, cream the butter and sugar together on medium-high speed until light and fluffy, about 3 minutes.
Add the eggs and beat for another 30 seconds. Scrape down the bowl after each addition.
Stir together the flour, baking powder, and salt in a separate bowl.
To the butter mixture, add the flour mixture in 3 increments, the milk in two, starting and ending with the flour, beating on low speed between each addition.
Stir in the vanilla. Pour the batter evenly over the pears and cranberries (do the best you can).
Bake for about 45 minutes if using a 10-inch pan and about 55 minutes for a 9-incher. The cake is done when a toothpick inserted in the center comes out clean. Remove from the oven and immediately invert onto a large cake plate. Let cool for about 15 minutes.
Adapted from The Pastry Queen Christmas: Big-hearted Holiday Entertaining, Texas Style