This Toasted Hazelnut Pumpkin Pasta for Two is made with rotini pasta, pumpkin, heavy cream, Parmesan, and toasted hazelnuts.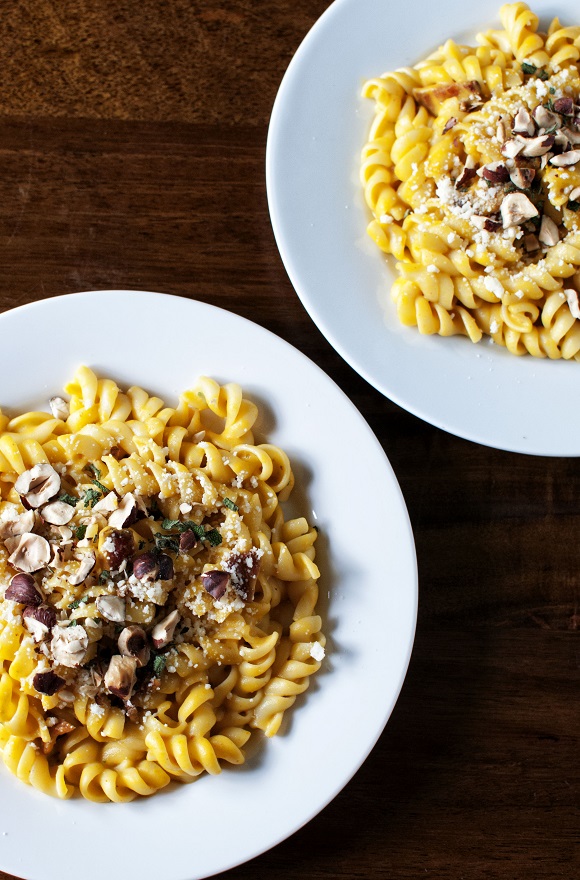 This post was originally sponsored by Dreamfields Pasta but the words, bad grammar, and opinions are all my own.
Readers have this ideology of food bloggers.
That we sit down every night to amazing elaborate meals filled with standing rib roast and swan shaped cream puffs.
That's a cruise people…that's what you get to eat on a cruise.
What we eat is very different.
Some nights (hangs head in shame) it's just an English muffin with peanut butter on it because we are running out the door.
Other nights we do our best to make a quick meal, which usually means some sort of pasta.
October is National Pasta Month (as if you needed a reason to eat pasta) and Dreamfields is celebrating that.
Dreamfields is another product that I was already using anyway so why not pay me to use it :).
We like it because it taste just like regular pasta because it's made from premium durum wheat from North Dakota so it has the same texture as regular pasta, it gives us 7 grams of protein per serving, and 5 grams of fiber.
That and the kids can't tell a difference (which is the real test in this household).
To learn more about it visit their website HERE. There's a recipe every day from bloggers to celebrate pasta month.
If you are interested you can follow the hashtag #IHeartDreamfields.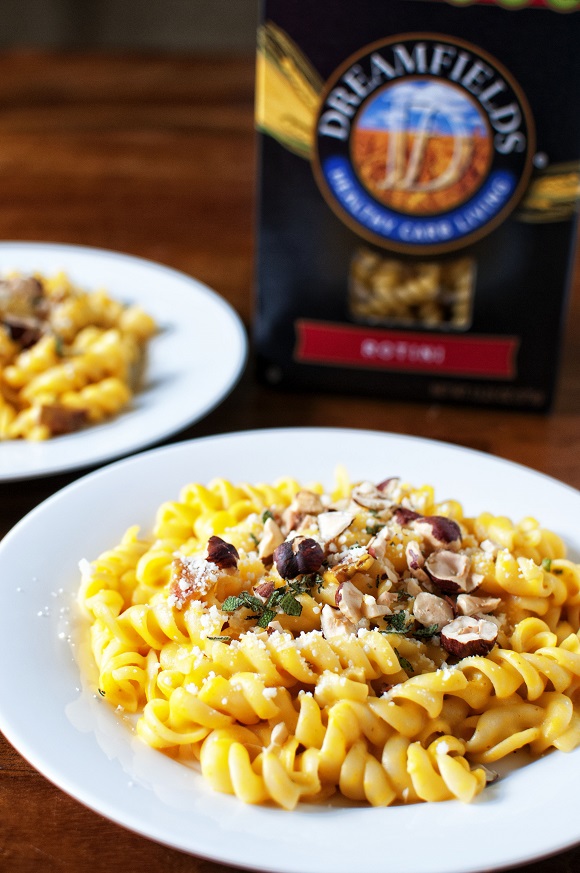 Now on to this Toasted Hazelnut Pumpkin Pasta for two.
I chose to cook with Rotini because I think the shape really holds sauce well.
While I love to bake with pumpkin I also enjoy it with my pasta as well.
Pumpkin, sage, Parmesan, and hazelnut is a combo that I love and have made many variations of over the years.
If there is more than just two of you this recipe can easily be doubled or tripled.
Also, feel free to add more than 2 tsp of Parmesan cheese on your pasta.
I would have but Dreamfields wanted specific amounts and wanted it on the lighter side.
Same thing with toasted hazelnuts.
You want more of those?
Go for it. 😀
Last but not least…it's a great time to order my cookbook.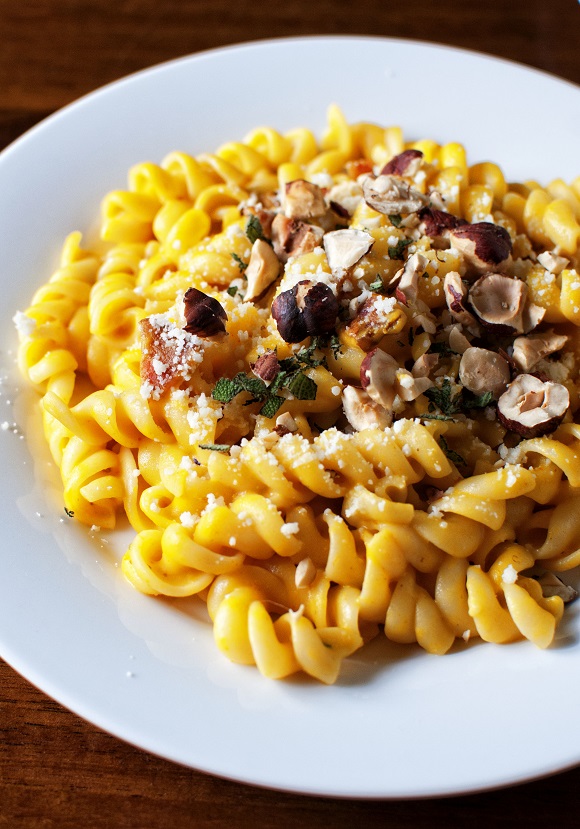 Want more Pasta recipes?
BBQ Pulled Pork Mac and Cheese
Alpine Dijon Macaroni and Cheese
Gouda and Lobster Mac and Cheese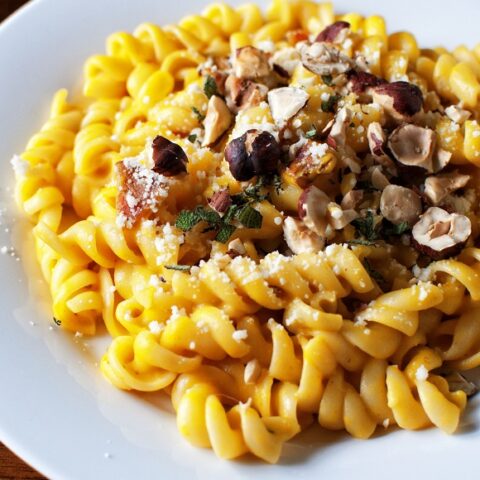 Toasted Hazelnut Pumpkin Pasta for Two
Ingredients
4 oz. uncooked Rotini Pasta (I used Dreamfields)
2 slices smoked bacon, chopped
1 clove garlic, minced
1 tsp. sage, finely chopped
½ cup pumpkin puree (not pumpkin pie filling)
1 oz. Parmesan cheese
Salt and pepper to taste
1/4 cup heavy cream
Garnish:
10 toasted hazelnuts, chopped
2 tsp. parmesan cheese
Instructions
Cook pasta according to package directions.
Drain and reserve about 1/4 cup pasta water.
Set aside. Keep pasta warm.
Meanwhile, cook bacon in a medium-sized heavy bottomed pot until crisp, keeping the bacon fat.
Add the garlic and cook until translucent.
Stir in sage, pumpkin puree, one ounce Parmesan cheese, salt and pepper; stir until ingredients are fully combined.
Remove from heat.
Add pasta, heavy cream, and reserved pasta water to pot with pumpkin sauces; toss to coat.
Divide pasta between two plates.
Top with chopped hazelnuts and remaining 2 teaspoons Parmesan cheese.
Serve warm.