This Pumpkin Spice Latte Pound Cake is my favorite fall flavored coffee made into pound cake form. Now you can have your PSL and eat it too!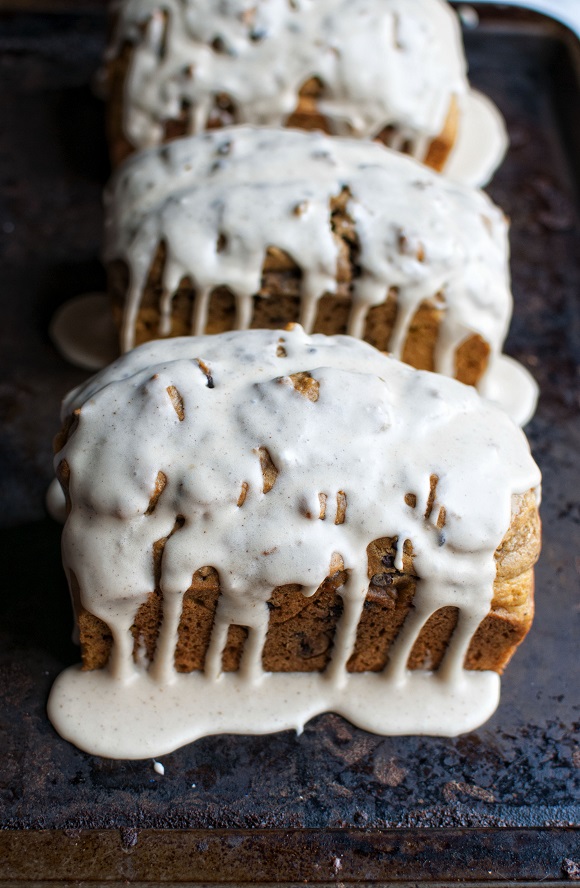 So we are all going to die (way to bum me out Peabody).
And if you follow most people's conventional wisdom this life of ours is a one time shot.
Though if I do come reincarnated I want to come back as a dog whose owner treats them the way my mom or myself treats their dog.
Just saying.
Oh sure there is heaven if that goes with your belief system but let's focus on our time here on planet Earth.
One of the blessings of being chronically ill (yes there are blessings) is that it really does put things into perspective.
It also makes you think about the things you want to be doing and not doing just in case your time on Earth is more limited than you thought.
And really I could be hit by a car tomorrow sick or not and be done so everyone should be rethinking their priorities.
For as long as I can remember (and way before Shark Week ever existed) I have always wanted to go great white shark cage diving.
Not totally sure why but I have always had a thing for sharks.
For the first 17 years of my life I was convinced I would be a marine biologist and I would study sharks.
Only one problem with that…I don't like marine biology it turns out. Oops.
My original goal was to get to do it before I was 40.
That didn't happen.
Oh well, such is life.
I'm hoping to get to do it before I die obviously but it's not exactly cheap.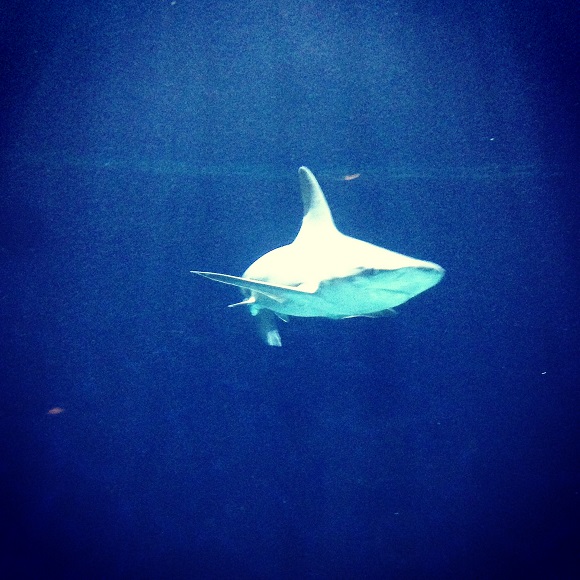 Though in totally morbid news (and people think I'm extra crazy here) if I ever find out I am terminal and am in a lot of pain I kind of sort of want to be jacked up on a crap ton of morphine and then go shark cage diving with a great white…minus the cage.
Not because I think it's an awesome way to die but because of the people who read the obituaries.
A lot of people read the obituaries as a hobby.
I won't judge that but I think needle point or scrapbooking might be slightly more entertaining.
But imagine among the depressing paragraphs about so and so died of cancer, complications of x,y,z, heart attack, etc you read one about a woman that was ripped apart by a great white shark?
Now that's some good reading.
Plus far more interesting to tell people.
Yes, I know I'm weird.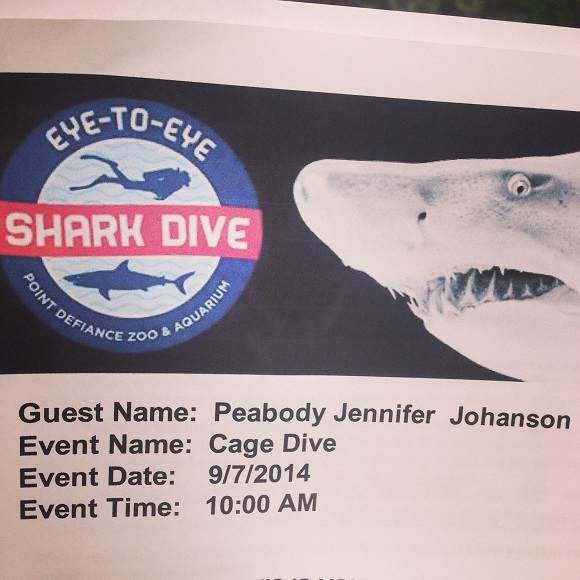 So I was beyond elated when for my birthday my husband found that you could cage dive with sharks just an hour from our house!
Port Defiance Zoo and Aquarium started a program about a year ago to increase awareness about shark conservation.
And how rapidly man is killing off sharks and mostly for a flavorless cartridge to make shark fin soup.
They offer cage diving for those who are not scuba certified and if you are scuba certified you can actually swim with the sharks (and yes I'm trying to figure out how to pay to become scuba certified).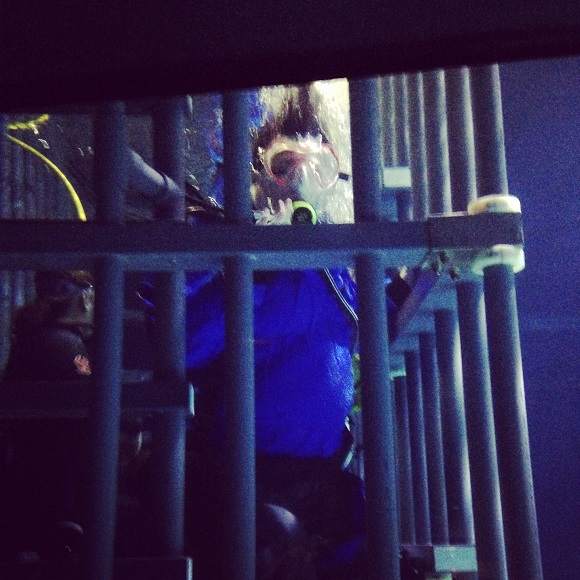 The step-kiddos and the hubs thought I was a little crazy but of course now want to go and do it too.
It really was a surreal experience and totally made me want to great white shark cage dive more so than ever.
At no time was I afraid and luckily no one else was in the cage so they actually opened the cage for a little bit.
No sharks came in…just some fish.
I have a video of the experience but it says it's too big to put on here.
And I'm too lazy/not skilled enough to figure out how to edit it.
I will say if you are local to the Seattle area and are into sharks you so need to go do this.
It was awesome.
Here is with the cage door open and me with my hand on my nose unplugging my ears. 🙂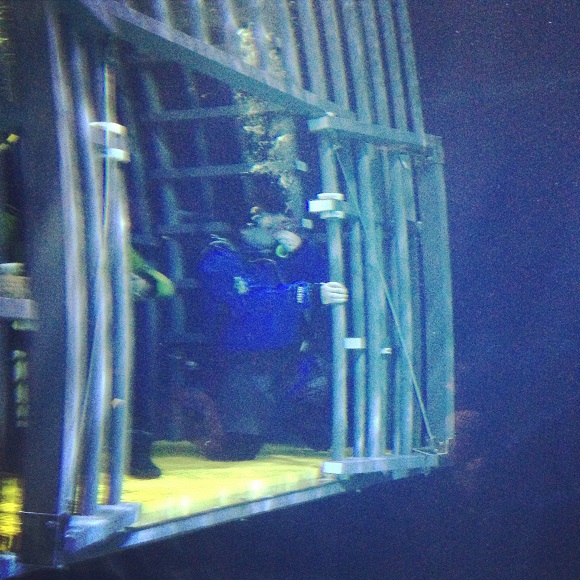 Because you never know when you are going to leave this Earth I still eat sugar.
And drink pumpkin spice lattes in August.
Which have come under some major fire as of late because of an article (an inaccurate one at that) that came out on the dangers of drinking a pumpkin spice latte.
While I haven't had one yet this season I totally will.
Because I'm a rebel.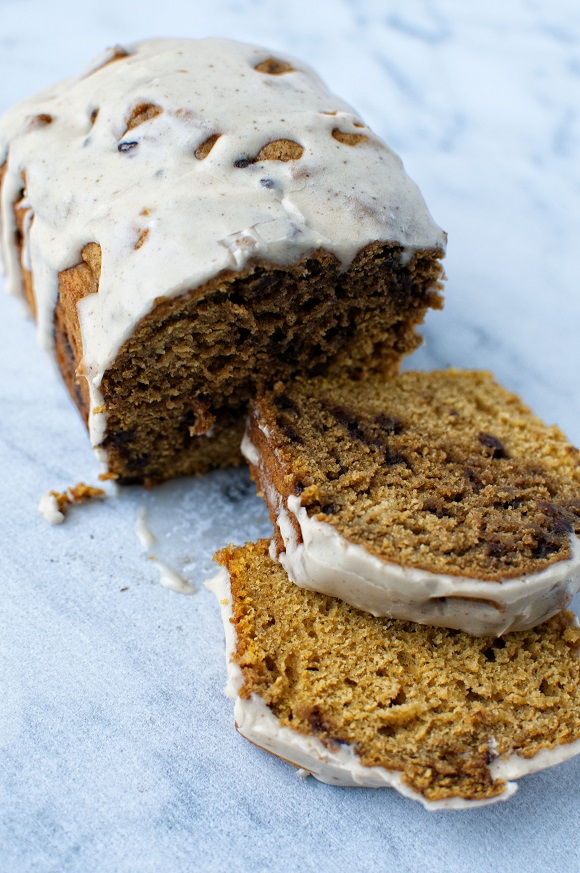 Speaking of Pumpkin Spice Lattes I thought for sure someone would have made a cake version of it.
Turns out with a search of the Internet someone had…me. 😀
In fact I have two versions.
But I wanted something different than what I made before.
Enter the Pumpkin Spice Latte Pound Cake.
It's moist (yes, I used that word, deal with it).
And it's latte like.
Plus it's yum.
If you are a purist you can skip the mini chocolate chips but I why not add chocolate
Last but not least…it's a great time to order my cookbook. 😀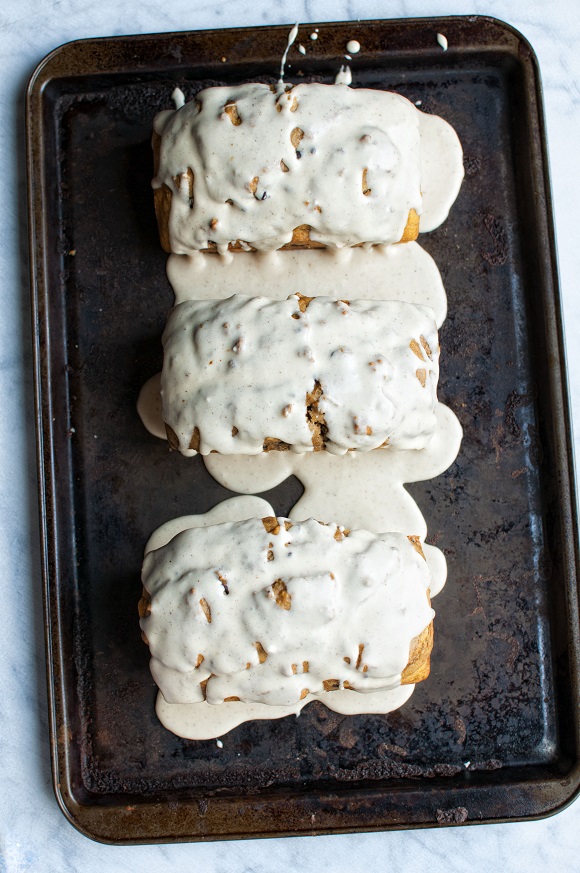 Want More Pumpkin Spice Latte Recipes?
Pumpkin Spice Latte Milk Punch
Boozy Pumpkin Spice Latte Pudding Shots
Pumpkin Spice Latte Russian Tea Cake Cookies
Magical Pumpkin Spice Latte Magic Cake
Pumpkin Spice Mocha Latte Pumpkin Pie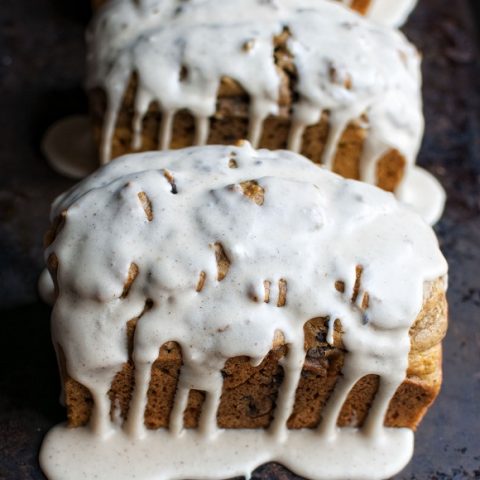 Pumpkin Spice Latte Pound Cake
Ingredients
For the Pound Cake:
3 cups all-purpose flour
2 tsp. baking powder
1 tsp. baking soda
1/2 tsp. salt
2 ½ tsp. pumpkin pie spice
8 ounces unsalted butter, at room temperature (I used Plugra)
1 cup granulated sugar
1 cup packed brown sugar
5 large eggs
1 can (15 ounces) solid pack pumpkin
1 ½ tsp. vanilla bean paste
1 tsp. powdered coffee (I used Starbucks Via)
½ cup mini semisweet chocolate chips
For the Glaze:
1 ½ cups powdered sugar
½ tsp. pumpkin pie spice
2-3 TBSP espresso (or you can use powdered coffee (1/2 tsp. and water)
Instructions
For the Pound Cake:
Heat oven to 325F.
Grease and flour a 12-cup Bundt cake pan or you can use 4 mini loaf pans I use these.
In a medium bowl, combine flour, baking powder, soda, salt, and spice; set aside.
Using a stand mixer with the paddle attachment cream the butter and sugars until light and fluffy.
Beat in eggs, one at a time, scraping down the bowl's sides and bottom after each addition.
Beat in pumpkin and vanilla.
Slowly beat in dry ingredients.
Continue beating on medium speed until smooth and well blended.
Remove half the batter and place into a medium sized bowl. Set aside.
To the remaining pumpkin batter add the powdered coffee and mix until well incorporated.
Fold in the chocolate chips to the pumpkin coffee batter.
If using the Bundt pan using an ice cream scoop and make a pattern of pumpkin spice, then coffee pumpkin spice, then pumpkin spice, then coffee…and so on.
If using the mini loaf pans do two scoops of regular pumpkin spice batter and two scoops of coffee pumpkin batter per loaf pan.
For a Bundt pan bake for 55 to 60 minutes (if you are using the mini loaf pans they take a little less time about 45 minutes…but watch and see as every oven is different), or until a wooden toothpick or cake tester comes out clean when inserted in center.
Cool for 15 minutes in the pan on a rack; invert onto a serving plate to cool completely and then glaze.
For the Glaze:
Whisk together the powdered sugar, spices, and coffee until smooth with no lumps.
Pour over cooled cake.
Let set up for about 30 minutes.