This Pumpkin Spice Latte Toffee Cake have a pumpkin espresso base with toffee pieces and covered in vanilla glaze.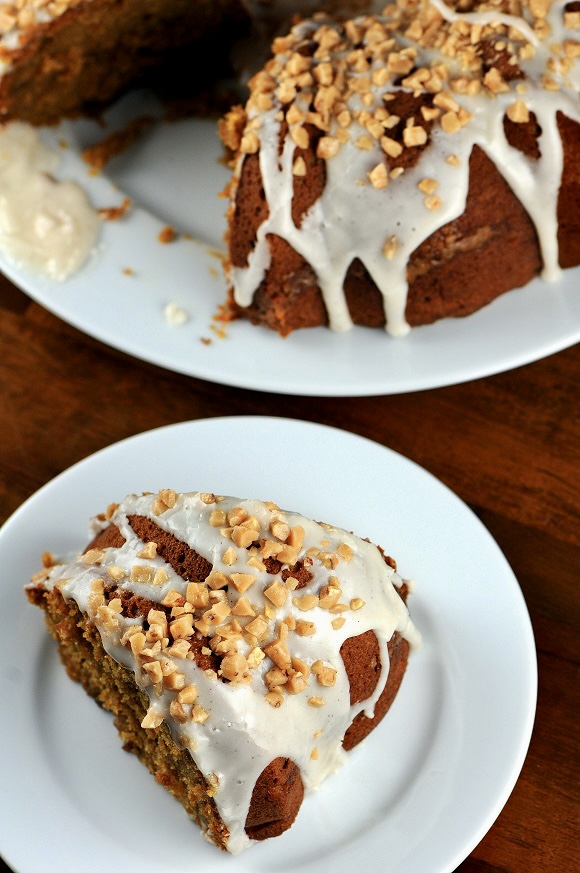 Tomorrow is American Thanksgiving.
I've been trying to think of some amazing post to come up with about gratitude.
But I have a sinus infection and my brain just doesn't want to help me out with that…I blame the Sudafed.
So I will go a more shallow route and I will list what I am thankful for in the baking world.
2. Nutmeg grinder.

I bought one when I won a $1000 shopping spree in a kitchen store when I was 23 years old. It was awesome.

Talk about setting your kitchen up. I bought it.

Thought it was overpriced for such a silly thing.

I use it almost daily.

I'm 41 now. It has more than covered the $24 that it cost.
Nutmeg is my favorite spice and I feel it is way underused. I don't just use it in baking but it's my secret ingredient in a lot of my cooking. The one I use they no longer make but this one is close to what I use.
3. Sprinkles.

When all else fails and my cake/cupcake/cookie decorating has gone to crap I can cover it up with sprinkles and it's okay. You can't help but smile when you see sprinkles. I buy mine in bulk. I get mine at a local Cash and Carry.
4. Disposable piping bags.

Seriously love these. I pipe a lot of things not just frosting. I use them to fill mini muffins or cupcakes or even regular cupcakes.
It's so nice to just use them and not have to clean them.

Cleaning a piping bag is a pain. I use these ones Wilton 100-Pack Disposable Decorating Bags 12inch …and yes I buy 100 at a time.
5. Culinary Torch.

Back in the day we used to have to use just a blow torch from Home Depot so when the culinary torch came out it was like YAY!

Perfect for making crème brulee and toasting meringue and marshmallows (we do a lot of S'mores around here). I have this one BonJour Brushed Aluminum Chef's Torch with Fuel Gauge .
6. My 7qt. Kitchen Aid Mixer.
Yes 7qt. It makes 14 dozen cookies at once…and yes I have had to test that.
It is a beast. It is a beast that this baker needed.

Yes it cost the most out of any Kitchen Aid I have owned.

Yes to me it is worth it. I have owned it now for two years and it is used daily. I have more than covered the cost of it easily. If you are a serious baker then you need to really think about upgrading to it.

I do also have a professional 6qt that I use as well. I know, I suck.

Anyway…be nice to Santa and maybe he will bring you a KitchenAid Candy-Red Stand Mixer KSM7586PCA , 7 qt. and hopefully in red (that's what I have).
7.Kitchenaid Flex Edge Beater For 6 Qt. Mixers…this was the most needed attachment that Kitchen Aid needed for years and never had.

Finally everything in the bowl actually gets picked up.

Please note that they come in different sizes depending on what mixer you have.
8. Baking spray. This is the best for us lazy bakers who have no desire to butter and flour pans. 🙂
This Pumpkin Spice Latte Toffee Cake I made awhile back and then had brain fog and totally forgot which cookbook it came from.
Oops.
Then luckily when looking through the book to find a recipe…I found the recipe that I adapted the cake from. 🙂
If you are not a fan of coffee still make this cake and just leave out the powdered coffee.
This cake is crazy moist and totally awesome for the pumpkin lovers of the world!
Would be great to make for guest this holiday weekend.
Hope you all have a wonderful Thanksgiving holiday with family and friends.
And if you are going out on Friday don't get trampled or trample anyone.
Better yet, shop online. 😀
Last but not least…It's a great time to buy my cookbook.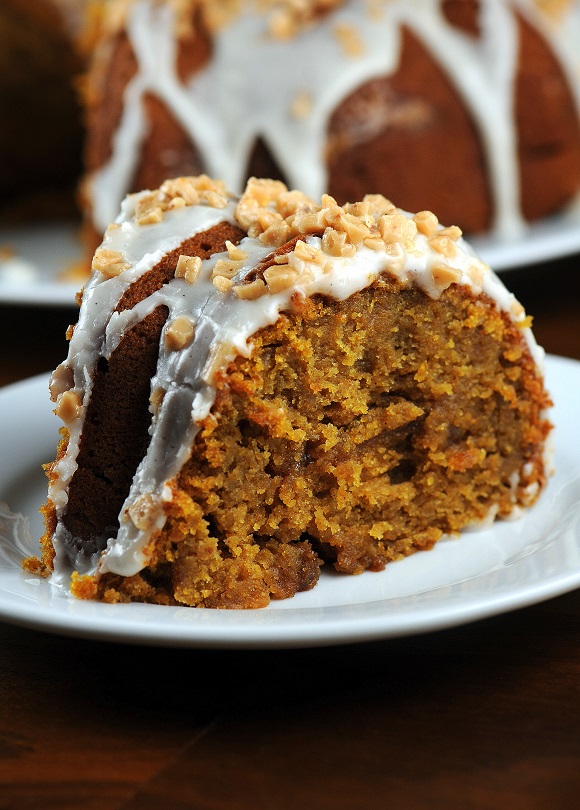 Want More Pumpkin Spice Latte Recipes?
Pumpkin Spice Latte Milk Punch
Boozy Pumpkin Spice Latte Pudding Shots
Pumpkin Spice Latte Russian Tea Cake Cookies
Magical Pumpkin Spice Latte Magic Cake
Pumpkin Spice Mocha Latte Pumpkin Pie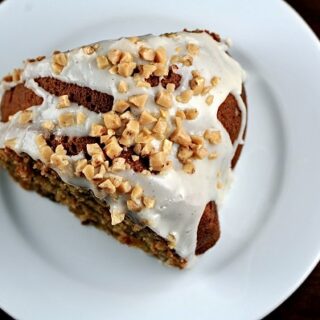 Pumpkin Spice Latte Toffee Cake
Ingredients
For the Cake:
1 cup unsalted butter, at room temp (I used Plugra)
1 cup brown sugar, firmly packed
½ cup honey
½ cup maple syrup
3 eggs, at room temperature
2 cups pumpkin puree
1 tsp. vanilla bean paste
2 tsp. powdered coffee (I used via)
2 ½ cups all-purpose flour
2 tsp. baking powder
1 tsp. salt
2 1/2 tsp. pumpkin pie spice
9 ounces toffee pieces
For the Glaze:
1 cup powdered sugar
Seeds from 1 vanilla bean (I used Rodelle)
2 TBSP whole milk
Instructions
For the Cake:
Preheat oven to 350F.
Spray a Bundt pan with baking spray.
Using a stand mixer with the paddle attachment cream together the butter and brown sugar on medium-high speed for 3 minutes.
Add the honey and maple syrup and continue to cream together for another 2 minutes.
Add eggs, one at a time, scraping down the sides and bottom of the bowl after each addition.
Add the pumpkin puree and vanilla bean paste and beat until well combined.
Add the flour, powdered coffee, baking powder, salt, and pumpkin pie spice.
Mix on low just until the ingredients come together, do not over mix.
Pour a little less than half of the batter into the prepared pan and smooth the top with a spatula.
Sprinkle half of the toffee pieces in and even layer over the batter and top with the remaining batter.
Bake cake for 1 hour or until the cake springs back when touched.
Allow cake to cook in pan, then invert onto a serving platter or plate.
Drizzle with glaze and add remaining toffee pieces.
To make the Glaze:
Whisk together the powdered sugar, vanilla bean seeds, and milk.
***This post contains Amazon Affiliate Links. I make a percentage of the sale if you buy through me and therefore help keep this blog running.