This Cinnamon Roll Apple Pie Cake is the best of both worlds combining pie and cake all in one dessert. Complete with icing and all.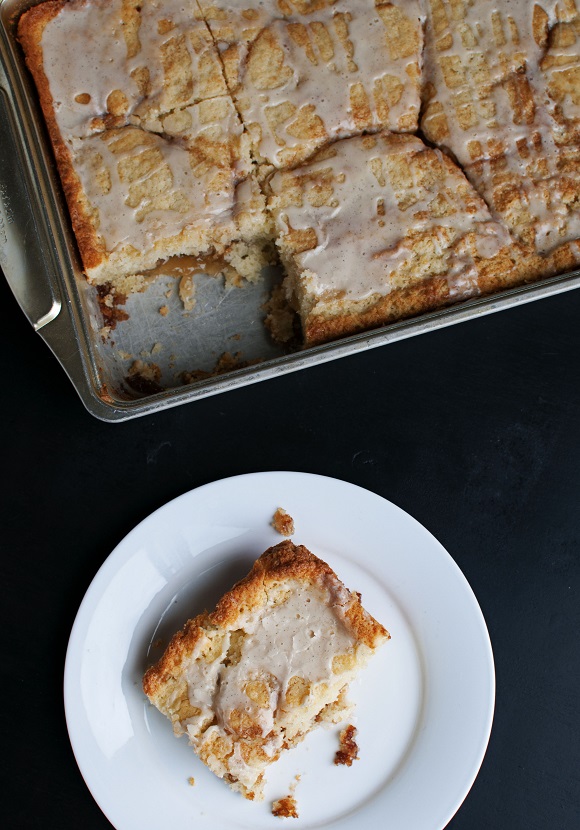 Are yoga pants your look of choice?
Do your friends ask you why you dressed up if you are wearing something other than a hoodie and jeans?
Are you standing staring at a closet full of clothing yet have nothing to wear?
Do you own clothing that still has the tags on it?
Will you not buy "good" clothing or clothing that fits well until you lose 20 pounds?
Are you a frump?
If you answered yes to any of those questions than you and I at some point in our lives have had the same feelings, for all of those things have happened to me.
You are going to want to keep reading if you said yes to the majority of those questions.
When I signed up for Live More Weigh Less the one area in my life that I had hoped the program was going to help me with was to de-frump.
Something that my stay at home mom friends and I related a lot on, for while I'm not a stay at home mom, I do work at home.
I would wake up and if I didn't have errands or didn't know if the UPS man was stopping by I stayed in my pj bottoms.
With no bra, hair up in a bun, and a giant t-shirt with optional sweatshirt depending on the weather.
If I was going out?
Then I mixed it up with yoga pants bottoms or if really fancy, jeans :).
Ironically it wasn't from lack of owning the clothing, it was from lack of knowing how to put it together.
It's hard to get motivated to not be a frump when you spend your days on the computer.
Or in the kitchen covered in flour and yet I knew I wasn't happy about being a frump.
I remember when I was a Weight Watcher leader the one thing that I used to preach over and over to the women (and men too) was that you aren't going to feel good about yourself in frumpy clothing.
They would show up in clothing that fit them 20 pounds ago.
But they would not invest in new clothing because they had been losing weight and planned on losing more.
I get that.
But I also get that you aren't going to feel good about yourself looking like you are wearing a potato sack.
More importantly no one is going to notice that you are losing weight, which when you are losing weight you want people to notice!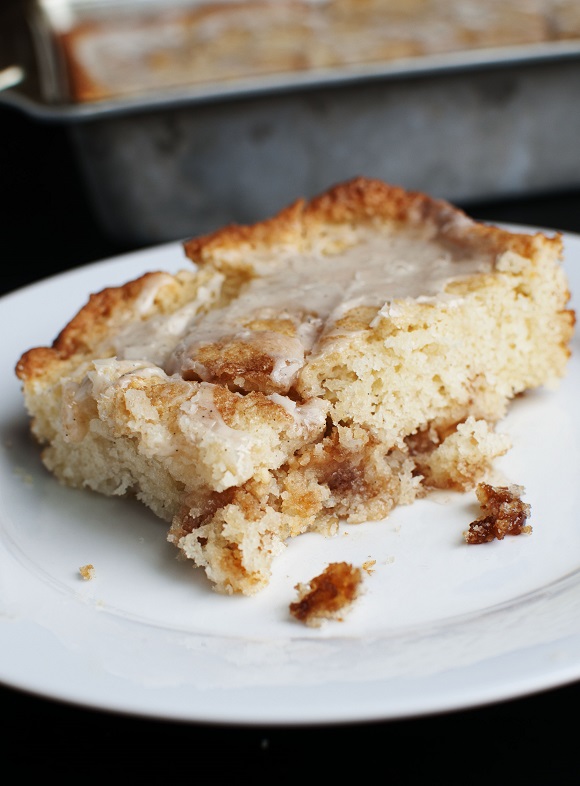 Even knowing all this I wasn't inspired and I still dressed like a flour covered frump…until Sarah (LMWL) introduced us to Hillary.
I loved Hilary from the start.
She was bright, happy, perky but not in the I want to stab you with a fork kind of perky…it didn't hurt that I think she looks like Zooey Deschanel (who I adore).
More important than all of that was our core belief in dressing for the now…not 10 pounds from now!
She also wasn't one of those stylists telling me to invest in $1000 coat or $400 cashmere sweater.
No, she was wanting me to use what I had in my closet and if I didn't have it how to add it to my closet it for cheap.
I first signed up for one of her mini classes for larger girls on how to dress for your size.
And how to dress for your size as you lose weight since I was at the time in LMWL and was losing weight.
Loved the info and immediately looked to see what else I could take.
Her Style and Styleablitly class came along and while I was like ugh more money I am going to spend I could not deny that number one I didn't like how I was dressing and therefore how I felt.
And number two (and it's a biggie) was that I have to deal with clothing every day (if you are a nudist you are excused :P).
I have to be dressed every day.
So I was staring in my closet every day with little piles of clothing around my feet because I couldn't really figure out what to wear.
And whether I want to admit it or not your clothing is kind of like your calling card.
People make certain assumptions by how you dress.
Since taking the class my closet is arranged in a way that I can actually find stuff.
It's arranged in a way that the clothing that is in there fits the body I currently have.
I get the need for accessories other than that they are just pretty (they can actually help shape your body).
And I take her monthly challenges to get out of clothing ruts.
I no longer fear patterns.
Don't get me wrong I certainly still have frump days, especially with being ill, but overall there has been vast improvement, I sometimes even dress like the girls on my Pinterest clothing board. 😀
Sometimes.
One thing that has tons of style…as in it looks awesome, is this Cinnamon Roll Apple Pie Cake.
Oh and it tastes good too.
And adaptation of a vanilla cinnamon roll cake I made awhile back this version kicks that versions butt!
If you are wondering if you can make your own apple pie filling, I'm sure you can.
But I'm lazy and had several cans of apple pie filling.
If you even remotely like apple pie you are going to want to make this Cinnamon Roll Apple Pie Cake!
P.S. It's a great day to buy my cookbook Holy Sweet!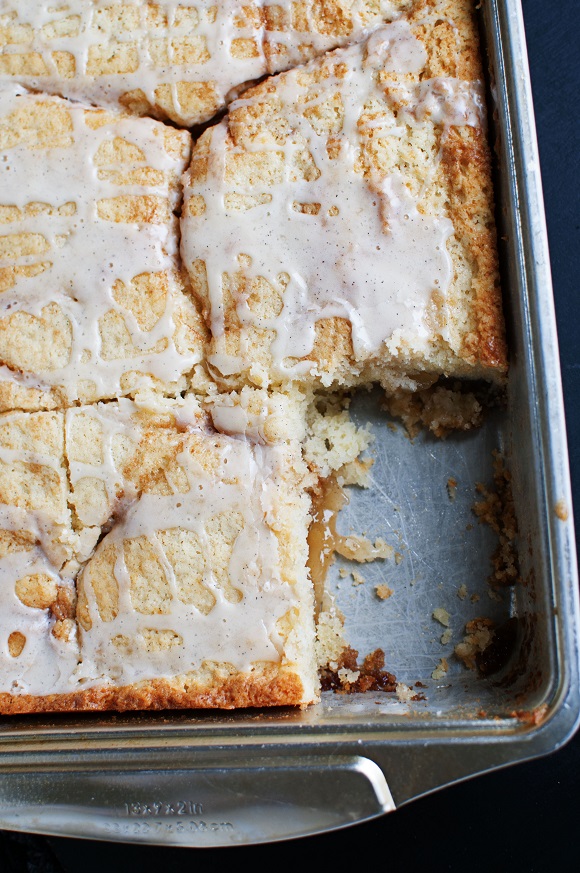 Want More Apple Recipes?
Salted Caramel Apple Sweet Rolls
Salted Caramel Apple Fritter Bread
Caramel Apple White Chocolate Fudge
Mini Caramel-Glazed Honey Crisp Apple Bread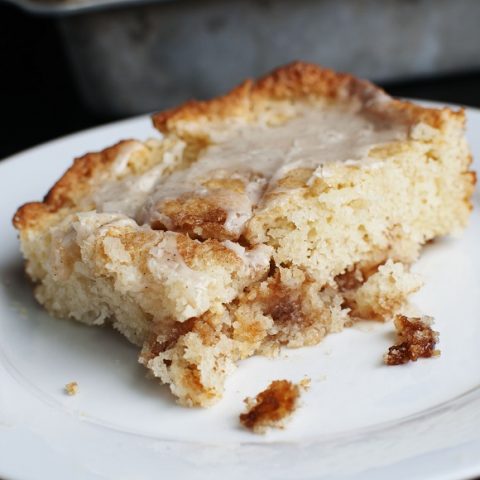 Cinnamon Roll Apple PIe Cake
Ingredients
Cake:
3 cups flour
1/4 tsp. salt
1 cup granulated sugar
4 tsp. baking powder
1 1/2 cups whole milk
1 tsp. vanilla bean paste
2 Eggs
1/2 cup unsalted butter, melted and cooled
1 can apple pie filling
Cinnamon Roll Topping:
½ cup unsalted butter, melted and cooled
½ cup light brown sugar
1 TBSP flour
½ TBSP cinnamon
Glaze:
2 cups Powdered Sugar
1 tsp. vanilla bean paste
5 TBSP whole milk
Instructions
For the cake:Preheat oven to 350 degrees.
Spray a 9×13 baking pan with baking spray. Set aside.
Using a stand mixer with the paddle attachment add the flour, salt, sugar, baking powder, milk, eggs, and vanilla bean paste.
Once thoroughly combined, slowly stir in the melted butter.
Pour into the prepared 9×13 baking pan.
Drop spoonfuls of apple pie filling on top of the batter.
For the cinnamon roll topping:
In a large bowl mix the unsalted butter, brown sugar, flour and cinnamon together until well combined.
Spoon over the apples and cake batter.
Bake at 350 for 36-40 minutes or when a toothpick inserted near the center comes out nearly clean.
For glaze:In a medium bowl, mix the powdered sugar, milk and vanilla together with a whisk.
Drizzle evenly over the warm cake.
Serve warm or at room temperature.
Notes
Slightly adapted from Life as a Lofthouse