This Pumpkin Spice Latte Cake turns your favorite fall beverage into cake form with pumpkin spice cake layers and coffee Swiss meringue buttercream.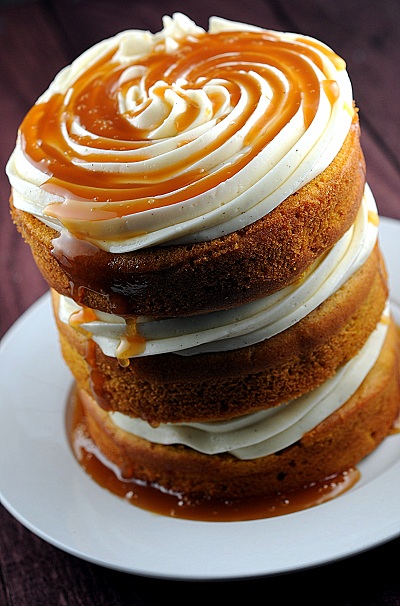 Dear Makers of Jeans,
Why are you under the impression that I am 6'3" simply because I wear a 10/12 in jeans?
Can't I just be short and plump?
Why do women who are above a size 4 have to be Amazon women?
And what about the women who are size 4 and tall (other than the fact that I hate them :P)?
The average woman in the USA is 5'4" tall and a size 14…yet at 5'6" my pants have what seems like an extra foot of fabric to them.
Is this some conspiracy with the high heel makers of the world to force us all to wear 4-inch heels in order for our pants not to drag onto the ground?
Or perhaps it's a conspiracy with the seamstresses of the world to force us to go and get our pants hemmed.
Either way it's highly suspicious and a giant waste of material.
And don't even get me started on to how today's plus size models start at size 6 and go to size 14. Ummm?
Cindy Crawford would not have been able to be a supermodel these days.
She would be considered a cow.
She's a darn good looking cow if you ask me.
Sincerely, Peabody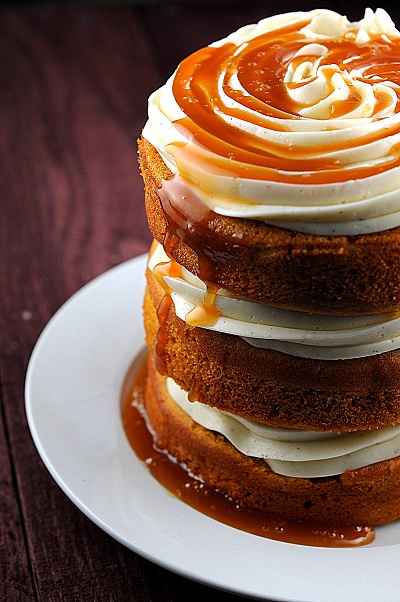 Speaking of jeans…it's Thanksgiving week and with that the holidays will be in full swing so I will need to let my jeans out a little.
This year I was feeling a little non-traditional in terms of dessert.
I decided to make a Pumpkin Spice Latte Cake.
It's pumpkin spice so it's a little traditional but the addition of coffee Swiss meringue buttercream puts a little spin on that tradition.
What about you?
What are you making for Thanksgiving dessert this year?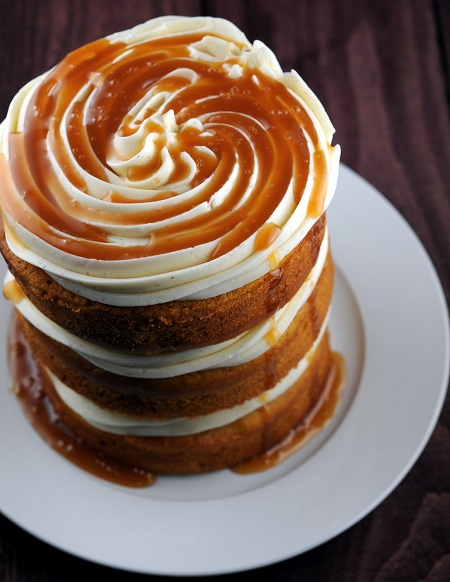 Want more Pumpkin Spice Recipes?
Pumpkin Spice Latte Milk Punch
Butterscotch Pumpkin Spice Walnut Fudge
Maple Glazed Pumpkin Pie Cinnamon Roll Loaf
Salted Caramel Frosted Pumpkin Cupcakes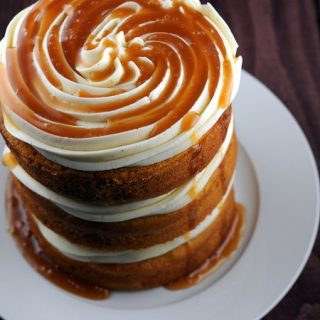 Pumpkin Spice Latte Cake
Ingredients
For the Cake:
2 cups granulated sugar
1 cup vegetable oil
4 large eggs
2 cups all-purpose flour
2 tsp. baking soda
1 tsp. baking powder
¼ tsp. ground nutmeg
2 tsp. pumpkin pie spice
1/2 tsp. salt
2 cups pumpkin puree or cooked mashed pumpkin
Coffee Swiss Meringue Buttercream:
5 large, fresh egg whites
1 ¼ cups baker's sugar
1 ½ cups unsalted butter, cut into cubes and cool, but not cold
1 tsp. vanilla extract
1 tsp. instant coffee (I used Via)
pinch of salt
Instructions
For the Cake:
This will make 2 9-inch cakes or 6 4 ½-inch diameter cakes. I made minis.
Combine sugar, vegetable oil, and eggs in the bowl of a stand mixer fitted with the paddle attachment.
Beat until well combined, about 3 minutes.
Sift dry ingredients into a separate bowl; pour into oil mixture, beating well.
Stir in pumpkin puree and mix until fully combined.
Pour batter into two greased and floured 9-inch round layer cake pan or mini pans.
Bake at 350° for 35 to 40 minutes for full sized or 25- 30 minutes for mini.
Turn out onto racks to cool.
For the Buttercream:
In an non-reactive metal bowl add egg whites and sugar, and simmer over a pot of water (not boiling), whisking constantly but gently, until temperature reaches 160°F, or if you don't have a candy thermometer, until the sugar has completely dissolved and the egg whites are hot.
Put mixture into the clean bowl of a stand mixer with the whisk attachment attached and begin to whip until the meringue is thick, glossy, and the bottom of the bowl feels neutral to the touch (this can take up to 10 minutes or so). *Don't begin adding butter until the bottom of the bowl feels neutral, and not warm.
Switch over to paddle attachment and, with mixer on low speed, add butter cubes, one at a time, until incorporated, and mix until it has reached a silky smooth texture (if curdles, keep mixing and it will come back to smooth). *If mixture is too runny, refrigerate for about 15 minutes and continue mixing with paddle attachment until it comes together.
Add vanilla, instant coffee, and salt, continuing to beat on low speed until well combined.
To assemble:
Frost between layers only and drizzle with caramel.