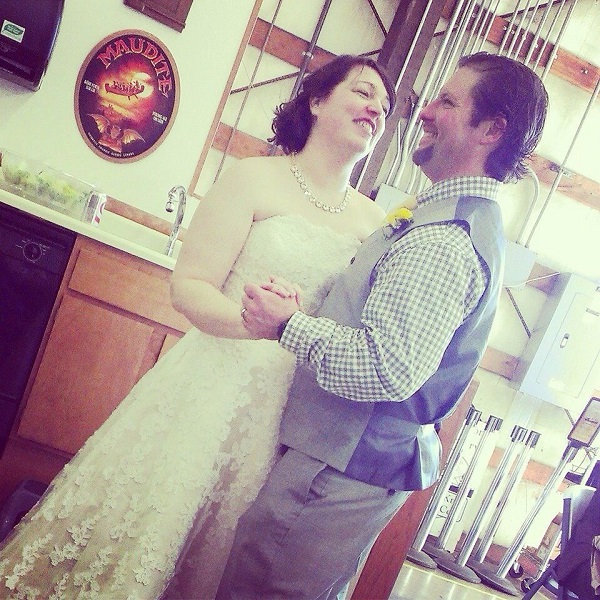 I'm back! Sorry I was gone for so long, but I was off getting married this last weekend. 🙂 While there is no recipe in this post I am doing a bit of a photo dump from my parents who aren't on Instagram and what not so that they can see it (and you the reader) can too. But those of you on Instagram there are way more photos over there for those into that.
I love the photo of us dancing as it really captures that day. I had a permanent smile from the ceremony on and it's still on there three days later. 😀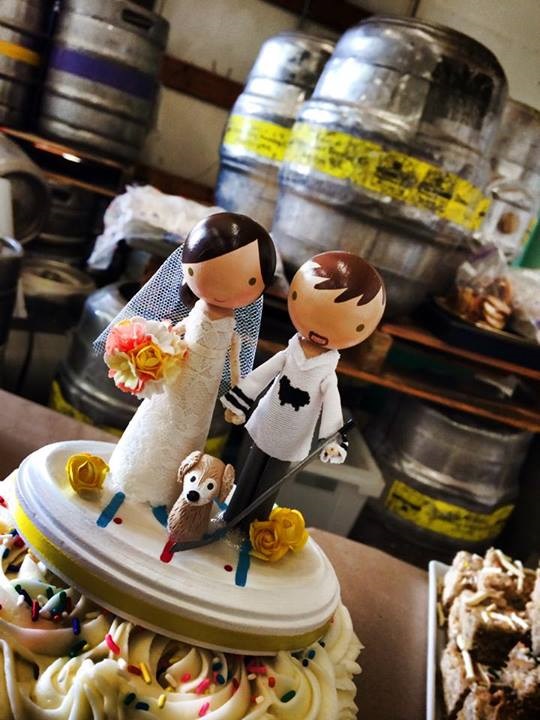 Here is our cake (which the recipe will be on the blog soon)…I like this shot because the kegs are nicely in the background.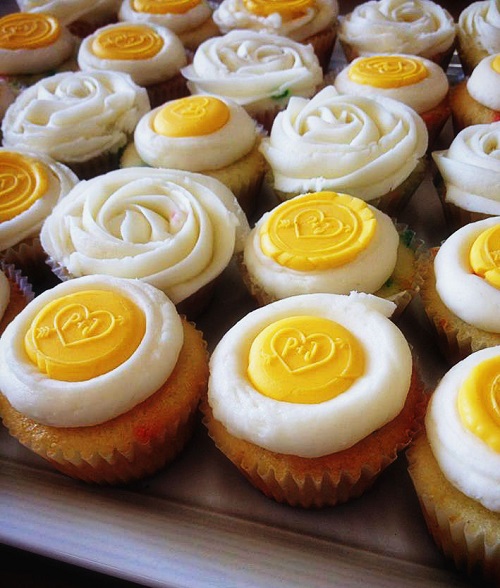 Instead of having a large cake, Laurie and I made cupcakes (same as the cake flavor) with chocolate stamps. This was a PAIN I tell you. But they turned out super cute.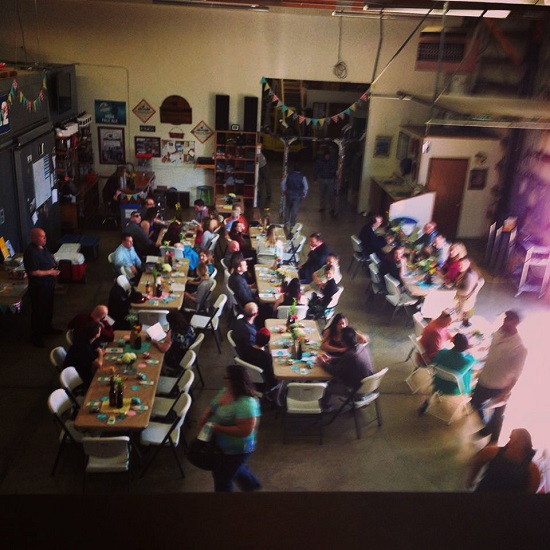 Just a picture I took of people coming in while I hid upstairs watching them. And yes, we really did choose to get married in a giant warehouse where they make beer.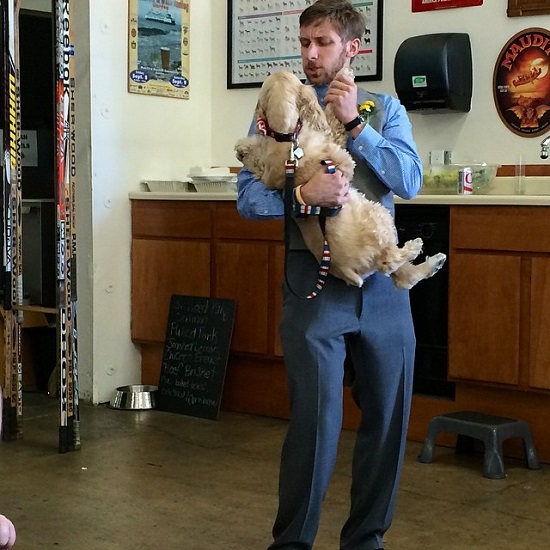 Crazy Cocker Spaniel did stay the whole time FYI and did fabulous. Mostly in part to my groomsman/bridesmaid (originally I made him a bridesmaid) who the dog adores.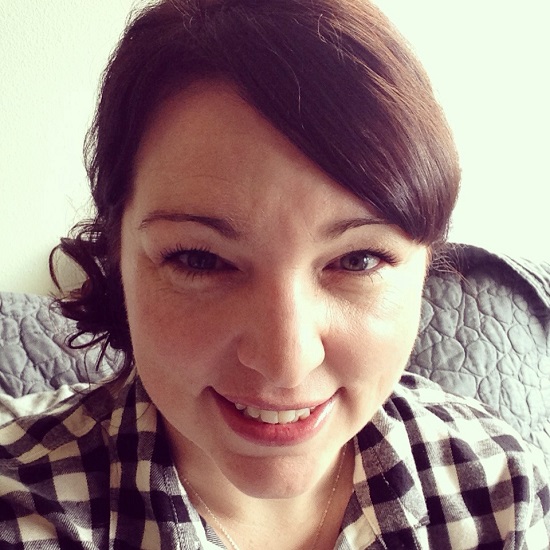 Getting ready. I wanted my make up to be very natural as I am not a fan of heavy make up.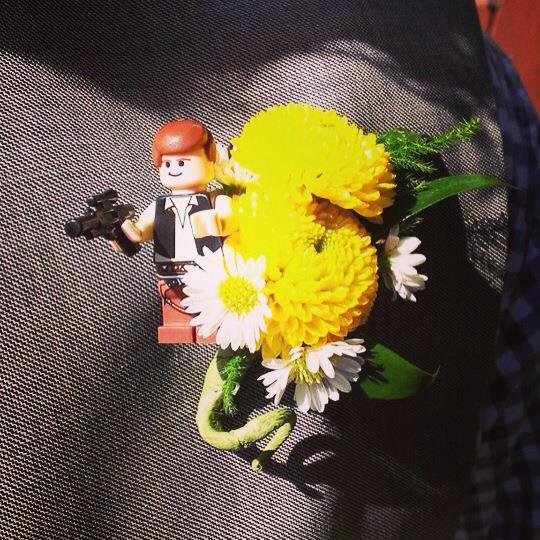 MDP's Boutonniere was a big hit with the addition of his Han Solo. We had quite a few Star Wars touches through out the wedding since I was proposed while Star Wars was on. Though not pictured is our awesome inflatable R2D2 that was remote control that people had fun with.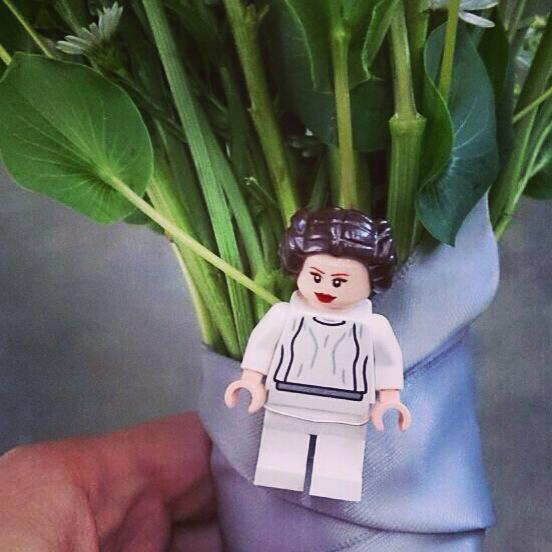 Since he had Han I had to have Leia. We had an "I love you"…"I know" theme as well that you will see throughout the wedding.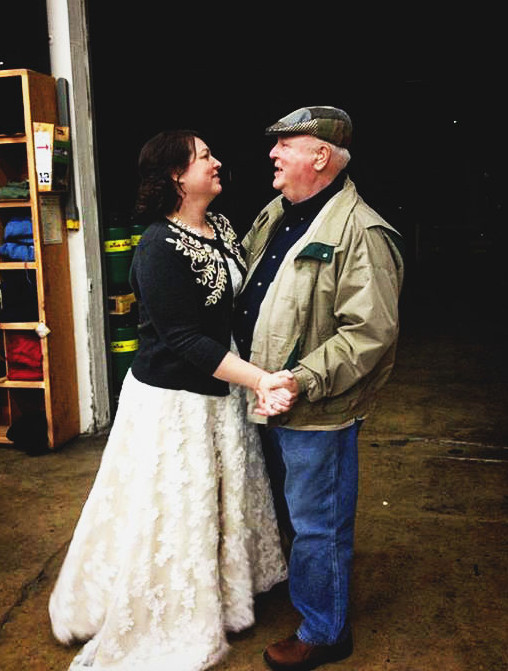 We didn't have dancing (MDP and I had one) but during the clean up one of my favorite Carpenters songs came on and my dad and I spontaneously danced to it.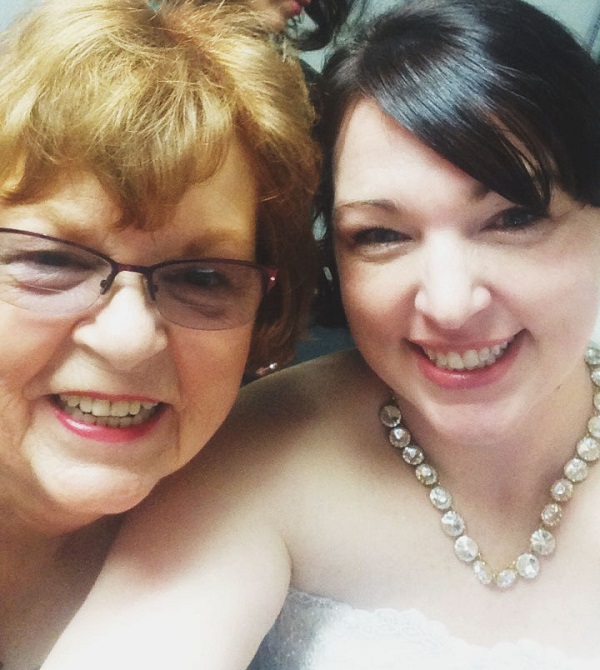 My mom getting used to the world of selfies.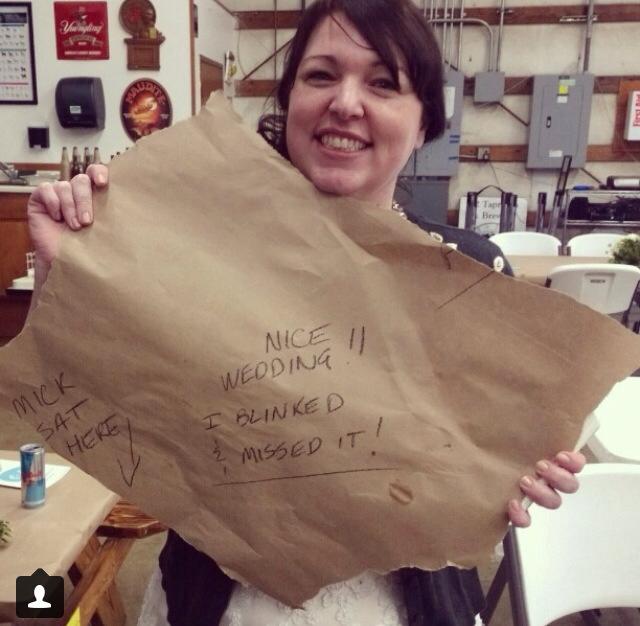 So our actual ceremony probably last 3 minutes if I am being generous. The officiants (we had two) were told to keep it short. But MDP was so excited to marry me that he blurted "I DO" way before he was supposed to, so I just said it too. Totally threw off our officiants who memorized it in a certain order, and we ended up having a very short ceremony…which our smart alec friends made sure to let us know. 😛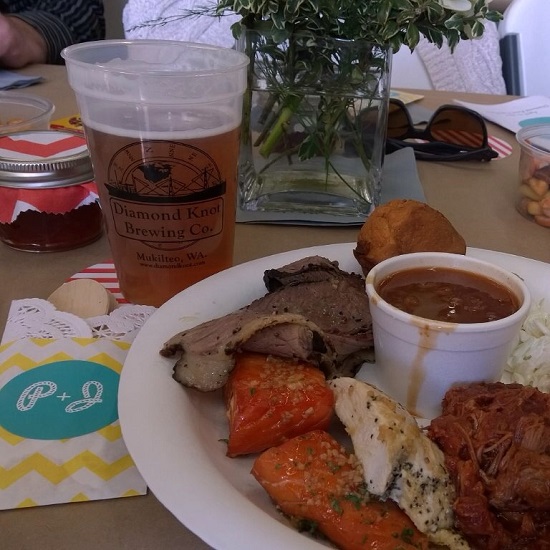 We had pulled pork, brisket, smoked salmon, smoked chicken, BBQ beans, coleslaw, and cornbread for our main meal from our favorite BBQ joint. It was a big hit.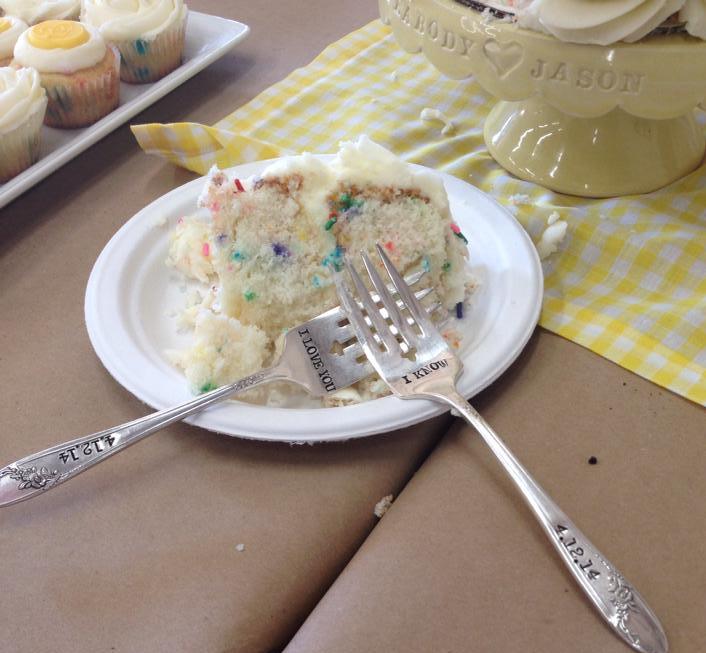 Here's the inside of our cake…homemade funfetti (why not). Our adorable forks were given to me by my matron of honor Laurie. Too cute.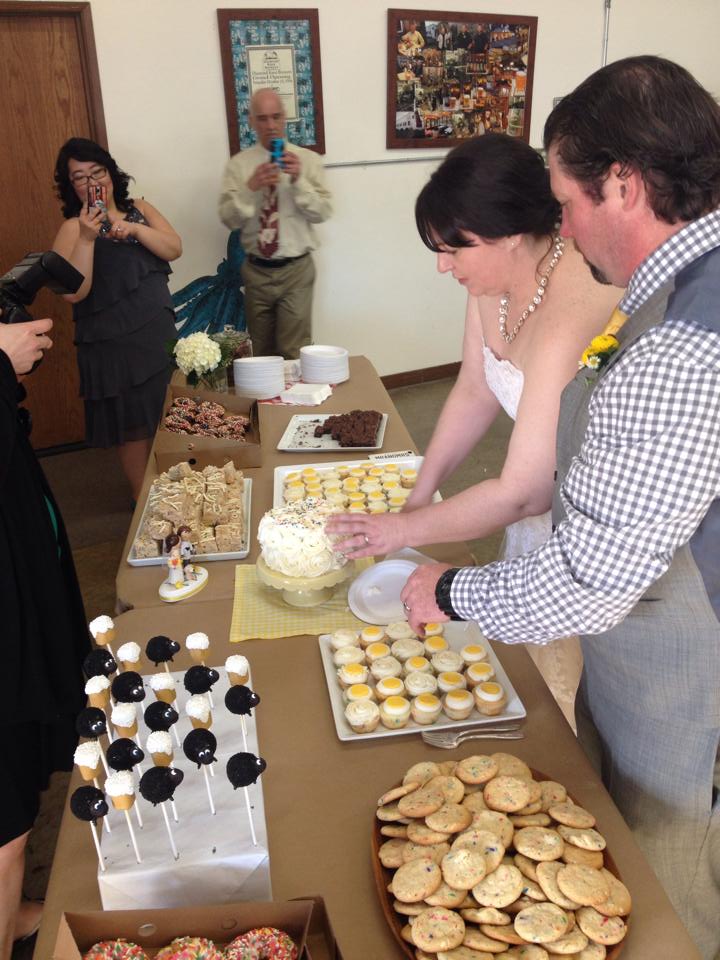 Cake cutting and a look at our dessert table.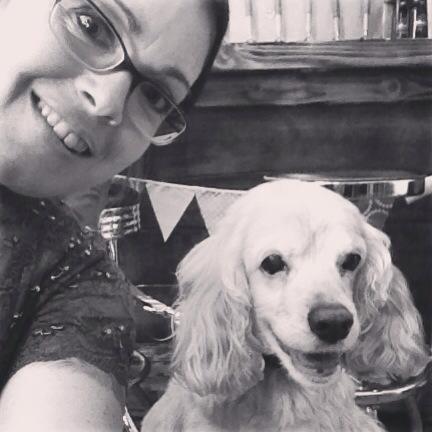 Crazy Cocker Spaniel also loved Laurie as much as I did. They became super pals and the dog is now sulking that she is gone. I am too.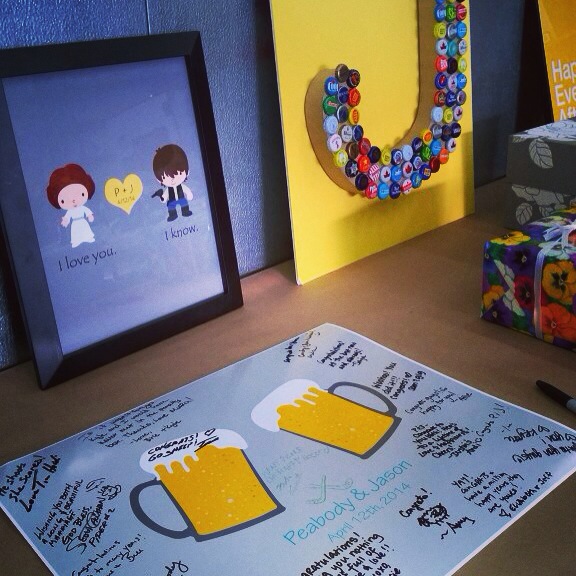 I didn't want a guest book so I had a sign made of two beer mugs. It will go over our bar. The beer caps are part of a giant J (my new last name is Johanson FYI). More of the I love you I know stuff as well.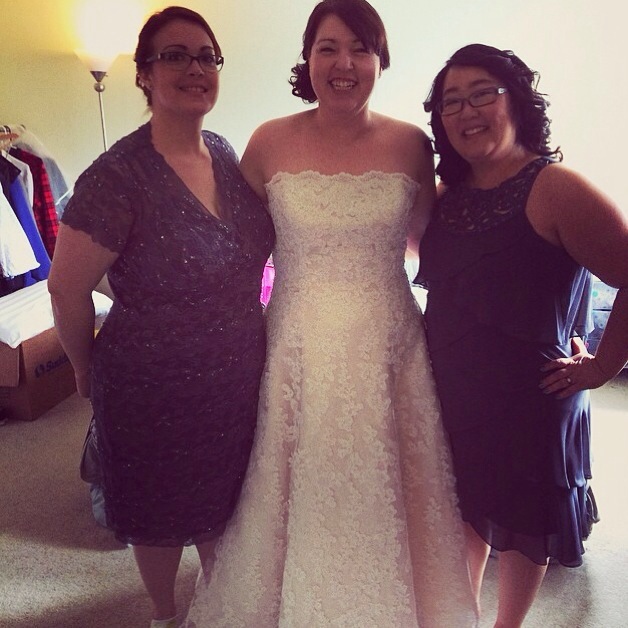 Here is a picture of my dress along with my matron of honor Laurie and one of my bridesmaids M.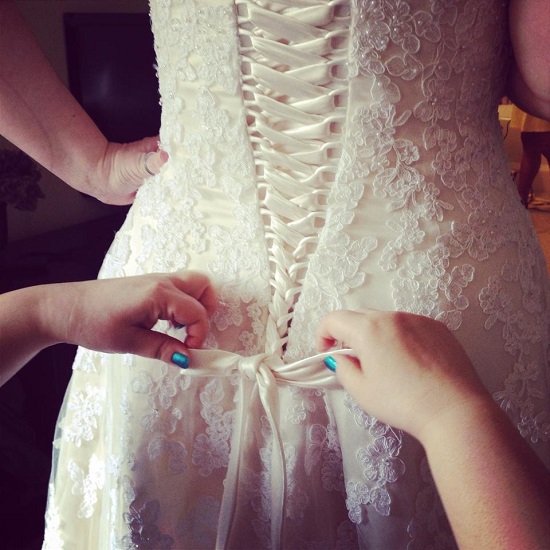 And here is the back of the dress.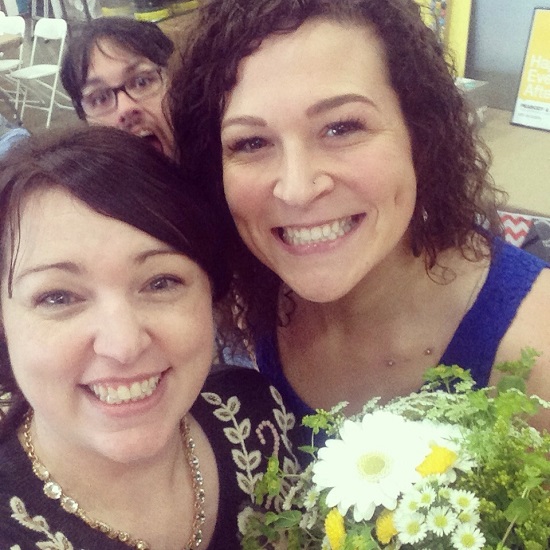 Our photo bombing Best Man…the woman is the recipient of the bouquet "toss"…she also plays on our hockey team.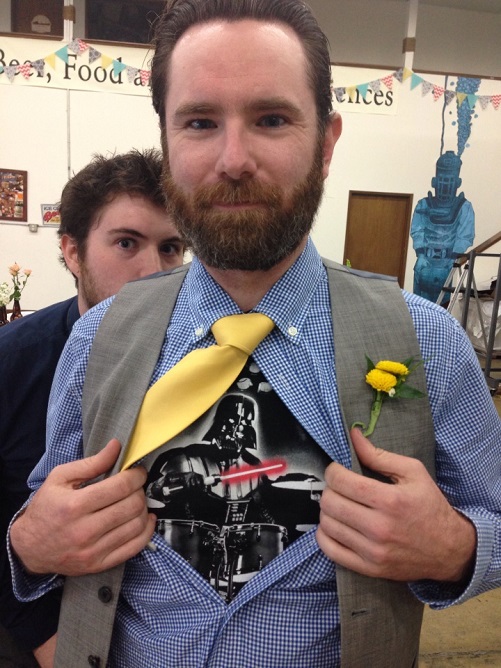 More photobombing hockey players.

This was probably the most photographed item by others. Most people got a photo under the arch and several people wanted to take it home. We did give it away to a couple that wants to grow beer hops on it since we found that fitting. The arch was MDP's one main thing to do/make for the wedding.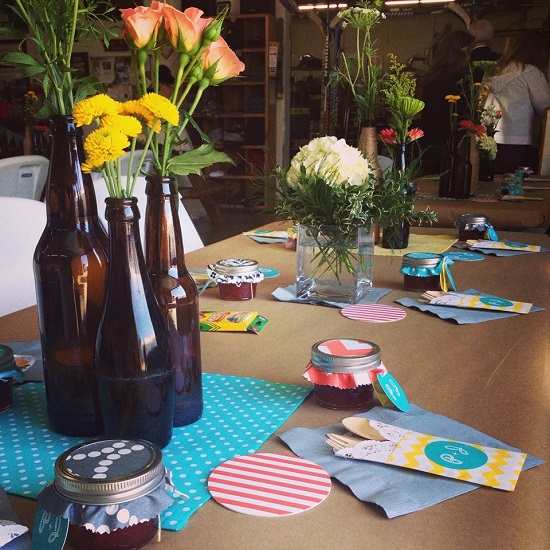 Our table setting.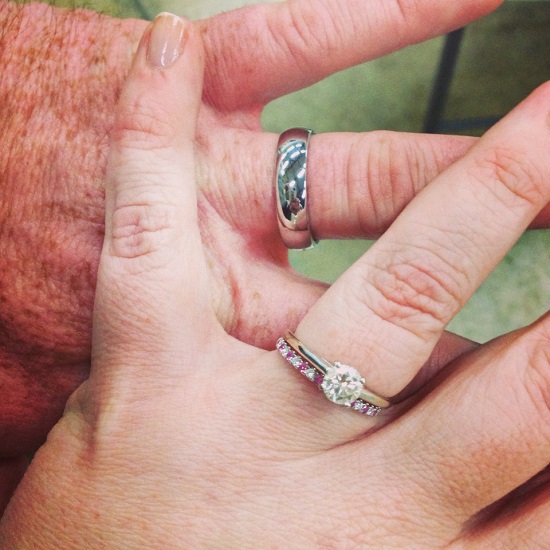 And of course what the whole day was about…getting married. 😀 <3
Now that the wedding is over I'll be back to blogging!