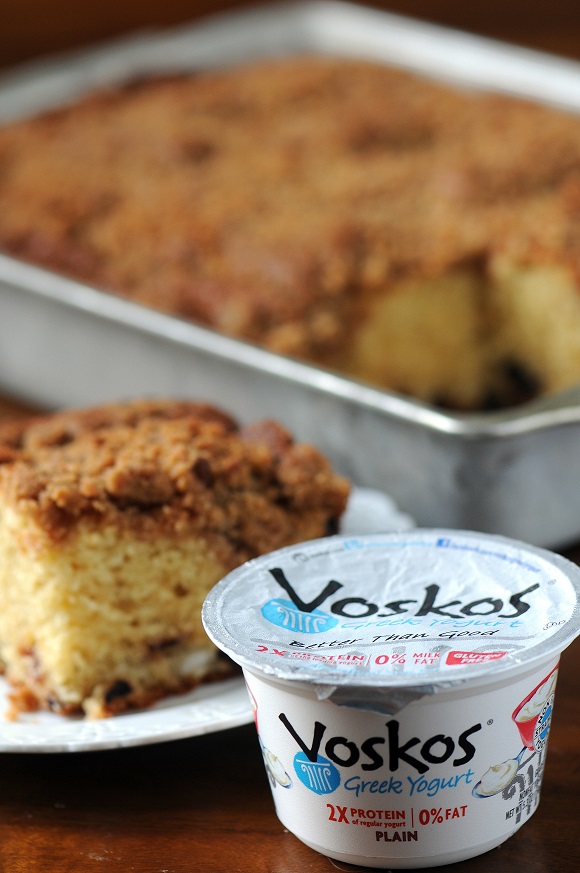 I got some comments and quite a few emails about my locker room post. Yes, I sit and change in a locker room…with men. I have played in men's league hockey for about 13 years now (in fact I am the captain of my men's league team). As well as 13 years of men's league rugby (though there really isn't a locker room for that). I have seen a lot of naked men. A lot. I can't tell you which guy is which. I mean technically I could, based on how they are shaped in their clothing but other than MDP (shhh don't tell my dad) I couldn't actually recall what any of them look like without clothing.
Ironically while at the gym yesterday (which side note aka lesson learned: while getting extra exercise by walking home from the gym, first make sure you didn't drive there) they had ESPN on as they often do. The topic was women reporters in locker rooms. It wasn't a debate as should or shouldn't they it was more of how far women have come in that area. They had players on there commenting that nowadays they simply see them as reporters not female reporters vs male reporters…just reporters. This is how it is as players. I see the female and male players on my team as players. Period. And the guys on the team feel that way too. The one guy we had on our team that didn't differentiate between that was kicked off the team.
That's not to say that outside of the locker room we don't recognize that we are men and women. Obviously I noticed that with MDP…we play hockey together. But oddly enough when we play hockey I don't think of him that way, I think of him as a fellow player. I joke and say "good goal honey" when he scores but that is almost ribbing because then the team pipes up and shouts back "yeah, good goal honey". Though interestingly enough when I watch him play hockey when I am not playing with him (he plays in an upper league as a sub from time to time) I most definitely notice that he is a man. A mighty sexy hockey playing man. 😉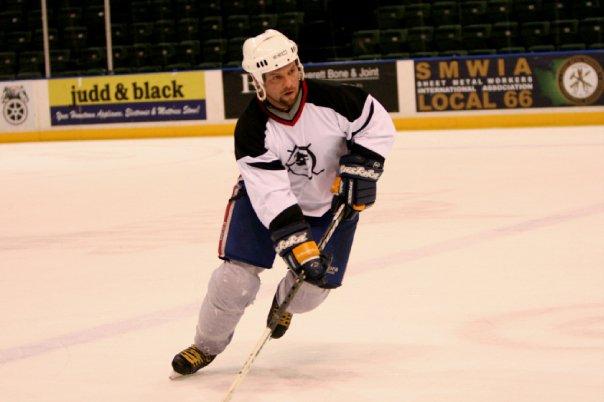 So not related to my story at all is the Greek yogurt craze. I'm going to be hipster and say that I was using Greek yogurt before Greek yogurt was cool. From years ago when I would make French yogurt cakes. Then I started subbing sour cream on my baked potato with plain Greek yogurt. People thought I was weird. They don't think that now. It's almost become interchangeable now.
So when Voskos Greek Yogurt asked if I would be interested in receiving some of their Greek Yogurt I went online and looked them up (I'll be honest in saying I hadn't heard of it) and was like ohhh, organic milk, 13 grams of protein for each serving (that's A LOT), and when I read ingredients for the plain (which I tend to use the most for its savory or sweet opportunities)which read Grade A Pasteurized Milk, Cream, Non-Fat Milk, Live and Active Cultures. And that is it. No GMO's either. I said yes send that my way. I got to pick my flavors (Exotic Fig??? Yes!!!! And the Honey Vanilla Bean…yum!).
It's very thick and creamy. And we guinea pigged MDP. MDP is lactose intolerant. Voskos says on their website that their yogurt has a ton of live and active cultures. Yogurt is something that lactose intolerant people can eat. MDP seems to be hit or miss with yogurt. So I made him experiment with how this would affect him. Now I can't say that if you have lactose issues that you can eat this (everyone is different) but MDP had no issues, which means I will be cooking with the Voskos Greek Yogurt when sour cream or other dairy is called for in a recipe.
I decided to see how Voskos Greek Yogurt would work in one of my favorite sour cream coffee cakes…with a new twist of course. I ditched the cinnamon that traditional coffee cake tends to have and added chocolate chips, coconut, and dried cherries. In a perfect world I would have remembered to coat them in flour so as not to sink to the bottom. But considering the fact that I forgot I parked at the gym and walked home this week we can all tell that the brain is not working all that well. 😀
Do you substitute Greek Yogurt for anything? If so, please tell me what in the comments down below. Check out Voskos Facebook Page as well as their website to see where you can get their yogurt (get the fig, get the fig!)
*Disclaimer: Voskos did compensate me for making a recipe on my blog using their Greek yogurt, but the opinions and content are all mine.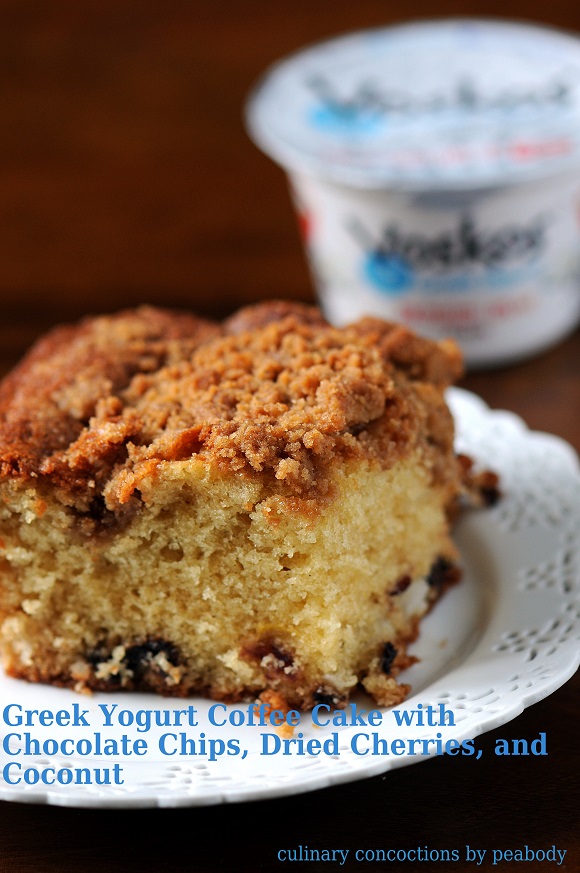 Greek Yogurt Coffee Cake with Chocolate Chips, Dried Cherries, and Coconut
Crumb Topping:
3/4 cup all-purpose flour
3/4 cup packed dark brown sugar
1/2 tsp. salt
6 TBSP melted unsalted butter
Cake:
3 1/2 cups all-purpose flour
1 tsp. baking powder
1 1/2 tsp. baking soda
1/2 tsp. salt
1 cup unsalted butter, at room temperature
2 1/2 cups granulated sugar
4 large eggs
16 ounces Voskos Greek Yogurt (I used plain…preferably full fat)
1 1/2 tsp. vanilla bean paste (or extract)
½ cup semi-sweet chocolate chips
½ cup sweetened coconut
½ cup dried cherries
Crumb Topping:
In a medium bowl add the ingredients together. Mix with a spoon (or hands…that's how I do it) until fully combined and you have wet crumbs about the same size.
Cake:
Preheat the oven to 350° F.
Spray baking spray into a 9×13-inch baking pan. Sift together the flour, baking powder, baking soda, and salt together in a medium bowl.
In the bowl of a stand mixer fitted with the paddle attachment, cream the butter until smooth. Scrape down bowl and add sugar.
Beat until the mixture is light and fluffy, about 3 minutes. Add the eggs, one at a time, beating well after each addition and scraping bowl as needed.
Add the Greek yogurt and vanilla bean paste and beat just until incorporated.
Add the dry ingredients in three additions, scraping down the bowl before each addition and beating only until each addition is just incorporated. Do not overmix!
Pour one half of the cake batter into the prepared pan. Spread batter evenly in pan. Sprinkle the chocolate chips, coconut, and cherries over the batter, covering the entire surface of the batter.
Spoon remaining batter over the chocolate, cherry, and coconut mixture and spread it evenly.
Sprinkle the crumb topping evenly over the top of the batter.
Bake in the center of the oven for one hour, or until a toothpick inserted in the center of the cake comes out clean. Let the cake cool on a wire rack for 30 minutes. Serves 12-16 depending on how you cut it.
Adapted from Dorie Greenspan Baking: From My Home to Yours