Snickerdoodle Peach Cobbler is a very unique cobbler that infuses snickerdoodle flavors and peach pie to make this comforting peach dessert.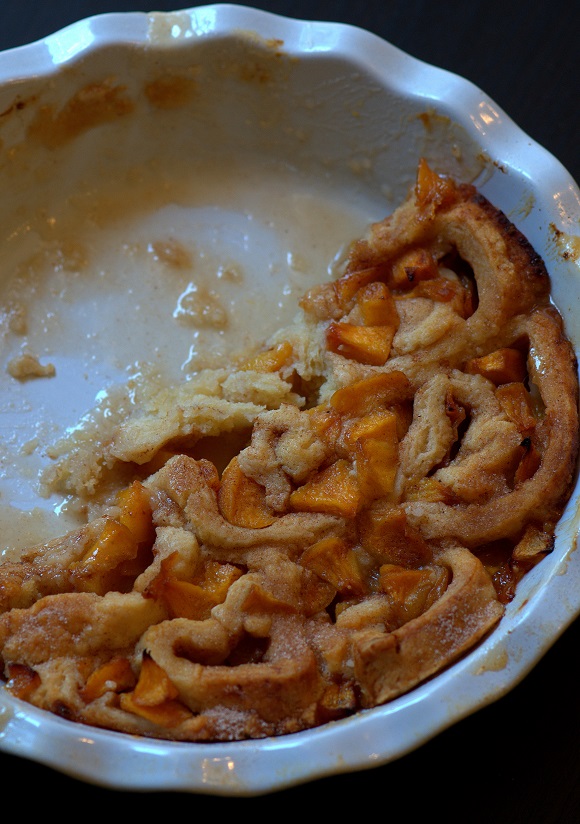 Eight years.
It doesn't even really seem possible, I mean I am after all still 29. 🙂
While in some ways it really seems like only yesterday I also can't remember a time when I didn't have this blog (that's because I am getting old…who knew you could lose your mind at 29 :P).
I made this amazing Peach Snickerdoodle Cobbler to celebrate…but we will get to that in a bit.
In honor of my blog turn 8 I will give myself the knowledge I have now that I wish I had back when I started this blog.
Dear Peabody (8 years back),
1. More than your family members will read this blog.
I know I was shocked by this too.
And I will never forget the first time I put a stat counter in.
For I was both excited and freak out at the same time.
Each year more and more people read it and each year you will continue to wonder why.
2. Many of the people who you "meet" through the blog will become real life friends.
One will become your best friend who you need to keep as your best friend because she knows all your stuff…but vice versa luckily.
3. There are a large percentage of crazy people in the world and for some reason they were all given your email address.
They will write to you asking for refunds, nude photos, ask for print buttons (repeatedly), tell you that your husband was smart to divorce you (that's the only one that really hurt), complain how the frosting in your cupcake photos leaves the cake portion too exposed and therefore make the cupcake dry.
4. To balance out the crazies you will have nice people that will email you and tell you how much they liked a recipe.
Some even donate money through Paypal to pay for supplies or just a keep up the good work (or sometimes it's just go have a beer on me).
They will tell you through your Facebook page that they like you.
They will follow you on FB, Pinterest, Twitter, Google +, Instagram and now email subscription.
You will soon learn that it's really important to get your readers to follow you.
5. You will get people who will email or comment that a recipe didn't work out and without giving you any info ask what went wrong.
This will frustrate you.
But then you will ask what went wrong.
Sometimes they tell you.
Often it is substitution of ingredients.
Sometimes they never write back.
What you really wish is that you can just pop over to their kitchen for just a sec to see if you could help.
But the Star Trek people haven't figured out how to do that in real life yet.
So you remain frustrated.
They will also ask you about recipes from 2008 and when you don't remember they seem genuinely shocked.
6. Your mother will never understand what you do.
She will be very excited when you get a side gig working for General Mill's Blog Tablespoon because she tells everyone that you work for General Mills.
But when they ask what I do she is brought right back to not really understanding/knowing what it is you do. 🙂
Don't worry about it and stop trying to explain it to her.
7. Believe it or not in 8 years there will be like a million food blogs and yours will kind of get lost when it used to sort of stick out.
When you tell people you run a food blog you will no longer (unless talking to your mother) get a strange look.
Instead you will get oh, my mother's sisters second cousin has one of those.
8. In the beginning you will get no comments.
Then one or two and you will do a happy dance.
The day you get 10 comments you actually call your now ex-husband at work (he will think something is wrong) to tell him you got 10 comments.
Then before you know it you are averaging 60 plus comments a post.
You will get very excited that people are engaging with you (especially because when you leave a comment it leaves an impression and therefore bumps my revenue…and brands like it).
Then as if everyone was sent a memo but you, people stop commenting.
You assume you are getting less readers but in fact you are getting three times as many.
You are baffled to this day as to why and wish you had the engagement you used to.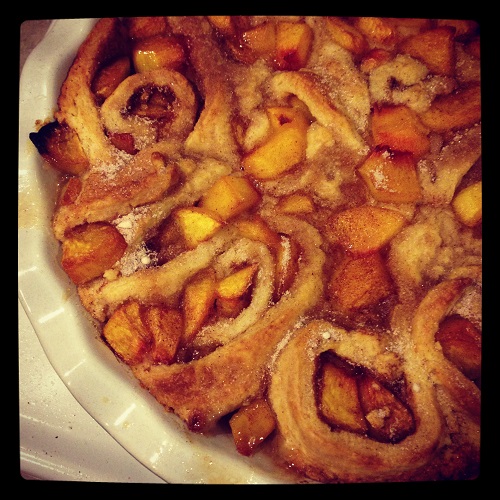 9. You will get asked for an autograph in the grocery store.
And you will get asked to judge a cookie competition in which 40 plus people show up to meet you (and you are thinking why on Earth do these people want to meet me?).
You will get asked to be on a few reality cooking type shows (and say no).
And you will get to work with some really fun brands (most recently Dole Bananas), the most fun getting to grow a garden on your apartment patio for Better Homes and Gardens!
You will go to Arkansas to see Sam's Club headquarters and you will go to Oregon to the Harry and David headquarters.
And you will be given a large amount of free cookbooks and random food/cooking things.
You will however always choose with integrity and not for money which things you liked and did not like.
And you will only work with people you feel are quality which is why, while you get lots of offers, you only work with a few.
10. The IRS will force you to become a business.
Which you don't really feel like you are one.
You will actually get to the point where you have to give them pretty much all that you make as a food blogger and that sucks big time.
And you will be on what seems like perpetual payment plan with them.
But you love food blogging too much and kind of ride the line of worth it not worth it.
11. You will write a lot about the dog.
12. Oh yeah, you will get divorced.
You remain friends with the Picky Eater (for real and baffle people).
But you will fall in love with you best friend and are getting ready to marry him.
Soon.
You will have to go from this blog being a hobby to a profession.
I know you didn't see any of that coming Peabody.
In the eight years there have been many wonderful bloggers whom I am either friends with or who inspire me and I just want to give a quick thanks to them (yes I will forget people…I'm 29 after all) :
Lori at Recipe Girl
Kevin at Closet Cooking
Kristen at Dine and Dish
Kristan at Confessions of a Cookbook Queen
Heather at Sprinkle Bakes
Naomi at Baker's Royale
Kita at Pass the Sushi (she gets special thanks for being my extra awesome web designer)
Laurie at Tuesdays with Dorie and French Fridays with Dorie
Maria at Two Peas and their Pod, Bridget at Bake at 350
Shelly at Cookies and Cups
Jessica at How Sweet It Is
Jen at Use Real Butter
Jessie at Cakespy
Alice at Savory Sweet Life
Amanda at Amanda's Cookin
Dana at Dana Treat
 Nicole at Baking Bites
Helen at Tartelette
Allison at Fridgg
And Julie at The Little Kitchen.
I know I'm missing a tons more but just want to say THANKS for being a source of inspiration!!!!
And lastly and of course most important is THANK YOU to you the reader!
Some of you have been with me for years (which if you do I wish I had some sort of I survived years of CCbP commemorative patches or something) and some are just finding me for the first time even perhaps today (hopefully you will stick around).
PLEASE leave a comment and tell me how long you have been a reader and if there is anything you would like to see here on Culinary Concoctions by Peabody as we roll into year nine.
Peace, Love, Happiness…and Body Acceptance,
Peabody
Oh and yeah, this Snickerdoodle Peach Cobbler…run don't walk to make this.
It's a little out there in recipe land as far as how you make it.
But I have made it all the time without the cream of tartar and cinnamon sugar.
It was originally a blackberry cobbler and I have made it with other fruits but this is my new favorite version of it by far.
The first photo is only half a cobbler because my fiance and I simply could not stand to not eat it.
And then we ended up eating half of it in one sitting.
Not proud.
Well I kinda of am. 😛
It's a great day to buy my cookbook.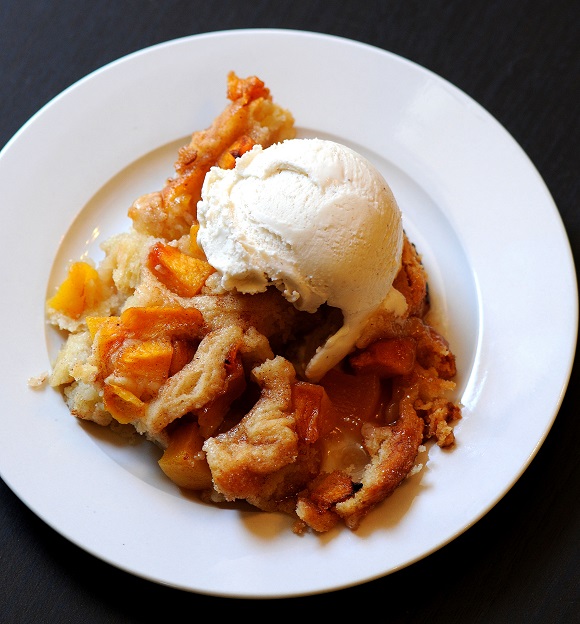 Want More Cobbler Recipes?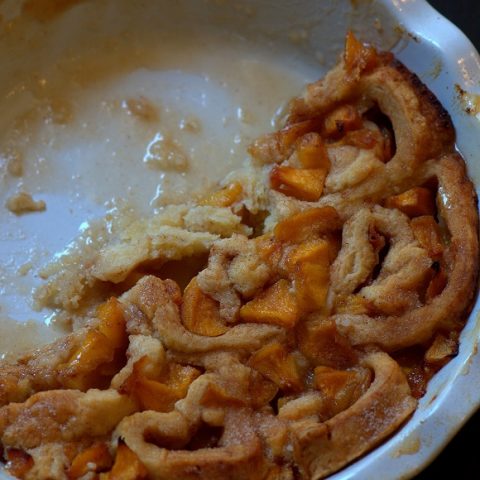 Peach Snickerdoodle Cobbler
Ingredients
½ cup chilled unsalted butter, cut into pieces PLUS ¼ cup unsalted butter
1 cup water
1 cup granulated sugar
1 1/2 cups self-rising cake flour
¾ tsp. cream of tartar
1/3 cup milk
½ tsp. ground cinnamon
3 cups fresh or thawed peaches (about 1 pound) diced into bite size pieces
2 TBSP granulated sugar plus ½ tsp. cinnamon (to sprinkle on top)
Instructions
Preheat oven to 350°F.
In a 10-inch pie plate or baking dish melt 1/2 stick (1/4 cup) uncut butter in oven.
In a small saucepan combine water and 1 cup sugar and heat over moderate heat, stirring occasionally, until sugar is completely dissolved.
In a food processor pulse together flour, cream of tartar, and remaining ½ cup chilled butter pieces until mixture resembles fine meal.
Add milk and pulse just until a dough forms. Turn dough out onto a lightly floured surface and with a floured rolling pin roll into an 11- by 9-inch rectangle.
Sprinkle dough with cinnamon and scatter peaches evenly over top.
Beginning with a long side roll up dough jelly-roll fashion and cut into 1 1/2-inch thick slices. (Slices will come apart and be messy). Arrange slices, cut sides up, on melted butter in pie plate or baking dish.
Pour sugar syrup over slices, soaking dough, and bake cobbler in middle of oven 45 minutes. Sprinkle the cinnamon sugar mixture over cobbler and bake 15 minutes more, or until golden.
Serve cobbler warm with ice cream or whipped cream.
Serves 6…or 3 if you are in our house. 😛