These Banana Foster Muffins are the way to have dessert for breakfast as you literally make banana foster to put into the muffin.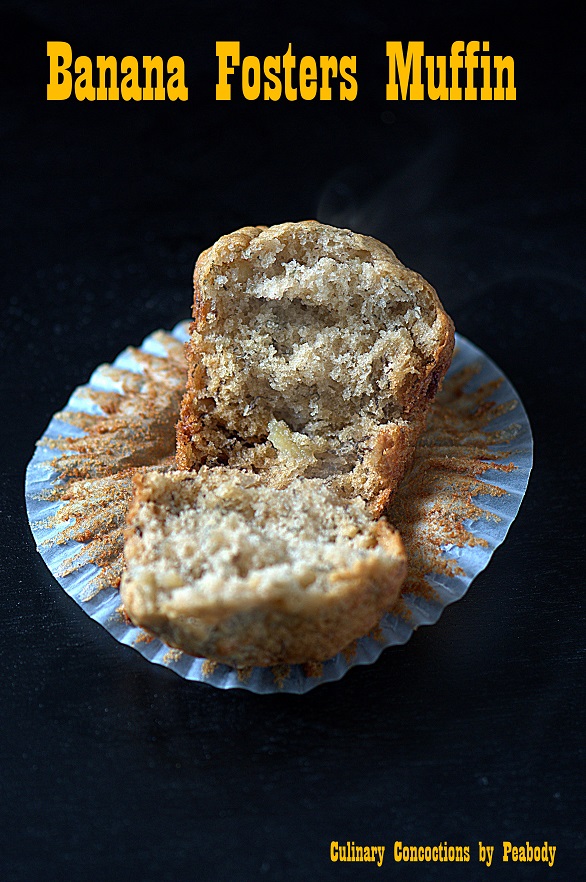 I remember my first Food Blogger Conference ever.
It was IFBC (International Food Bloggers Conference).
It was in Seattle coming back to Seattle this year and I thought what the heck.
I went there to meet people and I did. It was the first time I met Alice in person (so lovely) and partners in crime for the weekend: Lori, Amanda, and Cheryl.
I remember we were sitting in I think an SEO talk while Amanda and I were drinking beer we snuck in to make it a little more exciting (it did help).
Lori was giggling at us while she looked at her laptop looking for people who had taken her images/and or recipes.
She was engaging in social media as well.
I remember looking over from my IPA and thinking Dang like she's a real food blogger….as in she treats it like her job.
And because of her drive and talent Lori has a cookbook (The Recipe Girl Cookbook
), on TV segments, sold her book on QVC, and works with many brands.
I, I was drinking beer. 🙂
I was recently talking to a very smart businessman (and he's not smart just because he reads my blog) and he was asking me if blogging was what I did for a living?
Something a lot of people ask.
I joked to him well I wouldn't call it a living.
And he says is that your career?
I ummed, and hummed, and all the other noises you make when you have no idea.
I said I guess so.
You guess so?
Are you making the money you want to make food blogging?
I said no.
He said then you are not a food blogger.
I said yes I am.
He said no, you are an amateur food blogger but it sounds to me like you would like to be a professional food blogger.
I said what is the difference?
He said you need to stop treating it like a hobby and start treating it like it's your job.
So starting today I am going to my job (I mean apparently I have been interning for about 8 years).
With a few of his tips for me.
The first one was to get better at self-promoting.
Which I really do suck at.
He said for me to ask EVERY reader I have (that would be you) to follow me on any and all social media that you do: Twitter, Facebook, Pintererst, and Instagram.
So I am asking.
You are my greatest resource/asset that I have in the area of getting my blog out more to the world.
Share my blog with friends who like to cook/bake or look at photos of cocker spaniels laying down. 🙂
I also have to have a schedule.
Right now I kind of bake when the mood strikes.
But now I am going on an actual schedule as if I were going to an outside the house job.
One that will even include a "uniform" of sorts…since sweatpants with holes in them apparently doesn't say this is my job. 😛
Now I'm not donning a chef coat or anything like that but I am designating a couple of shirts that are now my work shirts…and of course an apron.
And I will get to work.
What does any of this really mean?
Good question.
I'm hoping this means and even better blog for you the reader.
And I'm hoping it means let's be honest more money (I'm not looking to get rich just looking to get by or possibly a tad ahead).
It means you might see a few changes (don't worry most of the blog is still dedicated to what I call the 20% or the food that usually requires a stick of butter).
It hopefully means you will see me working with more brands because I really enjoy that.
I really liked working with Dole Bananas especially because they gave me the freedom to just create whatever recipe I wanted.
This last one did not get made for the party.
Since I enjoy making food worse for you than it possibly can be I present to you Banana Foster Muffin.
Yes I'm putting dessert into your breakfast.
You literally make banana foster and use that as the base for the muffin.
Yeah, they are yum yum…the bourbon helps too. 😛
So enjoy the muffins…I have to go to work now.
P.S. It's a great day to buy my cookbook Holy Sweet!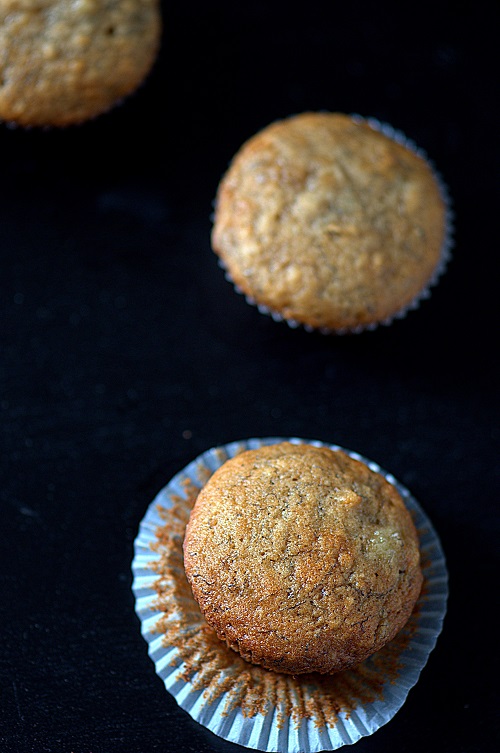 Want More Muffin Recipes?
Toffee White Chocolate Pumpkin Muffins
Cider Glazed Apple Fritter Muffins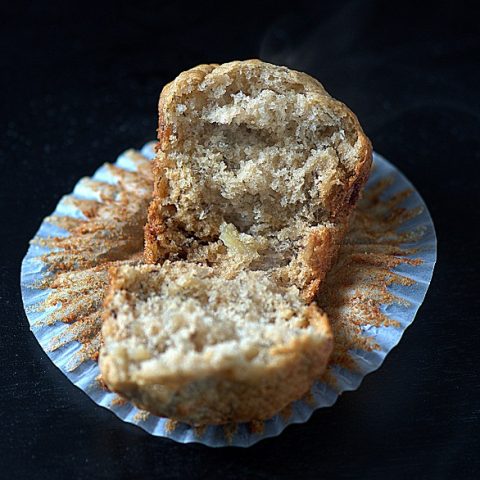 Banana Foster Muffins
Yield:
You will get about 32 mini muffins or 12 regular size muffins.
Ingredients
1 ½ cups mashed, very ripe bananas
½ cup brown sugar
6 oz. unsalted butter, divided
3 TBSP bourbon
¼ cup granulated sugar
1 large egg
½ tsp. vanilla bean paste
1½ cups all-purpose flour
1 ½ tsp. baking soda
1 tsp. salt
Instructions
Preheat oven to 350F.
Line mini muffin pan with liners or if using a larger pan same thing.
Using a skillet, melt the 4 oz. (one stick) of butter and the brown sugar together.
Add the mashed bananas and let caramelize over medium-high heat for about 3 minutes.
Let cool to room temperature.
Using a stand mixer with the paddle attachment beat together the remaining butter and the granulated sugar.
Add the cooled down banana fosters mixture.
Mix until well incorporated.
Add the egg, bourbon, and vanilla bean paste (or extract) and beat until incorporated.
In a medium bowl, whisk together the flour, baking soda, and salt.
Add that to the bowl and mix on low until the ingredients just come together.
Spoon the batter 2/3 of the way up the liner. Bake for 12-13 minutes for mini muffins and 18-20 for the regular size muffins.
Let cool and serve.