Snickerdoodle Apple Cobbler: This very unique and easy to make cobbler infuses snickerdoodle flavors and apple pie to make this comforting apple dessert.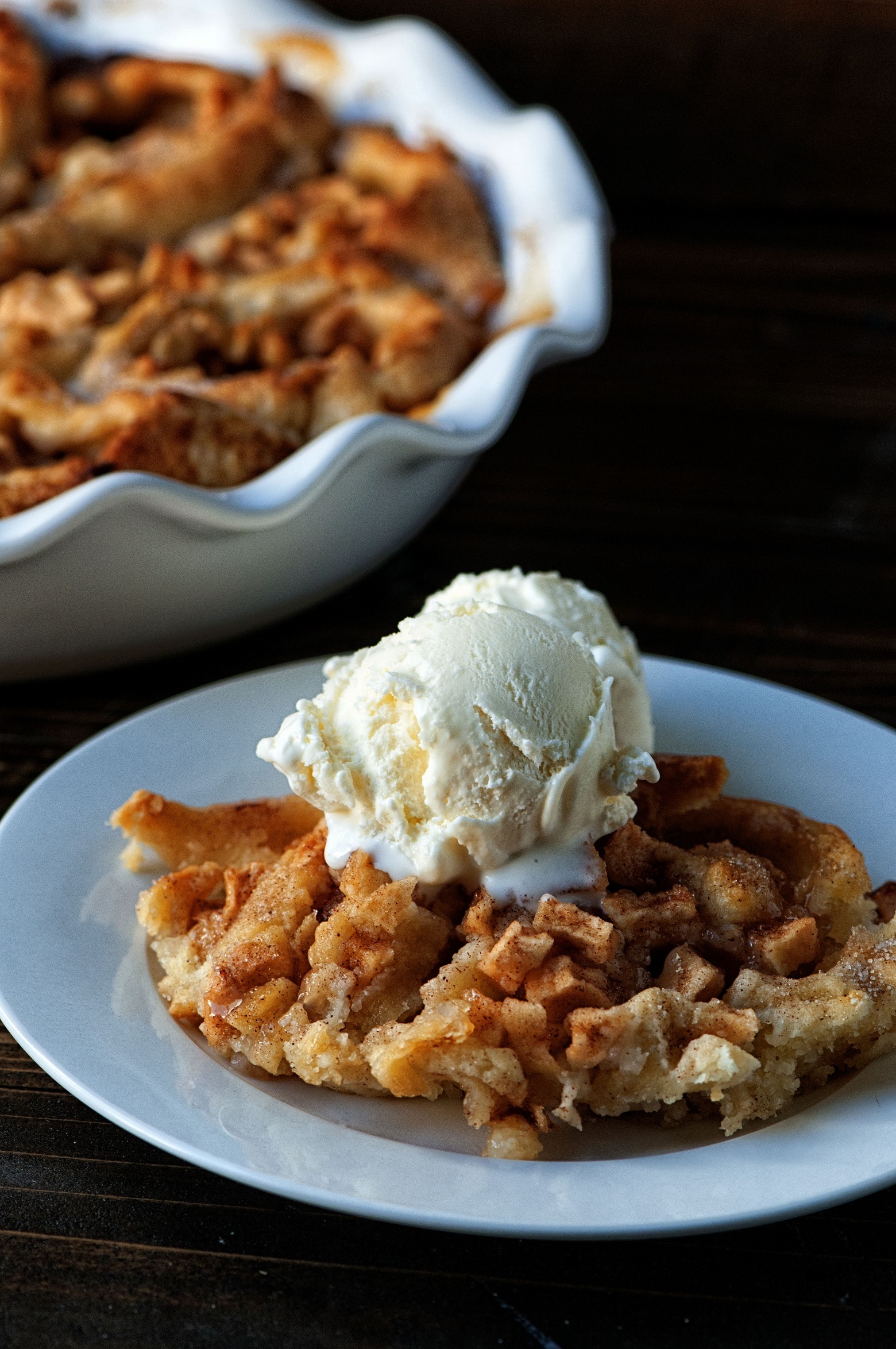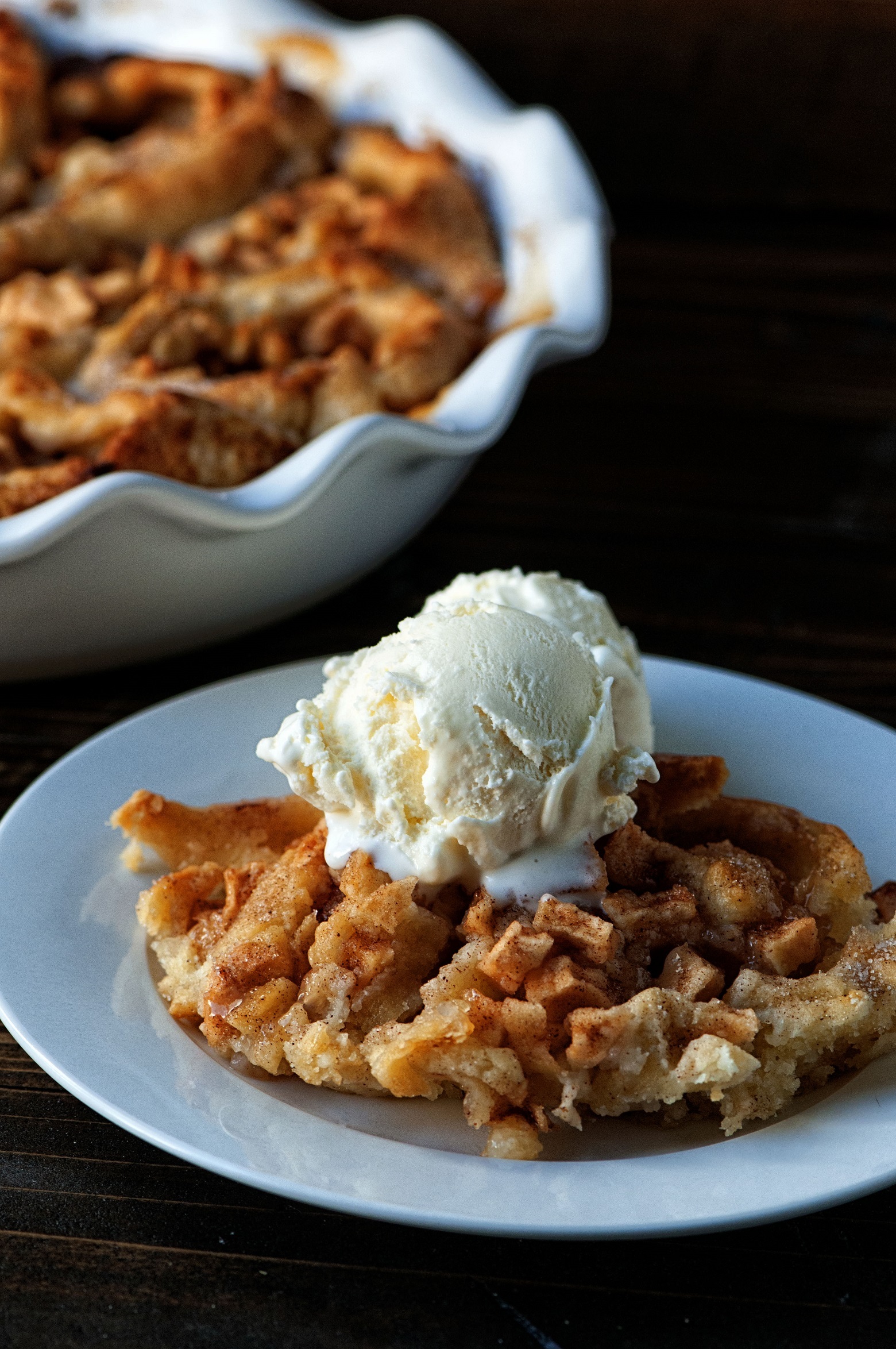 I was always the kid who chose vanilla over chocolate, in cake and in ice cream. Chocolate chip cookies were good but I loved a sugar cookie. Then my mom made Snickerdoodles. It was a sugar cookie but it seemed extra special. Of course, when I learned to bake I learned that the cream of tartar added some tang to the cookie. My mom adds nutmeg and so do I. And instead of just rolling in sugar they are rolled in cinnamon-sugar.
We had quite a few fall like baking days and that got me baking up a storm. I decided to do a whole week dedicated to my favorite cookie, the Snickerdoodle. No, they are not all cookie recipes, as this first recipe clearly shows…more like inspired by.
This first dessert for Snickerdoodle Week is a combo of two of my favorites: apple pie and snickerdoodle. It uses one of my favorite, yet highly unique, way of making cobbler. You will panic when you see the dough floating in the water syrup but I promise you it all works out. A lot of people will ask do I have to use self-rising flour…yes. I have tried it with regular flour and adding leveeing and it doesn't work the same.
Did I like this dessert? Well, considering I normally eat mostly low carb and I have about one serving left (I made it Thursday night) I'm going with yes. Which is why I don't make apple desserts often, I eat them. 🙂
Hopefully there are enough Snickerdoodle lovers out there that you will happy there is a whole week dedicated to it.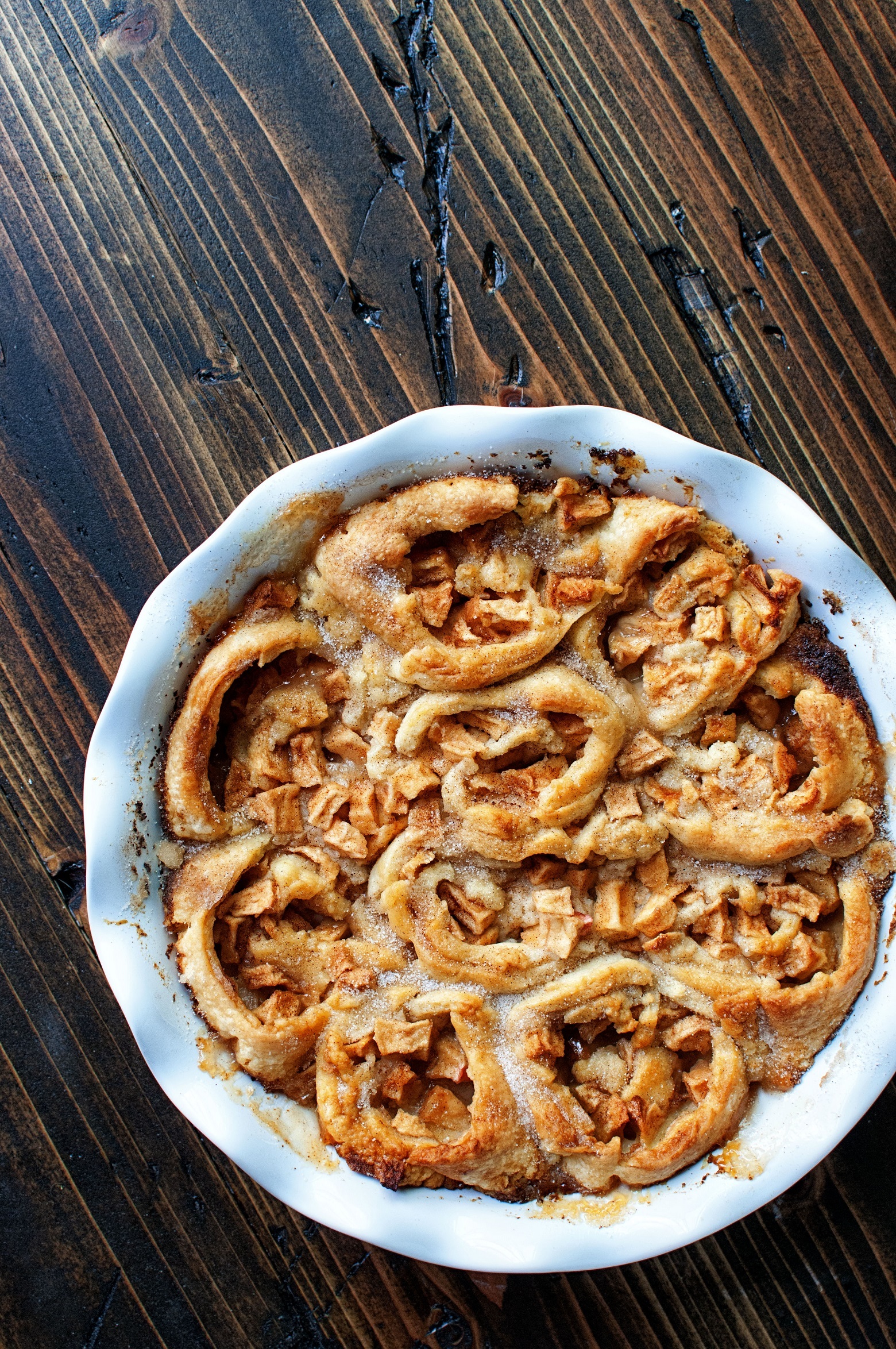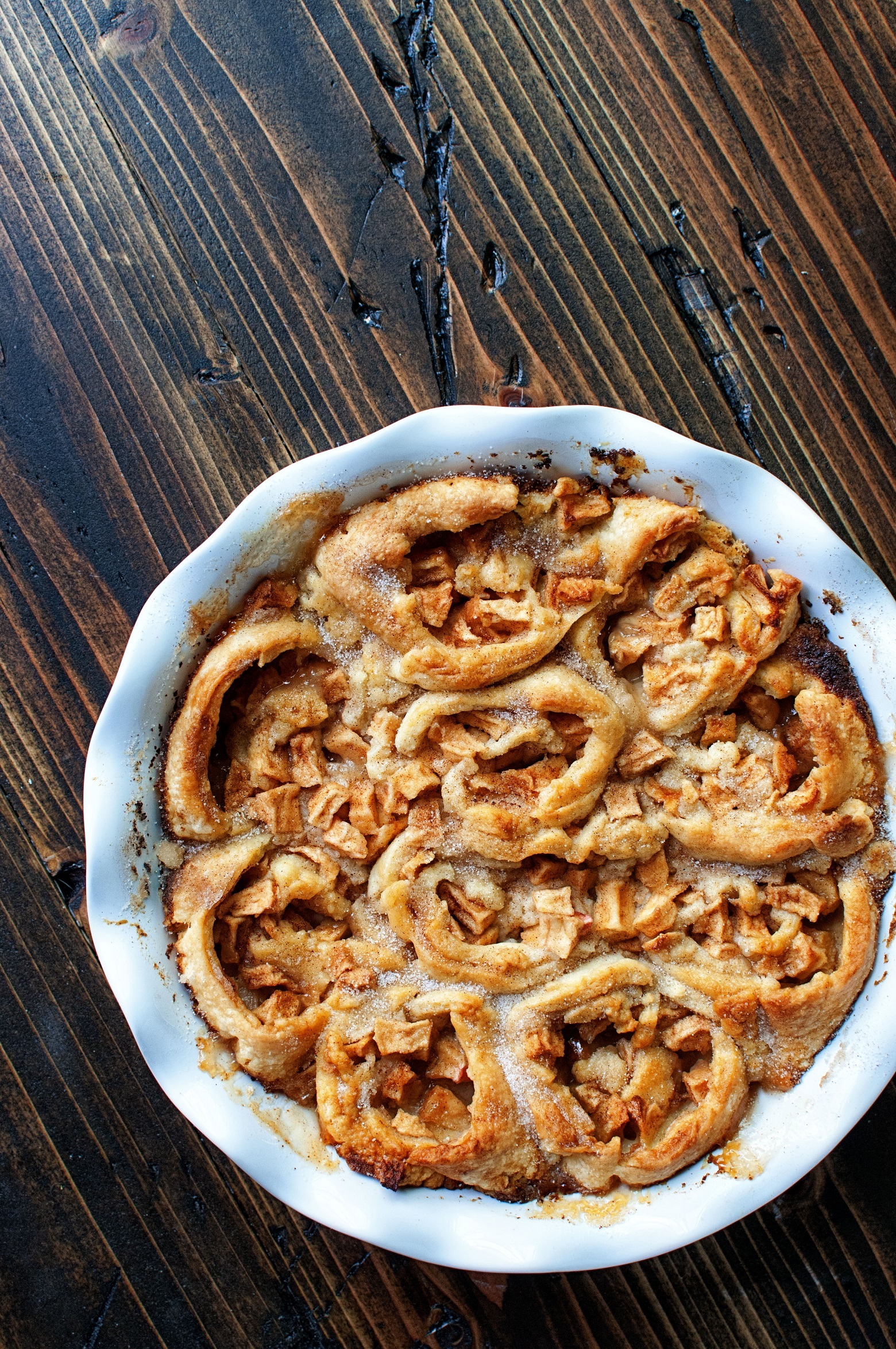 Snickerdoole Apple Cobbler
Author:
Ingredients
½ cup unsalted butter PLUS ¼ cup chilled unsalted butter, cut into piece
1 cup water
1 cup PLUS 2 TBSP granulated sugar
½ tsp. freshly ground nutmeg
1 1/2 cups self-rising flour
¾ tsp. cream of tartar
1/3 cup milk
1 tsp. ground cinnamon
½ tsp. freshly ground nutmeg
3 cups fresh apples peeled and diced into bite size pieces
2 TBSP granulated sugar plus ½ tsp. cinnamon (to sprinkle on top)
Instructions
Preheat oven to 350°F.
In a 10-inch pie plate or baking dish melt 1/2 stick (1/4 cup) uncut butter in oven.
In a small saucepan combine water and 1 cup sugar and heat over moderate heat, stirring occasionally, until sugar is completely dissolved.
In a food processor, pulse together flour, cream of tartar, nutmeg and remaining ½ cup chilled butter pieces until mixture resembles fine meal.
Add milk and pulse just until a dough forms.
Turn dough out onto a lightly floured surface and with a floured rolling pin roll into an 11- by 9-inch rectangle.
Whisk together the 2 TBSP of sugar and 1 tsp. cinnamon and toss apple pieces in them.
Beginning with a long side roll up dough jelly-roll fashion and cut into 1 1/2-inch thick slices. (Slices will come apart and be messy).
Arrange slices, cut sides up, on melted butter in pie plate or baking dish.
Pour sugar syrup over slices, soaking dough, and bake cobbler in middle of oven 45 minutes.
Sprinkle the cinnamon sugar mixture over cobbler and bake 15 minutes more, or until golden.
Serve cobbler warm with ice cream or whipped cream.
Serves 6…or 3 if you are in our house. 😛
Adapted from Gourmet Magazine June 1996