These Hot Mess Brownies are chocolatey and fudgy brownies topped with marshmallow fluff, salted caramel sauce, and all covered in a chocolate coating.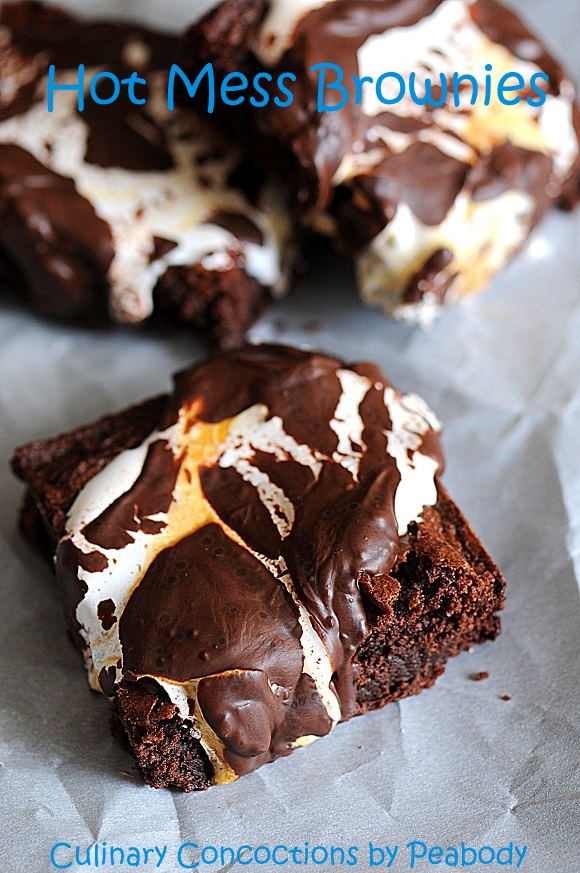 First off Happy Memorial Day Weekend to the men and women of the armed services!
Thank you for all you do/did and sacrifices you make/made!
Soapbox Moment:
I will say that my Memorial Day Weekend started off with me being pretty cranky at the average American.
Being a dual and leaning towards the Canadian side of that doesn't mean I don't appreciate the sacrifice that the men and women of the US armed forces make.
So it made me very sad yesterday when at grocery store there were two veterans handing out poppies (for free but donations were appreciated so I gladly donated).
I then shook both their hands, looked them in the eye, and thanked them for their service.
I was disheartened to hear them tell me I was the first person to thank them that day for their service.
We were there at noon and they had been there since 8am!
And I realize that it's exciting to get a good deal on pop and plan out your BBQ but have a little respect people!
These people have and would die for your freedom to have that BBQ!
Speaking of Memorial Day for most people it starts what is the summer season so to speak (even though summer is not for a month technically).
And that means swimsuits.
I just want to remind you that you do have a swimsuit ready body…it's called your body.
If you don't like your swimsuit go get a different one.
I got a good one at Costco for $30 two years ago.
Still rock that bad boy.
You can rock yours too.
It's all about your attitude.
And if you have white legs celebrate that.
Sadly, I have two friends this week getting biopsy due to tanning bed time!!!!
In other news, I got another package from overseas from a reader this week.
I looked at the mailman and said that there is some sort of star or red flag by my name at the post office isn't there.
He just smiled and said that would be my guess yes.
My life became complete last week when a fellow hockey player who was looking for clip art Googled Hockey Player Drinking Beer and guess who was photo number 76 on Google images?
That's right….me and because people looked at it I actually moved up in the images rank.
I also have a different photo further down on the page!
Think I found my tombstone engraving: Hockey Playing Beer Drinker.  
Ironically in both photos I am neither playing hockey or drinking beer.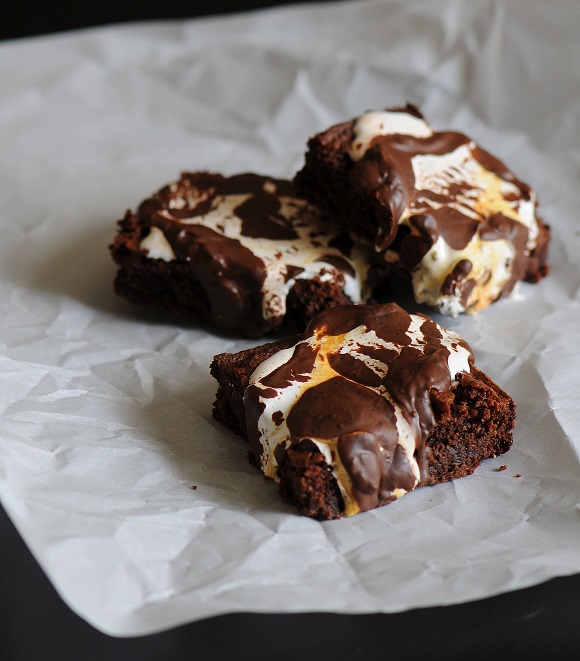 These Hot Mess Brownies were originally for my Phish Food flavor.
I had this great idea that I was going to pipe fish shaped marshmallow fluff onto the brownies, fill the center of the fish with salted caramel, and then top with chocolate so that you would see the outline of the fish.
Clearly as you can see by these brownies the plan worked beautifully.
Hahaha.
But then I got to make the Phish Food Pie and that was fabulous.
Before I threw the brownies out my husband was like wait don't throw those out.
I told him they look like a hot mess and he said but how do they taste.
Yeah, they taste crazy good.
So I knew I had to put them on the blog.
A tad messy but holy yum.
And lastly those that don't follow me on Instagram (because if you did you would see the dog a lot) asked how Crazy Cocker Spaniel is doing.
Obviously from the photo from below she is being mistreated and has a rough life.
Last but not least…it's a great time to order my cookbook. 😀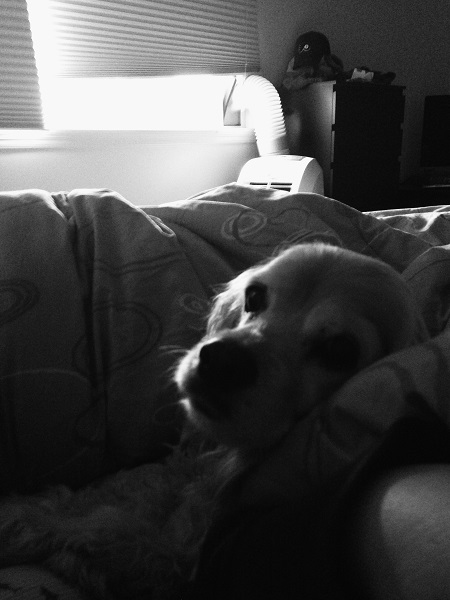 Want more recipes? Try these:
Hot Chocolate Marshmallow Brownie Bars
Chocolate Nougat Sprinkle Brownies
Nutella Kit Kat Oreo Overload Brownies
Marshmallow Crunch Brownie Bars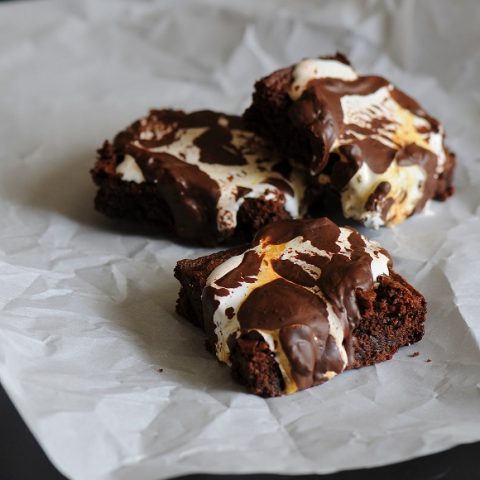 Hot Mess Brownies
Ingredients
1 batch Ina Garten's Outrageous Brownies (recipe follows)
7 oz. marshmallow fluff
8oz salted caramel sauce (I used Trader Joe's)
12 oz semisweet chocolate, chopped finely
3 TBSP unsalted butter
For Ina's brownies:
1 pound unsalted butter
1 pound plus 12 ounces semisweet chocolate chips
6 oz. unsweetened chocolate
6 extra-large eggs
3 TBSP instant coffee granules
2 TBSP pure vanilla extract
2 1/4 cups sugar
1 1/4 cups all-purpose flour
1 TBSP baking powder
1 tsp. salt
Instructions
For Ina's brownies:
Preheat oven to 350 degrees F.
Butter and flour a 12 x 18 x 1-inch baking sheet.
Melt together the butter, 1 pound of chocolate chips, and the unsweetened chocolate in a medium bowl over simmering water.
Allow to cool slightly. In a large bowl, stir (do not beat) together the eggs, coffee granules, vanilla, and sugar.
Stir the warm chocolate mixture into the egg mixture and allow to cool to room temperature.
In a medium bowl, sift together 1 cup of flour, the baking powder, and salt.
Add to the cooled chocolate mixture.
Toss the walnuts and 12 ounces of chocolate chips in a medium bowl with 1/4 cup of flour, then add them to the chocolate batter. Pour into the baking sheet.
Bake for 20 minutes, then rap the baking sheet against the oven shelf to force the air to escape from between the pan and the brownie dough.
Bake for about 15 minutes, until a toothpick comes out clean.
Do not overbake!
For the hot mess brownies:
Prepare the brownies as directions indicate.
Cut brownies and place them onto a wire rack with a drip pan at the bottom to catch any chocolate or caramel that might drip down.
While brownies are cooling heat in a double boiler the chocolate and the butter until it becomes smooth and has a sheen to it.
While still slightly warm add a spoonful of marshmallow fluff onto each brownie. How many brownies you get depends on how big you cut your brownie. I cut mine pretty big.
The marshmallow will start to spread.
Put a spoonful of caramel on top of the marshmallow. It will also spread a little.
Then spoon some of the chocolate on top of the marshmallow and caramel. It will spread as well but will eventually harden back up.
When the chocolate has hardened again they will be ready to serve. Clearly these are messy to eat but ridiculously good.