Nutella Kit Kat Oreo Overloaded Brownies have a brownie Kit Kat base topped with Rice Krispies, Oreos, chocolate, and Nutella. 100% yummy.

You know what is nice and comforting when you are sick?
Carbs.
You know what is not?
A bowl of big leafy greens with olive oil and lemon juice.
That's what.
Yep, I've got a summer cold.
Lucky me.
Normally I would be bundled up on the couch with a ton of tissue in my hands and stuck up my nose (sounds gross but trust me you get to a point where you don't want to blow your nose anymore).
Eating carb-y snacks, watching bad TV, and a cooler that my fiance usually makes for me when I am sick filled with snacks and beverages (yes he is a keeper).
But I'm out of tissue so I'm on toilet paper.
No carb-y snacks allowed.
We just downgraded all of our cable to basic to save money so no fun TV.
And I'm only drinking water so no fun beverage center.
Though I am rocking my pink Hello Kitty Snuggie as it is rather cold today in my part of the world.
These are a take on Shelly's Peanut Butter Cup Crack Brownies which I have never had but I bet they are awesome.
Since these Kit Kat, Oreo, Nutella version I made sure was awesome.
I seriously thought my goalie might make a shrine.
I ran across I giant box of Kit Kat Mini's I didn't know they made them and of course I felt the need to own a box of them.
Which I bought and then had to figure out how to use some of them.
Enter these.
I'm sure every guy who ate them on the hockey team would tell you to make these asap.
And they are mean hockey players so you should do what they say. 😉
P.S. It's a great day to buy my cookbook Holy Sweet!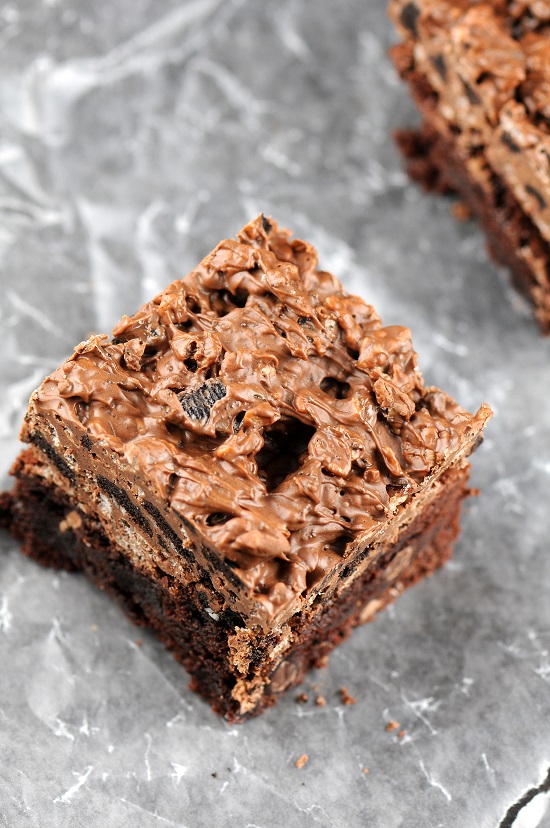 In carb-y snack news, I could really go for one of these right now.
I made them for one of my hockey games.
Then I asked the players to name it since I didn't know what to call them.
I got an: "OMG", "how about the best thing I ever put in my mouth bars", "Holy mother" and "everybody back away the leftovers are mine bars".
Helpful as always boys.
The closest was Nutella Kit Kat Oreo Overloaded Brownies, which I liked the sound of.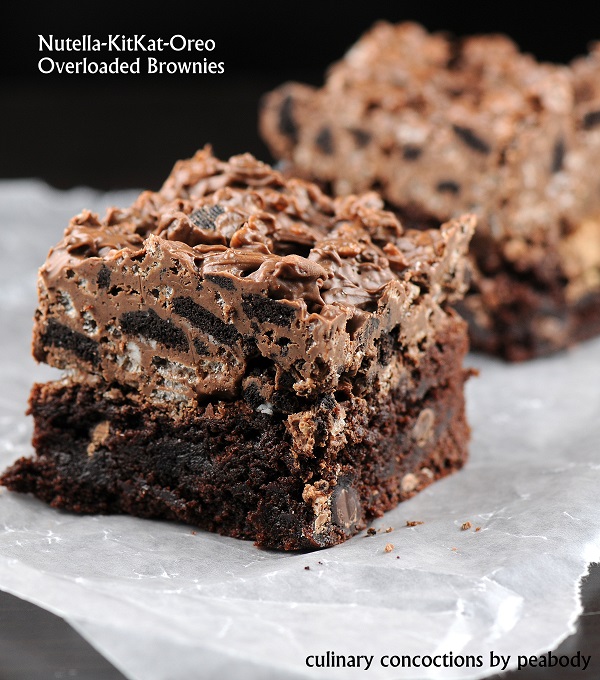 Want More Rice Krispie Recipes?
Cookies and Cream Rice Krispie Treats
Vanilla Bean Rice Krispie Treat Cupcakes
Toasted Marshmallow No Bake Cheesecake in Rice Krispie Treat Crust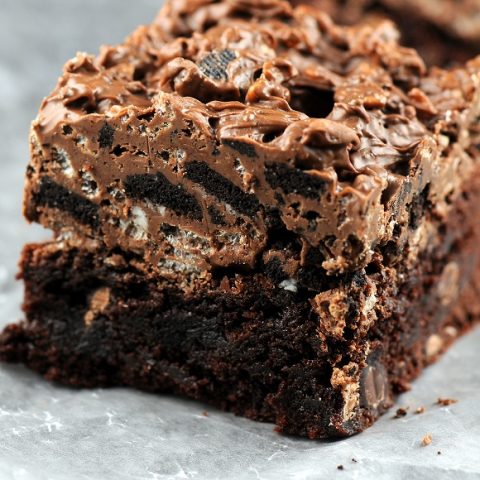 Nutella Kit Kat Oreo Overloaded Brownies
Ingredients
1 box brownie mix (not family sized), prepared according to package directions in a 8x8 pan
2 packages (they are individual sized) Kit Kat Minis (if you can't find just use about 4 Kit Kat Bars)
2 cups semi-sweet chocolate chips
1 TBSP unsalted butter
1 ¼ cups Nutella
1 cup crispy rice cereal
1 cup crushed Oreos
1 tsp. vanilla
1 tsp. salt
Instructions
Prepare brownies according to package.
Pour in to in an 8x8 pan that has been sprayed and lined with parchment paper or foil.
Place Kit Kat pieces into brownie and press down to make sure they are really in the batter good.
Bake brownies according to package directions.
Let brownies cool.
Next in a large saucepan combine chocolate chips, Nutella and butter and cook over medium heat until all has melted. Keep stirring so that chocolate does not burn.
Stir in vanilla, Oreos, and cereal until evenly combined.
Pour over brownies and smooth.
Chill until chocolate is set, about 2 hours.
Cut into squares to serve
Store airtight for up to 3 days.
You can store these at room temperature or in refrigerator.