Heat up your Valentine's Day with these Cinnamon Brownies with Red Hot Infused Buttercream Frosting.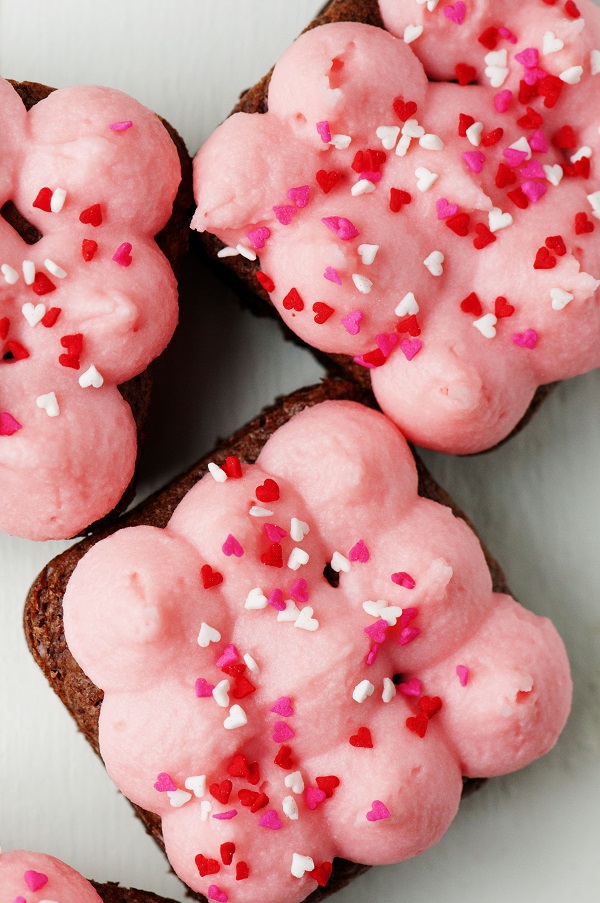 It's Valentine's Day on Sunday in case you didn't know. I could write a mushy love letter to my hubby but I won't (I'm all about saying that kind of stuff in private). I could write something sweet about my pups but I won't because I talk about them all the time. 🙂 Instead, I will list all the materialistic products I am happy exist…that I love. 🙂
CeraVe Facial Cleanser: One of the nicest things my dermatologist ever did was steer me in the direction of this stuff. Number one because it's cheap (and most things the dermatologist recommend are like $100 and up) and number two it works, especially on this sensitive skin gal.
Buxom Lash Mascara: My eyes and eyelashes are commented on often on social media and people do ask if I use any special mascara. I do not. This is the one I use 99% of the time. I have naturally long lashes and when I use those enhancing mascara's my husband (and hockey team for that matter) say it looks like spider legs are sticking out of my eyes…so I stick with the regular stuff.
Rosebud Lip Balm in Strawberry: Again this is pretty cheap and my lips love it. Being in the ice rink a lot makes for super chapped lips. It is most popular in a little round tin but I prefer it in the tube.
Trader Joe's Dark Chocolate Sea Salt Almonds: My husband and I are both addicted to them. We have tried the Costco kind that you can buy in bulk and they are not the same. TJ's is the best hands down. If you don't have a TJ's your pants will probably thank you for that.
Pretty much this entire store.
Surprisingly Old Navy has very cute and comfy workout clothing. I had no idea until I asked a fitness blogger where she got her cute outfit and almost fell over when she said Old Navy. Considering the yoga pants these days start at $100, it's refreshing to see them at $30…and you never pay that…something is always on sale. Heck, I just got some cute yoga pants for $3.47 last week!
Pretty much any Bundt pan that Nordicware makes. My favorite one to date is this one. But they are coming out with some new ones for their anniversary that look lovely.
I can go on and on but I won't. 🙂 I will say that while not materialistic I am thankful for boxed cake and brownie mixes. I know some people hate them but the brownie mix I used for this recipe cost $.89 for the box on sale, you just can't beat that. And since I am on a super budget right now, you really can't beat that. And that was for the family sized one.
These can be made in muffin tins but I love the square shape. You will need two pans for these. You can buy them here if you want, if not just use muffin pans.
The frosting is what makes these. You will need a good 8 hours or more (the more the better) to have the red hots sit in the heavy cream and disintergrate. Then you will whip the cream into butter…and turn that into a frosting. The frosting is softer than most and I did put it in the fridge to set up. But after that they stayed fine at room temperature…but we run cooler here. I would say if you are above 70F in your house you may want to keep these refrigerated.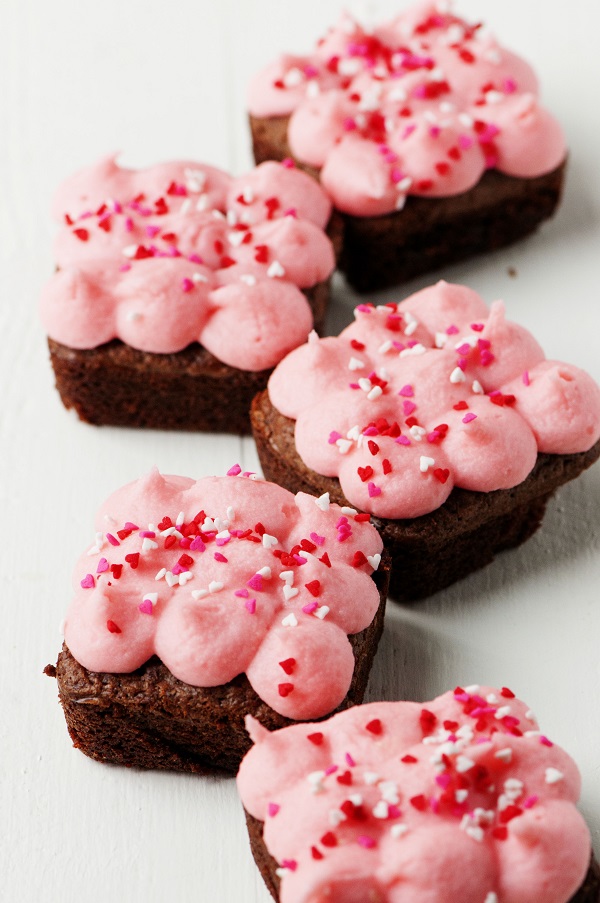 Red Hot Brownie Squares
1 package Family Size Brownie Mix (for a 9-x-13-inch pan) and the ingredients your brand you are using calls for
1 TBSP ground cinnamon
1 cup heavy whipping cream
¼ cup red hot candies
4 oz. unsalted butter, at room temperature, cut into 8 pieces
3-4 cups powdered sugar
Sprinkles (optional)
FOR OVERNIGHT: Place heavy cream and red hot candies in a plastic container with a tight lid. Let sit for at least 8 hours, overnight is best. Shake from time to time to help the candies dissolve.
Spray two brownie square pans (or muffin tins or you can just make a pan of brownies).
Prepare brownies as directed on package, but add the TBSP of cinnamon to the mix.
Using an ice cream scoop, evenly distribute out the brownie among the squares. You should get 18-20 squares depending on how generous you scoop.
Place into a 350F oven and bake for 22-24 minutes depending on your oven…this is for square or muffin pans.
Remove from oven and let cool.
While cooling prepare frosting.
Strain whatever red hot candies are left in the cream. You should still have about a cup of cream.
Using a stand mixer with the whisk attachment, whisk on high the red hot infused cream until it makes the stiffest peaks you have ever seen.
Add the butter pieces, one at a time, whisk on medium-high speed until all the butter is infused. It will be less whipped looking now, that's okay.
Add the powdered sugar one cup at a time. You may need more powdered sugar if it still looks too runny.
Frost your brownie squares how you would like…top with sprinkles to be festive.
Like I said in the intro this frosting is on the softer side and so you will want to frost on FULLY cooled brownies and then place in the fridge for about 20 minutes after frosting to get them fully set up. If your house is cool you can keep them at room temperature. If your house runs warm I would keep them in the fridge so that the frosting doesn't run.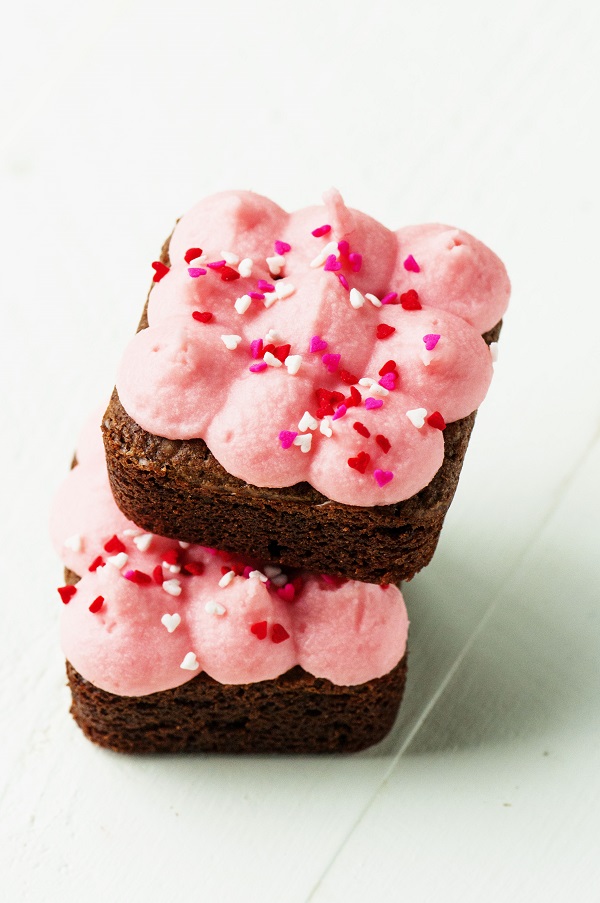 *this post contains Amazon affliate links that if you purchase something off Amazon while using that link will give this blog money to help keep it running. All the other links are just stuff I like.