Cinnamon Dolce Latte Brownies take one of my favorite coffee drinks and puts it in brownie form with a cinnamon layer and chocolate glaze.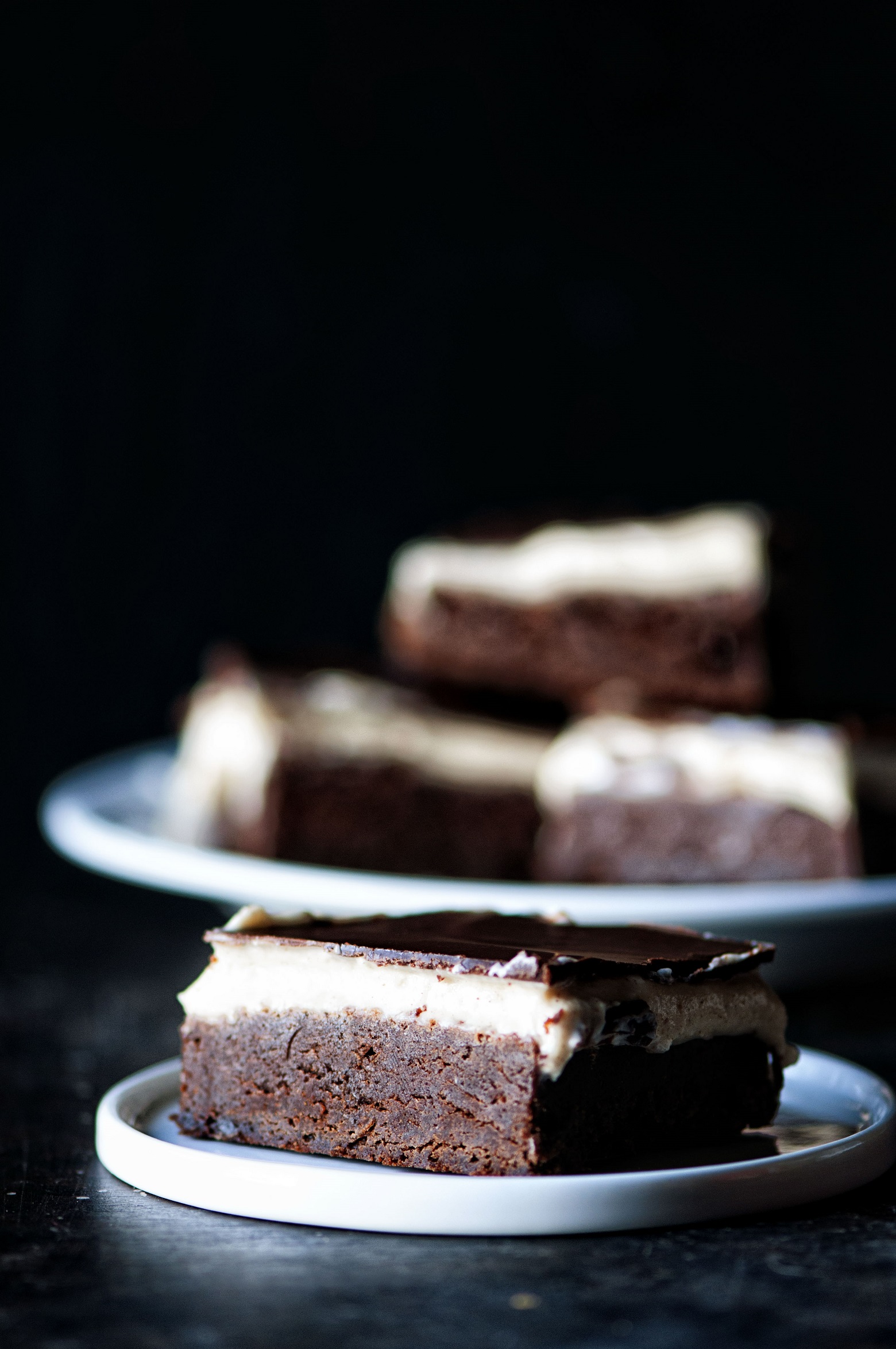 When I worked for Weight Watchers, if people were not already regular exercisers we would tell them to not exercise the first couple of weeks.
People found this highly odd.
After all, isn't getting in shape and losing weight about eating right AND exercise?
Yes, it is.
However, when you add too much to the pot it can become overwhelming.
Changing your eating habits and exercise habits at the same time is too much.
I'm watching my friends show their list of all they are going to accomplish this year and while I am all for goal setting I can't help but think back to my WW days.
They are going to lose weight…many doing Whole 30 and therefore giving up booze and sugar…and bread.
Drink 2 gallons of water a day.
Setting fitness goals of running a marathon.
Oh and they are going to declutter their whole house.
And give up smoking.
And the list goes on.
This year I encourage you to just pick one thing for right now.
Just one.
And start slow.
Ugh.
The NY Times had an article about the Biggest Loser Contestants.
How they gain the weight back.
Because they screw up their metabolism.
Dieting screws up your metabolism.
It screwed up mine.
I am one of those people who cannot handle being on a diet…I go to an unhealthy place.
By the time I had reached my goal weight on WW…the weight I needed to be a WW leader at, I was starving.
Because in order to get to that weight I had to take in less food.
But in order to lose weight I had to go below the recommended calories AND workout like a mad woman.
But hey…I was a size 2/4…for about an hour.
I would say at the end I was taking in about 500 calories a day and burning about 2000.
Just to maintain the weight loss.
When I told people this I was told I had amazing will power.
Ummm.
I then went through a divorce.
Even though I kept my calories around 1200 a day and exercised, I gained weight.
Because my body got used to thinking 500 calories was all it needed.
So when I doubled the amount of food to a whole 1200 my body freaked out.
Then I was like why am I starving myself to just gain weight?
Which made me eat whatever and gain even more.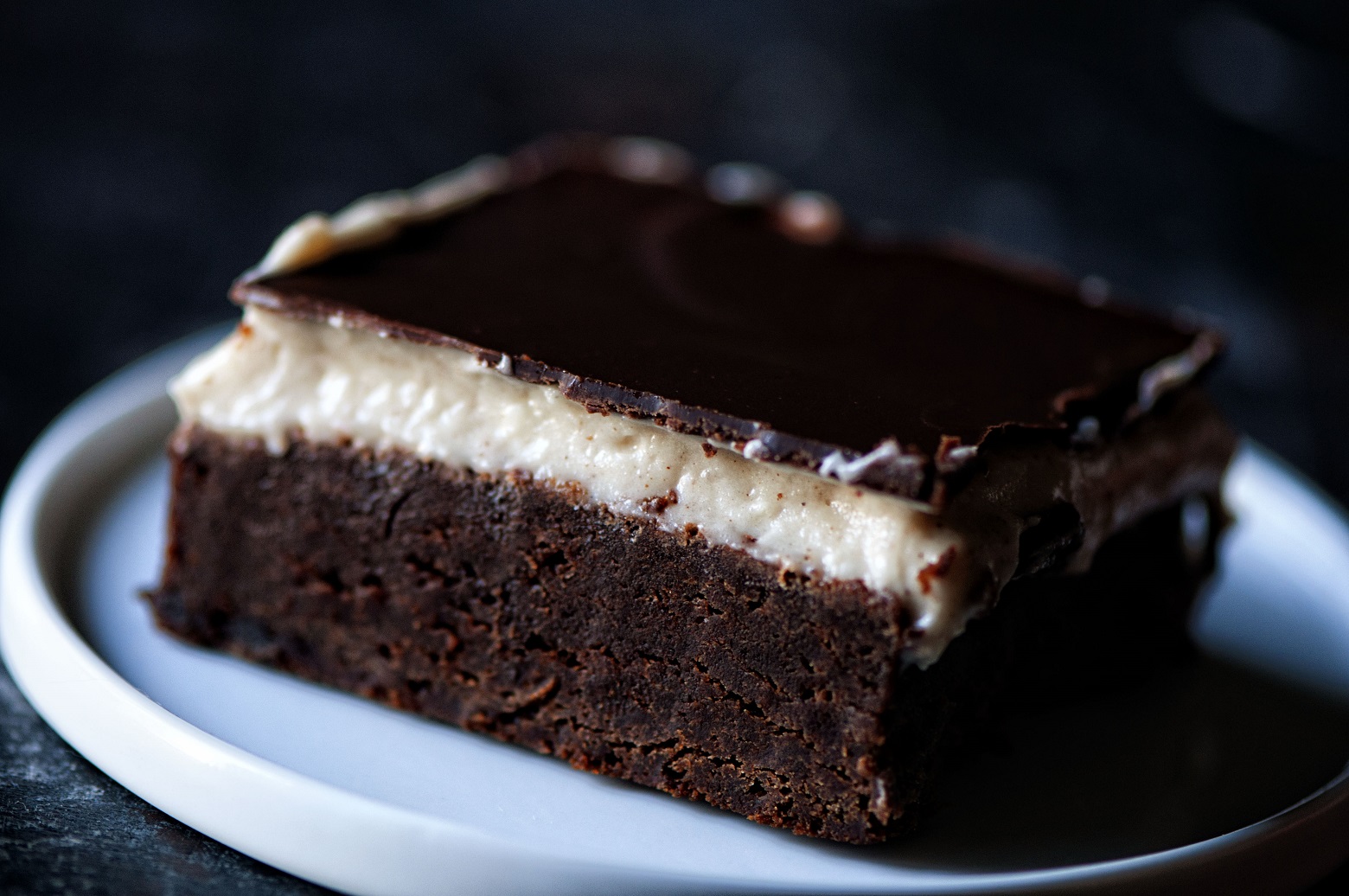 I read somewhere…and boy do I wish I could find the article, that the new suggestion is to lose 10% of your body weight.
So for example, if you weigh 190 pounds, you would lose 19 pounds.
Then…and here is the hard part…you are to maintain the weight for 6-8 months.
Yes, you read that right…stop dieting for 6-8 months after you lost 10%. Then once that time has passed…lose another 10% (if you need to).
Then take another 6-8 months maintaining that weight.
Supposedly, they have discovered that your body will reset itself and allow you to lose weight at a healthy amount of calories.
I'm not sure if it's true but I will say my friends who have lost weight and kept it off…and I mean without yo-yoing back and forth, lost weight over a period of years…not months.
So if you are dead set on losing weight this year…take it slow.
Think about the end game.
The short game can really screw you up in the long run.
Those of you not on a diet I present these Cinnamon Dolce Latte Brownies.
Which are based off one of my favorite drinks at Starbucks.
P.S. It's a great day to buy my cookbook Holy Sweet!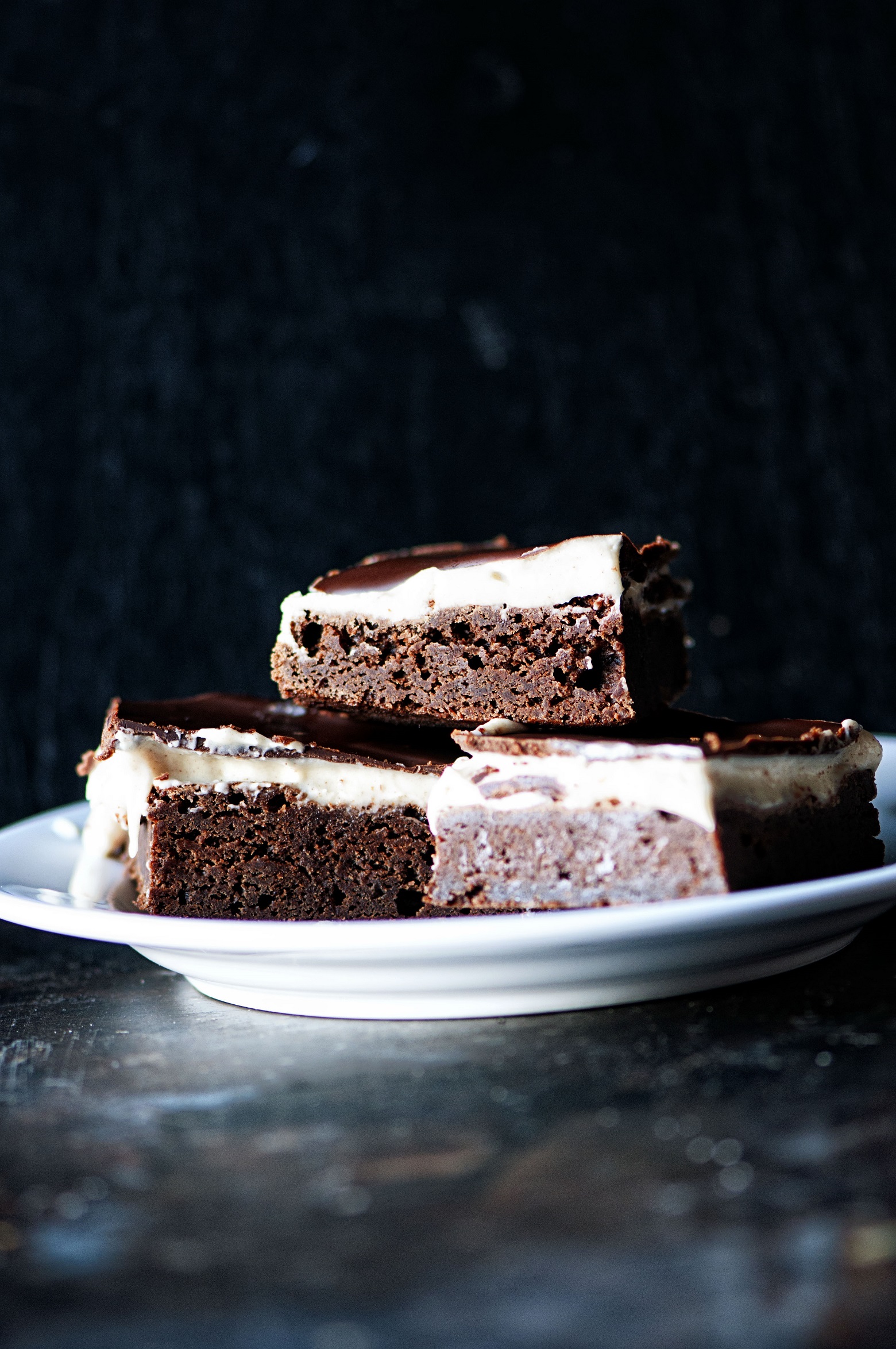 Want More Brownie Recipes?
Red Velvet Hot Chocolate Brownies
Marshmallow Crunch Brownie Bars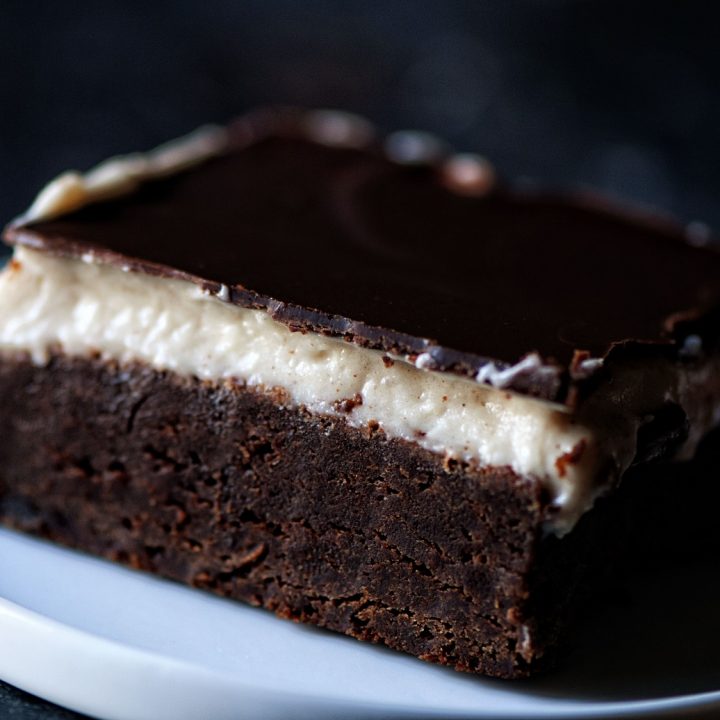 Cinnamon Dolce Latte Brownies
Ingredients
Coffee Brownie Layer:
1 TBSP boiling water
3 TBSP instant espresso powder
8 oz. unsalted butter, cut into 8 pieces
2 oz. unsweetened baking chocolate
7 oz. semisweet chocolate chips
4 large eggs
1 ½ cups granulated sugar
½ cup light brown sugar, firmly packed
1 tsp. salt
1 tsp. vanilla extract
1 ¼ cup all-purpose flour
½ tsp. baking powder
Cinnamon Dolce Layer:
8oz. cream cheese, at room temperature
3 oz. unsalted butter, at room temperature
Pinch of salt
2 cups powdered sugar
1 tsp. ground cinnamon
1 tsp. vanilla extract
Chocolate Top:
3oz. unsalted butter, cut into pieces
1 TBSP light corn syrup
6oz. semisweet chocolate chips
Instructions
For the brownies:
Preheat oven to 350F.
Line a 9-x-13-inch pan with either foil or parchment and spray with baking spray.
Mix the boiling water with the espresso powder, set aside.
Using a double boiler, melt the butter, unsweetened chocolate, and semisweet chocolate chips together.
Whisk until smooth.
In a large bowl, whisk together the eggs, sugars, and salt.
Starting with ¼ of a cup at a time, add the chocolate mixture to the egg mixture.
When all the chocolate mixture is incorporated add the vanilla extract and whisk until combined.
Add in the espresso powder that was dissolved in water.
Whisk until combined.
Add the flour and baking powder and mix until all the ingredients are fully combined.
Pour batter into prepared pan.
Bake for 25-27 minutes, until a wooden skewer inserted comes out clean.
Let cool on a wire rack for 15 minutes.
Then refrigerate overnight (or 7-8 hours).
Cinnamon Dolce Layer:
Using a stand mixer with a paddle attachment, beat together the cream cheese and butter until smooth.
Add powdered sugar, ½ cup at a time.
Beat until fully combined and smooth.
Add the cinnamon, salt, and vanilla.
Remove brownies from fridge and spread the cinnamon dolce layer evenly over the brownies.
Place in fridge while you make the chocolate top.
For the chocolate top:
Place butter and corn syrup into a small pan and heat over low heat.
Add the chocolate chips and stir until melted and smooth.
Pour the chocolate glaze over the cinnamon dolce layer and spread evenly.
Place in fridge for two hours to set up.