Better Than Sex Cupcakes have a yellow cake base filled with pineapple and coconut topped with vanilla pudding frosting and pecans.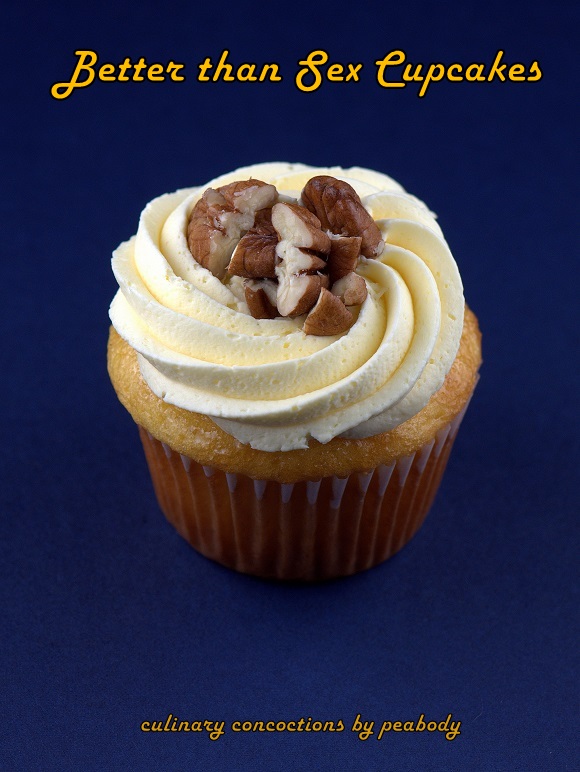 I met Jessie years ago when she invited me to her birthday party that they were having at a local cupcake shop.
I had already loved her Cakespy blog and we had communicated via email and what not but meeting her in person was the best.
If ever there was a more happy person (for real not the fake happy crap) and a more genuine person it is Jessie.
When my hubby and I went out to Philly she just happened to be living there at the time.
She met up with us for lunch one day while we were there.
After she left (she gave me great recommendations before my trip on where to eat and every place was spot on delish!)
My hubby turned to me and said that's the type of person you hope succeeds in life.
And indeed I do!
To help her succeed I went down to see her while she was here in Seattle.
You know I love someone when I drive at the peak of traffic into town and then have to parallel park. 🙂
She was decked out in head to toe turquoise…right down to her turquoise cowboy boots!
And me I was wearing my Optimus Prime T-shirt and Hello Kitty Vans because that's just how we are, we are both pretty confident in who we are as people.
She gave a cooking demo at the super cute Book Larder where she told the Secret Life of Better Than Sex Cake while making samples for us to eat.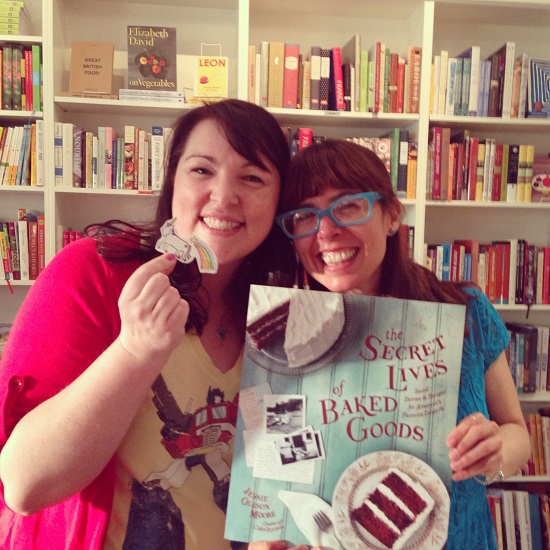 Yeah, it will make you giggle, but it's tasty all the same.
She made the more traditional version (but also gives the chocolate version in her book…but I like this pineapple version the best).
Her new book, The Secret Lives of Baked Goods: Sweet Stories & Recipes for America's Favorite Desserts
looks at the stories behind some famous and not so famous desserts.
It's interesting to learn the origins of the desserts, as if you are anything like me you like a good story to go along with the recipe.
This book is all that and more.
When I went to get my copy signed I brought my unicorn that she had made for me awhile back because it's so darn cute and instead of getting my copy signed I asked for her to draw me a unicorn playing hockey.
And she did!
I'm pretty sure this is the coolest book signing I've ever attended.
There are not too many cookbook authors who can draw you a hockey playing unicorn!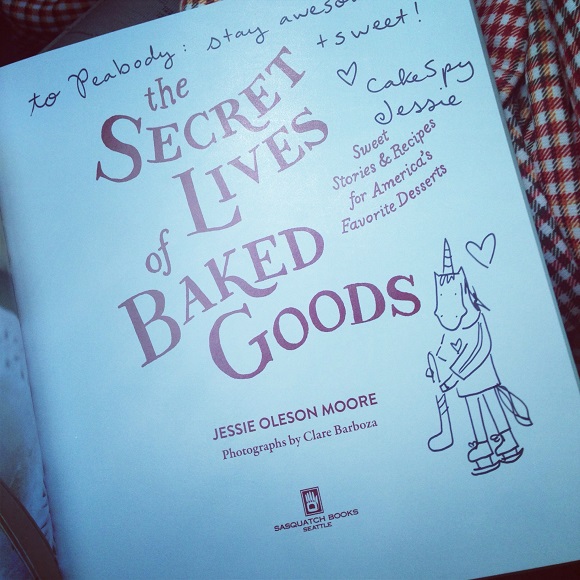 So in honor of Jessie while she is out promoting her book I made my version of the Better than Sex Cake but in Cupcake Form.
Better Than Sex Cupcakes.
The pineapple goes in the cupcakes as does the toasted coconut.
Instead of white sugar I went with pineapple juice and brown sugar (so glad I did) and instead of pudding and then whipped cream I just combined the two together and topped with pecans.
I'm not sure how close these taste to the original but I will say they are darn good.
Better than sex….well…I guess that depend on who you are partnered up with. 😉
And don't forget that Jessie has her first book CakeSpy Presents Sweet Treats for a Sugar-Filled Life
which is as fun and whimsical as she is.
To see my interview with her about her first book go here.
P.S. It's a great day to buy my cookbook Holy Sweet!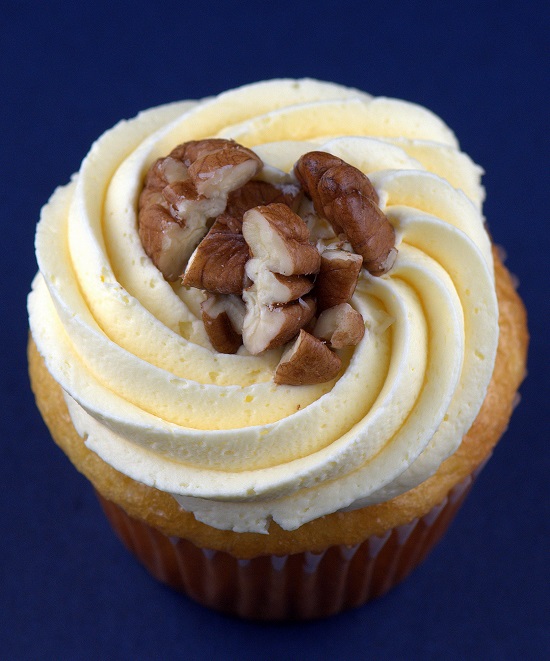 Want More Cupcake Recipes?
Dark Chocolate Butterfinger Cupcakes
Strawberry Buttercream Neapolitan Cupcakes
Key Lime Toasted Coconut Cupcakes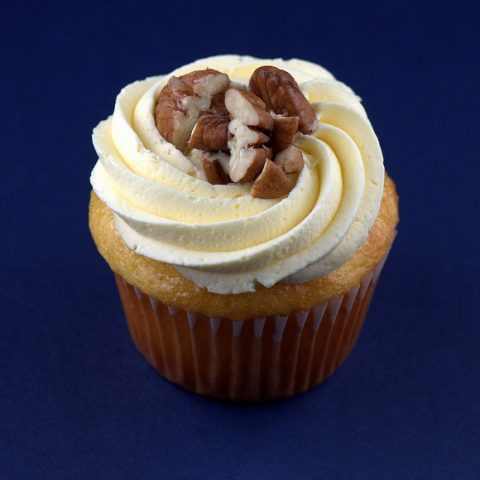 Better Than Sex Cupcakes
Ingredients
1 (18.25-ounce) box yellow cake mix, plus ingredients to prepare
1 (20-ounce) can crushed pineapple, drained keeping the remaining juice
½ cup brown sugar, tightly packed
½ cup powdered (box) vanilla pudding
1 1/2 cups heavy cream
½ cup flaked, sweetened toasted coconut
½ cup pecans, chopped and toasted
Instructions
Preheat oven to 350 degrees F.
This will take two muffin tins but only makes 16 cupcakes. Line with liners.
Prepare yellow cake mix as directed. Fold in the pineapple and toasted coconut.
Bake in a 350F oven for 18-22 minutes depending on your oven.
While cupcakes are baking, in a small saucepan add the remaining juice and brown sugar.
Cook over medium-low heat while it forms syrup like consistency.
Remove cupcake from oven and using a skewer, pierce holes into cupcakes (about 5).
With a pastry brush, dab pineapple mixture over hot cupcakes and set aside. They will get messy but it's worth it.
While cupcakes are cooling make the pudding whipped cream frosting.
Whip heavy cream until stiff. Add the pudding and whip until fully incorporated.
When cool, pipe frosting onto the cupcakes.
Sprinkle pecans on top.