This Cadbury Crème Egg Ice Cream is made with melted Cadbury Creme Eggs to create an amazing smooth ice cream.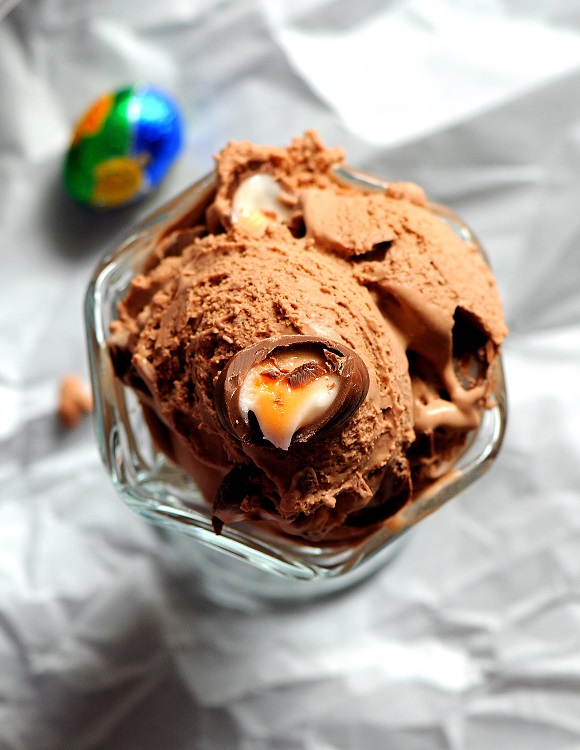 I'm a lazy blogger.
But I'm a lazy blogger who wanted to make Cadbury Crème Egg Ice Cream.
I like to see if the recipe is already out there that I can make and modify.
Coming up with a recipe from scratch takes time darn it all.
Which is why I have to laugh when the people on all these Facebook Pages that steal photos and post the recipes and say they are just recipes.
Truthfully I don't get that upset over the recipe as I do the photo.
When I asked the one girl why she doesn't just make the recipe herself, photograph it, then post her own photo…she told me IT WAS TOO HARD.
Yeah, no kidding. Especially when shooting ice cream…it likes to melt!
Anyway I decided I wanted to make Cadbury Crème Egg Ice Cream this year.
So I Googled it.
Got excited when I read that it's actually an ice cream flavor already….in England.
Boo.
Now I know how my over the seas peeps feel most of the time.
Then I researched even more and found out it was more of the fondant flavor than chocolate and realized that wasn't what I wanted at all.
So even if I could get it, the flavor combo was not what I wanted.
To the drawing board I went.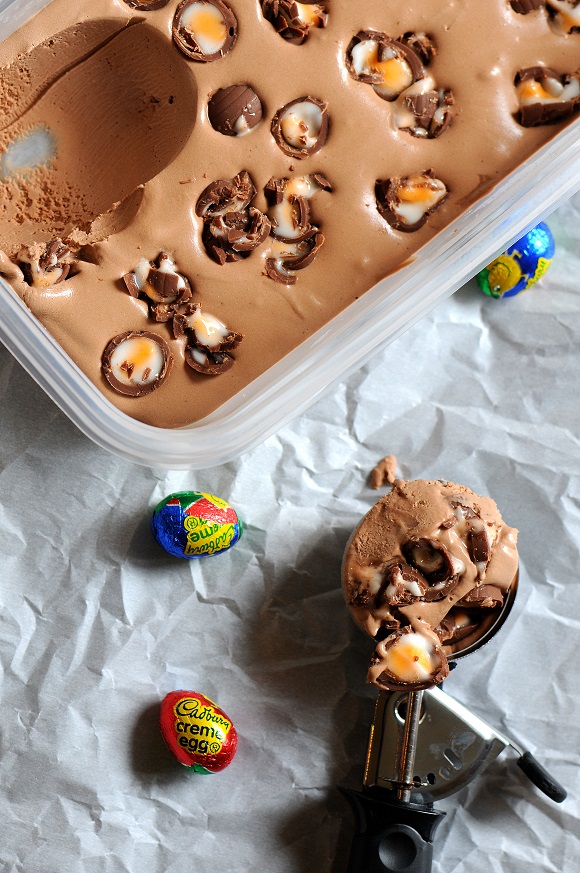 I decided that I wanted to melt down the Cadbury Eggs and have that be the base so to speak.
Since I wanted more chocolate than fondant I went with the small Cadbury Crème Eggs (like the one in my pictures).
I used half eggs and then half Cadbury milk chocolate (I got tired of unwrapping…told you I was lazy).
I happen to have some Cadbury milk chocolate from Canada but if you have a Cost Plus World Market near you they normally carry it there.
If you have to you can just use regular milk chocolate but it's not the same.
I'm going to guess that it is the fondant in this that makes the ice cream so smooth but holy cow this stuff is good and I'm not even that big of a Cadbury Crème Egg fan.
You do need an ice cream maker for this.
Like I have said before they are pretty inexpensive and totally worth it…Summer is on its way.
I got a request to make Cadbury Crème Egg fudge that I am considering making…but for now this ice cream will have to do.
And by do I mean make your tummy and taste buds love.
Last but not least it's a great day to buy my cookbook.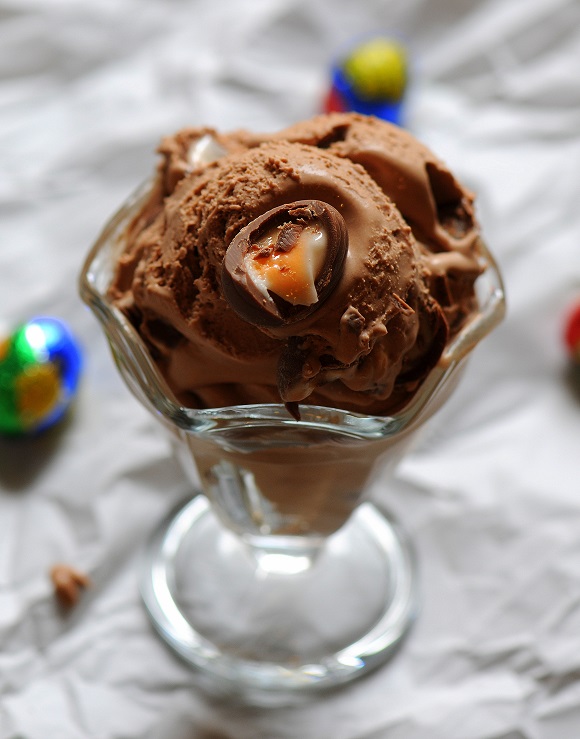 Cadbury Egg fan? Try these:
Cadbury Caramel Egg Marshmallow Pie
Cadbury Creme Egg Creme Brulee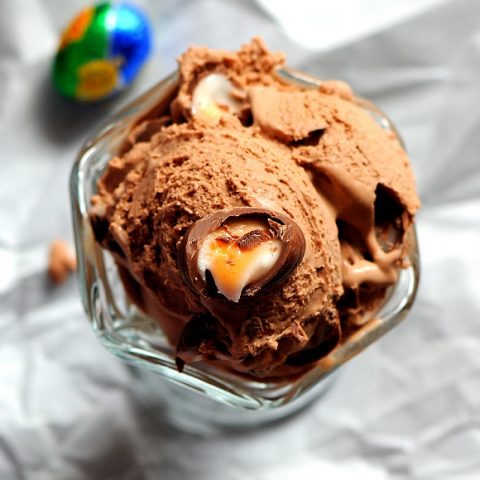 Cadbury Crème Egg Ice Cream
Ingredients
3 1/2 cups heavy cream
1/4 cup cocoa powder (Dutch-process or Natural)
3/4 cup granulated sugar
Pinch salt
2 TBSP corn syrup
1 TBSP plus 1 tsp. cornstarch
4 oz. milk chocolate
8 oz. Cadbury Crème Eggs (the small ones), chopped (and unwrapped) and divided
1 tsp. pure vanilla
Instructions
In a non-reactive sauce pot, whisk together 2 cups cream, cocoa, sugar, corn syrup, and salt; mix until smooth.
In a small bowl whisk together ¼ cup cream with the cornstarch to make slurry, set aside.
Add the chopped chocolate and 4 oz. of the Cadbury eggs and whisk until completely smooth. Remove from heat.
Add the remaining cream, cornstarch slurry, and vanilla.
Whisk to combine.
Pour the mixture into a 1-gallon resealable plastic freezer bag and submerge the sealed bag in the ice bath.
Let stand, adding more ice as necessary, until the mixture is chilled through, about 30 minutes.
Pour the ice cream base into the ice cream maker and process until thick and creamy per the machine's instructions.
Pack the ice cream into a resealable container (I like a long rectangular shape) then sprinkle with additional 4 oz. of Cadbury Crème Egg pieces.
Cover and freeze for at least 4 hours.
This ice cream is ridiculously smooth! The kids loved it soo much and could not get over how creamy it was.