Cadbury Caramel Egg Marshmallow Pie is a light and fluffy, caramel, and chocolatey pie made using Cadbury Caramel Eggs.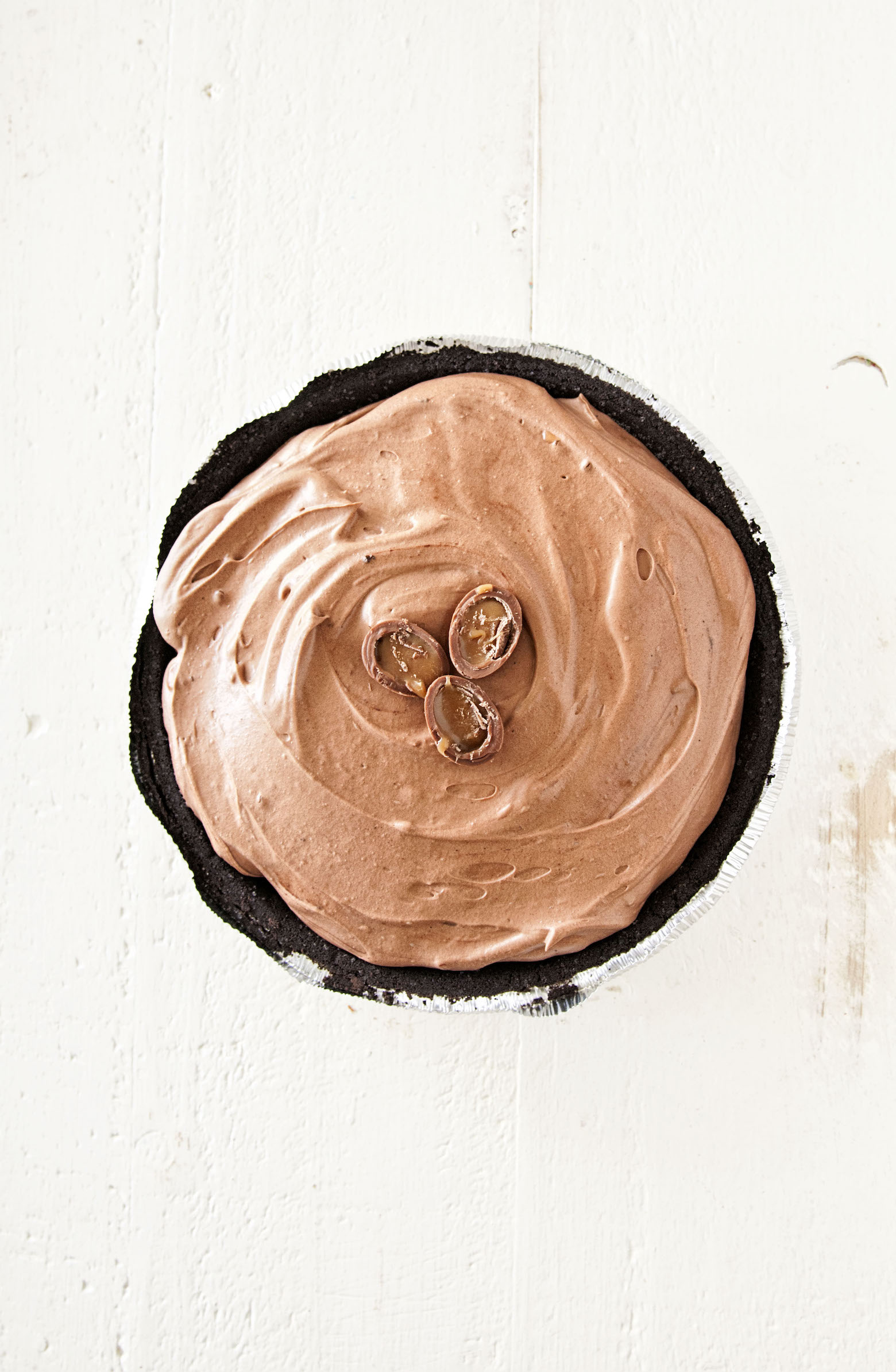 Hopefully the Easter bunny was nice to you and brought you lots of treats.
And if not, remember that the day after Easter there are usually good sales on Easter candy. 🙂
Be sure to stock up on Cadbury Caramel Eggs as you are going to want make this Cadbury Caramel Egg Marshmallow Pie.
The best part about it besides how easy it is to make is that it's no bake.
Which as we roll into warmer weather becomes super important as no one wants to turn the oven on when it's warm.
Plus you can use a store bought pie crust.
I found mine for $.89…you can't pass that up.
While I do love Cadbury Caramel Eggs my favorite candy at Easter time still remains the classic jelly bean.
I eat them year round.
From classic Jelly Bird Eggs to Jelly Bellies to Starburst All Strawberry Jelly Beans I pretty much love them all.
Even the black jelly beans.
Which I can't eat all the time but if the mood strikes I enjoy them.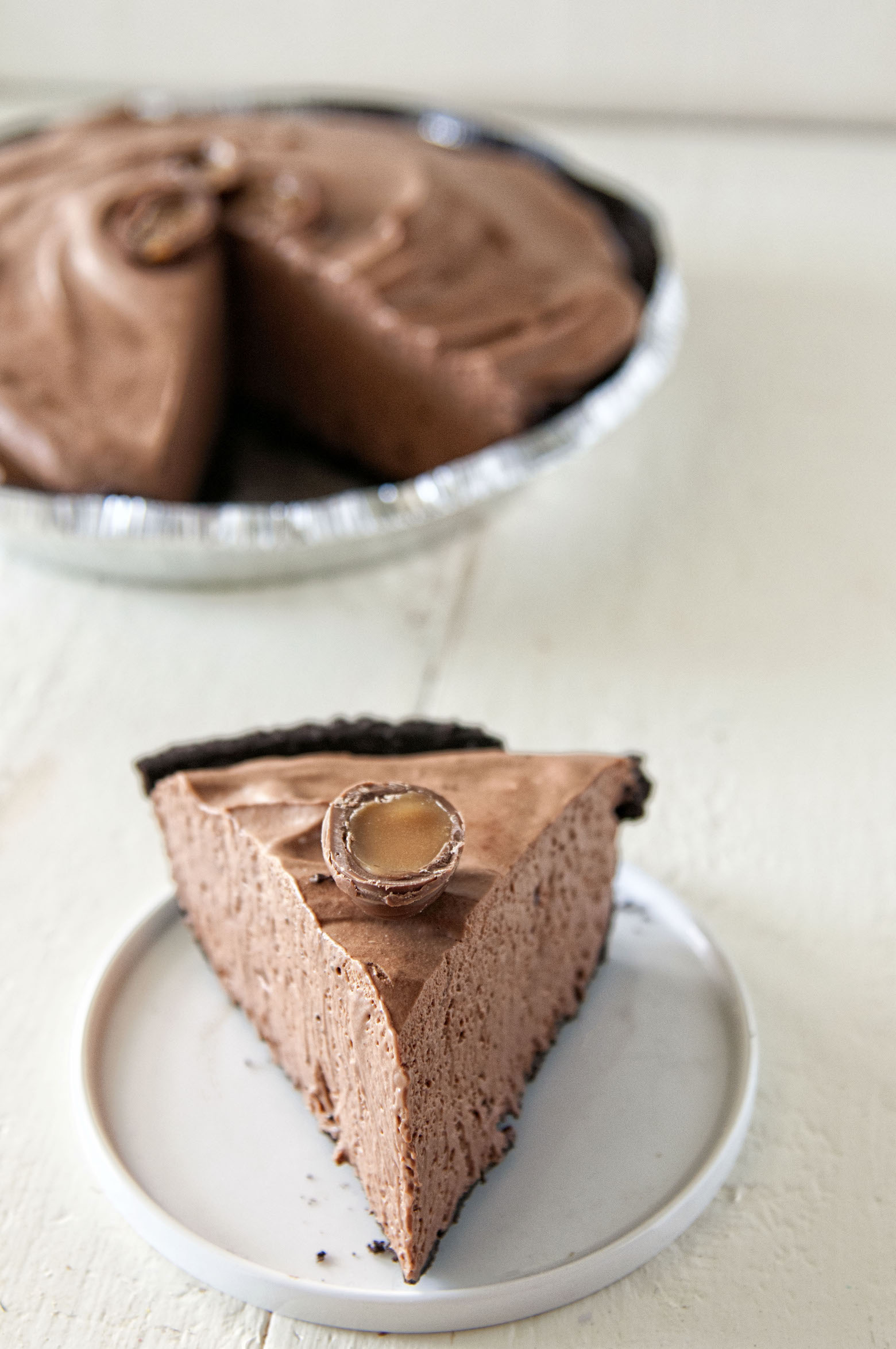 One time I DO NOT enjoy them is when it's kind of dark and I think I'm going to be eating a purple jelly bean and BAM it turns out to be black licorice.
I have to be mentally prepared for the licorice flavor. 😀
Oh and as a side note I had a couple people ask me if the Tofu Quiche I was making on Instagram stories was an early April Fool's Joke?
It's not.
That's how we eat most of the time.
Mostly plant based (aka Vegan).
It's for my husband's heart.
While a Quiche Lorraine sure does taste way better than an asparagus tofu quiche I like the idea of my husband living far more than I do eating a Quiche Loraine. 😀
I'm weird like that.
Anyway, so no.
Not a joke.
Just how we eat.
I still eat butter and cream…but only in my baked goods and not everyday.
And last but not least it's a great day to buy my cookbook.
Want More Cadbury Egg Recipes?
Yummy Cadbury Caramel Egg Banana Cupcakes
Rich Cadbury Caramel Egg Creme Brulee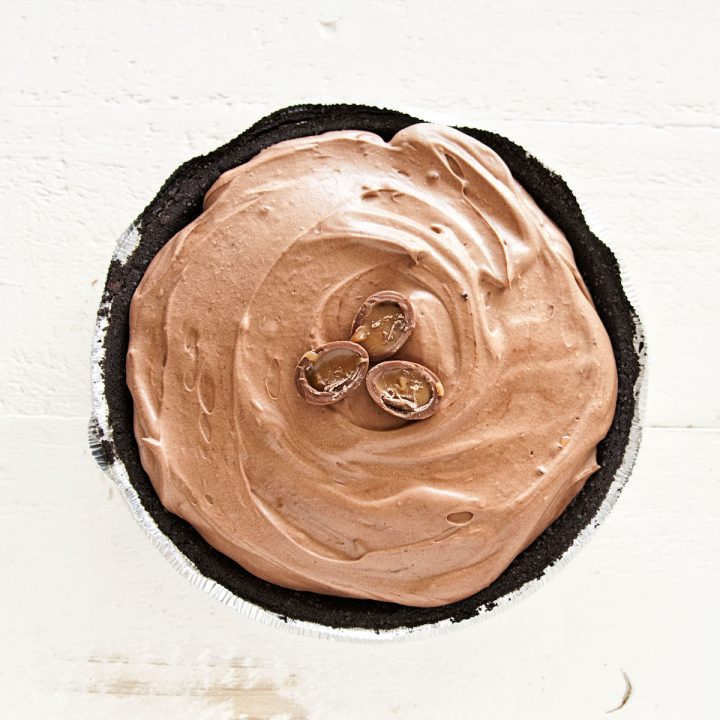 Cadbury Caramel Egg Marshmallow Pie
Ingredients
1 envelope unflavored gelatin
1 cup cold water, divided
1 tsp. vanilla extract
8 ounces Cadbury Caramel Eggs, melted over a double boiler
1 TBSP unsweetened cocoa powder
1 cup Marshmallow Cream (Fluff)
Pinch of salt
2 cup heavy whipping cream, whipped
1 Chocolate Crumb Crust (mine were on sale for $.89 so I didn't bother to make one)
Instructions
In medium saucepan combine ½ cup cold water and gelatin; let stand 1 minute.
Cook stirring constantly, until gelatin is completely dissolved. Remove from heat.
Stir in vanilla, salt, and remaining water.
Beat in melted Cadbury Caramel Eggs and marshmallow cream.
Chill until mixture mounds when dropped from spoon (this was about 20 minutes).
Fold in whipped cream.
Mix until fully incorporated.
Turn into crust. Spread evenly and top with extra Cadbury Caramel Eggs if desired.
Refrigerate for at least 4 hours.
Serve cold.