Amazingly creamy this Cadbury Crème Egg Creme Brulee is made with melted Cadbury Crème Eggs to make this dessert extra decadent.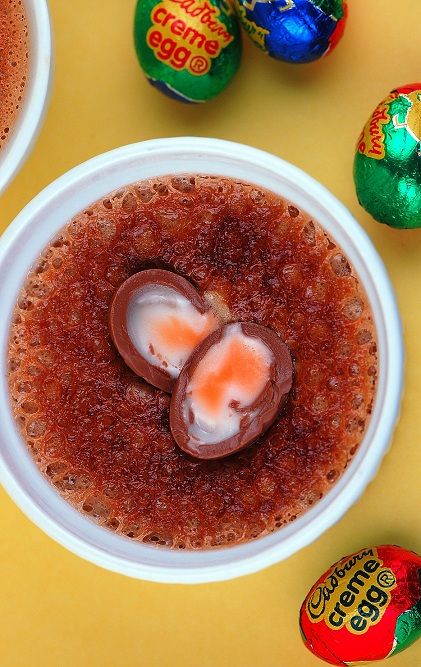 My husband and I were roaming the aisles of our local Rite Aid in search of Mini Cadbury Crème Eggs.
Found them obviously. 😀
In doing so we were picking up all sorts of candy and commenting.
One of the candies were Prayer Jelly Beans.
"Reaching the World One Piece at a Time"…it's up on my Facebook page if you care to see those.
The other thing we were commenting on were the Brach's Chicks and Rabbits Marshmallow Candy which we both agreed we secretly loved.
I sat there staring at them and he was like don't buy those we will eat them in one sitting.
Which is true. 😛
I told him though that I wondered if I could make anything with them.
He told me he doubted that.
I told him they were just like Circus Peanuts and that I once made Circus Peanut Ice cream…and I kind of almost shouted it.
Except I didn't say Peanuts.
I said something that sounded like peanuts.
Meant to say peanuts.
It didn't come out as peanuts.
Sadly it came out as an ice cream flavor I don't ever want to eat.
My husband turned bright red and quickly fled from the aisle as quickly as he could.
I decided to put the candy back after that.
Somehow making it into an ice cream was no longer appealing. 😉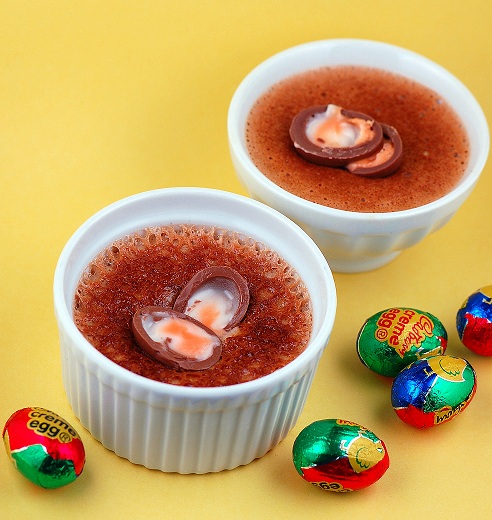 But I still wanted to make Cadbury Crème Egg Crème Brulee.
I searched the internet only to find that someone made what they called Cadbury Crème Egg Crème Brulee only for me to be greatly disappointed.
It was crème brulee that they just stuck and egg in.
While I am sure tasty, a little bit of a cop out in my opinion. 🙂
I figured it would taste way more like a crème egg if there was actual crème egg throughout the custard…and it does.
It is pretty sweet but then again if you are eating the crème eggs whole it's actually less sweet than that…so I take that back. 😛
My back-up goalie really wanted these.
He called me evil when I told him I was making them.
I told him he could come get them…not sure if he is going to take me up on that.
If not, I have a feeling they can find a home.
And last but not least it's a great day to buy my cookbook.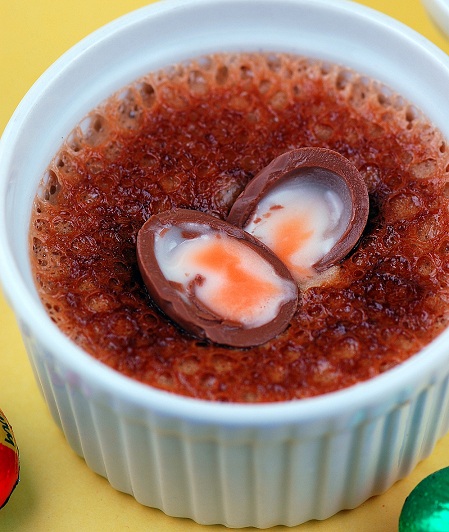 Want More Cadbury Egg Recipes?
Cadbury Caramel Egg Marshmallow Pie
Yummy Cadbury Caramel Egg Banana Cupcakes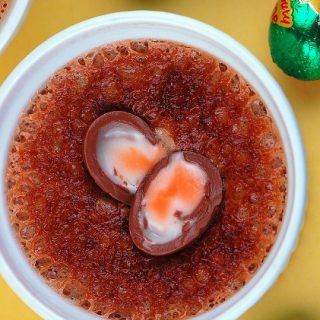 Cadbury Creme Egg Creme Brulee
Ingredients
4 ounces Mini Cadbury Crème Eggs (unwrapped...I know this seems obvious but I had a reader once not do it and complained I didn't explain that), chopped up
1 cup heavy cream
3 egg yolks, at room temperature
¼ cup granulated sugar
¼ tsp. vanilla extract
Instructions
In a medium bowl whisk together the egg yolks, sugar, and vanilla extract.
Using a double boiler or a saucepan with heatproof bowl over it, melt the Cadbury crème eggs. They won't totally melt like normal chocolate because it's got fondant in it. It will make a nice warm blob…go with that. Place into a blender…yep, blender.
In a small saucepan, bring cream to a boil.
Once at a boil remove from heat.
Take ¼ cup of the cream and pour into egg mixture while whisking the whole time. You are tempering the eggs so they don't scramble on you.
Keep doing this ¼ cup at a time until all the cream is whisked in. Pour mixture into blender and let sit for a minute.
Turn blender on low at first and then up to high, you want the chocolate fully incorporated into the cream/egg mixture. You don't want chunks but the end of the world won't happen if you do.
Pour into 3-4 (depending on how big yours are…I got 4) leaving just a little room.
Place them into a 9-13-inch pan and fill half way up the ramekin with hot water making them a little water bath.
Bake at 300F for 30-37 minutes depending again on the size of your ramekins.
I had one slightly smaller on and that took 34 minutes the other three took 37. You just need to watch it. You want it firm but with a little jiggle in the middle.
Remove from oven and from water bath and let sit for about 5 minutes.
Then while still warm add the extra egg on top. It will sink a little…that's okay.
You will notice this says brulee and looks it. The fondant makes it look that way. These don't actually get tourched unless you want it.
And if you do want that, do it after they have been in the fridge for 4 hours.