Cadbury Creme Egg Patties: Similar to a peppermint patty, these Cadbury Creme Egg Patties are a fun tribute to the beloved Easter candy. Vanilla flavored patties covered in chocolate and topped with mini Cadbury Creme Eggs.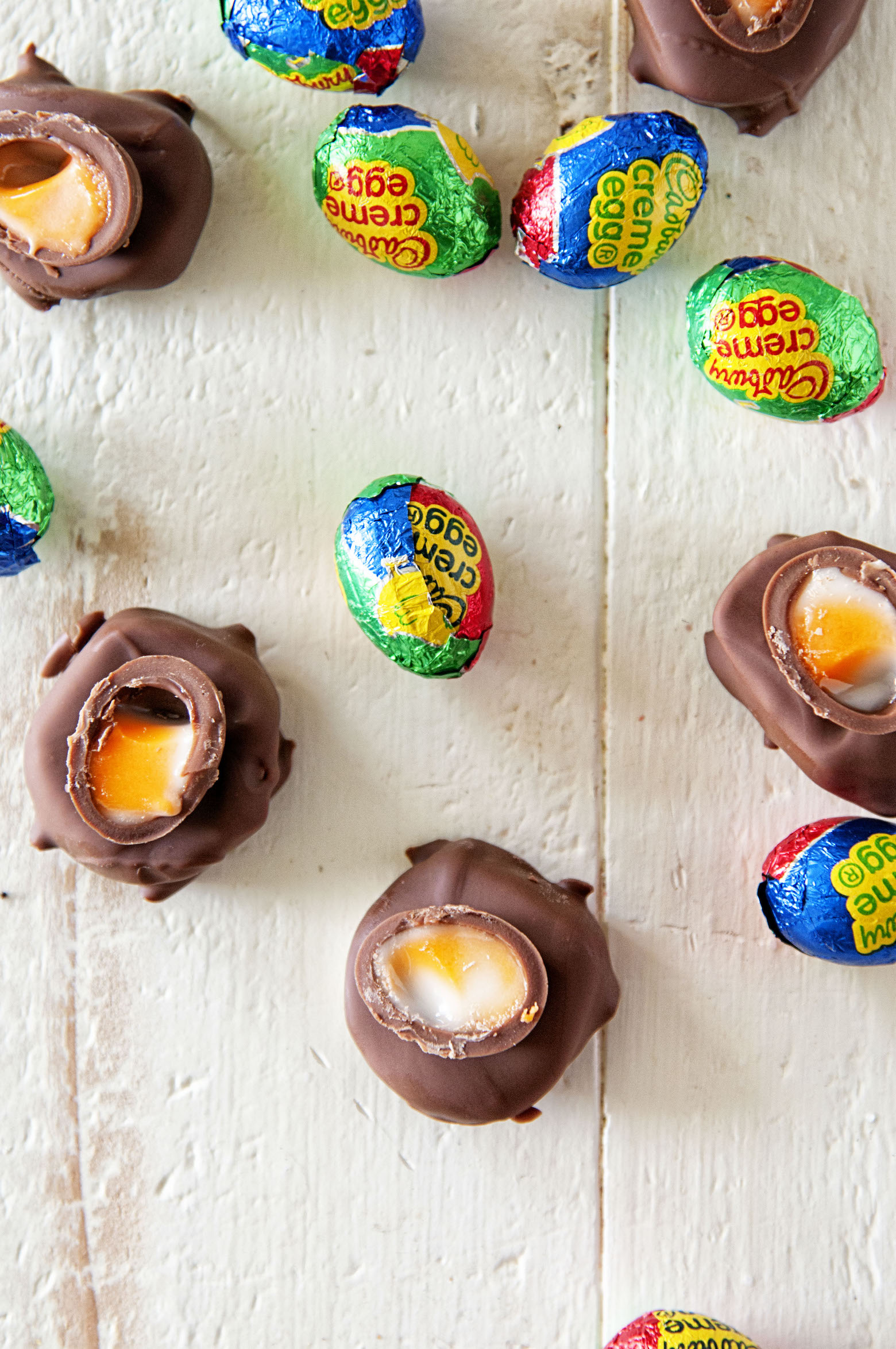 So you may recall last summer I participated Summer Dessert Week which was a lot of fun and helps drive my creativity.
This year they decided to have #EasterSweetsWeek and I jumped on board again.
Disclaimer: I did get some freebies from companies to use in the recipes, example this recipe I used Dixie Crystals powdered sugar they sent me.
But the main reason I participate because it's fun.
Oh, and I get to make Easter sweets…which I love.
I love making sweets with Cadbury Creme or Caramel Eggs.
I've made quite a few things on the blog using them.
Therefore, all of my treats this week will be made with them. 🙂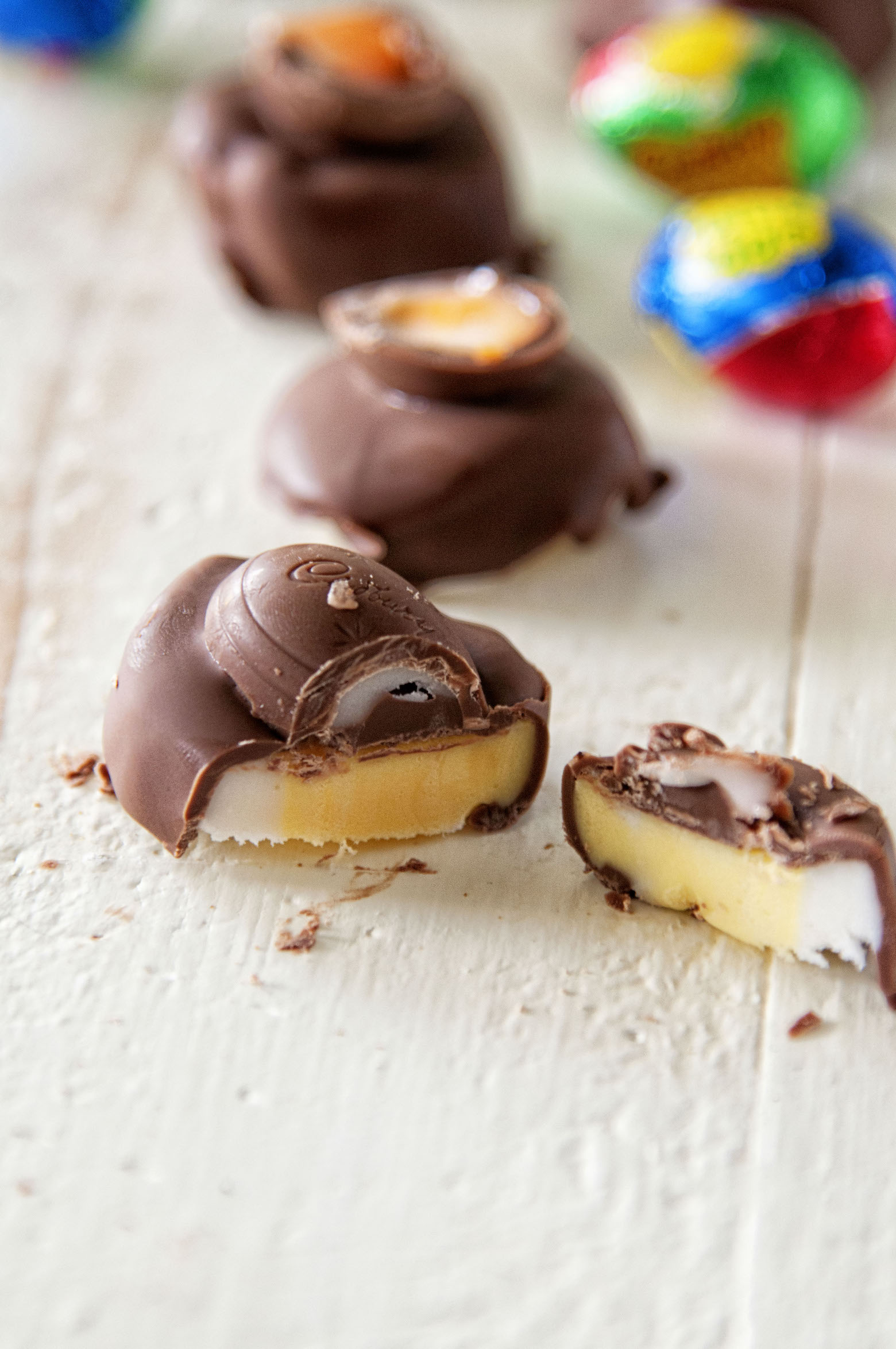 I'm not sure what made me want to make these candies but I have had the idea in my head for awhile.
These are similar to a peppermint patty…except there is not mint…it's vanilla.
Mini eggs have more of an orange center which I would have made but turns out I used all my red food coloring when I made red velvet cookies.
Oops. Feel free to make your centers more orange than yellow. 😀
My candy dipping skills are just as bad as always but these were fun to make.
You don't need to have the mini Cadbury Creme Eggs on top but they do make these more festive.
And last but not least it's a great day to buy my cookbook.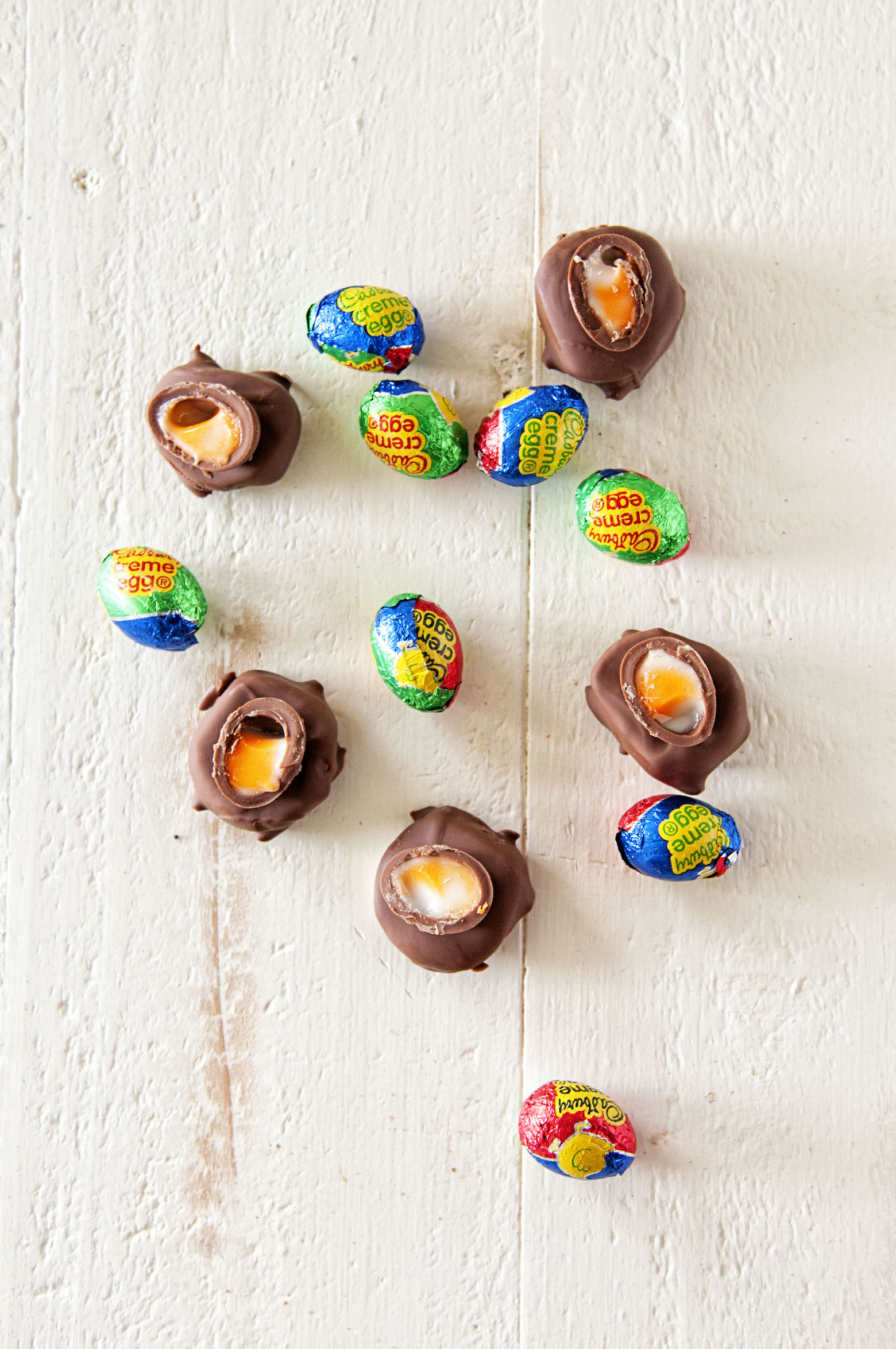 Want More Cadbury Recipes?
Cadbury Caramel Egg Marshmallow Pie
Yummy Cadbury Caramel Egg Banana Cupcakes
Rich Cadbury Caramel Egg Creme Brulee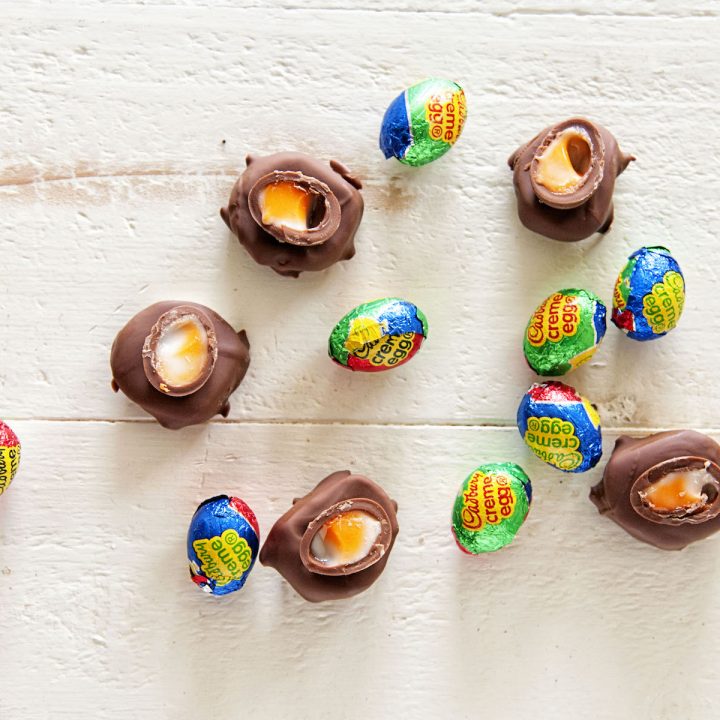 Cadbury Cream Egg Patties
Ingredients
⅓ cup light corn syrup
5 TBSP unsalted butter, softened
1 tsp. Vanilla extract
Pinch of salt
4-5 cups powdered sugar
Yellow food coloring
12 oz milk chocolate chips
3 oz vegetable oil
12 mini Cadbury Creme Eggs Split in half (so you will have 24)
Instructions
Combine corn syrup, butter, extract, salt in a mixer with a stand mixer using the paddle attachment. Beat until the ingredients are combined.
Add 1 cup of powdered sugar at a time until mixture is too stiff to stir.
Add more powdered sugar and knead mixture until it no longer sticks to the sides of the bowl, adding more powdered sugar as necessary.
Remove half of the candy mixture and put on a baking pan lined with parchment paper.
Add food coloring to the remaining mixture and mix until the color is evenly distributed.
Roll out or use your hand to flatten (that's what I do) the white candy mixture into a rectangle about 12-x-5 inches.
Roll the yellow candy mixture into a long log and place it in the middle of the rolled out white candy.
Take the white candy and wrap it around the yellow candy log so that it looks like a bullseye.
Wrap in parchment or plastic wrap and freeze for two hours.
Remove and slice into 1/2 inch patties. You will get about 24.
Flatten and shape a little more round if desired.
Cover with another sheet of waxed paper and refrigerate for 60-90 minutes or until firm.
Using a microwave safe bowl add the chocolate chips and oil.
Heat in 30 second increments until it can be stirred completely smooth. Let rest for a few minutes.
Dip the candies into the melted chocolate with a fork, tap off the extra, and place back on waxed or parchment paper.
Place a half a mini Cadbury Creme Egg on top while still warm so it will stick.
Repeat until all candies have been coated.
Let candies set up until chocolate is firm before storing in an airtight container.
Disclaimer: These posts and recipes are part of the week long event, #EasterSweetsWeek but all opinions are 100% mine! We would like Thank our amazing sponsors: Dixie Crystals, Adam's Extract, Rainier Fruit, Anolon and Microplane! These wonderful sponsors provided the prize packs for our giveaways and also sent samples and products to the #EasterSweetsWeek bloggers to use in their recipes.