Cadbury Creme Egg Pie: Fluffy, Chocolatey pie made with Cadbury Creme Eggs, Marshmallow, Gelatin, and whipped cream all in a chocolate cookie crust.
Dear Victoria Secret,
First off, thank you so much for caring and taking the time to write me every day (sometimes twice a day) it really does mean a lot to me that you care so much about me and my undergarment choices.
That being said, you clearly have not seen a photo of me as of late.
Because if you did you would know that the pink dental floss you are calling underwear would look insanely horrid on me.
For I am on 120mg of Prednisone a day which is not kind to the body.
And even before that I was not what one might call model shape. 🙂
Let me let you in on a little secret of my own Victoria…I eat food.
I know your models have learned to live on Sugar Free Red Bull, cigarettes, coke, and air, but that bandwagon is not for me.
And therefore sending me photos day in and day out of barely clothed women isn't going to inspire me to run and buy your clothing.
And though it should probably inspire me to not eat for the next six months that isn't going to happen either as I know their bodies are ridiculous and non-attainable to most women (without extreme measures).
Supermodels never seem happy anyway.
Well, when they are photographed high or drunk sure.
And they suck in bed, or at least that's what this study says.
So kindly remove me from your mailing list.
I keep asking.
I moved you over to spam but still have to clear that out.
And there you are next to the Sur La Table spam, which I don't mind but my pocket book does.
Yours truly,
Peabody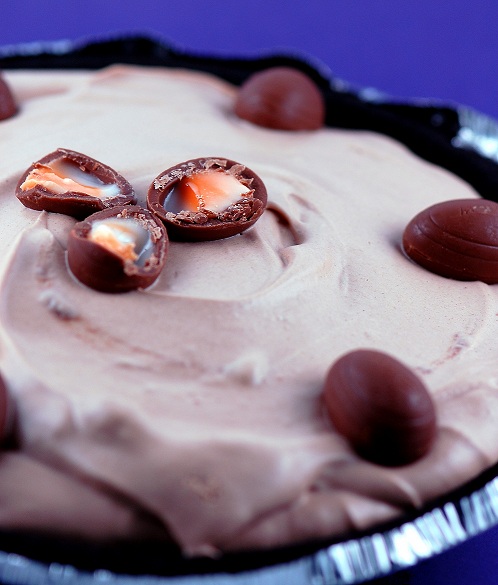 Another reason my body will never be in shape for barely there wear….this Cadbury Creme Egg Pie.
Though you would think this pie would be super sweet or rich, it surprisingly isn't…well at least to me.
My oh so nice best friend was more than happy to comment "aren't you a pastry chef?" which I replied that I was NOT and to shut up and just try it.
Which he did. And ate the piece quickly.
Followed by a much larger piece and my point was proven. 😛
You will want to use the mini ones on this.
If you use the big ones you will have more fondant flavor than chocolate.
Which you may want.
But if you don't then I would maybe add more milk chocolate if you can only find the large ones.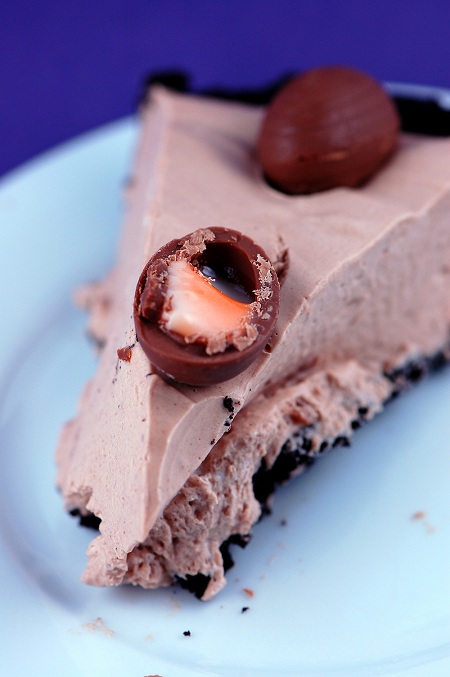 Like Cadbury Egg Recipes?
Cadbury Caramel Egg Banana Cupcakes
Cadbury Caramel Egg Marshmallow Pie
Cadbury Creme Egg Creme Brulee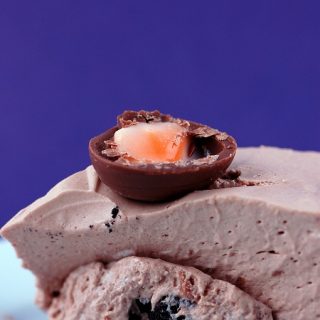 Cadbury Creme Egg Pie
Ingredients
1 cup cold water, divided
1 tsp. vanilla extract
10 ounces Mini Cadbury Cream Eggs (this was about 22 of the small version), melted over a double boiler
1 cup Marshmallow Cream (Fluff)
2 cup heavy whipping cream, whipped
1 Chocolate Crumb Crust (mine were on sale for $.79 so I didn't bother to make one)
Instructions
In medium saucepan combine ½ cup cold water and gelatin; let stand 1 minute.
Cook stirring constantly, until gelatin is completely dissolved. Remove from heat.
Stir in vanilla and remaining water.
Beat in melted Cadbury Eggs and marshmallow cream.
Chill until mixture mounds when dropped from spoon (this was about 2o minutes).
Fold in whipped cream. Mix until fully incorporated.
Turn into crust. Spread evenly and top with extra Cadbury Cream Eggs if desired.
Refrigerate for at least 4 hours. Serve cold.