Cadbury Caramel Egg Creme Brûlée: Rich and velvety creme brûlée using Cadbury Caramel Eggs make for a chocolate caramel custard topped with sugar and a mini Cadbury Caramel Egg which are then torched.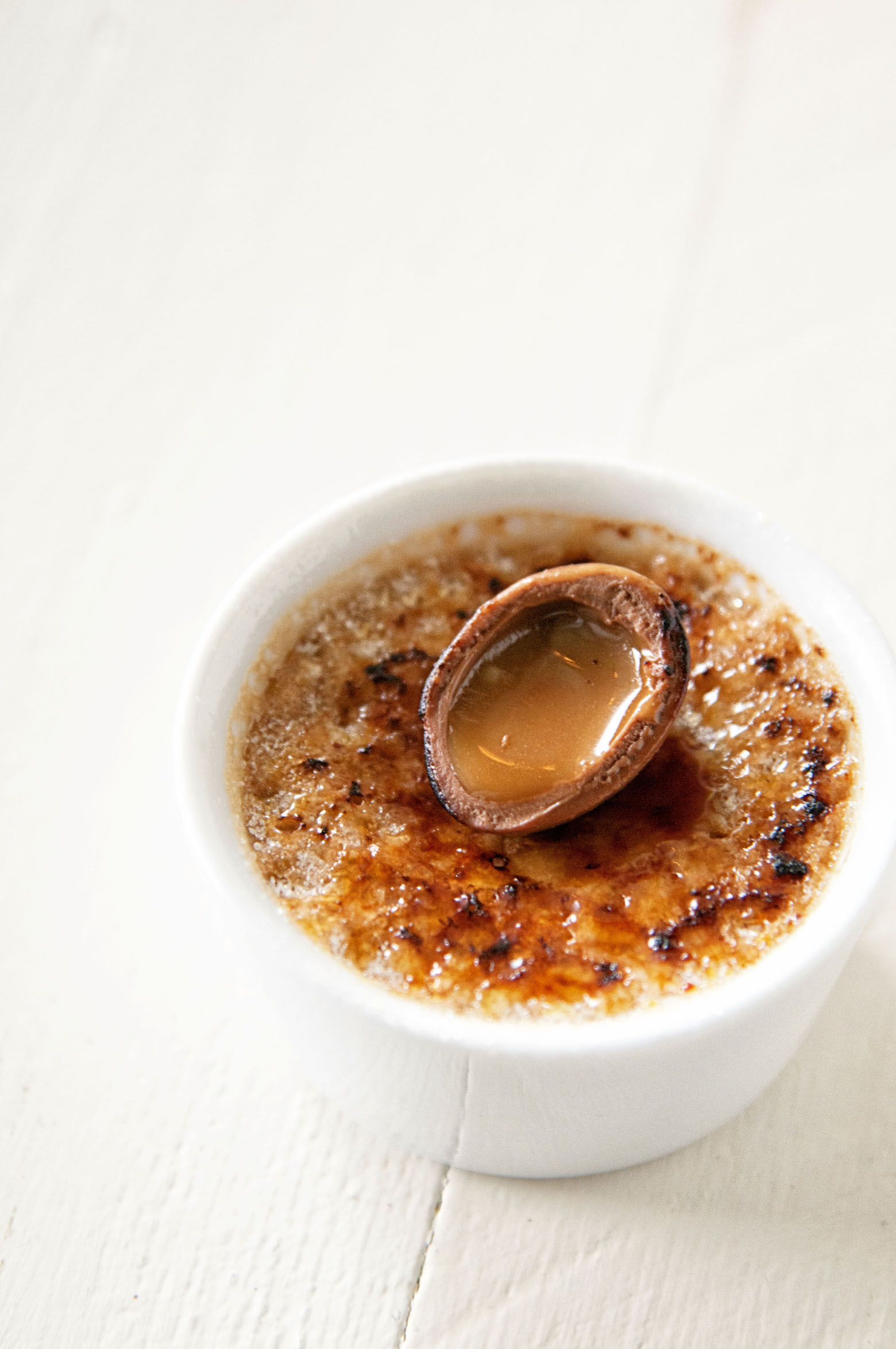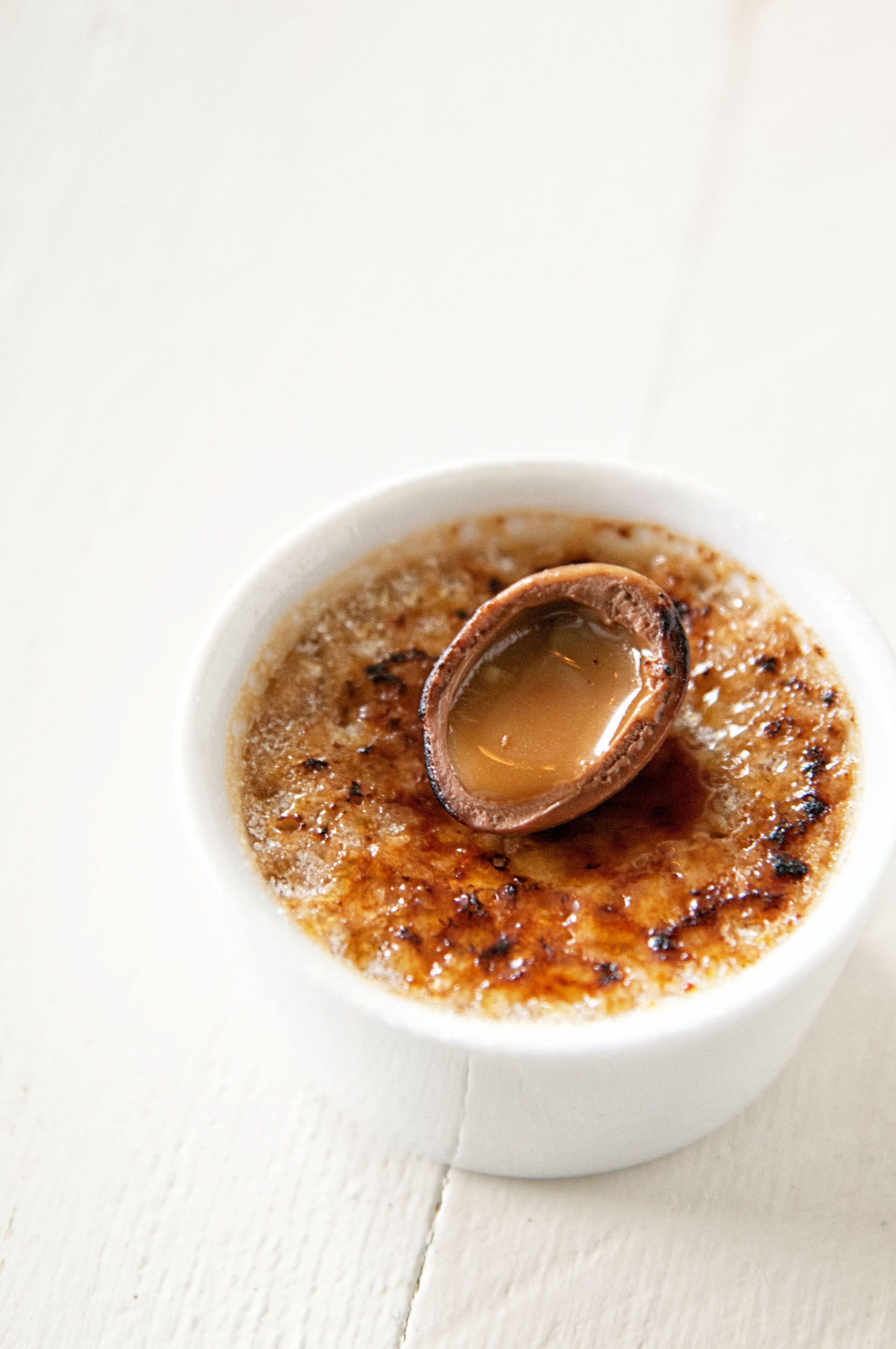 So obviously I like Cadbury Creme Eggs since I have made more than a few recipes using them.
But if I have to choose between Cadbury Creme Eggs and Cadbury Caramel Eggs…I choose caramel.
Creme Brûlée used to be one of those desserts you saw everywhere…just like molten cake. But you don't see it nearly as much anymore.
In fact, I kind of forgot how awesome it really is.
I like to make creme brûlée in mini ramekins because it is a rich dessert.
You can find similar ramekins HERE.
The minis are also great to have at holiday time. Because everyone wants dessert but most of us are stuffed come the end of the meal. 😀
Many years ago I made Cadbury Creme Egg Cream Brûlée and so I had wanted to make it with the caramel eggs.
Sooooo glad I did.
I'm hardly eating dairy anymore these days and this was so worth the 20 allergy pills I had to have to eat it.
If you are a chocolate caramel fan you definitely should make these this Sunday. And Monday. And Tuesday. 😛
I used Dixie Crystal Granulated Sugar in this recipe. They were kind enough to send quite a bit of sugar to us all. The bloggers participating in #EasterSweetsWeek received ingredients and other items from the giveaway sponsors. The opinions, bad grammar, and overuse of emoji's are all mine. 🙂
Check out the amazing #EasterSweetsWeek recipes from our bloggers today!
Cakes & Cupcakes:
Cookies:
Baked Desserts:
No Baked Desserts:
This year we have are 28 fantastic bloggers participating in this year's Easter dessert event! Throughout the week we'll be share tons of great Springtime and Easter themed dessert recipes with you. With over 75 sweet dessert recipes being shared this week we just know that you're going to want to save some of these recipes to make again and again! We even hope that some of these recipes end up in your Easter recipe keepsake collection! Plus, don't forget that we have 5 (five) great giveaways for you this week thanks to our amazing sponsors!
Scroll down to take a look!
PRIZE #1
Prize #1 — Dixie Crystals is giving away one (1) Instant Pot (8 Qt) to one lucky winner!
PRIZE #2
Prize #2 — Adam's Extract is giving one (1) winner 5 different extracts including a bottle of Pure vanilla and a color pack.
PRIZE #3
Prize #3 — Rainier Fruit is giving one (1) winner a box of Apples and some wonderful Apple themed goodies from Sur La Table
PRIZE #4
Prize #4 — Anolon is giving one (1) winner a Anolon® Vesta™ 9-Inch Square Baker in Cobalt Blue
PRIZE #5
Prize #5 — Microplane is giving one (1) winner a Twist & Zest, grip & strip and a classic zester/grater
Giveaway open to US Residents 18 years or older.. All entries will be verified. No PO Boxes Please. Prizes will be sent directly from sponsors to winners, bloggers are not responsible for prizes. This giveaway runs from Marh 26th – April 1st at 12AMEST. Winners will be selected soon afterwards and contacted by e-mail. Winners will have 48 hours to respond or a new winner will be chosen. There are a total of 5 (five) prizes and therefore we will have a total of 5 (five) winners. No purchase necessary. Void where prohibited by law.
Disclaimer: These posts and recipes are part of the week long event, #EasterSweetsWeek but all opinions are 100% mine! We would like Thank our amazing sponsors: Dixie Crystals, Adam's Extract, Rainier Fruit, Anolon and Microplane! These wonderful sponsors provided the prize packs for our giveaways and also sent samples and products to the #EasterSweetsWeek bloggers to use in their recipes.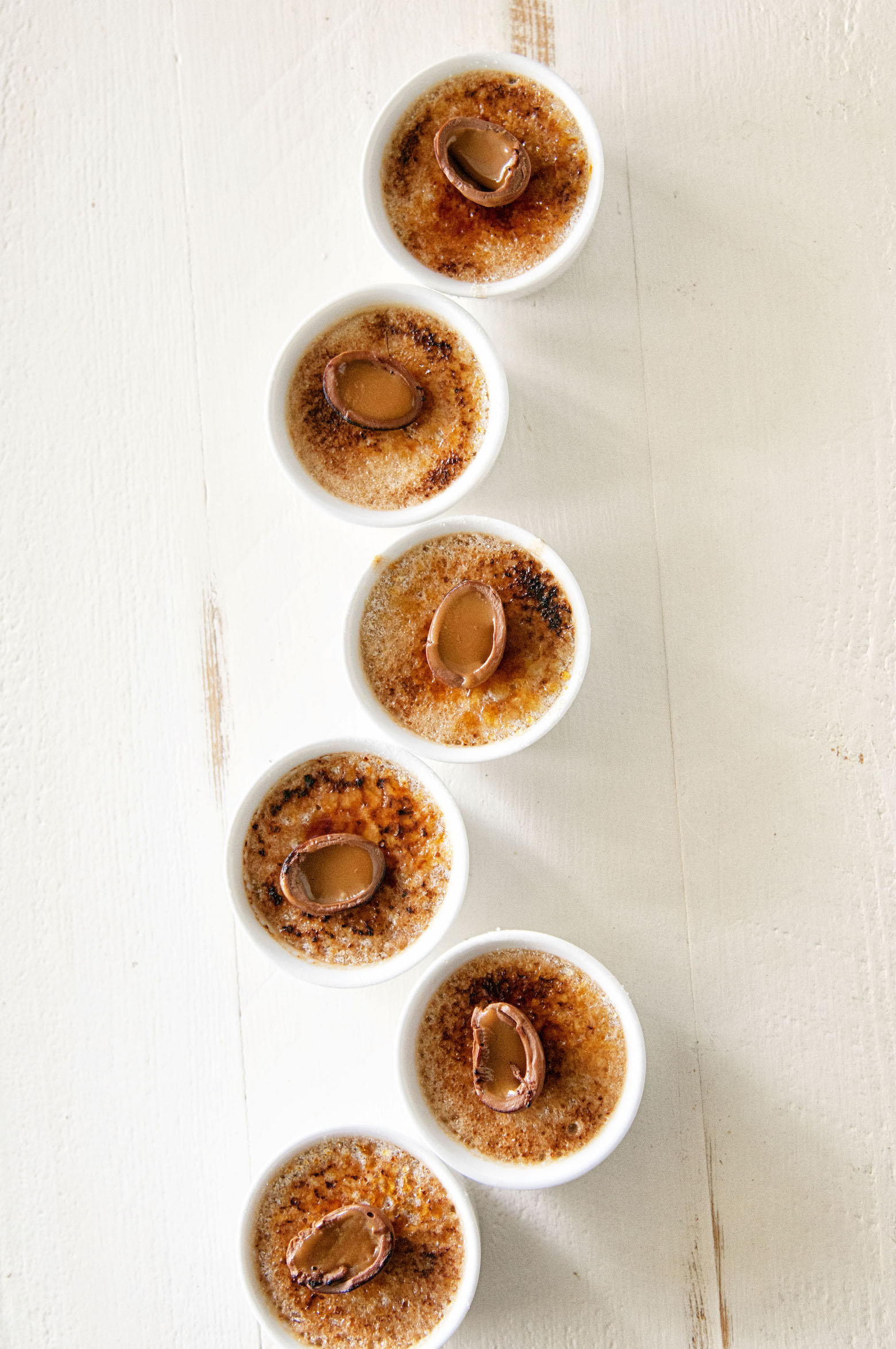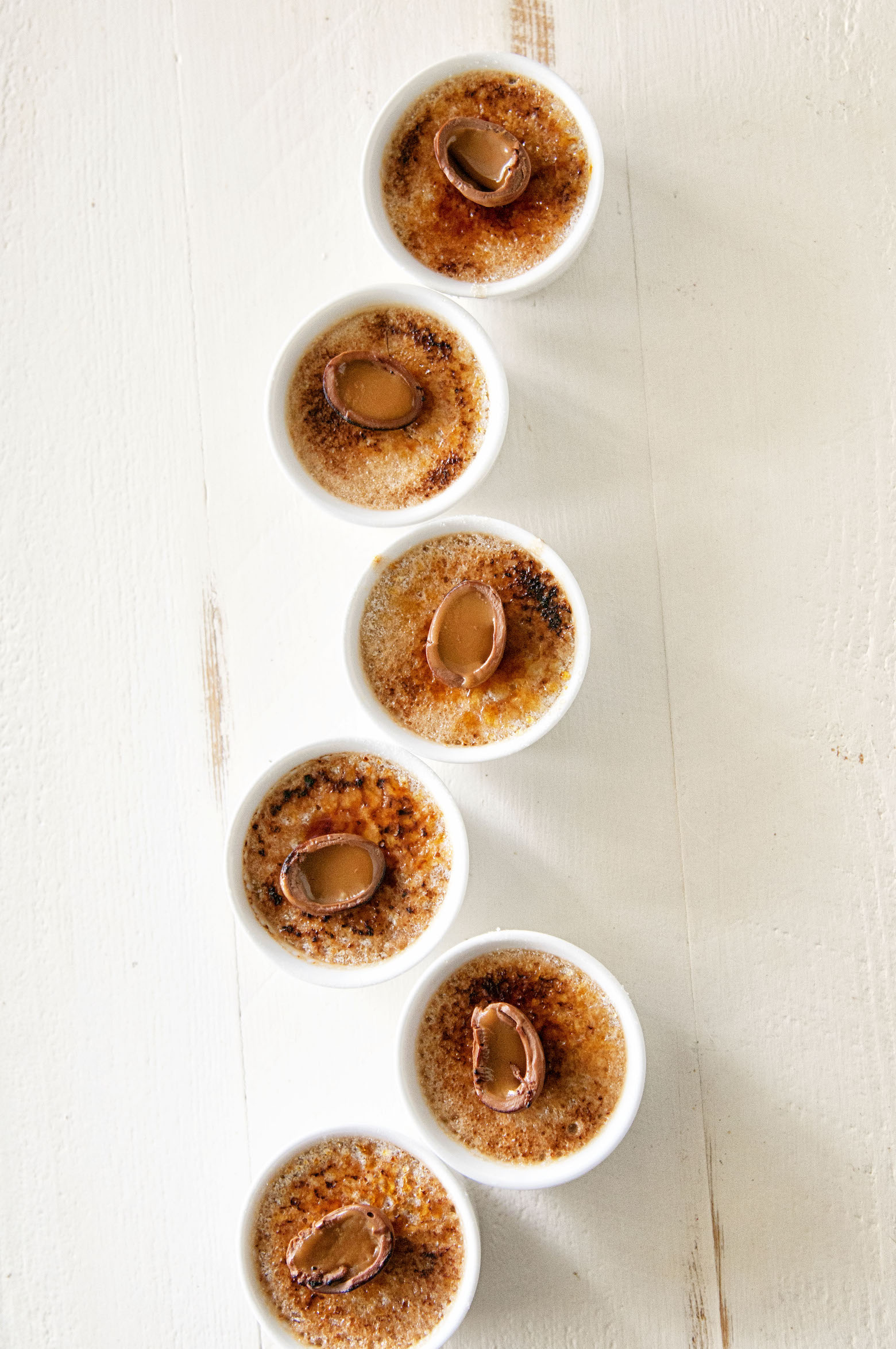 Cadbury Caramel Egg Creme Brûlée
4 ounces Cadbury Caramel Eggs (unwrapped…I know this seems obvious but I had a reader once not do it and complained I didn't explain that), chopped up
1 cup heavy cream
3 egg yolks, at room temperature
¼ cup granulated sugar
¼ tsp. vanilla extract
3 Mini Cadbury Caramel Eggs, split in half
super fine bakers sugar for top
Instructions:
In a medium bowl whisk together the egg yolks, sugar, and vanilla extract.
Using a double boiler or a saucepan with heatproof bowl over it, melt the Cadbury Caramel Eggs.
It will make a nice warm blob…go with that.
Place into a blender…yep, blender.
In a small saucepan, bring cream to a boil.
Once at a boil remove from heat.
Take ¼ cup of the cream and pour into egg mixture while whisking the whole time.
You are tempering the eggs so they don't scramble on you.
Keep doing this ¼ cup at a time until all the cream is whisked in.
Pour mixture into blender and let sit for a minute.
Turn blender on low at first and then up to high, you want the chocolate fully incorporated into the cream/egg mixture.
You don't want chunks but the end of the world won't happen if you do.
Divide equally between 6 mini ramekins (2 oz.) or 3 larger ones.
Place them into a 9-13-inch pan and fill half way up the ramekin with hot water making them a little water bath.
Bake at 300F for 30-37 minutes depending again on the size of your ramekins.
I had one slightly smaller on and that took 34 minutes the other three took 37.
You just need to watch it.
You want it firm but with a little jiggle in the middle.
Remove from oven and from water bath and let sit for about 5 minutes.
If you do not want to brulee the custard because you do not have a blow torch simply add the half a mini egg on top while still warm. It will sink a little…that's okay. Place in fridge for four hours.
If you are are going to brulee them, simply put into fridge for 4 hours.
Remove from fridge and if using the blow torch add about 1 TBSP super fine bakers sugar sprinkled on top of the custard.
Melt the sugar using a culinary torch and while it is still warm add the mini egg half, caramel side up. You can also brulee the caramel egg as I did…I highly recommend that.