These Banana Bread Sticky Buns have a soft banana dough filled with cinnamon sugar and then baked in a sticky pecan sauce.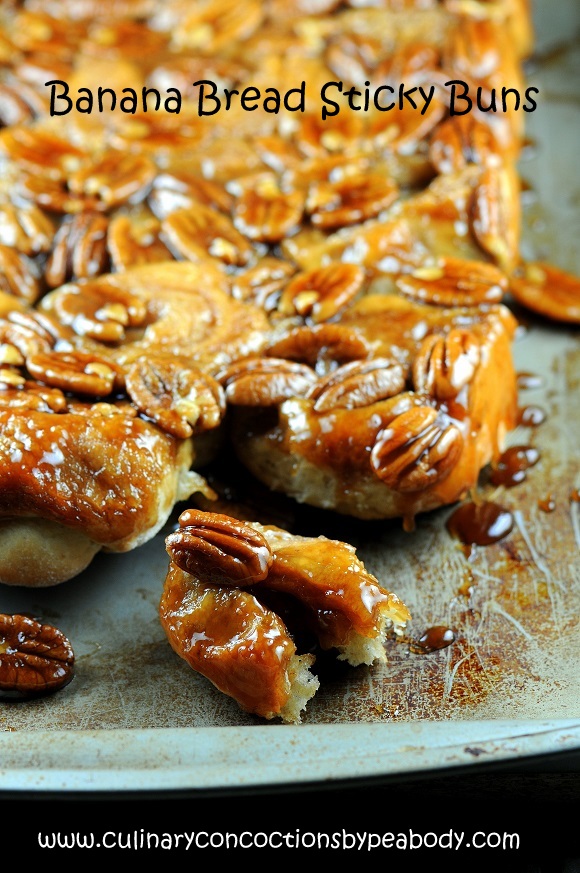 So I've been feeling bad lately about my lack of cooking.
When my husband and I first started dating I used to cook all the time.
Then he made the mistake of showing me he can cook too. 🙂
First it started with breakfast on Sundays…now he is pretty much in charge of weekend breakfast.
And more and more he has taken over dinner duty as well.
Not because I don't want to but because my hand acts up and cooking/baking can sometimes flare it up worse.
But guilt sunk in along with the fact that for once I had a Friday night and Saturday free.
So I told myself I wanted to make him something that took a little time and showed I cared so I went for a Flemish Beef and Beer Stew (I was rebelling against all the Irish Stew made this week).
I'll post the recipe in another post because it was fantastic.
Yes it took 5 hours but that was mostly just cook time.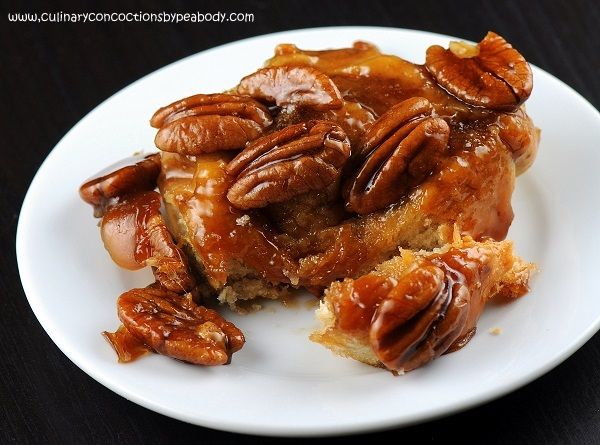 And then I decided that since my hand was feeling good and he is always in charge of breakfast that I would go all out for that as well.
I had seen on my food blogger friend Erin's site the Spiffy Cookie that she made banana bread cinnamon rolls.
Those sounded good but her recipe only called for one banana and thanks to my continuous delusion that I can eat 12 bananas from Costco in a week I needed a recipe that used more than one banana.
And I wanted them to be sticky buns instead of just cinnamon rolls.
These Banana Bread Sticky Buns did not disappoint in any way.
These were supposed to be for breakfast but we ended up eating them for dessert.
They are fantastic with the Caramel Butter Pecan Ice Cream I made by the way.
Yeah, it's over kill but I'm pretty sure over kill is all I know how to do. 😀
So the next time you have extra bananas (and that always happens) instead of making the standard banana bread why not go the sticky bun route instead?
Last but not least…it's a great time to order my cookbook. 😀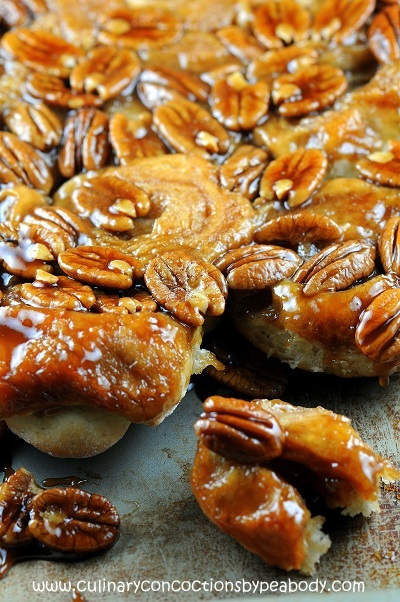 Want More Sweet Roll Recipes?
Fireball Whiskey Pumpkin Cinnamon Rolls
Bourbon Butterscotch Sweet Rolls
Chocolate Clementine Sweet Rolls
Bourbon Brown Sugar Caramel Peach Sweet Rolls
Pineapple Upside Down Sticky Buns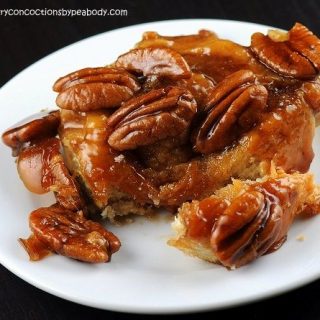 Banana Bread Sticky Buns
Ingredients
Banana Dough:
½ cup milk
¼ cup unsalted butter
2 TBSP granulated sugar
2¼ tsp. yeast (one packet)
3 ½ cups all-purpose flour
1 tsp. salt
2 large ripe bananas, mashed (about 1 cup)
1 tsp. cinnamon
Filling:
½ cup brown sugar
2 tsp. cinnamon
1/4 cup soft butter
Sticky Sauce:
½ cup unsalted butter
¼ cup honey
1 cup brown sugar
2 cups of pecans (you can use less or more)
Instructions
Put the milk and butter in a small bowl and heat to temperature is 110F (you will need a thermometer if it's too hot it will kill the yeast). If it gets too hot, just let it cool for a few minutes.
Pour into the bowl of a stand mixer.
Add the sugar and then the yeast and whisk to mix all the ingredients. Let this mixture stand for about 5 minutes, or until it begins to foam.
Add two cups of the flour, the salt, the bananas, and cinnamon to the yeast mixture and beat well.
Add the remaining flour, ½ cup at a time, stirring well after each addition. When the dough has just pulled together, turn it onto a lightly floured surface and knead until smooth, about 5 minutes (alternately, use the dough hook on a stand mixer). If using the dough hook (I did) when the dough has pulled away and forming a ball on its own and no dough is sticking to the sides it is ready.
Place the dough in a greased bowl and cover with plastic wrap.
Allow dough to rise until double, about 1 hour.
In the meantime in a small bowl add the brown sugar and cinnamon and mix together to incorporate.
When dough has risen, sprinkle flour out on a flat surface and roll out the dough into a 12 X 9 inch rectangle and spread the butter evenly on the dough leaving a 1/2 inch edge.
Then sprinkle the cinnamon sugar mixture over the butter.
Roll up the dough from the long side and pinch seam to seal. Cut into 12 equal sized pieces and set aside while you make sticky sauce.
In a medium saucepan add the butter, brown sugar, and honey and melt until it all comes together.
Then bring to a boil.
Sprinkle pecans into a greased 9 X 13 inch pan making sure to spread them as evenly as possible.
Then pour the sauce over the pecans.
Then place the dough pieces cut side down into the pan on top of the sauce.
Cover and let rise until doubled (or refrigerate overnight).
Bake rolls at 375 ° F. for 25 to 30 minutes or until browned. Remove and let rest for 5 minutes.
Then flip them over carefully onto a baking sheet.
Best served warm and goes really well with Caramel Butter Pecan Ice Cream if you want to make it even worse for you. 😛
Notes
Dough recipe adapted from The Dutch Bakers Daughter but got the idea from The Spiffy Cookie.