These Vegetarian Grape Jelly Meatballs are a meatless twist on the classic meatballs in chili sauce and grape jelly party food.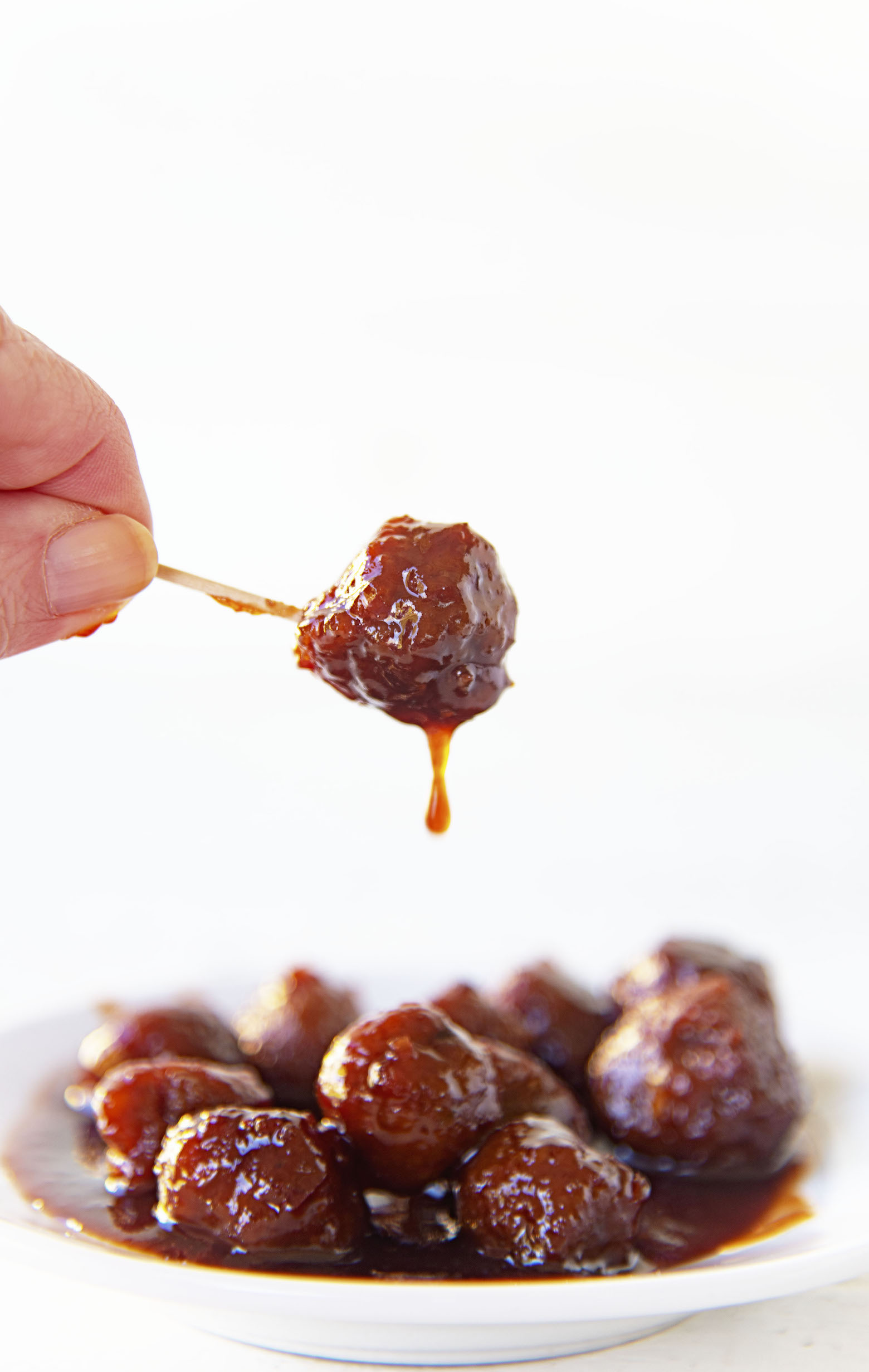 These Vegetarian Grape Jelly Meatballs are a great example of how even blogging for almost 18 years now I still don't know what people want. 🙂
See, I didn't plan on putting these up on the blog.
Because I figured most people knew how to make them.
Apparently not.
So many people asked for the recipe and so I'm putting it on the blog.
The first time I ever had the grape jelly and Heinz chili sauce combo I was at a wedding anniversary party.
My parents had dragged me to it because it was out of town and my mom was helping out with the food.
I was still in elementary school so this was quite a while ago.
Curiously I watched as they dumped cut up hotdogs in the crockpot.
I saw them dump grape jelly but I didn't see the other stuff they put in there.
When the party started I dove into the crockpot to see what grape jelly and hot dogs tasted like.
Oh man did I love it.
I probably ate my weight in them.
And I mean my weight now…not back then. 🙂
When we left, I made my mom get the recipe.
To which I was told it was a jar of Heinz chili sauce, a jar of grape jelly, and a TBSP of dry mustard powder.
And of course cut up hot dogs.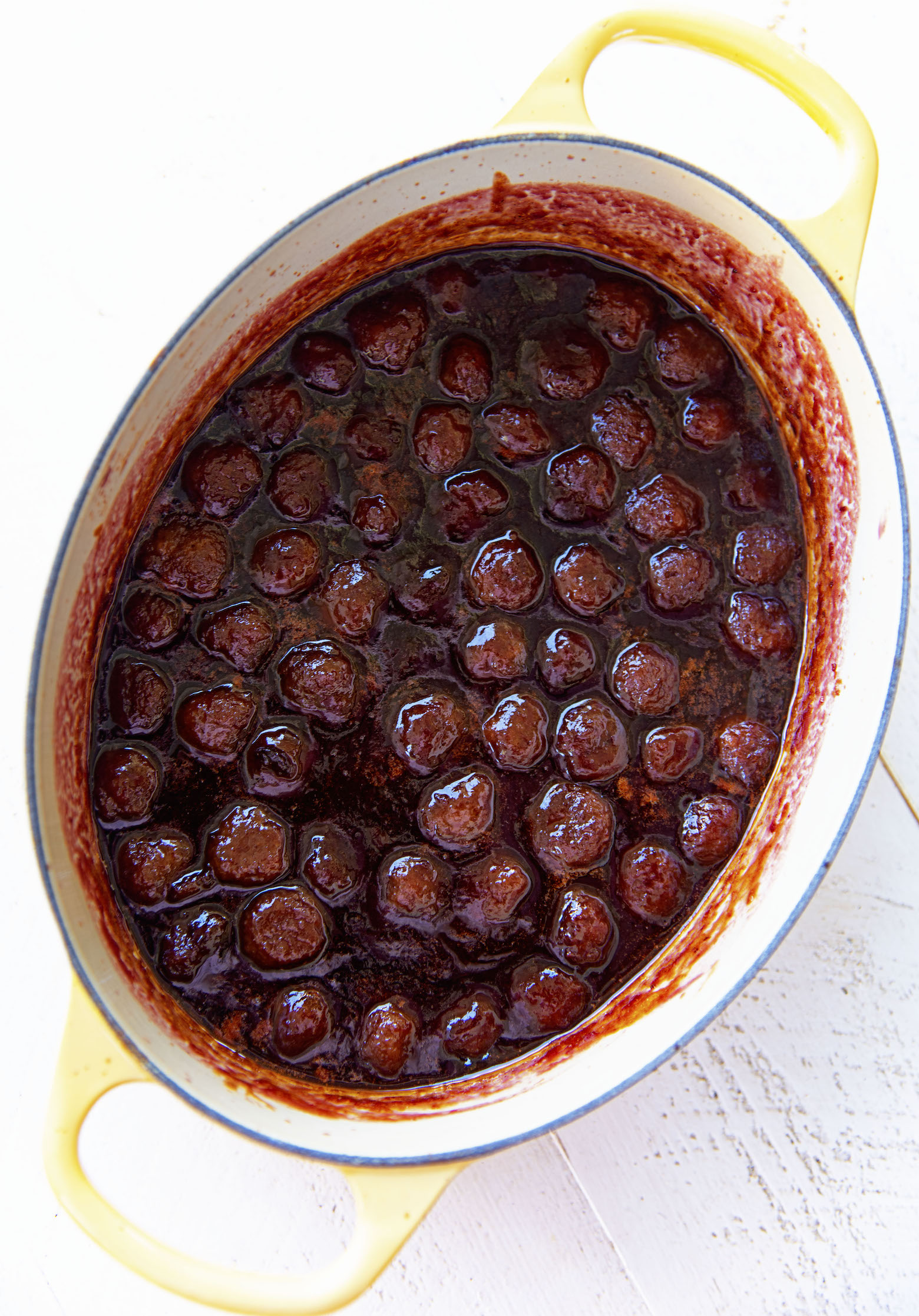 Over the years more and more people switched from using hot dogs to using meatballs.
I guess because it's slightly classier?
But you are using store bought jelly and sauce so really…hot dogs work too. 🙂
I tried making this last year using the vegan hot dogs.
And it was okay.
But no great.
So I didn't make them again.
For some reason I decided to do meatballs this time.
I chose to go mini because it I find that when using a meat substitute for meatballs the smaller you go the better.
Otherwise if they are going to simmer for a while the bigger ones start to fall apart.
Do you have to make your meatballs mini?
If using regular ground beef then no, but if using meat substitute, I would.
Plus there is just something fun about mini food at a party.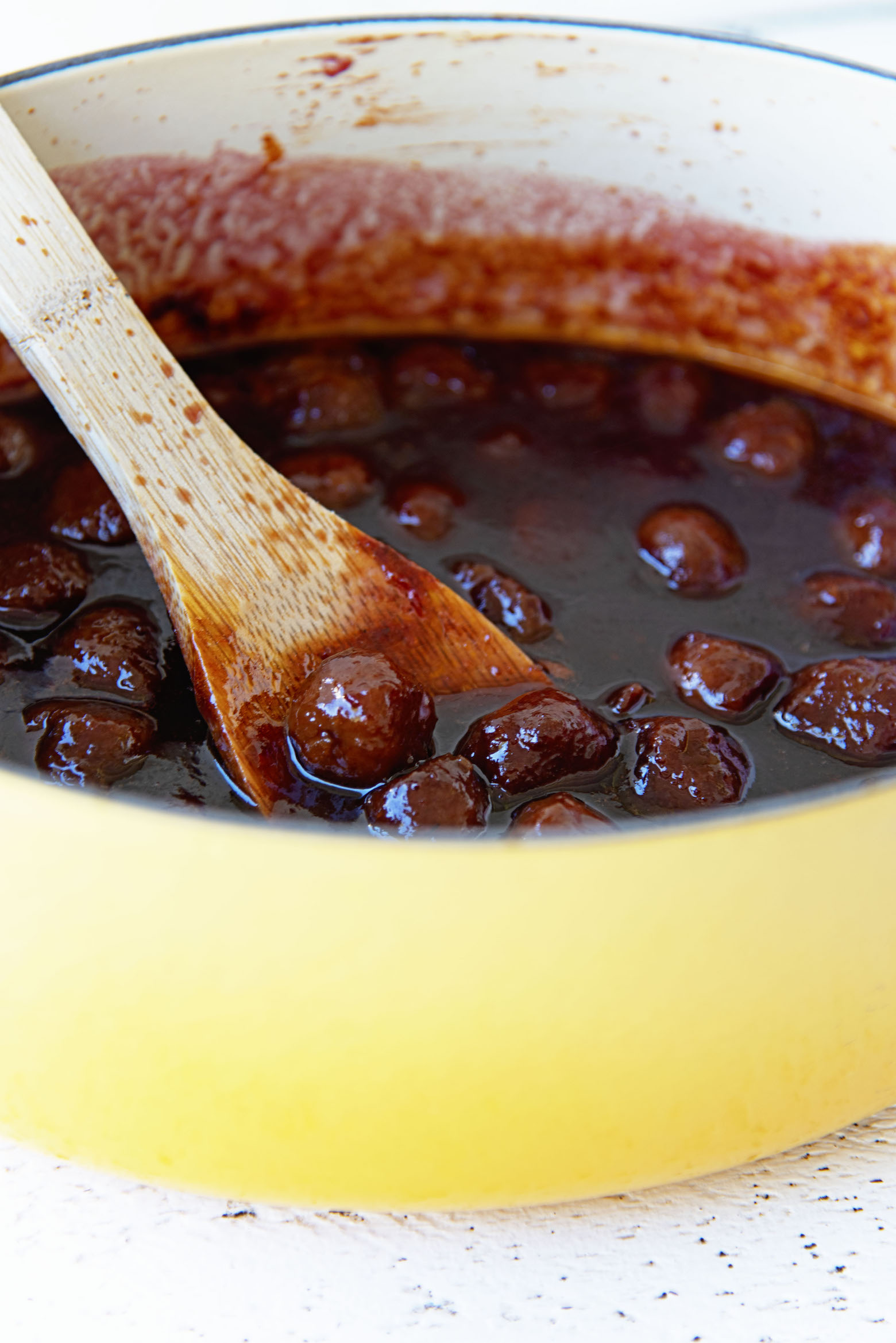 Can I use store bought meatballs?
Yes.
They even make pre-made meatless ones.
The problem I find is so many of the premade meatballs are Italian themed.
And have things like parmesan cheese and Italian spices in them.
And you don't want that.
Which is why I do my own. Because I want the flavors in the meatballs to compliment the sauce.
Which is why there is mustard in both the sauce and the meatballs.
The original recipe I had for the grape jelly sauce used dry mustard powder but I find dijon works better.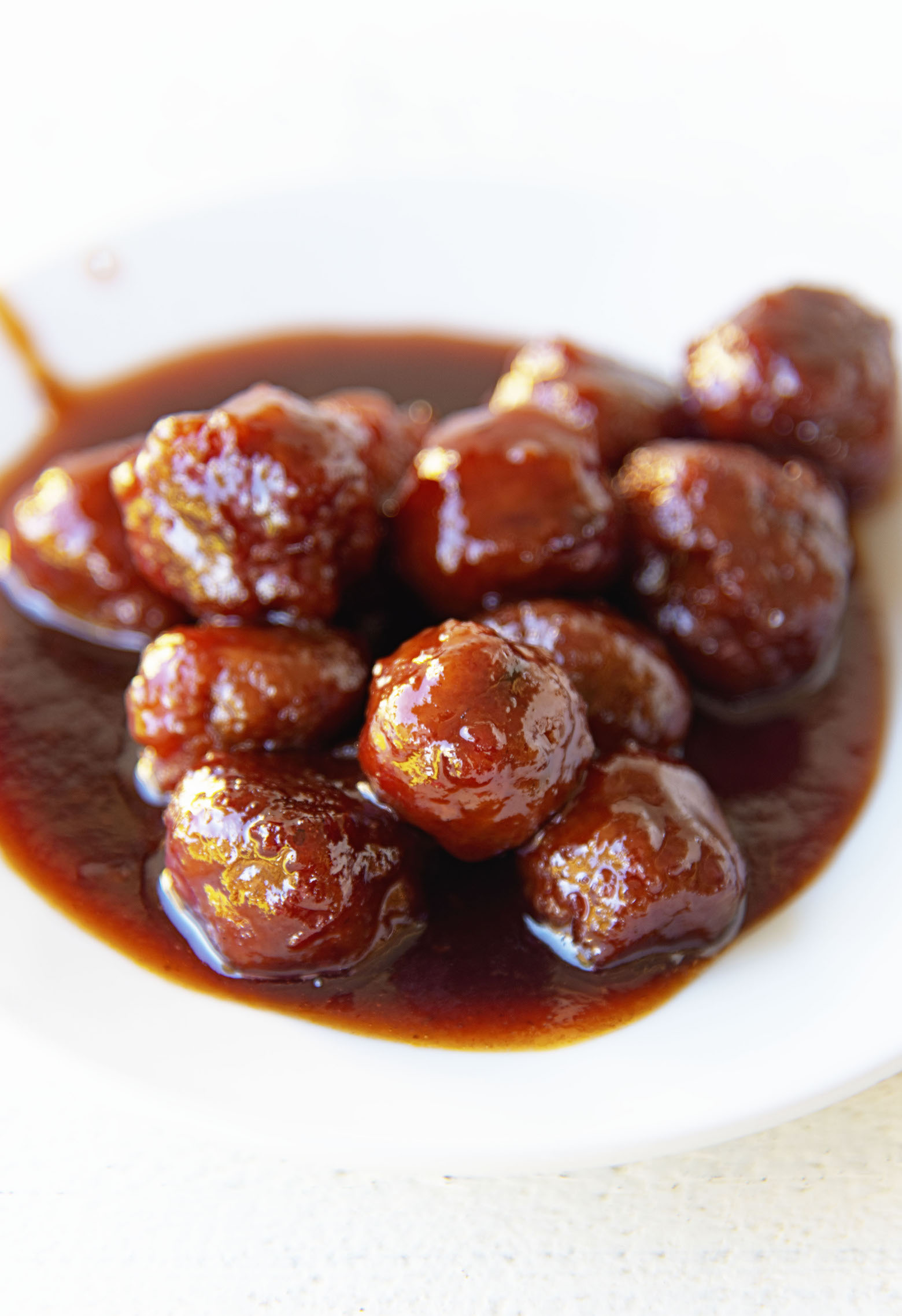 Can I double this recipe?
Since it's for a party this question I know will be asked.
Yes, you can double this recipe.
And triple.
Can you make these meatballs in a crockpot?
Yes.
You still need to fry up the meatballs as that helps them keep their shape.
But simply put them in a crockpot on low for 4-6 hours or high for 2-3 hours depending how much time you have.
It's a great day to order my cookbook.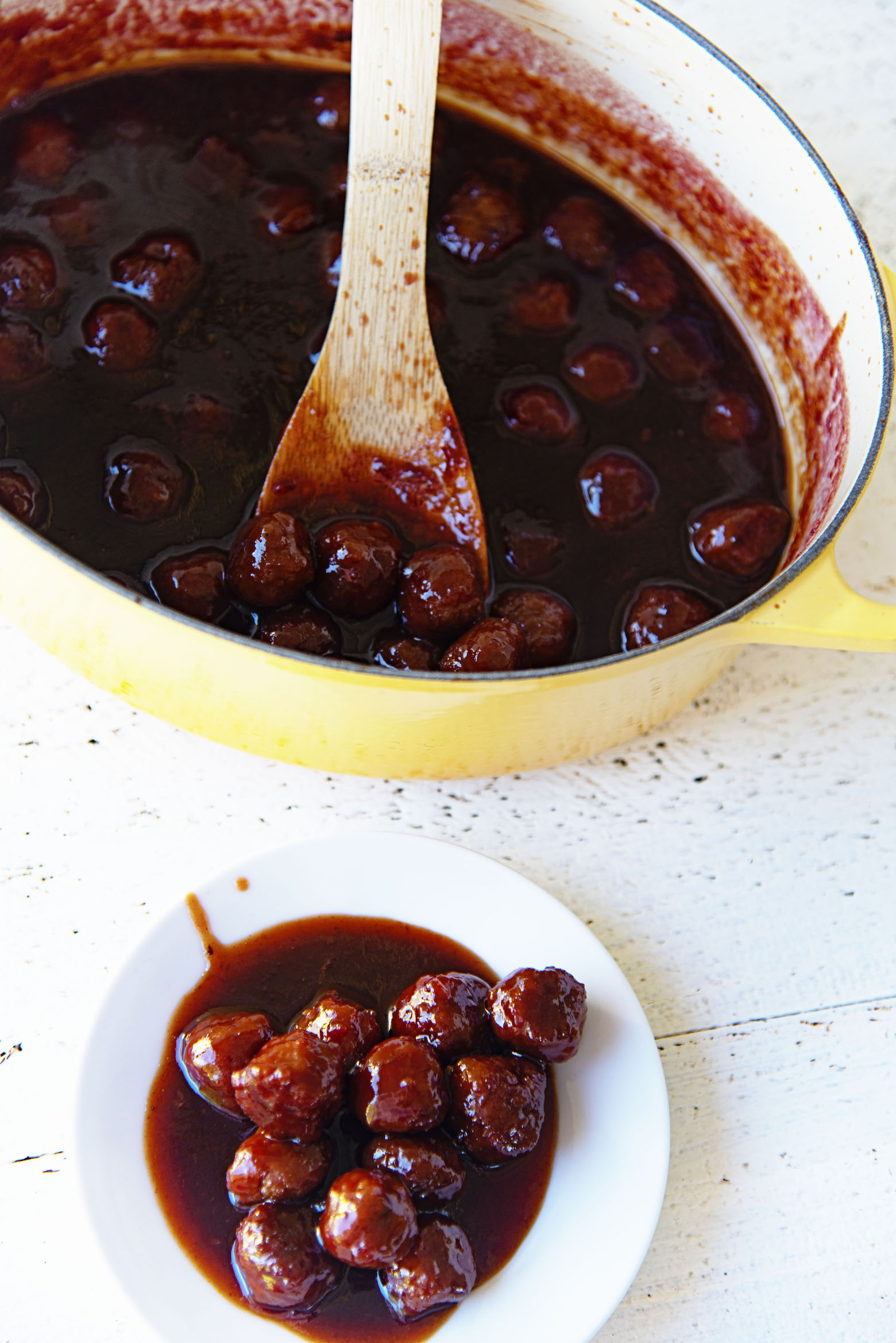 Want more appetizer ideas?
Cheddar Cheese Green Olive Nuggets
Gorgonzola, Walnut, and Pear Jam Flatbread
Baked Brie with Caramelized Onions and Candied Walnuts
Mini Manchego Cheesecakes with Apple Onion Jam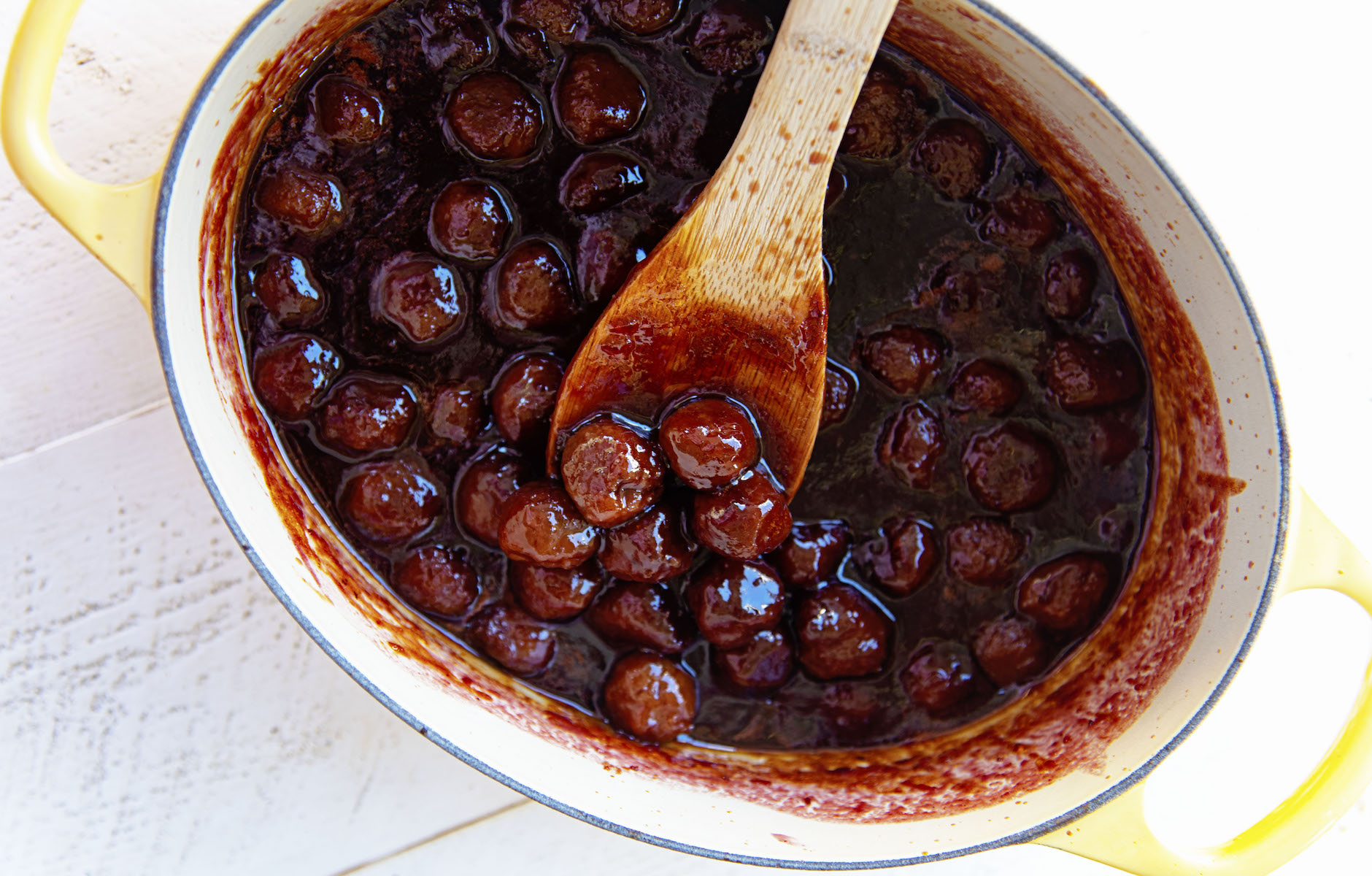 Vegetarian Grape Jelly Meatballs
Ingredients
For the Mini Meatballs:
16 oz Beyond Meat Beyond Beef Plant-Based Ground (or ground beef)
1/4 tsp salt
1/2 cup finely crushed crackers, such as Ritz or Townhouse
3 TBSP dijon mustard
1 large egg
1/4 cup dehydrated onions
2 TBSP (possibly more) olive oil, for frying
For the Sauce:
2 cups grape jelly
3 TBSP dijon mustard
12 oz chili sauce (I used Heinz)
Instructions
Put the ground beef substitute (or beef) in a medium-sized bowl and add the salt.
Add the cracker crumbs, mustard, egg and dehydrated onions to the bowl. Mix to combine, using your hands, until evenly mixed.
The mixture should be slightly wet and workable, not too sticky.
Using your hands or a teaspoon, gently form meat into large marble sized balls. They don't have to be perfectly round.
Add the olive oil to a sauté pan and heat on medium heat.
Working with 12 mini meatballs at a time place them into the pan and leave them sit until they are brown on one side.
Shake the pan to loosen the meatballs and then turn each one with tongs to brown the other side.
Keep turning with tongs until they are completely and evenly browned. Don't give up too quickly, you want that crispy browned exterior. When everything looks pretty brown transfer the meatballs to a paper towel to drain.
Repeat until all the meatballs are browned. I got about 60 mini meatballs.
Set them aside while you made the sauce.
For the Sauce:
In a large saucepan add the grape jelly, mustard, and chili sauce.
Turn the burner on medium heat and whisk until everything is melted and has blended together.
Add the meatballs into the pan with the sauce.
Stir a few times to get all the meatballs covered in sauce.
Let cook for at least two hours on low.
Remove from pan and serve warm.