This Baked Brie with Candied Walnuts and Caramelized Onions is a perfect appetizer for the cheese lover in your life.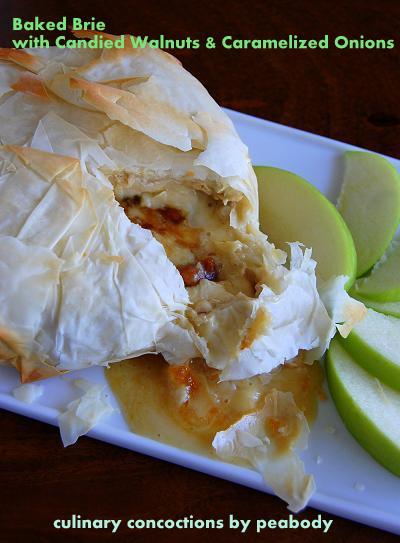 It's 48F right now.
My dog is shivering in a blanket and the heat is on.
Yet somehow it's June 1st on Saturday.
June the month with 9 million things going on for me.
One of which is this here blog turns 8!
EIGHT!
Holy cow.
And let me tell you I have come to the conclusion that blog years are a lot like dog years…so in reality I've been blogging for 56 years…well at least it seems like that long.
Summer is coming and I am trying something new this year.
I put away my scale.
I mean really put it away.
In a box.
And that box is now on a shelf I can't reach.
I went to the doctor when I cut my finger open and they went to weigh me (which hello I'm bleeding why is this important?) and the nurse said step on the scale and said no.
And she looked at me and I said I'm in a self-image study (I didn't tell her it was my own study 😛 ) and she said oh well let's not worry about that then.
And let me tell you it is SOOOOOOOOOOOO freeing.
I have been so happy since starting this project I can't even begin to tell you.
While I loved WW I would either love or dread Tuesdays and it would either make or break the rest of my week and this is how I lived.
If I lost weight I was still mean to myself telling myself if I didn't sneak that half a cookie I could have lost more.
And the mean things I would tell myself.
And of course I had to worry and think about every single thing that went into my mouth.
Now many a person will say if I didn't weigh myself I would balloon up.
No you won't.
I mean you would if you just ate and ate and ate (duh).
Haven't counted a single calorie (also freeing).
I haven't thought about how many carbs were going into my body.
Or how much protein.
Or how much water I did or did not drink today.
I went back to eating how I used to, what is more commonly known as Intuitive Eating.
Listening to your body.
Now it's hard.
And lucky for me I did it for a while before so I am used to knowing real hunger from boredom hunger, stressed hunger, wanting to bitch slap someone hunger, I have $11 left in my bank account for 4 days hunger.
You learn to eat when you are hungry.
No schedule.
No six times a day with snacks being 8 almonds and a half an orange while you throw back your supplements.
If I am only hungry twice that day then that's how much I eat.
If I am hungry 7 times that day then that is how much I eat.
And I eat only until satisfied, not full.
Which takes away the bloated feeling you get…and I know any food lover knows that feeling.
The unbuckle the pants because my stomach might burst like a piñata kind of full.
One thing I have found is that I'm not THAT truly hungry.
Since I just move my body to move my body and not to burn calories I don't work up a ton of appetite.
I eat mostly healthy but if I want a birthday cake Oreo I have one….and yes I can eat just one.
You know why?
Because I have permission to eat however many I want as long as I am hungry and I can have them whenever I want because no food is off limits.
I have had the bag now for almost two weeks and I have had 3 birthday cake Oreos.
Now don't get me wrong I eat 80/20…some days more like 70/30 meaning 20% of what I eat not so healthy and the other 80% is healthy.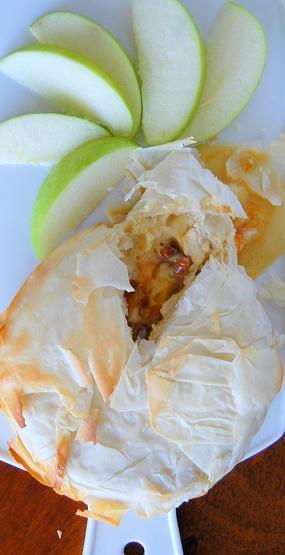 Or I shouldn't even say healthy…nourishing for my body. I mean I love me a Swedish Fish but we all know I'm not getting any nutritional value from that. 🙂
But I am getting soul value from that….it's good for my soul because I love them.
So I'm sure you all want to know after 6 weeks how much I've ballooned up?
I think you know where this is headed.
While I have NO idea what I weighed when I threw out the scale and switched back to Intuitive Eating and I have no idea what I weigh right now.
I do know that all the clothing that wasn't fitting 6 weeks ago now fits again.
Will I lose more?
Who knows.
Will I gain?
I might.
But I think that as long as I continue to eat when I'm truly only hungry then my guess is more things will be fitting that didn't fit before.
So I invite you all.
The ones who think you need to lose weight and are obsessed with weighing yourself once a day, sometimes twice a day only to feel more and more bad about yourself.
Even if you are losing weight it's never enough, never fast enough, and you are still telling yourself you are sucking at losing weight. 🙁
Throw away your scale.
Throw it out!
It will make your summer ten times better.
I know my spring has been the best it has been in a long time!
The recipe is from a cookbook that features recipes from Pacific Northwest Restaurants.
This Baked Brie is one of my favorite things from a place called Purple Café and Wine Bar.
There are a few of them here in the Seattle area, each one with it's own personality.
It's a great cookbook.
But this was the recipe I was looking for when I bought it.
Speaking of cookbooks, it's a great day to order my cookbook.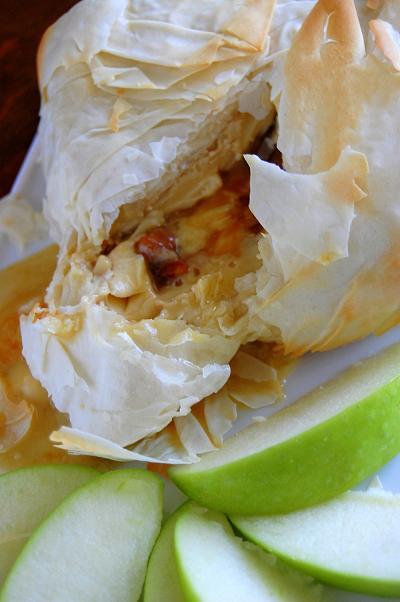 Want more appetizer ideas?
Mini Manchego Cheesecakes with Apple Onion Jam
Cheddar Cheese Green Olive Nuggets
Gorgonzola, Walnut, and Pear Jam Flatbread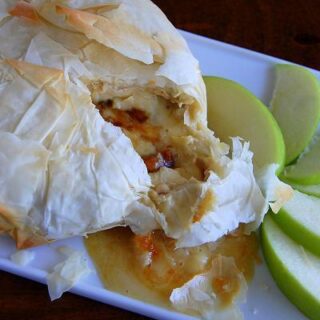 Baked Brie with Candied Walnuts and Caramelized Onions
Yield:
serves 2 to 4 as an appetizer
Ingredients
For the Candied Walnuts:
1 large egg white
1 cup whole walnuts
¼ cup sugar
2 tablespoons firmly packed brown sugar
½ teaspoon pure vanilla extract
For the Brie:
1 tablespoon vegetable oil
1 small white or yellow onion, very thinly sliced
pinch kosher salt
4 sheets phyllo dough
6 tablespoons clarified butter, melted
one 4-to-8 ounce wheel of ripe Brie cheese
1 ½ to 2 tablespoons apricot jam, or orange marmalade(note: stir or whisk jam/marmalade until is loosens enough to spread)
3 to 4 tablespoons Candied Walnuts
Fresh fruit of your choice, such as red grapes, apple slices, or pear slices
Baguette slices or crackers
Instructions
For the Candied Walnuts:
Preheat oven to 300F.For easy clean up, line a rimmed baking sheet with aluminum foil or parchment paper and spray with nonstick cooking spray.In a small mixing bowl, whisk the egg white until light and frothy.
Add the walnuts and mix well.
Sprinkle the nuts with granulated sugar and brown sugar, add the vanilla, and stir until the walnuts are evenly coated with sugar.
Arrange the walnuts in a single layer on the baking sheet without crowding and cook for 5 minutes.
Remove from the oven and stir the nuts.
Continue cooking, stirring the nuts every 5 minutes, for a total of 25 to 30 minutes of cooking time, or until the walnuts not longer look moist and are medium caramel in color.
Remove from the oven and transfer the baking sheet to a wire rack.
When cool enough to handle, break apart the nuts, then dry completely on the baking sheet on the wire rack.
Store in an airtight container at room temperature until serving.
For the Brie:
Heat oil in a medium skillet over medium heat.
When oil is hot, add the onion and salt and cook, stirring occasionally, until the onions are tender and golden., 25 to 30 minutes; adjust the heat if necessary so the onions don't brown too quickly or burn.
Set aside.
While the onions are cooking, arrange the oven rack in the center of the oven.
Spray a baking sheet with nonstick cooking spray or line with parchment paper.Lay the phyllo dough on a clean, damp kitchen towel on a dry work surface and cover with another damp kitchen towel.
Lay a sheet of dough on the baking sheet.
Brush the dough lightly with melted butter.
Place a second piece of dough across the first piece of dough to form a cross shape and brush lightly with butter.
Place a third piece of dough diagonally over the cross and brush lightly with butter.
Place the fourth piece of dough diagonally over the third piece of dough(to form a "x" shape) and brush lightly with butter.
Cut the Brie horizontally through the middle to form a top and bottom layer.
Place the bottom layer of brie in the center of the phyllo dough.
Brush with the apricot glaze, and arrange 2 to 3 tablespoons of the reserved onions and the Candied Walnuts evenly over the glaze.
Cover with the top layer of brie.
Form a beggar's purse by gathering all eight ends of the phyllo dough, bringing them together over the top of the brie, and pinching them together until the brie is totally encased in dough.
Brush lightly with butter, place the phyllo package in the refrigerator for 30 minutes to 1 hour before proceeding to the next step.
Preheat the oven to 450F.
Cover loosely with aluminum foil and place in the oven for 5 minutes.
Remove the foil and continue baking for 1 to 2 minutes, or until the phyllo turns golden in color.
Remove from the oven and transfer to a serving plate.
Arrange the fresh fruit and baguette slices around the brie and serve immediately.